Contact details:

Address

22, Beauchamp Road, East Molesey, Surrey, KT8 OPA

Home Tel.
020 8979 2710

Mobile

07718 914739

Website

www.toastmasterful.co.uk

e-mail

wdfreeman@ymail.com

WEDDING TOASTMASTER FOR SURREY, MIDDLESEX & LONDON


William Freeman

A Special Wedding Toastmaster for Your Special Wedding Day


'wedding day advice and planning services'


"wedding toastmaster extraordinaire!"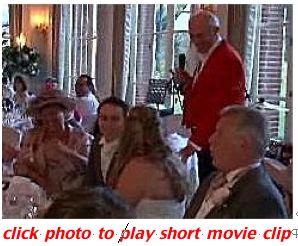 Wedding couples tell me that my services provide much more than the 'traditional' wedding toastmaster functions (making announcements, introducing speakers and so on). You can see what they say on the 'Comments Page' on my web site.
My services are dedicated to you on and before your special day - and, as your wedding toastmaster, I will give you the balance of formality, tradition and pure fun that you want.
Feel free to contact me to discuss how my wedding toastmaster services and my wedding planning advice can make your special day even extra special. There's no obligation; I'll be delighted to help you in any way I can. My wedding toastmaster services tend to focus on Surrey, Middlesex and London although I am happy to work anywhere.

Call me on 07718 914739 or 020 8979 2710 or email me at wdfreeman@ymail.com
Certain months and days of the year can get very busy, so I recommend that you reserve me as your wedding toastmaster as soon as you can (once you are happy I am the right person for your event). There are some regular questions people ask and I've summarised these on the 'FAQ page' on my web site.
Click on the bottom photograph (right) to see my toastmastering style 'in action'.
Click here to preview my e-book 'wedding speeches for the very nervous'
Thank you for visiting my Wedding Toastmaster Page. Have a good romp around and please call again soon.

William Freeman - Surrey Wedding Toastmaster, Middlesex Wedding Toastmaster, London Wedding Toastmaster, UK Toastmasters & Town Criers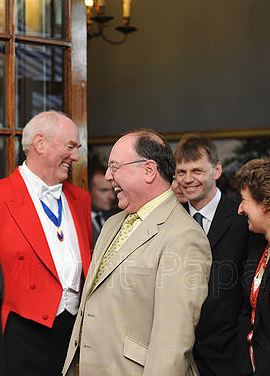 Some kind testimonials
Here are some comments and observations about my wedding toastmaster work. I hope they give you a view on my style and the kind of service I provide. Let me know if you would like to talk to any of these people.
"We had a WONDERFUL wedding day & you helped make it wonderful!... We were totally delighted with what you did for us, a very polished performance indeed. Feel free to use this as a testimonial" Danielle & Robert
"I thought I would write to say a huge thank you for everything you added to my daughter's wedding yesterday. Your presence gave me great confidence that everything would tick along without a hitch and, indeed, it did. I will recommend your services to everyone, as no wedding should be without William Freeman, Toastmaster extraordinaire! Our warmest wishes" Brian & Gill MacLaurin
"You put the cherry on the cake by organising the photographs, the speeches and entertaining us. I am grateful for all your help and kindness and will have no hesitation to recommend your services" Johnny, Faye, Amanda & Elias
"The best day ever! Huge thanks to you for everything you did for us in helping us plan and run our special wedding ceremony and party" Donna & Joel
"Your warmth, professionalism and personal touches made this day a joy for us. It was pleasure to meet and get to know you" Alex & Chris
"Nothing was too much trouble for you. Thank you for jumping in at short notice and giving a stress free day and making our wedding a day to remember" Laura & David
"Thank you for all your help on our special day. Your attentiveness and humour were just what we and our guests needed to make us forget the pouring rain. Thank you so much" Katy & Ross
Please call me on 020 8979 2710 or 07718 914739 for more information about my wedding toastmaster services
Email wdfreeman@ymail.com
Thanks for visiting my Wedding Toastmaster Website - please call again soon.
William Freeman - Surrey Wedding toastmaster, Middlesex Wedding Toastmaster, London Wedding Toastmaster
Visit http://www.corporate-toastmaster.co.uk to discover my corporate toastmaster, Master of Ceremonies and speaking work.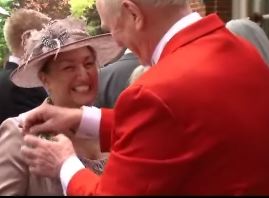 ---
Wedding Venues in Surrey
Addington Palace, Surrey
Aerodrome Hotel, Surrey
Airport House, Surrey
Albury Park Mansion, Surrey
Anchor Hotel, Surrey
Antionette Hotel Kingstom. Surrey
Barnett Hill, Surrey
Bingham, Surrey
Bookham Grange Hotel, Surrey
Botleys Mansion, Surrey
Bourne Hotel, Surrey
Boxhill School, Surrey
Branksome Place, Surrey
Burhill Golf Club, Surrey
Burrows Lea, Surrey
Bush Hotel, Surrey
Cain Manor, Surrey
Cambridge Cottage, Surrey
Caterham School, Surrey
Chak 89, Surrey
Cherkley Court, Surrey
Chessington Golf Centre, Surrey
Civic Centre, Surrey
Clandon Park, Surrey
Coltswold Mill, Surrey
Coombe Farm Manor, Surrey
Coulsdon Manor Hotel, Surrey
Coverwood Lakes, Surrey
Croydon Clock Tower, Surrey
Croydon Park Hotel, Surrey
Denbies Wine Estate, Surrey
Ditton Field, Surrey
Epsom Downs Racecourse, Surrey
Ewell Court House, Surrey
Fairfield Halls, Surrey
Farnham House Hotel, Surrey
Frensham Heights, Surrey
Gate Street Barn, Barmley
Gatton Hall, Surrey
Gatton Manor, Surrey
Gorse Hill, Surrey
Great Fosters, Surrey
Hampton Court Palace, Surrey
Hartsfield Manor, Surrey
Hilton Hotel, Surrey
Holiday Inn London Kingston, Surrey
Holiday Inn Sutton, Surrey
Horsley Towers, Surrey
Jarvis Higs Back Hotel, Surrey
Jarvis Thatchers Hotel, Surrey
Kempton Park Racecourse, Surrey
Kew Gardens, Surrey
Kings Arms & Royal Hotel, Surrey
La Barbe, Surrey
Langshott Manor, Surrey
Leatherhead Golf Club, Surrey
Lingfield Park Racecourse, Surrey
Liongate Hotel, Surrey
Longacres, Surrey
Loseley Park, Surrey
Lovekyn Chapel, Surrey
Lythe Hotel & Spa, Surrey
Macdonald Frimley Hall Hotel, Surrey
Mandolay, Surrey
Manor House Hotel, Surrey
Manor House, Surrey
Mercure Burford Bridge Hotel, Surrey
Merrist Wood, Surrey
Nonsuch Mansion, Surrey
Nutfield Priory Hotel & Spa, Surrey
Oak Park Golf Club, Surrey
Oaks Farm Barn, Surrey
Oatlands Park Hotel, Surrey
Old Whitgiftian Association, Surrey
Onslow Arms, Surrey
Parrot Inn, Surrey
Pendell Court, Surrey
Pennyhill Park Hotel, Surrey
Pine Ridge, Surrey
Preston Cross Hotel, Surrey
Ramada Farnham, Surrey
Ramada Guildford, Surrey
Ramster, Surrey
Richmond Gate Hotel, Surrey
Richmond Hill Hotel, Surrey
Richmond Theatre, Surrey
Royal Holloway, Surrey
Russ Hill Hotel, Surrey
Secombe Theatre, Surrey
Selesdon Park Hotel, Surrey
Shepperton Moathouse, Surrey
Stanhill Court Hotel, Surrey
Stanwell Hall Hotel, Surrey
Surrey Downs Golf Club, Surrey
Surrey National, Chaldon
The Barn at Bury Court, Surrey
The Bed Bar, Surrey
The Bridge at Pierrepoint, Surrey
The Bury's, Surrey
The Chalk Lane Hotel, Surrey
The Chateau, Surrey
The Cricket Centre, Surrey
The Dorking Halls, Surrey
The Hautboy, Surrey
The Kings Arms Barn, Surrey
The Manor Hotel, Surrey
The Petersham, Surrey
The Red Barn, Surrey
The Room in the Country, Surrey
The Savill Garden, Surrey
The Talbot Inn, Surrey
The Wharf Restaurant, Surrey
Tiger Tiger, Surrey
Tu Tu L'Auberge, Surrey
Turk Launches, Surrey
Warren House, Surrey
Wentworth Club, Surrey
Woldingham Golf Club, Surrey
Woldingham School, Surrey
Woodlands Park Hotel, Surrey
Woodstock House, Surrey
Wotton House, Surrey
York House, Surrey
Zinnia Gardens, Surrey
Towns and Villages of Surrey England
Abbey Bridge , Abbey Mead , Abbotswood , Abinger , Abinger Common , Abinger Hammer , Addlestone , Addlestone Moor , Albury , Alderstead Heath , Alfold , Alfold Bars , Alfold Crossways , Almshouse Common , Ansteadbrook , Anthonys , Apps Court , Artington , Ash , Ash Green , Ash Vale , Ashford , Ashford Common , Ashford Park , Ashley Park , Ashstead , Ashtead , Badshot Lea , Bagshot , Baldwins Hill , Banstead , Banstead Newton , Barfields , Barford , Barnsbury , Barrow Green , Batts Corner , Baynards , Beacon Hill , Beare Green , Bellfields , Bennetts Green , Betchworth , Binscombe , Birch Green , Birtley Green , Bishops Gate , Bisley , Bisley Camp , Blackbrook , Blackdown , Blackheath , Bletchingley , Blindley Heath , Bookers Lee , Botley Hill , Botleys , Boundstone , Bowlhead Green , Box Hill , Boxgrove , Boxhill Road , Boxhurst , Bramley , Briars Cross , Bridge End , Bridge Field , Bridley , Brimshot , Broad Street , Broadwells Estate , Brockham , Brockham Hill Farm , Brockham Park , Brook , Brooklands , Brookwood , Broome Park , Broomhall , Brox , Buckland , Bull Green , Bunce Common , Burgh Heath , Burntcommon , Burpham , Burrowhill , Burrows Cross , Burrows Lea , Burstow , Burwood Park , Buryfields , Busbridge , Bushbury , Byfleet , Callowhill , Camberley , Camilla Lacey , Capel , Cartbridge , Castle Green , Caterham , Cattershall , Chaldon , Charleshill , Charlotteville , Charlton , Charlwood , Chathill , Chattern Hill , Cheapside , Chelsham , Chelsham and Farleigh , Chertsey , Chertsey Lock , Chiddingfold , Chilsey Green , Chilworth , Chipstead , Chipstead Bottom , Chobham , Church Lammas , Church Town , Churt , Clacket Green , Claremont , Clarks Green , Clasford , Claygate , Cobham , Cobham Tilt , Coldharbour , Coles Meads , Colley Corner , Colnbrook , Combe Common , Common Fields , Compton , Cooks Green , Coombelands , Copthorne Bank , Copthorne Common , Courtshill , Cox Green , Cramhurst , Cranleigh , Cranleigh Common , Crawley Hill , Creed Hole , Critchmere , Crosswater , Crossways , Crowhurst , Crowhurst Lane End , Crownpits , Cudworth , Culmer , Culmer Hill , Dawesgreen , Deepcut , Deepdene , Deepdene Wood , Denbies , Dippenhall , Ditton Common , Dockenfield , Dogkennel Green , Domewood , Donkey Town , Dorking , Dormans Land , Dormans Park , Doversgreen , Downside , Downswood , Dunley Hill , Dunsfold , Duxhurst Farm Village , Earlswood , Eashing , East Clandon , East Ewell , East Horsley , East Molesey , Eastly End , Eastwick , Eastworth , Effingham , Effingham Junction , Egham , Ellens Green , Elm Corner , Elstead , Englefield Green , Enterdent , Enton , Enton Green , Epsom , Epsom Common , Epsom Downs , Esher , Ewell , Ewell Court , Ewhurst , Eyehurst , Fairchildes , Fairfield , Fairlands Estate , Fairmile , Farleigh , Farley Green , Farncombe , Farnham , Felbridge , Felcourt , Felday , Fernhill , Fetcham , Fickleshole , Field Common , Flexford , Flint Hill , Folly Hill , Fordbridge , Forest Green , Fowlerscroft , Foxhills , Frensham , Friday Street , Frimley , Frimley Green , Frith Hill , Furze Hill , Gadbrook , Gatton , Gatwick , Gibraltar , Giggshill , Glanty , Godalming , Godstone , Goldsworth , Gomshall , Goodwyns , Gosden , Grafham , Grangefield Estate , Gravel Hill , Grayswood , Grayswood Common , Great Bookham , Great Burgh , Great Roke , Green Cross , Greenhurst Estate , Guildford , Hale , Ham Moor , Hambledon , Hambledon Common , Hamsey Green , Harelane , Harelane Green , Harestone Valley , Haroldslea , Harrow Common , Harrowsley Green , Hartswood , Hascombe , Haslemere , Haste Hill , Hatch Hill , Hatchetts , Hatchford , Hatchford End , Hatton Hill , Haxted , Headley , Heath End , Heatherdene , Heatherside , Henfold , Hersham , High Loxley , Highcomb Bottom , Highland Park , Highstreet Green , Hinchley Wood , Hindhead , Hindhead Common , Hockford , Hoe , Hog Hatch , Hogs Back , Holland , Holloway Hill , Holmbury St Mary , Holmethorpe , Holmwood , Holmwood Corner , Holt Pound , Hook Heath , Hookfield , Hookwood , Hookwood Common , Hooley , Horley , Horley Row , Horne , Horsehills , Horsell , Horton , Houndown , How Green , Howell Hill , Hurst Green , Hurtmore , Hydestile , Hydon Heath , Hythe , Irons Bottom , Jacobswell , Keepers Corner , Kemishford , Kempton Park , Kent Town , Kingfieldgreen , Kingsland , Kingswood , Kingswood Firs , Knaphill , Knowle Green , Knowlehill , Lagham Wood , Lakers Green , Laleham , Langhurst , Langley Bottom , Langley Vale , Leatherhead , Leatherhead Common , Lee Street , Leebrooke , Leigh , Leith Hill , Lightwater , Limpsfield , Limpsfield Chart , Linersh Wood , Lingfield and Dormansland , Linkside , Lion Green , Little Bookham , Little Green Lane , Little London , Littleton , Littleton Common , Littlewick , Littleworth Cross , Long Cross , Long Ditton , Lordshill Common , Loseley Park , Lower Ashtead , Lower Bourne , Lower Cobham Tilt , Lower Duxhurst , Lower Eashing , Lower Green , Lower Halliford , Lower Kingswood , Lowicks , Loxhill , Lullenden , Lyne , Lythe Hill , Marden Park , Margery , Martyrs Green , Maybury , Mayes Green , Mayford , Mays Green , Mead Vale , Meadowbank Estate , Meadrow , Meath Green , Merle Common , Merrow , Merstham , Mickleham , Middle Bourne , Milford , Millbridge , Milton , Milton Heath , Mimbridge , Moor Park , Moorhouse Bank , Moorhurst , Mount Hermon , Mount Pleasant , Mousehill , Mugswell , Munstead , Mutton Hill , Mynthurst , Mytchett , Nalderswood , Netherne , New Chapel , New Haw , New Holland , New Oxted , Newdigate , Nork , Norley Common , Normandy , Norney , North Bridge , North Holmwood , North Looe , North Munstead , North Town , Northbourne , Norwood Hill , Nutcombe , Nutfield , Oakwoodhill , Oatlands Park , Ockford Ridge , Ockfordwood , Ockham , Ockley , Old Holland , Old Park , Old Woking , Onslow Village , Ottershaw , Outwood , Oxshott , Oxted , Pagewood , Paines Hill , Park Copse , Parkgate , Parkhouse Green , Path Fields , Peaslake , Peasmarsh , Pebblecombe , Penny Pot , Penton Hook , Peper Harow , Petridgewood Common , Pewley Common , Pewley Hill , Pikes Hill , Pile Hill , Pinewood , Pinks Hill , Pirbright , Pitch Place , Pitland Street , Pixham , Plaistow Street , Pooley Green , Portmore Park , Pot Common , Poyle , Pray Heath , Prestwick Rough , Prince Hill , Purbright , Puttenham , Pyrcroft , Pyrford , Quakers Plat , Ramsnest Common , Ranmore Common , Redhill , Reigate , Ricketts Wood , Rickford Common , Ridge Green , Ridgeway , Ridgway , Ripley , Roothill , Rose Hill , Row Town , Rowledge , Rowly , Runfold , Rushett , Rushett Common , Russ Hill , Rutton Hill , Ruxbury , Ruxley , Rydeshill , Ryestead Common , Salfords , Salfords and Sidlow , Sandhills , Sandy Cross , Sanway , Seale and Sands , Send , Send Marsh , Sendmarsh , Shabden , Shackleford , Shalford , Shamley Green , Shawfield , Sheerwater , Shellwood Common , Shepherds Hill , Shepperton , Shepperton Green , Shere , Shipley Bridge , Shoelands , Shortfield Common , Shortheath , Shortwood Common , Shottermill , Shrubs Hill , Sicklemill , Sidlow Bridge , Slyfield Green , Smallfield , Smithwood Common , Snowdenham Hall , South Godstone , South Holmwood , South Merstham , South Munstead , South Nutfield , South Park , Spratts , Spreakley , Spring Bottom , St Catherines , St Georges Hill , St Johns , St Johns Lye , St Martha , Stag Leys , Staines , Stamford Green , Standard Hill , Stanford , Stanners Hill , Stanwell , Stanwell Moor , Starrock , Stepgates , Stoke D'Abernon , Stoke Park , Stonebridge , Stonehill , Stoneleigh , Stoneleigh Park , Stoughton , Strood Green , Stroude , Summersbury , Sunbury , Sunbury Common , Sutton , Sutton Green , Sutton Place , Swan Pit , Tadworth , Tandridge , Tatsfield , Tattenham Corner , Thames Ditton , The Borough , The Bourne , The Chart , The Clump , The Grange , The Holmwood , The Moor , The Sands , The Warren , The Waste , Thistlecroft , Thorncombe Street , Thorns Flush , Thorpe , Thorpe Green , Thorpe Lea , Thursley , Tilburstow Hill , Tilford , Tillingbourne , Tilthams Green , Titsey , Tongham , Tower Hill , Trumpsgreen , Tuesley , Twynersh , Tylers Green , Tyrells Wood , Underhill Park , Updown Hill , Upper Birtley , Upper Bourne , Upper Eashing , Upper Hale , Upper Halliford , Valley End , Virginia Water , Walkingstead , Walliswood , Walliswood Green , Walton on the Hill , Walton-on-Thames , Wanborough , War Coppice Garden Village , Warlingham , Warwick Wold , Wasp Green , Waterloo , Waterside , Waverley , Waverley Estate , Weatherhill , Wells Bottom , Wentworth , West Bedfont , West Byfleet , West Clandon , West End , West Ewell , West Horsley , West Humble , West Molesey , West Park , Westbrook , Westcott , Westcott Heath , Westfield , Westhumble , Westmore Green , Weston Green , Westwood , Weybourne , Weybridge , Wheeler Street , White Bushes , Whiteley Village , Whitewood , Whitmead , Whitmoor , Whitmore Vale , Wilderwick , Willey Heath , Windlesham , Wisley , Withybed Corner , Witley , Woking , Woldingham , Wonersh , Wood Street , Woodbridge Hill , Woodcock Hill , Woodcote , Woodcut Estate , Woodfield , Woodham , Woodham Estate , Woodhatch , Woodhurst Park , Woodmansterne , Worcester Park , Wormley Hill , Worplesdon , Wotton , Wray Common , Wray Park , Wrecclesham , Wyke , York Town
Middlesex Wedding Venues
Apollonca Restaurant, Stanmore, Middlesex
Barn Hotel - Middlesex
Cavendish Hotel, Eastcote, Middlesex
Crew Hills Golf Club, Enfield, Middlesex
Forty Hall - Middlesex
Hampton Court Palace Golf Club - Middlesex
Holiday Inn Brentford Lock - Middlesex
Kempton Park Racecourse - Middlesex
Le Meridien Excelsior Hotel, West Drayton, Middlesex
Lensbury - Middlesex
London Heathrow Marriott Hotel - Middlesex
Marble Hill House - Middlesex
Master Robert Hotel, Hounslow, Middlesex
Orleans House Gallery - Middlesex
Osterley Park - Middlesex
Rennaisance London Heathrow - Middlesex
Shepperton Moat House - Middlesex
Sheraton Heathrow Hotel - Middlesex
Spring Grove House, Isleworth, Middlessex
Syon House, Brentford, Middlesex
Syon Park - Middlesex
The Grange and Cavendish Country Houses - Middlesex
The Grimsdyke Hotel - Middlesex
The Ship Hotel - Middlesex
The VIP Lounge - Middlesex
Tudor Lodge Hotel - Middlesex
Turk Launches, Kingston Upon Thames, Middlesex
York House - Middlesex
Some London wedding Venues that William is also pleased to work at
22 Jermyn Street Hotel - London
Abney Public Hall - London
Ace Cafe London - London
Adam Street Private Members Club - London
Airport House - London
Albert Hall London
Alexandra Palace - London
Anne Boleyn Hotel - London
Arundel House - London
Athena Palace - London
Auriol Kensington Rowing Club - London
Bank of England Sports Centre - London
Barbican Centre - London
Battersea Arts Centre - London
Beauberry House - London
Bina Banqueting Hall - London
Blakes Hotel - London
Blooms Town House Hotel - London
Bluebird - London
Brick Lane Music Hall - London
Brilliant Restaurant - London
British Academy of Film and Television Arts - London
British Airways London Eye - London
Browns Courtrooms - London
Bruce Castle Museum - London
Cafe De Paris - London
Cafe Royal - London
Carlton Club - London
Celtic Hotel - London
Century - London
Century Club - London
Chandos House - London
Charlton Athletic Fc Limited - London
Charlton House - London
Chelsea Football Club - London
Chelsea Old Town Hall - London
Chiswick - London
Chutney Mary - London
Crowne Plaza London - Docklands - London
Crowne Plaza London - The City - London
Croydon Clock Tower - London
Dukes Hotel - London
Forbes House - London
Four Seasons Canary Wharf - London
Glaziers Hall - London
Goring Hotel - London
Hall Place & Gardens - London
Hampstead Britannia Hotel - London - London
Hilton London Docklands Riverside - London
Holiday Inn - London Regents Park - London
Honourable Society of Grays Inn - London
Hotel Russell - London
Ironmongers' Hall - London
Jumeirah Carlton Tower - London
Jurys Great Russell Street Hotel - London
Kew Bridge Steam Museum - London
Kingsway Hall Hotel - London
Le Gothique - London
Le Meridien Piccadilly - London
Leiths Event Team - London
Licensed Wedding ceremonies and receptions - London
London Aquarium - London
London Canal Museum - London
London Dungeon - London
London Marriott Hotel Grosvenor Square - London
London Marriott Kensington Hotel - London
London Marriott West India Quay - London
London Wetland Centre - London
London Zoo - London
Lord's Cricket Ground - London
Matilda - London
Merchant Taylors Hall - London
Millennium Gloucester Hotel & Conference Centre - London
Museum of Garden History - London
No.4 Hamilton Place - London
One Great George Street - London
Parkstead House in London - London
Pembroke Lodge - London
Pitzhanger Manor House - London
Plaisterers' Hall - London
President Hotel - London
Prism Restaurant and Bar - London
R.S. Hispaniola in London - London
Rembrandt Hotel - London
Renaissance Chancery Court - London
RIBA - Royal Institute of British Architects - London
Roof Gardens - London
RSA - London
Rumi Bar - London
Shakespeares Globe - London
Shepperton Studios - London
Skinners Hall - London
Smollensky's Canary Wharf - London
Southwark Cathedral - London
St George Hotel - London
Staple Inn Hall - London
Stationers Hall - London
Thames Lighthouses Chainstore Building - London
The Amadeus Centre - London
The Atrium - London
The Bentley Kempinski Hotel - London
The Britannia International Hotel - London - London
The Commonwealth Club - London
The Conservatory at Chelsea - London
The HAC - London
The Ivy - London
The Lansdowne Club - London
The Melia White House - London
The Montague Hotel - London
The Montague on the Gardens - London
The Natural History Museum - London
The Private Rooms at Buckingham Gate in London - London
The Queens Club - London
The Queens House - London
The Ritz London - London
The Union Club - London
Tower Bridge - London
Urban Bar and Brasserie - London
Victoria Park Plaza - London
Victory Services Club - London
Vinopolis - London
Waldorf Hilton - London
Wembley Stadium - London
West Ham United Football Club - London
Westminster Abbey - London
Winchester House - London
ZSL London Zoo - London