Toastmaster Courses and Further Training
Although our basic courses are for three days, it is great to keep learning and gaining the edge during your career as a toastmaster. To this end we run MasterMind Meetings in April and October when we have our St. George's Day and Trafalgar Day meetings which are now held in London and may well tie in with events being run by The Royal Society of St. George.
Your career development path as a toastmaster is important to us
We run a well structured programme of events for our members to network with each other and to make sure that they are well informed and able to deliver excellent service to their clients.
We are the most proactive of all the organisations for toastmasters with ongoing professional development costs included within our annual membership fees.
Our English Toastmasters Association MasterMind Group Meetings are no longer available to other toastmasters who are not members of our Association. As an elite group of professional toastmasters we may however welcome other wedding and corporate events professionals who wish to develop their businesses and improve their position in our market place, for a small fee.
We run half day MasterMind Group meetings on demand (except April and October), where we are all focused on improving our professional skills and work together to be at the leading edge of our profession.
These meetings are held at our headquarters near Chelmsford, Essex and we will also travel around the country, by arrangement. They generally run from 9.00am for 9.30am to 1.00pm or as required.
Places are limited and must be booked in advance please.
Mastermind Group meetings are free to our members when booked in advance. Full documentation may accompany each meeting and will also be available in our members area on this web site after each event.
Forthcoming Toastmasters Training Events for members
2016 Dates for Meetings and Major Training Days
All meetings are held at our Danbury Headquarters in Essex between 9am - 1pm unless otherwise advised and Shown with a Red Heading.
Our next major meetings in 2018 are our
St. George's Day Meeting
Saturday 21st April 2018
our second meeting in 2018 will be on
Sunday 21st October 2018
Both days start at
The Lord Moon Of The Mall, 16-18, Whitehall, London SW1A 2DY from 8.45am to 10.00am for breakfast.
In April we will be attending the Wreath Laying Ceremony at The Cenotaph
We will gather in King Charles Street, SW1A 2AH (just off Whitehall) in London, prior to the Service of Remembrance and Wreath Laying at 11am.
Members of the Cadet Forces, accompanied by music from an ATC band were on parade.
After this ceremony we will be going over to Westminster Abbey
for a small wreath laying ceremony at the Grave of the Unknown Warrior.
In October, moving on to the parish Church of St. George, Hanover Sqare, Mayfair, London W1S 1FX
for the Trafalgar Day Sevice at 11.00am
Lunch will be at The Strand Palace Hotel, 372, Strand, London WC2R 0JJ from around 1.00pm
For the afternoon we will be around Covent Garden and Trafalgar Square
Tickets for our luncheon, at this meeting will be available for non members of our Association
who are not attending our special day and non members of our Branch of The Royal Society of St. George
Please call 01245 222392 or 07971 409977
at any time for further help or information
Our St George's Day Meeting 2011 Wednesday 20th April 2011
Another super day and our best ever members meeting so far with a group photo at lunch time.
St. George's Day members special meeting, starting with a networking breakfast, luncheon and special guests. We had a very productive day at the County Hotel, Chemsford.
Here are some comments and feedback from members attending....
"An excellent meeting with valued input from Industry professionals. A lot of information taken in which I can apply to my business and solid connections made with other members."
"Good to meet colleagues and to learn from their experiences. Excellent presentations and organisation to enhance professionalism and support "
"Excellent presentations and organisation"
"A great day with lots of time for breaks and chats and the benefits of a challenge to continuous improvement, friendship and a different perspective on life."
"Very enjoyable day. Great food, great company and great venue"
"A very useful day. Networking very valuable. Presentations extremely beneficial. Hospitality excellent, very enjoyable, with the benefits of professional back-up, camaraderie of membership and overall knowledge base."
"A hugely informative development day which has taken my thoughts on service to a new level"
"The passion of members (of the English Toastmasters Association) is "obvious", it is extremely uplifting and stimulating"
"I have enjoyed the camaraderie of our members and sharing with each other points that will be of help to us all. The support of a professional organisation with high standards and the support of other members are benefits of our organisation. The customer's knowledge that we are a professional organisation with high standard and with their interests at heart is very important."
"Once again a most enjoyable seminar professionally delivered to enthusiastic members in relaxed and enjoyable surroundings. For professional guidance and training and being part of a professional organisation at a great venue, thank you."
"Very supportive and well run day."
"Meeting old and new friends, refining my skills. Talking with other professional Toastmasters and picking up hints and tips."
"A full and informative programme filled the day"
"Lots of thanks to Richard and Linda for taking the time to organise the St. George's day event. Their enthusiasm is tangible. Having like minded colleagues and experienced support for new members with the opportunity to meet frequently are major benefits of our Association"
"I want to express my personal congratulations to Linda and yourself for the excellent St. George's day meeting. As the breakfast gathering is a superb ice breaker and the agenda while full to the brim proved to be engaging and informative. It is great to see so many new members.
My congratulations to T.S. as chairman, he did a wonderful job of keeping the meeting on track. The ETA has grown from the seed of an idea to a premier Association focussed on excellence of service and customer satisfaction. You should be very proud. While I don't want to wish my life away, I'm already looking forward to the Trafalgar Day meeting. Best regards Russ
A comment from one of our suppliers, who is also an honorary fellow member of the ETA
The business world we are in right now isn't easy for anyone anywhere. You have a unique selling point in the fact that your support is there and ongoing for those who have chosen to be trained to be a toastmaster by you.
Several of my clients, * note I say clients not customers, have mentioned that when they have ended their course with other training organisations, that was the END of learning.
We as ETA members also ENJOY the monthly brainstorm meetings especially the two main events of the year, the St. George's Day and the Trafalgar Day meetings.
As for myself, I look forward to contributing to others around the table who are not so long in the tooth as I am with 44 years of work behind me.
Very Best wishes Howard Marco Toastmaster Clothing
Please call 01245 222392 or 07971 409977
at any time for further help or information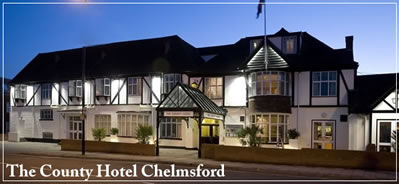 Trafalgar Day Meeting held at the County Hotel on Thursday 21st October 2010
What a super day. Probably one of our best ever members meetings with a group photo at lunch time.
Thank you to all our members that were present and for your input. Everyone seemed to enjoy the breakout sessions and the new format for the meeting. A full day, with breakfast and luncheon with excellent service from the County Hotel and really great company.
The focus today was on delivering the best possible level of service for our clients and everyone was pleased to learn the best methods of working to raise the bar in our profession.
Once again a big thank you to all who attended and every success for the future, with even happier clients.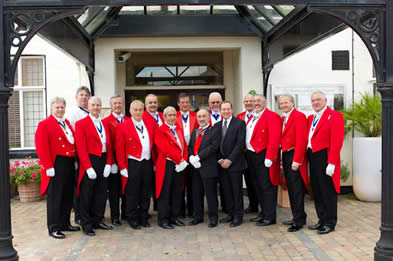 Some of the toastmasters' testimonials about the meeting and the results that our Association delivers for our members will be on our toastmasters' training courses page shortly, but here is just one of the testimonials that we have already received.
Dear Linda & Richard, What a 1st class Trafalgar Day seminar you laid on for your members to benefit from. The light hearted atmosphere at breakfast set the tone for the day. The new style agenda was educational, inspirational & well chaired by Russell. Extensive input given by Tony was enjoyable & guidance given by David Court was addressed in his very own exclusive manner, thus he continues to be a pillar of strength to the English Toastmasters Association. The hours of preparation you put into this event paid off. I look forward to St. George's Day when you can once again fly the banner for all who are wise enough to be around your table & benefit.
Regards Howard Marco
www.toastmasterclothing.co.uk
The picture shown right was taken by David Court of Court on Camera outside the County Hotel in Chelmsford, Essex, where our Trafalgar Day meeting was held.
Let us share our Mission Statement and our Vision with you.....
Our mission is to establish and grow a quality organisation for toastmasters based on the highest levels of service, loyalty, and integrity.
As an organisation, our aim is to provide consistently superior services for our members and to foster an environment that enables our members to achieve personal and professional growth and success. Our members' professional needs and objectives are paramount.
Our vision is to be the highest quality Toastmasters' Association and leading provider of superior support for Toastmasters and Masters of Ceremonies worldwide. Our Association facilitates excellent quality training and marketing services which enable our members to exceed their clients' expectations and raise the profile of toastmasters and masters of ceremonies. By delivering superior quality services to our members and offering our members the highest level of training, support, loyalty and integrity, our members will be able to achieve personal and professional growth and success whilst providing consistently superior services to their clients.
We operate to the highest standards, through our published Code of Ethics. Our members work in a caring and client focused manner. We will concentrate on what is important to our clients. Most other organisations for toastmasters do not either publish their Codes of Ethics or make them available for their clients to see. Being transparent in the way that our members offer their services helps to generate trust with their clients.
Would you like to become a toastmaster for hire or work to a higher standard than you do at present?
Would you like more work?
Would you like to have better marketing and promotion?
Would you like to know how to make your clients even happier by improving your performance?
Would you like to perform your role and your duties to the very highest standards?
Would you like to work to a published Code of Ethics that offers your clients total peace of mind and shows your professionalism towards your work and to your clients' needs?
All of these benefits and many more are offered by the quality English Toastmasters Association that promotes professionalism and cares for toastmasters and the services that they provide for their clients........
Some other organisations that represent toastmasters are beginning to copy our Code of Ethics but are still leaving out one of the most important ones.
Our members do not drink alcohol when we are working for our clients and do not consider this to be 'a perk of the job'. We are here to serve our clients professionally.
Please call 01245 222392 or 07971 409977
at any time for further help or information
Just a few interesting facts about The English Toastmasters Association
We run more training courses and have more quality testimonials for training than any of our competitors. There are over 50 testimonials about our courses here on this site. This means that you know the quality of our training is second to none and you will not find better training anywhere else.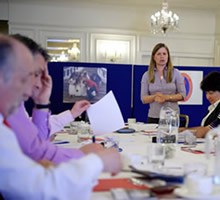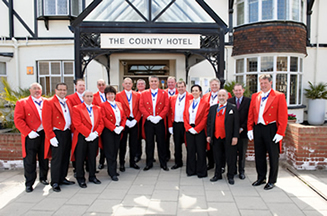 The picture left, shows members of our Association at one of our training days with Internet Consultant Sue Lees giving a presentation about working the Internet and using social media to get better known.
Members of our Association get ongoing support and training for life, all inclusive within their membership fees. This gives them excellent value for money from their annual subscriptions.
We are the fastest growing organisation for toastmasters because we work harder for our members, than any other organisation. Our marketing is far superior than any marketing from other organisations for toastmasters and therefore our members, in general, are busier than some other toastmasters.
We have our own fully-staffed headquarters with state-of-the art training facilities. This means that you can enjoy your training as the service will be provided in the way and style that suits you best. We will also cater for dates, start and end times to suit you.
We offer more, better quality and faster support for our members, including regular meetings, seminars and web services. All the benefits that a truly professional Association should be offering its members to help them with their professional development.
Ongoing training and help is included in the annual membership fees. Our members carry on learning or gaining knowledge at the speed and at the times that suit them. You choose the speed of your learning. If you want more time and more help - we are here for you.
For more information about our services please keep reading.
If you would like to join our friendly Association that works for it's professional members, offering unique, excellent-quality courses and training to the highest-possible standards,
Please call 01245 222392 or 07971 409977
at any time for further help or information
or use the contact form to find out more.....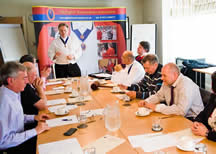 Announcing a Powerful New Toastmaster Training Course
For those people who wish to learn the skills and secrets required to be a properly-trained and client-focused toastmaster, you now have access to the best kept secrets of how you can get sensational results when working for your clients, by attending our training courses and using ethical methods of client care that other organisations do not use or even understand.

To uphold higher standards of training and focus on individuals' existing strengths, our courses for new toastmasters are held on a one-to-one basis only. If you would like to specialise in a particular type of event, for example weddings, we will be pleased to train you in the area of specialisms or expertise that you require as well as general training. Our Toastmasters Training School offers specialist training, geared to our candidate's specific needs.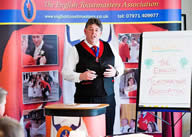 Amazing results from a higher level of training in client focused services. We will be pleased to discuss your requirements in more detail. We are also pleased to offer training for hotel staff and staff from other venues or businesses that have the need for further client focused staff training.
Treat your staff and your business to specialised training for front-of-house staff including client care and announcements. Please give us a call.
Most venue owners and managers comment that they have never seen welcome announcements for brides and bridegrooms the way that our members do it. Most guests say they did not know that a wedding could be so much fun. We would be pleased to offer training for groups or on a one-to-one basis for front-of-house staff, to give your venue or group the winning edge for client care and service.
Amazing results from one to one training. Due to the client satisfaction and the comments that we get when we train on a one to one basis, training courses will only be offered on this basis to new members in future. Training courses that are run on a one to one basis have been found to be the best method of upholding quality training, based on the abilities and requirements of each individual candidate.
The courses are generally held over three days and lead to the presentation of a certificate of attendance at the end of the course. There are no qualifications for toastmasters that are recognised by any educational bodies at this moment. We are working on formalising our courses at present and hope to have more news about our endeavours in the future.
Although we offer one-to-one training courses, candidates will go out and meet other toastmasters and visit venues as part of our courses. One-to-one tuition is always available to suit your individual requirements, based on your existing skills and experience.
We specialise in client focused services for our members, but are able to offer these courses and training sessions to non members of our organisation who wish to provide higher levels of service for their clients. We are pleased to do this because, by raising the standards in our profession, we all should create more demand for our services.
Applicants may be accepted for training and/or membership of the our Association, from existing toastmasters who are members of other organisations representing toastmasters or their interests, subject to interview and agreement to our code of ethics and a minimum of one alignment day.
We welcome toastmasters who wish to learn our different approach to higher level, quality service for our clients.
If you would like to join our friendly Association that works for it's professional members, offering unique, excellent quality courses and training to the highest possible standards, please call us on 07971 409977 or use the contact form to find out more.....