Professional Wedding Toastmaster, Professional Wedding Toastmasters, Professional Toastmaster for Hire, Professional Toastmasters for Hire, Asian Weddings, Muslim Weddings, Sikh Weddings, Jewish Weddings, Civil Ceremonies, Church Weddings, Temple Weddings
Some of our member toastmasters will be attending wedding fairs around the country
We have been updating this list as we hear of wedding fairs but suggest a Google Search for wedding fairs in your area, as being one of the best ways to find your local fairs
To contact us please call - Office 01245 222392 Mobile 07971 409977
If you are looking to book a toastmaster that belongs to the English Toastmasters Association, please go to our toastmasters from the blue bar above.
Please do not wait for a wedding fair to come around. Our toastmasters are getting booked on a regular basis and sometimes one or two years ahead.
You are advised to contact any of our members by going to the Member Toastmasters page and selecting your toastmaster from here. If you wish you may also select a toastmaster by area, by visiting the Member Toastmaster page with listings by area.
Most toastmasters will travel, but may have additional costs if they are working out of their usual localities. Please give any of our members a call to check their availability at any time.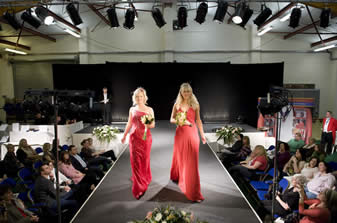 PLEASE NOTE It is important to check with the organisers that wedding fairs are actually taking place before setting out.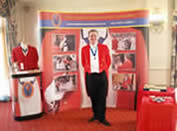 The English Toastmasters Association® Trade Stand
Members of The English Toastmasters Association are proud to attend quality wedding fairs with our trade stand. The Picture on the left shows our stand at The Stoke by Nayland Wedding Fayre. Whenever you see this stand at an event there will be members of the English Toastmasters Association available to assist you with any enquiries. Many of our toastmasters will be pleased to help you if you are an event organiser. We are happy to meet and greet your clients at any quality wedding fairs and offer other services such as making announcements. If you would like to meet any of our members, you do not need to wait for a wedding fair in your area. Please give any of them a call. They will be pleased to help you and you can get details of our toastmasters here.
To contact us please call - Office 01245 222392 Mobile 07971 409977