Toastmaster Training Meetings
The English Toastmasters Association is the only Association for toastmasters to have our own headquarters and run regular meetings to allow continuous career development for toastmasters. Details about our Toastmaster Training meetings ( the Master Mind Group ) may be found by following this link.
Learn to be a Toastmaster
Toastmaster Training courses for Toastmasters and Masters of Ceremonies are run by Richard Palmer, who is one of the founder members of the English Toastmasters Association®. We have detailed some information for you, outlining a Toastmaster's duties, activities and functions. Richard effectively holds an internationally recognised quality standard for practising his craft and attained the ISO 9001:2000 registration on 1st May 2003. This was updated to the ISO 9001:2008 registration on 1st May 2009. There is no other toastmaster worldwide who has been working to this internationally recognised certification which underlines Richard's continued efforts to strive for excellent quality client care and service.
Posted on January 18, 2012 by Dave Court Yesterday I joined Richard Palmer and Bedfordshire Toastmaster D.M. for a training meeting at Channels Golf Club, near Chelmsford. We spent an intensive 2 hours discussing how the role of a Toastmaster can assist and compliment that of a Professional Wedding Photographer. We also discussed event photography at Masonic Ladies Festivals.

Toastmaster Courses
Our basic course is for three days, which may be consecutive days or individual days to suit you. We are happy to include Saturdays and Sundays as normal training days. Richard may bring in experts in our industry who are involved in the wedding and hospitality business to offer other angles and perspectives for you. The toastmaster training school at The English Toastmasters Association is taking toastmasters into the 21st century. We know well where we come from and may be seen to be the guardians of etiquette, but modern times demand careful attention to detail and excellent service in the way and in the style that our clients demand.
The four pictures from here and below are courtesy of David Islip Photography who was one of the three photographers and one videographer at our St. George's Day meeting at the County Hotel, Chelmsford, Essex on Thursday 19th April 2012. Linda was our chairman during the morning and David Court took over as chairman for the afternoon session. David Islip's work is excellent and more information is available at www.david-islip-photography.co.uk. David thanked us for "a very educational and informative day - fun also!"
Toastmaster Qualifications
Please be aware that there are no qualifications for toastmasters yet, that are recognised by any bona fide educational bodies.
Courses for toastmasters are generally run by organisations representing toastmasters. If you have a "qualified toastmaster that has graduated" please do not be mistaken by this phrase or terminology. Would you like to graduate in 5 days? A little rich, we think!!! All organisations that offer courses will probably believe that their courses are the best and we definitely do believe that our courses are best by a long way. One of the main differences however is that we do not then throw our toastmasters to the lions. We provide further support and ongoing help. Indeed, we offer ongoing help and support to the highest level and all included within the annual membership fees.
Let us be realistic. If you want a certificate, you can have one from The English Toastmasters Association to say that you have attended one of our courses but not to say that you are qualified or have graduated.
Toastmaster Courses Testimonials
We offer excellence in all that we do to train toastmasters. Listed below are some of the comments from our attendees. I do not believe that you will find better value for money anywhere. This coupled with the fact that we offer ongoing support for our members with regular training seminars and luncheons on a regular basis and all included within our membership fees, means that you are not on your own. We have our own headquarters with full time staff in the heart of the Essex countryside yet close to main facilities. We are recognised, even by our competitors, for our excellence in supporting and marketing our members to levels that no other toastmaster organisations can even hold a candle to.
We are often complemented on our Code of Ethics and have them copied or used by other organisations, generally with the exception of one very important clause - "We will refrain from participating in any alcoholic beverages whilst working for our clients". It appears that some toastmasters unfortunately seem to think that drinking on duty is a perk of the job. In all honesty, we do not seem to be able to find anyone to agree with this where it applies to excellent client services!!!!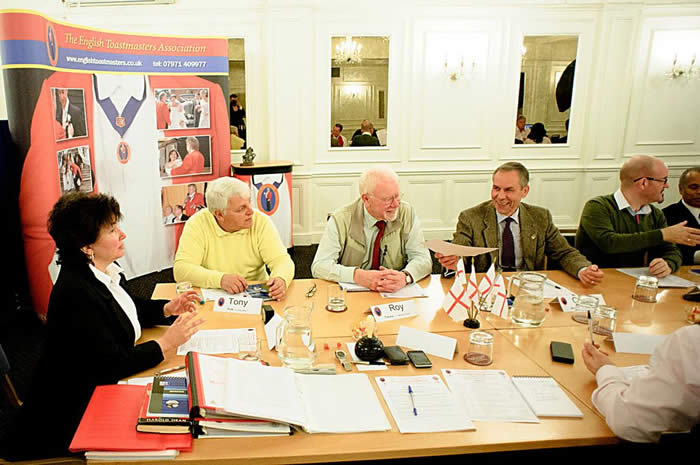 We are also pleased to offer realignment courses for experienced toastmasters who wish to join the English Toastmasters Association. This shorter course is to bring the standards up to date and introduce the Code of Ethics at the English Toastmasters Association. We cover important areas and angles of our work, that are not covered by other training providers which will help you to get the edge, if you are looking to provide a higher level of client focused services.
If you would like more information about how we may be able to help you get started or to hone your skills for greater client service, please use the Contact Us area and complete the on-line form.
Alternatively please call Richard Palmer on 07971 409977 or our office number 01245 222392 for an informal chat about your requirements. You will get a very warm welcome.
It is quite interesting to see that some other bodies that offer training actually state that they are the best or "committed to providing the best course of its kind in the country giving full value for money". We will not state that, because it is only a matter of opinion and not a fact.
Core Values: Our core values are an integral part of our culture and the set of principles we see as most crucial to our work. By learning more about them, you can learn more about what lies at the heart of The English Toastmasters Association. Our members look to our core values to guide their decisions and actions, and new members and longer serving members draw inspiration from them – both inside and outside of our Association.
These core values spotlight just a few of the many incredible ways that our members are rising to the occasion and applying our core values to their day to day work for the benefit of each of our clients. We are energised by the progress we have made and we will act on the lessons we have learned over the last two decades.
We will ensure that as we grow, we will continue to place particular priority on recruiting and developing individuals who share our passion for continual improvement of our services for our members and their clients. We aim to foster and accelerate educational leadership that will drive lasting, systemic change throughout our industry, raising the quality of our work to the satisfaction of our clients and the opportunity for our members to fulfil their true potential.
Transformational change: We seek to reform and expand educational and professional opportunity in ways that are comfortable for our new toastmasters and transforming for our members and our industry. Given our deep belief in our work and the difference that we can make to our clients, the magnitude of the results from our particular teaching system and its consequences, and our optimism about the standard of our services, we act with high standards, urgency, and a long-term view.
Leadership: We strive to develop and become even more renown as being the leaders in our sphere of work necessary to realise excellence and delivery of a superior service to our clients. We establish bold visions and share and invest with others in working towards them. Wherever we see change that has a meaningful impact, we work in purposeful, strategic, and resourceful ways, define broadly what is within our control to solve, and learn and improve constantly. We operate with a sense of possibility, persevere in the face of challenges, ensure alignment between our actions and beliefs, and assume personal responsibility for results.
Team: We value and care about each other, operate with a generosity of spirit, and have fun in the process of working together. As part of our commitment to maximise our collective impact, we inspire, challenge, and support each other to be our best and sustain our effort.
Diversity: We act on our belief that educational ability will succeed only if it is diverse in every respect. In particular, we value the perspective and credibility that individuals who share the racial and economic backgrounds of the members with whom we work can bring to our organisation, meetings, and the long-term effort for change to higher standards.
Respect & Humility: We value the strengths, experiences, and perspectives of others, and we recognise our own limitations. We are committed to partnering effectively with fellow toastmasters, other associations from other professions, and the broader spectrum of individuals working in our industry to ensure that our work advances the broader good for all our clients.
Comments about our toastmaster training courses
We believe that we offer exceptional value for money and deliver our courses in a way that is tailored to the individual's needs and current capabilities.
We also offer a fellowship for like-minded people who wish to provide exceptional service to their clients.
If you would like to read the testimonials below, you may get an idea of what our attendees thought about their courses and their continued membership of the English Toastmasters Association.
The training we provide goes deep into the emotional side of our work and also takes into consideration how you will feel when you undertake your very first job. It is important that you start with the right level of confidence, knowing that everything about you is right. You are dressed correctly. You know where and how to stand. You understand your clients' needs and how to make sure that you wow them by working to very high standards. You have the correct kit of parts to cope with virtually any issues, from a detached veil to a broken wedding dress hoop. From stains on virtually any fabric to the order of the speeches and how to get the best reception for your clients, you are there to give best advice.
We are the only Association to have our own HQ with a dedicated training room and staff to help you at most hours.
Some toastmaster testimonials about our one-to-one toastmaster training courses
Richard, Now that I have come down to earth please may I say how delighted I am to have found and trained with the English Toastmasters Association. As I said many times in our conversations during the last week, I have read your website "from cover to cover" and thought I knew what to expect regarding your training methods. Nothing could have prepared me to receive the wealth of information you imparted during the many hours we spent "training". The time passed so swiftly thanks to the style you use and the interesting lines of approach to each subject. Each day my head was overfilled with new and important information. I need not have worried about retaining it however as your continued repetitions wove the many threads of toastmastering into a strong cord. It was an absolute delight to have met and worked with you and Linda and I hope you can tell from our brief conversation last night, I can't wait to get started. Very Kind Regards Your's Aye! Mel Brooks Lt Cdr
A professional course, giving me a professional insight to qualify me as a Lady Toastmaster. I now look forward to putting the learning into practice. Thank you Richard M.A.M.,
I got the feeling that the training is delivered to the applicant's needs and best learning practises - I liked the anecdotal style with interaction.
I was made to feel welcome and that the course was about me and that I was the important person in the whole training time.
A big bonus was being greeted with a bacon roll every morning, even the practical things were positive - being picked up and dropped off every evening took away allot of trouble and time. I felt I was being brought in under a family rather than just a normal training facility.
I may need to provide Richard with some more up to date jokes though!!
I would like to extend my thanks as they made it clear in words and action that there isn't enough they could do for me. I am confident and excited about my future as a toastmaster. I have now found friends for life in Linda and Richard.
K B, London
My kind of delivery - Relaxed but highly informative. No one should think twice about attending this course. It will indeed be a pleasure to be a part of The English Toastmasters Association family. Richard and Linda are true professionals. NR Nottinghamshire
Thank you very much for the best three days training ever. Both Richard and Linda's approach to this course is so very professional and informative. Here's to many years of friendship, work and pleasure. K R. J Yorkshire
Thank you very much Richard and Linda for your warm welcome and hospitality during my three day training course at the ETA HQ in Essex.
It was a real pleasure to meet you both and complete my Toastmaster and MC training. It is clear to me that you have a wealth of experience and are passionate about the work of the ETA and its growing number of committed professional members.
Our time together gave me even more confidence in my ability to be a top Toastmaster and in the ETA continuing to lead the way in all aspects of this area of work.
Thank you again! Best regards A.B..
Dear Richard and Linda, I feel that I must write to you both to thank you for the kindness and hospitality I received last week during my Toastmaster Training Course.
Your help, humour, magic, coffee, chocolate biscuits and extensive knowledge rewally helped me to absorb your advice and wise words in the relaxed atmosphere of your office. I found that the "one to one" personal training was ideal and suited me much better than "Class Room" teaching.
I am looking forward to putting some of my training into practice very soon and to enjoy a new future as a toastmaster. I look forward to meeting you both again soon. Yours sincerely K. R. S.
Good morning Richard, This is just a quick follow-up e-mail to thank you and Linda for your continued support. I trained with you in March this year and thought that would be it. Maybe I'd see you at some of the monthly meetings that are held for members of the E.T.A. and if I had a question relating to my training I may be able to contact you for advice.
How wrong I was, you have been there every step of the way, and continue to be so. When I needed advice regarding Town Crier duties you not only loaned me some of the kit, you also gave me additional help and support to carry out the job to a professional standard.
I have also observed you at 3 weddings where I learned so much about being a Toastmaster, that cares for his clients to the very highest standard.
Whenever I call Linda or you for advice or even just a chat, I always come away from the conversation knowing that you are always there to offer whatever support you can. Thank you for everything over the last 5 months, and long may our friendship continue. J. C.
The course suited my learning style and was very intensive, informative, pleasant three day course, tailor made to my personal requirements. Excellent service provided by Richard and Linda. Looking forward to an ongoing relationship, advice and support. P C Surrey
I thought you might like to know that I completed my first wedding yesterday. It was a stunning success! Despite there being 120 guests, it all went smoothly and the wedding party were very pleased with me - they had nothing but praise. No one knew it was my first time out. This was thanks to the fantastic training I received from you both. I went in feeling armed with all the necessary skills to deliver a top rate service...and I did. See you at Trafalgar Day. James, Hampshire
The course was very well presented and informative. Plenty of opportunity for questions and answers. Very flexible with regards to dates for training. Would strongly recommend the English Toastmasters Association to anyone considering embarking on a career as a toastmaster. Once again thank you both very much for the training and the hospitality you afforded me, which made what is an excellent course, that more enjoyable and relaxed. I am really looking forward to a long and lasting association with the English Toastmasters Association and friendship with you both. S A. Essex
I always receive great help and support from Richard and Linda and always have a great time at Danbury. Just keep doing what you do. You are always available should I have any issues and I am totally satisfied with your help and support. Thank you J. C.
Dear Richard, Many thanks for the super day that we had yesterday. I left feeling that I had learnt so much and knowing that I still had so much more to take in. The videos were a great asset and showed how a true toastmaster works. I look forward to the next steps in my training with both you and Linda. Talk soon. Kind Regards D M Derbyshire
Richard and Linda, Thank you for your patience in responding back to you following completion of my successful training and membership to the English Toastmaster Association (ETA), affiliated to the Royal Society of St. George. To others considering undertaking training with you both I would say this…"it certainly did what it said on the tin!" The evidence for this was completion of the training on the Monday, collection of my uniform from a London supplier on the Friday and on the way home I received an unexpected call from a hotel in Lincolnshire who needed a Toastmaster for a wedding the next day as they had been let down at the last minute!
Thank you Richard for putting my details on the ETA website so soon after completion of my training! My first wedding which I will be writing up for ETA members went really well and the intensive and personalised attention throughout my training gave me that confidence to come up with the goods on the day. In my opinion Richard and Linda are the perfect role models for facilitating the toastmaster training with their previous experience, active support throughout and attention to every last detail. I really feel I have joined a family of Toastmasters in the ETA as well as a professional network.
The inclusion of optional monthly seminars as part of ETA membership is an excellent idea and promotes a sense of camaraderie and peer development for Toastmasters that makes it stand well above other similar organisations. I look forward to making a useful contribution in the ETA and in promoting excellence with my future clients…one of the obvious intentions of the ETA. Thank you Richard and Linda for beginning as professional toastmaster facilitators and ending as what I am sure will now be a lifelong friendship. I will fully endorse Richard and Linda's ETA training within my own circle of influence and I am sure you will continue to go from strength to strength. Keep up the good work and for giving me an excellent start on my Toastmaster journey. J.D.
Fantastic 3 days. Well presented in a relaxed format and environment. Both Richard and Linda have a wealth of knowledge which they are happy to share, both relating to functions and running a business. Thoroughly enjoyed the last three days, both your company and the training were a pleasure. I'm still buzzing after the weekend, it was great, thank you. H. S.
A fantastic course, an excellent relaxed environment to learn in. Everything comes together beautifully. I have learnt so much in the past three days. Thank you T L Hampshire
Great course giving a thorough understanding of the business. A real pleasure. P W , Buckinghamshire
To paraphrase a more famous person than me, I came, I was trained and I am ready! Great three days in your company and very comprehensive coverage on the art of being a toastmaster. Much more to it than meets the eye and your videos amply demonstrate the good from the bad! No better way of being trained than with good amiable company and you are both that and more. Particularly keen to come to the monthly meetings so that I can brush up on various aspects and meet the rest of the Association members. Doubtful that I can make Tuesday but will do my best for the others. The three days have given me the confidence that I can perform as a toastmaster to the satisfaction of everyone. Many thanks again and look forward to chatting with you soon, J B Kent
After over 20 years in the Hospitality Industry, Richard has proved to me to have an excellent grasp and sets an excellent example of what customer service is all about. This is put across wholeheartedly throughout the toastmaster training. as the foundation of what makes a good toastmaster. The course is conducted in a professional manner, using real life experiences as examples of what and where the English Toastmasters Association is heading. S E,
A follow up letter arrived from Ralph on 12th May 2012 which reads;- I rather think that a letter of thanks is long overdue, and needless to say this correspondance is sent with heartfelt appologies for my tardiness in writing. However, moving happily forward I did want to write to you both and convey my sincere gratitude and appreciation for your assistance, help and support since my inception into the English Toastmasters Association. As you know, a previous personal experience left me somewhat dubious of so called "National Associations" that are run as a private entity and as a result I was somewhat hesitant in joining the ETA, simply for fear of parting with my hard earned cash only to receive back - not a lot.
I can whole heartedly say that this was not the case with your good selves - moreover and in my opinion, the complete ethos of the ETA, I should imagine, is unrivalled within the industry. Indeed whilst the training perhaps was not as useful for me as it may be for an individual who is completely new to the wedding industry, the post-training continued and constant support, advice and time is truly unbelievable and it goes without saying that I am extremely pleased and proud to have chosen such a well run and organised association that actually cares about its members and their career path.
As time moves rapidly forward I am confident that with the backing of the E.T.A. and you both, I can look forward to the future of toast mastering as an exciting and prosperous career. In the meantime I am really looking forward to seeing you again. With fond regards and thanks again. R H Surrey
A most enjoyable course with a very passionate and knowledgable tutor!! I look forward to my new and exciting career with the E.T.A.. R H, Surrey
A first class course - professionally designed and executed - Clear objectives at all stages lead to a thorough understanding of the role of a toastmaster -Highly recommended D.C.,
A follow up e-mail arrived from Jim on 18th March 2011 which reads;- Good morning Richard and Linda, Thank you so much for your hospitality and expertise during my training course with the E.T.A. last week. I found the course to be fantastic value for money, and learned so much about being a toastmaster in a fun and informative way. You even picked me up and dropped me off at my hotel each day, which I thought was going way beyond what was asked. I look forward to a long and fruitful relationship with the E.T.A. and cannot recommend the training course enough. BTW, maybe a bit more mustard in the sausage sandwich next time. Speak soon.
I found the course to be very informative and would not wish to change anything regarding the contents. I have had a great 3 days with lovely people and would recommend the E.T.A. and course to anyone. J.C.
Hi Richard, hi Linda, I know I said it today as I left, but many, many thanks to you both for all the help and guidance you have given me. It was a pleasure to meet you, and a pleasure to be with you both for the three days. As it says on the web-site 'you have taught me more than you realise'. I'll be in touch as and when my clothes arrive from Howard – just to let you know all is well. This note comes with kind regards and best wishes from TH This was a follow up e-mail
Please do not make any changes. The way you go about things leaves me speechless (almost). I have learned from you more than you will realise. My Japanese job in July will not be too easy as it's the first, but having experienced the tuition Richard gave I have lost my doubts. Many thanks to you for all you (and Linda) have done. TH Chester
The course is very informative and until you do it you don't realise just how many aspects there are to being a highly successful toastmaster. It sets you up with the basic structure to use and refer to as you gain more knowledge and experience as a toastmaster in a very rewarding industry. J M Berkshire
I have had a fabulous three days with so much to take in. With my experience and the tools Richard and Linda have provided me and a professional and comfortable approach it was a pleasure. I will always be grateful for the time given. Thank you so very much. L C London
Dear Richard, Just wanted to say a massive thank you for the support you offer me as a member of the English Toastmasters Association. Apart from the regular seminars that you run, whenever I call on you for support I am always blown away by your enthusiasm, knowledge and professionalism.
Thanks to your latest efforts and advice my new Wedding website www.smile4weddings.co.uk which promotes combining my Toastmaster / Master of Ceremonies role with my experience and skill as a DJ is already ranking on page one of Google after only a couple of weeks!
Your dedication to the ETA is to be commended and as members we need to remember that we have someone at the helm who works very, very hard to make sure that our Association continues to be at the forefront in terms of training, support and quality of service. Thank you and best wishes to you and Linda. Regards RK Somerset
Richard - I am most grateful to you personally and the ETA for introducing me to the world of the Toastmaster. I'm also grateful for the help and advice you have provided me whenever I've telephoned and asked. Having shadowed you at one of your weddings I know you to be a Toastmaster of the highest calibre, meticulous in every aspect of planning and delivering a great wedding or function. That day with you taught me so much about our craft. Again having seen your work if I was asked to recommend a Toastmaster in Essex or the surrounding region you would be my first and only choice. Thank you Richard M. W.,
My training here at The English Toastmasters Association has inspired me to be better at what I do. Richard Palmer is undoubtably a great mentor. A.D.,
The training was excellent and it should be adopted as a national standard, assuming there is none at present. Both Richard and Linda are fun to work with and they bring valuable experiences and guidance throughout the training sessions. D.M.,
Good morning Richard, Thank you for 2 great days of training not just in toastmasters but also website information. You clearly have a wealth of knowledge and experience in many areas and it is a testimony to you that you willingly offer this advice, so thank you so very much.
I have a strong vision of the route to market and it is very clear that a strong clear website is required and I would like to spend time with you to go over again what you showed me yesterday, I can see how being able to edit your own site is going to be a huge cost saving, rather than employing a web designer to do it!! I need to get to grips with this asap.
I think your range of equipment is amazing and I will upgrade so that I can offer the service at bigger venues/weddings. The last 2 days have been superb and it feels a little deflating if I'm honest going back to the mundane day job this morning because I feel so passionate about it!!
Thanks to you and Linda for your kindness and support, I am looking forward to developing things straight away. Kind Regards J MBerkshire
Thank you for three excellent days of training with the English Toastmasters Association. I leave you in the knowledge that I am equipped with the 'tools' to start my adventure as a toastmaster on the right footing. I very much look forward to a long happy and fruitful relationship with the English Toastmasters Association. J M
A follow up e-mail arrived s;- Dear Richard and Linda, I wanted to write and thank you both for a very interesting, exciting and informative three days with you in Essex. I found your style of teaching enjoyable and easy to digest. I am actually staggered at how much I now actually know. It is my belief that you have equipped me with the necessary knowledge and skill to become an excellent Toastmaster, and it is my intention to strive to be the best.
Much of the work begins now i.e. after the end of the course. I have a long checklist of things to do which I am gradually working through. It is an exciting time! Please feel free to use any of the above on your websites.
Thanks again for a splendid time! All the very best J
Fantastic 3 days of training with Richard & Linda. 1 - 1 Training is definitely the right way to deliver this course. What a great informal relaxed atmosphere!! Thank you to Richard, Linda & David D. M.,
I am really glad that I chose to undertake your training course above others available. Your one-on-one approach suited me perfectly, while your wealth of experience combined with a wicked sense of humour and boundless enthusiasm for the Toastmaster role to create an ideal learning environment. I really enjoyed it.
Thanks also to Linda, not only for sharing her own experiences as Toastmaster, but also for her invaluable insight into life as an event coordinator.
I felt the method of delivery to be just right for a one-on-one course of this nature. It allowed the flexibility to tailor the order of topic discussion to suit my individual needs, and the DVDs helped immensely in driving home salient points in a memorable way. I can't think of any topics that weren't covered
This has been an intensive but most enjoyable course that has delivered a raft of valuable information on a broad range of topics in just three days. The opportunity to meet Dave and Austin provided an excellent opportunity to discuss how a Toastmaster should (or should not) inter-relate with others involved in an event. From having little or no knowledge of what a Toastmaster does and how to do it, I now feel confident that I can provide a first-class service to any who make seek to engage me.
I'm glad I took up your suggestion of aligning the course with your latest seminar. It was an ideal opportunity to meet some of the fellow members of the Association and to hear of their experiences – warts and all. What clearly shone through was how much everyone loves doing the job. I'm looking forward to putting the theory into practice. SPWales
The course aims were met and all training objectives achieved. A splendid 3 days. M S Suffolk
Please call 01245 222392 or 07971 409977
at any time for further help or information
A follow up e-mail arrived from Mike on 21st July 2011 which reads;- Hi Richard, I would like to thank you for your warm and professional approach over the last three days. It was a pleasure to be in your company and I now feel more than comfortable of trading in our craft. Please pass on my warm regards to Linda as she too played no small part in what I feel was a very successful 3 days. Best regards
Excellent 3 days. Very friendly and instructive, best training ever attended. Thanks. Richard and Linda ( no sugar in future!! ) T P
Dear Richard and Linda, I can't believe a week has passed already since the three days we spent in your company. We both thoroughly enjoyed the course and all it entailed. The relaxed approach shown by you both made it so easy to discuss together the numerous questions that arose on each of the days. Nikki is busy already on the internet finalising our clothing and we are also starting to make contacts with local people that may be able to help us.
Thanks again for the time you spent with us. Kind regards J. & N. C.,
An enjoyable and excellent course. Content and information are pitched at a good level and pace and this approach suited me. Can't wait for my first booking - Thank you. P.S. Bacon rolls were superb!! R.H.,
A follow up e-mail Well what can I say? A big thank you for your time over the last few days, the insight you have given me into the profession ( I can use the expression Profession with confidence ) has been excellent and your passion for the profession certainly came across and has enthused me even more. The content of the course was excellent and has certainly given me a good start into my new venture. If I can be half as passionate about the profession and client care as you, then I know I will be a good toastmaster worthy of being a member of the ETA. Again many thanks. P.S. - I can't send a thank you e-mail without mentioning the excellent hospitality and the bacon rolls ( or should I say the bacon sticks! )
The information was delivered in a tried and tested method of tutoring and learning. This course was excellent and very informative. Richard was very relaxed in his manner, which resulted in a very enjoyable three days. CE Cambs
A follow up e-mail awhich reads;- Just a quick note to thank you for last week's course, and also to Linda, David, Andrew, Harish and Alain for their input. Whilst the days were quite intense, they were extremely enjoyable and the time just flew by. Thanks also for Wednesday's seminar. It really was good to meet some of the other guys and to hear about their successes and also some issues encountered. Thanks once again, now looking forward to my first engagement.
Thank you so much for the excellent course last week and for your splendid hospitality, for which I am most grateful. I felt very much at home and thoroughly enjoyed the content and meaning of the three days. The information and delivery and presentation of the information was excellent in concise form. Keep up the good work! I reiterate my warm thanks for all that you have done for me. Best regards B S Devon
A most pleasurable experience. I have learnt so much and the pace, tone and standards were perfect. Great hosts, great set-up....all good!! LR
A follow up e-mail ;- I am now back in the land of thistles, haggis and salmon filled rivers.
I just wanted to thank you for a very informative course and the time you took to impact the standards and qualities the English Toastmasters Association expects its members to work to. I am sure I will enjoy developing as a toastmaster and look forward to my first 'challenge'.
The experience and knowledge you passed on during the course will, I am sure, set me on an even-keeled course for success in the business. I fully concur with the sentiment that the bride and groom are the most important part of the day and their happiness is paramount.
Again, many thanks for the great start you have given me in my new career. Regards to you, Linda and Sam, Sincerely,
This has been a brilliant introduction to the world of toastmastering. Your seemingly endless experience has been invaluable in illustrating the toastmasters' skills and providing the understanding needed by me to take my first steps into toastmastering without excessive fear or trepidation.
Thank you for all your support, and Linda's too, for what I know will be a very good and long-lasting friendship. I leave my training brimming with enthusiasm and will do all I can to promote the Association. C W Suffolk
A follow up e-mail which reads;- Dear Richard, Very many thanks for all your endeavours to train me in the skills of toast-mastering last week. You could not have been a more attentive or enthusiastic tutor and your passion shone through continuously. Your knowledge of the business is probably unrivalled and I am grateful to you for not only giving me the big picture but for delving into the nuances of the profession too; if I can replicate half of what you do I feel I shall be onto a winner and, with time, I hope to emulate all the detail that you manage to bring to the fore for each of your clients.
I feel I am well equipped to take on my first wedding and I really can't wait to get going.
The three day course has been very well thought out and delivered. The whole training has been a pleasure and I'm looking forward to my first event.
Thank you particularly to Richard & Linda also those others that have given me the benefit of their roles. David Court, Alain Heaysman, Adrian Hayes, Garry Smith and Sam Dimond P N G,
Having now got back to Devon I felt that I just had to write to thank you for the brilliant four days spent with you training as a toastmaster in the English Toastmasters Association.
Your teaching methods might be considered by some to be unorthodox, but what matters of course are results, and results that leave one fired up and wanting more. To my mind the approach to training that you take is far better than a more formal presentation of facts and figures with an examination at the end.
The training for the English Toastmasters Association of course did not stop there but continued over the lovely lunches that we had with other toastmasters from the English Toastmasters Association, during which I had the benefit of their knowledge and experience, and here I would also wish to express my thanks for the invaluable help and advice that I received from David, Andrew and of course Linda.
With the four days culminating in the Trafalgar Day lunch, and the time spent with the other toastmasters in the Association, during which I received my formal welcome into the Association and the presentations of certificates of training, I left to return to Devon knowing that I was now involved with a very professional organisation that was committed to providing the very best of care to its customers, and care that is to the very highest of standards.
Richard, all I can do to end here is to say a very big thank you to you, and that I am extremely pleased to be associated with the English Toastmasters Association and all that it stands for. Kind regards to both you and Linda A S Devon
A follow up letter a which reads;- Dear Richard, As you know I was Toastmaster at my first wedding this Saturday just gone. Like my fellow Toastmasters in the Association who have reported on their first event, I can honestly say that the next one cannot come too soon!
The wedding theme was 'Casino Royale' with Aston Martin DBS, tuxedos and the Bond style. Whilst this could perhaps have been rather tacky, my Bride, Groom and their guests carried off the occasion with panache and this gave me the opportunity to introduce some appropriate humour into the occasion without acting as a comedian.
Richard, I don't think that I could have coped on Saturday without the fantastic training that I received with your personal one to one approach and the opportunity to meet with other Members of the Association and hear of their experiences. I have to say however that there was nothing quite like the first wedding to bring that training into focus and to show me that it is important to stay sharp and controlled! I can honestly say that I learnt a lot on Saturday, not that I feel that I made any mistakes, but I learnt how, with experience, I will be able to continue to make the day the best that it can possibly be for my clients' and my own enjoyment.
Once again Richard, thank you for the tremendous grounding and insight into Toastmastering, and for giving me the confidence to take that first step, and from there on to hopefully get better and better. Kind regards
What can I say? I found the format very easy to work with. The time spent with Richard, Linda, Dave and Sam was some of the most informative, helpful and fulfilling training and support I have ever received. I look forward to spending much more time with these lovely people! Just a note to say a massive thank you for the training I received from your good self and The English Toastmasters Association. The biggest compliment I can give you is that everyone I meet when in uniform has commented on how natural, confident and happy I come across. This can only be down to you guys giving me the confidence and support in the first place, thank you!
I'm not stopping yet. Not only did I receive excellent toastmaster training, but also the advice on optimising my website has resulted in 'Somerset Toastmaster' appearing on page 1 of Google within 3 weeks. Remember my non existent 'Smile' website? Well, after following your advice, 'Smile' is also appearing on page 1 or 2 of Google! Yet more proof that the training and support you offer really works! Keep up the fantastic work my friend! R DG KSomerset
After three days of intensive, stimulating and motivational training with Richard, I can honestly say that this was the most enjoyable and successful course I have ever attended. The 'one to one' basis works brilliantly, as it allows questions as we work ( and I had plenty! ) The DVD films of weddings with toastmasters working in ' real life ' situations, was invaluable.
Meeting with other professionals was also invaluable and the attention given to detail was so helpful. Add this to the support and advice on the importance of website marketing, I feel fired up and rearing to go!
Thank you Richard for all your help - I will do my best to be a great toastmaster - a member of The English Toastmasters Association.
A follow up e-mail from Paul reads as follows;- Thank you for today's meeting, and my feedback will be sent to you in the post. Though I am very new to the profession and to the ETA, it is your professionalism and enthusiasm that has been a real inspiration to me and simply confirmed that my decision to invest in the ETA was the right one. Look forward to seeing everyone at the Trafalgar Day event. P W
Please call 01245 222392 or 07971 409977
at any time for further help or information
Hello Richard, Just a short message to say thank you. I became a member of The English Toastmasters Association in August 2010. On Sunday 10th October I attended my first wedding fayre. At first I was a little nervous and watched brides walk past my stand with no interest. I thought, well this is never going to work, so I stepped back and thought "how would Richard do this...", well it worked. Even having another older more established toastmaster at the same venue - charging a lot less than me, I feel that the feedback from brides at what I and our Association could provide them, we won hands down. No contest.
So it is with heartfelt thanks to you Richard, for all your hard work and teaching, a very big thank you. Yours Respectfully MH W - A proud member of The English Toastmasters Association.
I was made to feel at home. The help and support I have received, words cannot describe my thanks. I must express my gratitude and deepest thanks for all the hard work, time and commitment you showed me over the last few days. It will never be forgotten and I hope that all your hard work will be recognised and that my achievements can go some way to help this. Best wishes M W
I feel very confident that I will progress as a toastmaster both in the amount of work I do and level of performance. Thank you for a wonderful highly productive 24 hours. R H,
Training to become a toastmaster with Richard Palmer at the English Toastmasters Association may best be described as informative, intensive and supportive. The training left me with the feeling that " I want to get started now - tomorrow ".
The training prepares you for being the best professional toastmaster that clients are ever likely to meet. When the training is completed, Richard and the English Toastmasters Association continue with the support in every aspect of being a professional events and wedding toastmaster.
To sum up the training, a comment at the end of the day from a recent wedding, made by a bridesmaid to me was, " Alain, I was anti toastmasters and saw no need for them at a modern day wedding - you have changed my mind." Well what can I say - it must be the training! A H Essex
I don't see any changes that could possibly make this course any better. Best three days training I've ever had in 30 years of business. Brilliant. I have learnt more than I thought I ever would in such a short time. Keep up the good work. M. K.,
Excellent pacing and highly personalised, very practical and helpful at all times. I enjoyed the course immensely and found Richard's explanations and knowledge interesting, effective and informative. I can't wait to get started. WF Surrey
Meeting other toastmasters and another trainee toastmaster was invaluable, as was spending time with Dave Court (Court on Camera) the photographer. Thank you Richard! P W, West Midlands
The course was conducted in comfortable surroundings and was well structured. It was very helpful to meet other toastmasters and colleagues. V K
A follow up e-mail from Vanessa arrived on 22nd March 2010;- Dear Richard, Many Many Thanks. I just wanted to thank you properly for the wonderful training I've had over the last three weeks. Thank you also for the delightful lunches and the opportunity to meet David and Andrew, which I found very valuable. I feel excited beyond words about my new career and I feel your course has really prepared me well. I'm particularly grateful for the ongoing support you provide. I'm looking forward to meeting up with you again. All the best. Vanessa.
A follow up e-mail from Vanessa arrived on 10th April 2010;- Hi Richard, I just wanted to let you know I had my first planning meeting last night and it went better than I could have dreamed. Your training was absolutely first rate. Last night was proof positive that your approach really works extremely well. Warmest Regards Vanessa
Another e-mail from Vanessa;- Hi Richard, I'm sorry I can't be there tomorrow, as much as I would love to. I wish you all the best for the day, and also for the road show. I hope you know I hold you in greatest respect and I'm really pleased to be part of the English Toastmasters Association. Wishing you all the best. Vanessa
Don't change anything but please don't get me so excited about toastmastering that I can't sleep before the next day of the course. Thanks again for a fantastic learning experience. BC
Excellent three days, I would not change anything - for me, it suited my style of learning. S G Essex
Don't change the way that you deliver your courses, although very intense I imagine you would not receive the practical, visual and off site training with any other association. Thank you
I just wanted to express how much I enjoyed the training course last week. Prior to the course, I imagined myself being stuck in front of a PowerPoint presentation for three days in a cold classroom! The way in which the course was delivered by far exceeded my expectations. It was presented to me in a very relaxing atmosphere.
The course was exceptionally interesting and informative. I have learnt a lot from you within these three days and admire your enthusiasm and professional attitude towards the industry. I particularly enjoyed visiting local venues and meeting your colleagues. I am sure no other association would include this within their training courses.
Having found my car in the snow, I left the Association's Danbury Headquarters on a high. I feel very excited about my future as a toastmaster alongside my relationship with you and the association. The training that I received makes me very confident that I will become a successful toastmaster.
A big thank you to you and Lindsey for your hospitality. A W Dorset,
Outstanding course, well worth every penny, my thanks to Richard for his time and training he gave me for toastmastering. Many thanks, I am so happy to have become a member of the English Toastmasters Association.
A follow up e-mail arrived on 7th January;- Thank you for the last three days, I enjoyed every last hour, minute, second. Many Thanks, JG
Thank you Richard for helping and guiding me through the course. Loved every minute and look forward to being a member of the English Toastmasters Association.
A follow up e-mail from Chris arrived on 23rd December 2009;- Good morning Richard, I just wanted to thank you for all your hard work yesterday and for lunch. I found it fun, informative and it was great meeting some of the guys. Also please pass on my thanks to Linda and Lindsey for their help over the last few months. Not only have I obtained the training and information for my career as a toastmaster, I feel that I have made some wonderful friends in the process. I wish you a very merry Christmas and a prosperous 2010, Kind regards C W, Essex
The course content was fully covered in a very friendly and informative manner (time taken to meet any queries). A pleasure to meet other related people like photographers, toastmasters and venue organizers. Thoroughly interesting, the three days flew by and the assistance with my web site was invaluable. It was a pleasure to have attended the training course as it exceeded my expectations and provided a much greater insight into the role of the toastmaster which is down to the quality of the trainer. I look forward to meeting other toastmasters in the near future. Thank You J J Wales
Perfect delivery in a relaxed manner, just what I like. Excellent R. G.
A follow up e-mail from Ron arrived on 2nd October 2009;- Hi Richard I would just like to say a big 'Thank you' for the three and a half days training that I have just undertaken. As a retired teacher I know only too well that there are many different teaching styles and yours comes over so well because of your passion for your calling as a toastmaster and your impeccable attention to detail. These traits make it easy for the 'trainee' to grasp the fundamentals of our profession in a relaxed and informal manner. I have learned a great deal in the last few days and I now look forward to putting into practice your teachings as well as carrying the Toastmasters flag over the pond to America. It was also a pleasure to meet fellow Toastmasters of the E.T.A. at the 'Wedding Seminar' and I look forward to meeting more of these splendid gentlemen at our meeting on Trafalgar Day. Once again, thank you so much for your time, patience and the excellent direction that you have given me. R. G.
First class training by a very impressive professional body.
Dear Richard I would like to thank you for your professionalism in the lead up to my training with all details being covered with spot on precision. As for the training itself, I found it to be very informal which I believe allowed me to take in so much more of the information you were only happy to impart to me. I must say that I had a great insight to the world of toastmasters via your training methods which allowed for a most enjoyable few days in your company. This might not be the longest thank you letter you have ever received Richard but it is sent with my sincere thanks and sincerity for your kind help and professionalism during my training. A big thank you also must go to Lindsey for the constant flow of tea and for setting up my details on the English Toastmasters Association website. C R W Essex
The course is delivered in a relaxed one to one atmosphere with a personal insight to the profession. The back up and training is amazing and makes you feel part of a team, camaraderie is probably the word, giving you the confidence to do the job, excellent tuition, thank you for the course. G S
Professionally presented course in a relaxed and enjoyable atmosphere. Superbly supported by Lindsey and Linda. This course has given me the confidence to offer a more professional service to future clients. A pleasurable experience throughout. Many thanks to you Richard
The three major benefits of belonging to the ETA are professionalism, ongoing training, guidance and marketing and it is a pleasure to be involved with such a sociable and professional group of people. Roy Timms Bicester Oxford
Need more time, Richard Palmer is a good instructor and will also listen and answer questions honestly. B W G Florida USA
Dear Richard I would like to say thank you for the toastmaster training this year. It has been extremely good and has helped me to progress to a higher standard. The whole program was very well structured and watching you work in your professional capacity is an inspiration to anyone within the profession. Your standards are very high and that shows both professionalism and extreme customer care, and that is what is needed to succeed. I hope to see you soon. Kind regards JW
Please call 01245 222392 or 07971 409977
at any time for further help or information
Michael Wall has recommended your work as a Founder Member at English Toastmasters Association. Dear Richard, I've written this recommendation of your work to share with other LinkedIn users. Details of the Recommendation: "Richard - I am most grateful to you personally and the ETA for introducing me to the world of the Toastmaster. I'm also grateful for the help and advice you have provided me whenever I've telephoned and asked. Having shadowed you at one of your weddings I know you to be a Toastmaster of the highest calibre, meticulous in every aspect of planning and delivering a great wedding or function. That day with you taught me so much about our craft. Again having seen your work if I was asked to recommend a Toastmaster in Essex or the surrounding region you would be my first and only choice. Thank you Richard"

I believe the course fulfilled my objectives. It was well paced and passionately delivered by Richard. The DVD's show real life weddings. These were especially helpful. The course is not only about delivering toastmaster services, but more importantly about delivering with care for the client.
, Just thought I would catch up with you to re emphasize how delighted I was with last weeks training. Having now had more chance to reflect on the course and its content, I would like to reiterate my praises of the 3 days with you.
Training with the English Toastmasters Association on a one to one basis not only includes fantastic lessons in the duties of a toastmaster but also really interesting and useful sessions on such things as customer care and how to market myself, like the assistance and advice on producing my web site. And all this in 3 days.
I did quite a bit of research into other toastmaster associations and I don't think that I found one of them that could offer so many benefits as that at the English Toastmasters Association. Most certainly none that can match the marketing value of being linked to the English Toastmasters Association. The biggest single WOW to me was to see my name already on the first page of a Google search due to the many sites operated by ETA. Very special thanks to Linda and Lindsay for their contribution to my course. M W,
l
A follow up e-mail from Michael arrived on 22nd May 2009;- Hello Richard. Hope you are keeping well, I just thought you may be interested in the stats for my web site, what may be of particular interest to you in promoting the marketing values of belonging to our association is the amount of hits my site has had from links to the English Toastmasters site.
Thank you for sharing experiences, in a very relaxed and informative yet positive manner.
Just wanted to say a formal and sincere thanks for a smashing, informative and well run induction course. It was a real pleasure to meet with you both and share your toastmaster experiences and indeed reap the rewards of your experience and advice. It was great to gain the knowledge in a very friendly and relaxed atmosphere, whilst also enjoying meeting various members and trade partners. I am so looking forward to getting started, and will strive to continually reach ongoing excellence for the benefit of my clients. Finally , I would be most pleased if you would pass my thanks also to Lindsey, for her charm and endless cuppa's.
Great to speak with you today and exchange idea's to help improve the service we give, your suggestions and advice are not only always welcome, but usually pretty accurate as well. It now seems a long time since my training in February 2009, and at the time, there was so much information and advice, all from practical experience, I wondered if I would really enjoy realising my ambition to be a 'Professional Toastmaster'
Well now 8 months later, and as the new boy, (with only 10 bookings under my belt,) I can't tell you how much pleasure and satisfaction I get after completing each function, knowing that at the very least, I've done my absolute best to make that time both memorable, and enjoyable for all concerned. In times of difficulty, I simply refer back to the training, and the training manual, or the support you are always on hand to give.
At the end of a booking, there is no greater feeling than the sincere thank-you's that come from my customers and from knowing I have done, (in the words of my clients) a thoroughly professional job, and taken the strain and tension away from them and their special day/function, in order for them to enjoy their time. It's all in the training Richard, but,....... I think you may have missed one vital bit out......... how much fun we have as well. Thanks again. Kind Regards Mike
Hugely informative and fantastic fun. You've put a huge amount of yourself - energy, knowledge and personality into these last three days. Thank you ever so much. N L
A good mix of information - excellent delivery - good to meet other people in same industry. T H Gloucestershire
A follow up e-mail from Terry arrived 13th December and reads as follows;- Richard's style of one2one training is excellent. His mix of topics matched my desire to learn as much as I could within the limited time frame. Richard's vast experience shows through by the way he imparts knowledge as only a Master of his profession can. Meeting other Toastmasters (Andrew Morgan and Garry Smith) was very beneficial as indeed was meeting his wife Linda an events manager and David Court a highly reputable wedding photographer. Being able to talk frankly about the business with all these people only enhanced the quality of this course. Thank you again Richard for your wonderful hospitality as well as your patience in helping to steer me through the intricacies of such an excellent profession. Thanks also to Lindsey for her never ending cups of well needed refreshment. I look forward to meeting you all again. Terry Hughes Gloucestershire
Richard, Many thanks for a fantastic day with you, I have gained so much in a short space of time. R.A. One day Alignment Course for experienced toastmaster joining the English Toastmasters Association.
Having made enquiries with a number of organisations, I found you to be the most responsive to my enquiry. You clearly have a wealth of information that you are happy to impart. The one to one suited my needs brilliantly and to my time scale. I came with great expectations - I left overwhelmed with the amount of information & support at my disposal. I am proud to have joined such a well organised Association. G S
Richard is an inspirational teacher who is a master of his craft and he has filled me with absolute enthusiasm for my new career as a Toastmaster.
A follow up e-mail arrived 31st October 2008 from Kevin and reads as follows;- Hi Richard, As you know, two months ago I developed an interest in becoming a Toastmaster and searched the internet looking for the best way forward to pursue this. That search produced numerous options in terms of Toastmaster organisations and training courses. However, after you made contact and we spoke my instinct, not always reliable, told me that The English Toastmasters Association was the way to go. Having spent four exhilarating days being trained by you my instinct has, for once, been proved right. It has been an absolute privilege to spend time with such a modern and professional master of his craft as yourself whose ebullient enthusiasm for the role is so highly infectious. I emphasise the word modern because I think that you take Toast mastering out of the 19th Century and in to the 21st Century. I came to you knowing nothing about the role and in three intensive days you have, through a brilliant combination of visual, practical and on site training combined with face to face meetings with key players in the wedding business left me the skills to make a flying start to my own Toastmaster's career. Not only that, but your expert advice on marketing my services is invaluable. Thank you hardly suffices. I am also extremely grateful to Linda and especially Lindsey(?) for their kindness and the care they took of me, whilst I was with you and please pass on my thanks. I will personally contact Andrew and Garry to thank them directly. Finally, you can rest assured that I will wear the badge of The English Toastmasters Association with extreme pride and just hope that I prove to be worthy of it.
Another follow up e-mail from Kevin reads as follows;- I am both Immensely proud to be an early member of the Association and very grateful for all the highly professional inspiration and guidance that you have freely given me throughout my membership. KG
Excellent course - did not want it to end. I feel I have hit the ground running, through excellent tuition given. M O
Excellent course. Commitment shown in passing over the knowledge is second to none. One to one relationship is a major benefit because you have individual attention and full concentration to get the best results. I now feel very confident that I can deliver excellent service to my clients.
I just wanted to let you know how I feel about the way things are going. Since I was 18 I have been self employed and during that time I have never had the support and backing that I have had with the English Toastmasters Association. The monthly seminars are very important, as they keep me in touch with our profession. I get so much out of them in so many ways to help with my performance. When you offer top quality services and still want to improve, the English Toastmasters Association offers new ideas to enrich my clients day. Every athlete has to train to stay at the top and with clients demanding the highest standards our Association is a great asset to help me meet their needs. Keep up the good work. TS
My sincere thanks for an excellent three days. My head is still buzzing and I am feeling enthusiastic and ready to go. The manner in which you have approached the course is relaxing and is conducted at a comfortable pace. The course is well delivered and informative. It makes learning a pleasure. The DVD's are extremely helpful. I have seen the work of a toastmaster from a new perspective which I will endeavour to practice in the future. I have high standards to work to!
I have always held you in the highest regard and am eternally grateful for all that you have done for me. Sadly I have not been an attendee at your various meetings but that is primarily because of the success of my toastmastering. I simply do not have the time.
I consider my membership to be excellent value for money. I receive much of my work via the website and it gives me the added bonus of the insurance cover. I also know that I have you and my colleagues that I can call on for advice and support should I need it. I am behind you. Keep up the good work. Kind regards G C West Sussex
Please call 01245 222392 or 07971 409977
at any time for further help or information
Excellent - The ability to compare the good, bad and absolute professional was essential. Excellent!! Many useful hints, tips - great. T. P. Essex Half day refresher course for experienced member.
An excellent course. The one to one course is very flexible and adaptable and met my needs fully. A very satisfying and fulfilling three days, which has inspired me to become an effective toastmaster for my clients. MB
The course was a wonderful insight into the arts and skills required to become a successful toastmaster. I hadn't realised the importance of strategic alliances with other core workers within the wedding industry, and also how little of the role is actually making announcements!
The valuable advice concerning marketing and sales strategies was a completely new ball game to me and you led me through that particular minefield with extreme patience, wisdom and good grace! The whole course was delivered in a relaxed though professional manner, I particularly enjoyed the interaction with the other toastmasters, meeting David, Jennifer and Linda, the lunches and visiting the venues. I am extremely grateful to you, proud to be a member of the ETA.
A younger, fresher approach to toastmaster training, a natural and relaxed way of learning. J C Yorks
I found the course interesting, informative and presented in a very personal manner. The one to one format is conducive to ensuring that Richard was able to see that each issue was understood before moving on to the next. Visits to venues and having lunch together also made the learning process more pleasurable. I do not believe that the course could have been presented any better and leave it enthusiastic and confident. Thank you Richard. JC Essex
A further comment several months after the course;- "I am very happy with the reaction of clients to the way I have been taught to go about my business". J C Essex
Richard obviously tailors information and needs delivery to suit candidates' abilities. An excellent course where I gained everything I required to give excellent service. T H Dorset
As a member of the teaching profession for over 30 years I was very impressed by Richard's teaching style, which was both relaxed and thorough. At no time did he cast himself in the role of "expert", but, instead, he guided and mentored me through the course on equal terms, encouraging me to bring out and develop my own gifts and talents. At the same time, there was enough rigour during the training to ensure that all of the essential details were covered and that I felt equipped to further my career as a toastmaster.
It was a privilege to be able to shadow Richard in action at a wedding and to be present at an actual meeting with clients. This provided much more insight into the realities of the job as toastmaster than any amount of classroom based theory could afford.
I now feel that I am a member of the best professional organisation for toastmasters that there is, and that Richard is a senior "partner" in the full sense of the word. Thank you Richard for your friendship, conscientious example and consummate professionalism. A H
Thank you very much for a most enjoyable course, whilst the format is certainly very different to that of the archetypal lecture / classroom course this does not necessarily mean that learning is any less effective. I would go as far as to say that the training far exceeded my expectations. Meeting with people already involved in the business, venue owners and staff and also visiting some of the venues was invaluable experience and no classroom only course could compete with that.
I am sure that the skills I learnt on the Toastmasters course will also assist in my current vocation.
Finally, should any prospective pupil wish to speak directly to a past pupil, then I would be more than happy for you to provide them with my contact details. J R. Essex
I feel that all the information has been well researched and the whole delivery calm, informal and thorough. The caring manner and treatment by Richard was really great, making the learning process a pleasure. John Parker
The delivery of information suited my particular learning style and was very effective. The course was not only informative but was also a pleasure to attend. I have thoroughly enjoyed my time and hope that the relationship forged will continue to grow and become stronger. M G
The three day course is an excellent grounding for toastmasters. The course was delivered in a thorough and professional manner with the focus on the client being an important theme running through the various topics. Additionally, being able to meet Front of House management is exceptionally useful as this provides understanding of their expectations. A. M. Essex
The course was very helpful and informative in detail. J Q N Hertfordshire
Thank you for your hospitality, openness, absolute professionalism and knowledge sharing. P C
Excellent course, relaxed atmosphere, very good value. A pleasure to have been part of the training course. J.L.
Richard, Many thanks for putting on the Trafalgar Day Seminar today (21st October 2010). Great as always to meet old friends and also the new members. I am confident the Association will move forward and will in due time be the biggest and the best. We are already half way there because we are already the best!!! Many thanks again

Very enjoyable, informative course, delivered in a relaxing way. B C Dorset
II think that the format was excellent. Clearly has the flexibility to meet individual needs. A thoroughly enjoyable, informative and helpful experience and has whet my appetite for toastmastering duties. THANK YOU. John Turner Yorkshire ( Now retired )
Toastmaster Support and Marketing
The English Toastmasters Association is also working for it's members to provide a higher level of marketing and other services to give a better long term value to our member's for their investment. All members are covered by a £5,000,000 General Liability - Public and Products Liability insurance cover WITH THE EXCEPTION OF THOSE LIVING OUTSIDE THE UK and are affiliated to The Royal Society of St. George.
These are copies of three pieces of BLOG from David Court's web site. David is an excellent wedding photographerk

Yesterday I had the pleasure in assisting my good friend Richard Palmer in the training of John Claxton a new Toastmaster from Oxford. Part of the training is to develop an awareness of other wedding professionals, what they do and together how they can ensure the Bride and Groom have a day to remember. It is surprising how this close co-operation is noticed by the Wedding Party and guests alike and is constantly commented upon - It is this total inclusive approach that makes Richards training unique.

An example can be seen above (now to the left), with Richard escorting Lorna's Mother, Jan into Bocking Church prior to her marriage and wedding reception at Gosfield Hall. The wedding photographs at both the Church and Gosfield Hall were of course taken by myself - CourtOnCamera.
Wedding Photographers in Essex and Toastmasters at Furze Hill

Yesterday I had the pleasure to meet with my good friend and Toastmaster Richard Palmer together with Toastmasters Richard Waugh and Andrew Morgan - all based in Essex. The purpose of the meeting was twofold: firstly to discuss how as both Toastmasters and Wedding Photographers in Essex we can work seamlessly together for Brides and Grooms on their wedding day, and secondly to do a pre-wedding visit to Furze Hill where later next month Richard and I are working together at the wedding of Lucy and Steve
These blogs were taken from David's blog page
Thursday, 24 July 2008
The Barn Brasserie Great Tey - A beautiful Wedding Venue

On Wednesday I met up with Toastmasters my good friend Richard Palmer and Malcolm Brown (as Toastmaster based in Devon) at the Barn Brasserie at Great Tey. The purpose of the meeting was two fold - to emphasise to Malcolm the ways in which our two professions can operate together to ensure the Bride and Groom have a thoroughly enjoyable and memorable day secondly to view the Barn Brasserie through the eyes of wedding professionals.

As a Essex Wedding Photographer I was very impressed indeed with the Barn and beautiful surroundings - The food was superb too - The basil and tomato soup (without Brush) was to die for.
Please call 01245 222392 or 07971 409977
at any time for further help or information
Our experience of the duties of a toastmaster from the English Toastmasters Association perspective
Most of our clients want total peace of mind that their special occasions and events will be run smoothly and will be an enjoyable experience for everyone attending. The organisers of events often put their guests before themselves and a toastmaster is there to care for them as well as their guests. At busy functions the organiser may not be able to spend as much time with their guests as they would like to. Therefore by using a caring and well trained toastmaster, they can make sure that their guests are made to feel special.
At weddings, help is often needed with buttonholes and corsages to make sure that they are put on neatly and properly. An experienced toastmaster should be able to cope with this basic task for the wedding party or all the guests. The wedding party may also need help dressing or just with the final checks, to make sure that they are all looking their best for the photos.
Skilled and caring toastmasters carry a full kit or client care pack to take extra care of their clients and guests. Some items such as medicines and plasters may not be administered directly, however they may be available for use under the right direction.
Health and safety is of vital importance at every function and a skilled and caring toastmaster should have a good working knowledge in this area.
A toastmaster should be looking after other service providers so that the hosts will be able to get the best results from their contractors. Simple things, like making sure that they do not go thirsty and that events do not happen until the right people are in the right places, at the right times are generally the responsibility of your toastmaster.
The English Toastmasters Association is pleased to offer client focused courses at all levels from new entrants into the profession through to skilled toastmasters who wish to hone their skills in specialist areas.
Marketing and personal development are also areas that we are pleased to help with, to give our members and their clients peace of mind, that they are delivering and getting the best possible levels of service.
The More Formal Functions of a Toastmaster
A contemporary toastmaster is a master of ceremonies and the presence of a master of ceremonies or guardian of etiquette is a long standing tradition at all Royal and formal social events, such as weddings.
The toastmaster's role is to introduce guests to their hosts, announce meals, speeches, toasts, cake cutting and generally facilitate the duties and responsibilities of those for whom he is working.
At a wedding the toastmaster will take responsibility for keeping a reception to time and liaise with the families on the wedding day.
A toastmaster may not become involved in wedding and event plans as such, but as far as possible, will ensure the smooth running of your special occasion, on the day. Your toastmaster's presence can be a valuable asset.
Toastmasters traditionally wear a very grand and glorious ceremonial tailcoat with all the trimmings, and their presence can greatly add to the colour, splendour and ceremony of your function. Certainly very formal or large functions will always benefit from this colourful professional management.
Your toastmaster will keep control over what is happening in a discrete manner and using his experience, will ensure a smoothly run, enjoyable and memorable event. Adaptability is an important quality.
Costello & Sons SPECIALISTS IN TOASTMASTERS AND UNIFORM OUTFITS, our prime recommended supplier for quality tailored uniform items.
Costello. & Sons Ltd was founded in 1970, but our family have been in tailoring for four generations.
At Costello's we offer a quality product and a quality service, giving you a wide variety of styles & designs manufactured to the very highest standards.
In fact any garment you require - we can manufacture.

Garments are tailored in our own workshop, which is one of the most modern units in the U.K. using both modern and traditional tailoring methods, our highly trained staff will produce a quality garment.

Members of THE FEDERATION OF MASTER CRAFTSMAN

COSTELLO & SONS Ltd., 284-294 Ley Street, Ilford, Essex IG1 4BS United Kingdom
Tel: 020 8478 2780 Fax: 020 8553 3336
Email General Information info@costello.co.uk Sales Information sales@costello.co.uk
Web Site http://costello.co.uk/
Although at the English Toastmasters Association we also keep in stock a range of uniform items,
you would generally be best buying a made to measure uniform from the company that we recommend as shown above.
We do stock some ready to wear items of the top grade wool hunting pink tailcoats with matching lapels and buttons
Fine value and quality ready to wear red tailcoats are held in stock in our Headquarters where clients are invited to come along and view the range.
Formal shirts, matching waistcoats, gloves and studs are also in stock.
A prompt mail order service is also operated .
A sample of this tailcoat is available to view at our headquarters in Danbury, Essex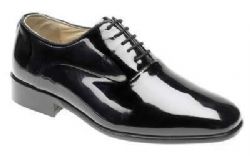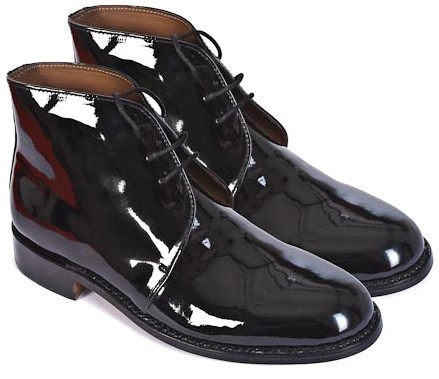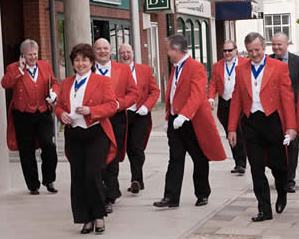 .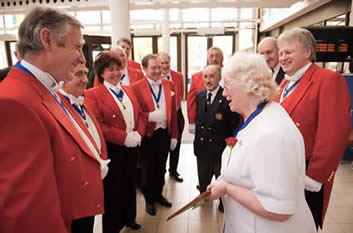 The English Toastmasters Association proudly presented the chairman of Essex County Council with their best wishes for an enjoyable and memorable St. George's Day
PHOTOGRAPH ON THE RIGHT COURTESY OF David Islip Photography. David kindly helped with the training at our meeting and was our official photographer for the day.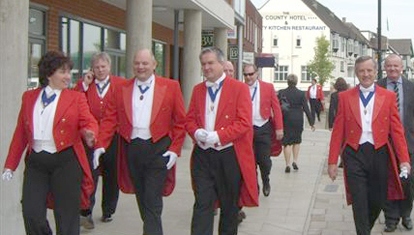 Toastmasters from the English Toastmasters Association on the way from Chelmsford's County Hotel to offer greetings and best wishes to the people of Essex with a presentation to the Chairman of Essex County Council at County Hall. This presentation was to thank all those concerned with the celebration of St. George's Day. Our thanks go to David Islip of David Islip Photography for his help at our celebrations and for the photos above.
Please call 01245 222392 or 07971 409977
at any time for further help or information
Accommodation whilst attending our toastmaster training courses
We are pleased to recommend Limburn House, Wycke Hill, Spiutal Road, Maldon, Essex CM9 6SH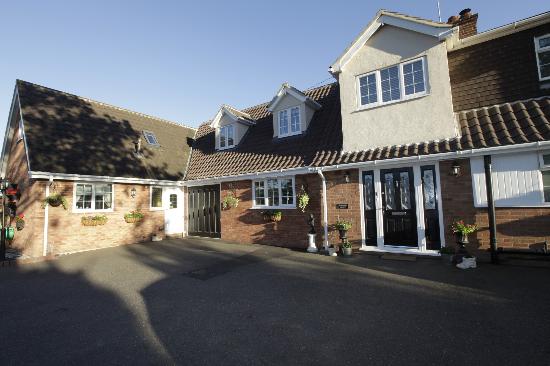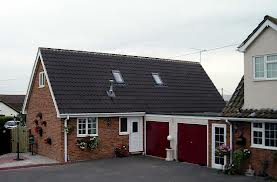 This accommodation has been well received by our members and is only around 3 miles from our HQ.
Accommodation in Maldon
Limburn House is a private Bed and Breakfast in Maldon offering competitively priced B & B accommodation. This charming Bed and Breakfast is conveniently situated on the outskirts of the historic riverside town of Maldon in Essex and we are able to boast plenty of off street parking, a patio garden to the rear for the use of our guests with the added benefit of beautiful views of paddocks and countryside.
Guesthouse in Maldon

The B & B accommodation in Maldon offered by Limburn House is a purpose built annexe which contains modern en suite accommodation. The following applies:
All rooms ensuite.
All rooms have central heating & double glazing.
All rooms have beverage facilities & TV/DVD facilities.
All rooms have access to shared dining area, kitchenette & patio.
Ample off road parking.
MICROWAVE & FRIDGE AVAILABLE.
B & B in Maldon

Limburn House B & B in Maldon is competitively priced, set in glorious surroundings and provides a friendly guesthouse experience that will ensure you return for repeat stays.
There are many hotels around the surrounding area, but we have chosen the accommodation shown on this page for it's general all round excellent value and service.
Danbury is a beautiful village situated on the outskirts of Chelmsford and only 35 miles from London and within easy reach of Constable Country. Danbury Park Farm is conveniently situated for Chelmsford Town Centre, well placed for visiting London (Chelmsford to London Liverpool Street 35mins by train), the Historic Town of Maldon and the Essex Countryside. Danbury is surrounded by National Trust Land and popular tourist attractions. There is easy access to the A12 and M25, Stansted and Gatwick Airports, the Anglia Ruskin University and Writtle Agricultural College and wedding venues such as Pontlands Park, Stockbrook Manor, Leez Priory and Vaulty Manor are only a short distance away.
At the centre of the village is a duck pond and country tea rooms. All village facilities including shops and pubs serving good food are all within easy walking distance.
We are pleased to recommend Wych Elm Bed & Breakfast, Mayes Lane, Danbury, Essex CM3 4NJ Please contact Mrs Margaret Axon on 01245 222674 or e-mail info@wychelmb-b.co.uk
Wych Elm B&B is a private family run bed and breakfast. It is a detached house, with good parking, and conveniently situated in the centre of Danbury village.
Our Bed and Breakfast Accommodation consists of one double room, one twin room and one twin room with en-suite shower. There are television and wifi facilities in each bedroom.
Breakfast is taken in the dining room or the conservatory.
These attractive facilities have been awarded three stars by the English Tourism Council.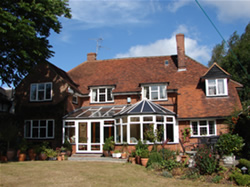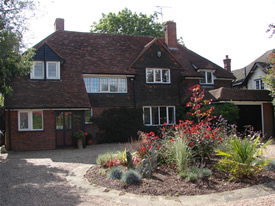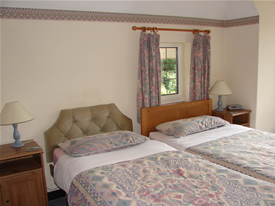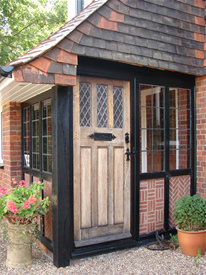 We are pleased to recommend The Limes Guest House, 21, Market Hill, Maldon, Essex CM9 4PZ 01621 850350 or e-mail info@thelimesguesthouse.com
The Limes is a beautiful 17th century grade II listed town-house that oozes charm and character offering luxury B&B accommodation with a boutique hotel feel. Tastefully furnished, the diverse mix of designer-style soft furnishings, fresh flowers, antiques and quirky collectibles make the Limes a truly individual and memorable house far removed from the uniformity of corporate and budget hotels.
Situated in the heart of the Town centre in Maldon, Essex, this quirky four star Guest House, makes the perfect retreat for romantic breaks and relaxing weekend or mid-week stays, with comfortable, en-suite rooms decorated to the highest standards, many of which have four poster beds! With several wedding venues nearby, the central location of this splendid Guest House creates the perfect place to stay for the bride and groom or wedding guests.
Alternatively, if you are visiting the area on business and require a Maldon hotel or B&B accommodation, The Limes Guest House is far removed from the faceless budget chain hotels and offers comfortable en-suite accommodation, WiFi Internet access and is in an ideal central location.
Breakfast is a house speciality well worth a mention as we offer truly 'low food miles' accountable produce. All our food is grown or sourced from local farms, butchers, bakers and fisherman. You can even savour the freshest eggs from our own chickens or try our home made preserves.
There is ample off-road, secure parking, bright and airy conservatory where breakfast is served and a private outside patio and garden where you can relax in the sun and enjoy the peace and quiet.
The Limes is within easy walking distance to the many restaurants, shops and amenities in Maldon and is the perfect location for those wishing to explore Maldon and the events, leisure activities and tourist hot spots that this charming maritime town has to offer as well as a central base for Essex in general.
We pride ourselves on our hospitality and you are assured a friendly welcome from our courteous staff who are committed to making your stay as enjoyable as possible. Whether you are on business, shopping, visiting or on holiday, the Limes is simply quite unique and is the ideal home from home where you will leave rested and refreshed.
Whether you are looking for a Maldon hotel or bed and breakfast for business, relaxation or leisure, then why not try the Limes?

We are pleased to recommend Channels Lodge, Belsteads Farm Lane, Little Waltham, Chelmsford, Essex CM3 3PT Telephone: 01245 441547 & 07764 997813 e-mail: info@channelslodge.co.uk
A luxurious hotel set in the grounds of Channels, this beautifully converted 15th Century Tudor house is an ideal venue for wedding and conference overnight stays and, of course, golfing breaks. A warm welcome awaits from Sarah Palmer and Simon Larner who are your hosts. Web site is at www.channelslodge.co.uk and e-mails to info@channelslodge.co.uk please.
This hotel is set in the grounds of Channels Golf Club, with its challenging 27 holes. The hotel is surrounded by over 300 acres of quiet, peaceful parkland.

Channels Lodge has individually designed en suite rooms. They combine original features such as exposed wooden beams with modern comforts such as TVs, DVD players and free Wi-Fi. All rooms come with a mini-bar, confectionery and tea/coffee making facilities, as well as soft luxurious duvets, bathrobes and slippers.

Channels Restaurant is renowned for its excellent food and friendly service, and is situated in the adjoining golf club. Guests receive free passes for the nearby Cannons Gym, which features a swimming pool and fitness centre.

The rooms have been individually designed and are equipped to the highest standards combining the best of the old with the best of the new, while Channels Restaurant is renowned for its excellent food and friendly service. With a bridal suite and five executive rooms, this small but luxurious hotel provides an atmosphere in which guests may work or relax with equal facility.
Its situation close to the A12 between Chelmsford (2 miles) and Colchester (25 miles) and with Stansted Airport only 20 minutes away, makes Channels Lodge in the heart of the Essex countryside, a perfect location both for business and pleasure. Free parking when traveling to and from Stansted.