Contact details

: Dorset Wedding Toastmaster

Address

114, Belben Road, Poole, Dorset BH12 4PJ

Telephone:

Mobile

07590 761763

Website

www.finetoastmaster.com

e-mail

andrew@finetoastmaster.com

Your Dorset Toastmaster

To Care for you

on your special occasion

Dorset Wedding Toastmaster
Andrew would be pleased to travel anywhere to officiate at your wedding, corporate function or special event. Andrew has over eight years worth of experience working with clients in various forms. With his customer service and managerial skills, you a can expect the recieve the highest level of care and attention throughout the planning and preparation for your day / function to ensure that it runs smoothly and exactly as you wish.
Andrew is sure to enhance any occasion with his expertise and professionalism. When you choose Andrew as your toastmaster, you can be certain you are in safe and capable hands.
Andrew is also a professional, freelance organist and accompanist and has had the opportunity to play in numerous churches and cathedrals throughout the UK and Europe and is available for organ recitals, concerts, weddings and other church services. Please visit www.andrewwest.net for further details.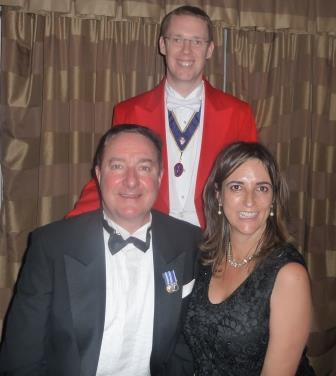 A kind testimonial I received from a Masonic Ladies Festival, Solent Hotel, Fareham, Hampshire
"I would happily commend Andrew's professionalism at the recent Upper Norwood Lodge Masonic Ladies Festival. On a previous date he travelled a long distance to liaise with me about the formalities of the evening. The event went smoothly with Andrew in charge and he certainly looked the part. He also sang the ' ladies song ' in a fine manner. I would certainly recommend him as a fine toast master for any occasion."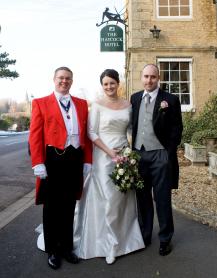 A kind testimonial I received,
"We would both like to say thank you for a thoroughly professional job you made as toastmaster at our wedding. You relieved us of many worries and felt reassured by you at the pre-wedding meeting that all would be well on the day. Your forward planning with The Haycock and team proved to be invaluable. Once again, we are greatly indebted to you for your part in making our celebration such a wonderful occasion."
Stephen & Jane Doades, Cambourne
Photo by The Studio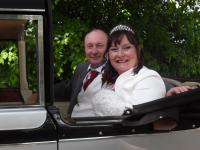 "I am writing to express my sincere thanks for your professional services at my sisters wedding. As brother of the bride and having the honour of giving my sister away in our late fathers absence, I was very concerned at what I should or shouldn't do at a civil wedding. You soon settled my nerves with your reassurance and expertise; I would have no hesitation in recommending you to friends and family in the future."
Kevin Boxell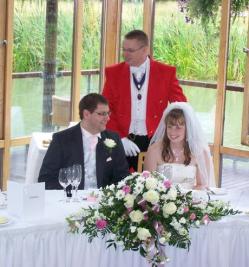 "We wanted to write to you and say a huge thank you for the fantastic job that you did for our wedding on 14th August 2010 as our Toastmaster. You were truly professional throughout the whole day and kept everything running to time perfectly. Thank you for ensuring that everyone was in the right place at the right time and making absolutely everyone feel very welcome and at ease. You were a true credit to the [English] Toastmasters Association and we have absolutely no hesitation to recommend you to anyone who is looking for a Toastmaster in the future."
Emma & David Cargill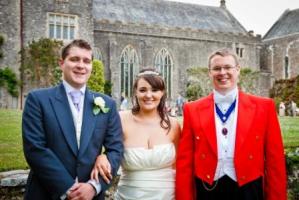 "Just a note to thank you and congratulate you on such a fantastic job you did as toastmaster at our wedding. I honestly don't know how we would have coped without your poise and professionalism. You honestly took such a weight off my mind throughout the day, being so efficient and knowing where everything and everyone was supposed to be...
...as a wedding present to my sister in January, we would like to book you for her special day, as I honestly don't know how any wedding could run as smoothly as ours did without your service.
All our love, best wishes and thanks"
Jack & Rachael Wellington
Photo by Nick Rutter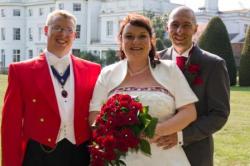 "We would like to thank you for all of your help in making our day really special. From liaising with the suppliers and venue staff to telling people where to be and what to do, the whole day was really well structured and you ensured it ran smoothly...you even managed to keep us calm!
Your service was totally invaluable to us and we would highly recommend you to anybody wishing to get married.
Thank you"
Keely & Gary Burling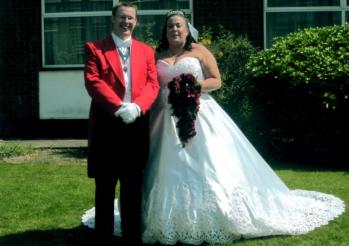 Dear Andrew
Thank you for all your help on the day; we all had a fantastic time.
Best wishes
Mrs J Thomson
Wedding Venues in Dorset
Alexandra Hotel, Lyme Regis, Dorset
Athelhampton House, Dorchester, Dorset
Avonmouth Hotel, Christchurch, Dorset
Bennett's Water Gardens, Weymouth, Dorset
Birkin House, Dorchester, Dorset
Bishops Court, Blandford, Dorset
Bridge House Hotel, Bridport, Dorset
Bridge House Hotel, Ferndown, Dorset
Britannia Round House Hotel, Bournemouth, Dorset
Cafe Shore, Poole, Dorset
Canford School, Wimbourne, Dorset
Captains Club Hotel, Christchurch, Dorset
Carlton Hotel, Bournemouth, Dorset
Chaffeymoor Grange, Bourton, Dorset
Chantmarle Manor, Frome St Quinne, Dorset
Compton Acres, Poole, Dorset
Da Vinci's Restaurant, Poole, Dorset
Dorchester Municipal Buildings, Dorchester, Dorset
Dudsbury Golf Club, Ferndown, Dorset
Durley Hall Hotel, Bournemouth, Dorset
East Cliff Court Hotel, Bournemouth, Dorset
Edmondsham House, Wimbourne, Dorset
Eype's Mouth Country Hotel, Bridport, Dorset
Eypesmouth Country Hotel, Bridport, Dorset
Forde Abbey, Chard, Somerset, Dorset
Gresham Court Hotel, Bournemouth
Harbour Heights Hotel, Sandbanks, Poole, Dorset
Highcliffe Castle, Christchurch, Dorset
Holton Lee, Poole, Dorset
Hotel Alexandra, Lyme Regis, Dorset
Hotel Prince Regent, Weymouth, Dorset
Kingston Country Courtyard, Kingston, Wareham, Dorset
Kingston Maurward , Dorchester, Dorset
Langtry Manor, Bournemouth, Dorset
Lulworth Castle, Wareham, Dorset
Magdalen Farm, Chard, Somerset
Mansion House Hotek, Poole, Dorset
Mapperton House Gardens, Beaminster, Dorset
Marsham Court Hotel, Bournemouth, Dorset
Merley House, Wimborne, Dorset
Mezza Luna Restaurant and Bar, Poole Park, Poole, Dorset
Milton Abbey School, Blandford Forum, Dorset
Minterne House, Dorchester, Dorset
Mortons House Hotel, Wateham, Dorset
Mountfield, Bridport, Dorset
Parley Manor, Christchurch, Dorset
Portland Castle, Portland, Dorset
Purbeck House Hotel, Swanage, Dorset
Royal Bath Hotel, Bournemouth, Dorset
Sandbanks Hotel, Poole, Dorset
Shaftesbury Town Hall, Shaftesbury, Dorset
Sherborne Hotel, Swanage, Dorset
Sherbourne Castle, Sherbourne, Dorset
Sopley Mill, Christchurch, Dorset
St Leonards Hotel, Ringwood, Dorset
Stockbridge Farm Barn, Sherbourne, Dorset
Summer Lodge Hotel, Evershot, Dorset
Swallow Highcliff Hotel, Bournemouth, Dorset
The Avonmouth Hotel, Christchurch
The Chine, Bournemouth, Dorset
The Coach House, Blandford, Dorset
The Coppleridge Inn, Shaftesbury, Dorset
The Crown Hotel, Blandford forum, Dorset
The Eastbury Hotel, Sherbourne, Dorset
The Grand Hotel, Swanage, Dorset
The Grange at Oborne, Sherborne, Dorset
The Guildhall, Lyme Regis, Dorset
The Guildhall, Poole, Dorset
The Guildhall, Poole, Dorset
The Guildhall, Weymouth, Dorset
The Haven Hotel, Sandbanks, Poole, Dorset
The Hotel Rembrandt, Weymouth, Dorset
The King George V Pavilion, Ferndown, Dorset
The Langton Arms, Blandford, Dorset
The Manor Hotel, West Bexington, Dorchester, Dorset
The Mansion House Hotel, Poole, Dorset
The Orangery Suite, Wimborne, Dorset
The Philip Green Memorial School, Wimborne, Dorset
The Riviera Hotel, Weymouth, Dorset
The Royal Chase Hotel, Shaftesbury, Dorset
The Salterns Harbourside Hotel, Poole, Dorset
The Springhead Trust, Shaftesbury, Dorset
The Thistle Hotel, Poole, Dorset
Tudor Grange Hotel, Bournemouth, Dorset
Tyrells Ford Country House, Christchurch, Dorset
Upton House, Upton Country Park, Upton, Poole, Dorset
Wareham Town Hall, Wareham, Dorset
Wessex Hotel, Bournemouth, Dorset
Wimborne Minster Town Council, Wimborne Minster, Dorset
Yenton Hotel, Bournemouth, Dorset
Dorset Toastmaster
Towns and Villages of Dorset, England
Abbotsbury, Abbotts Wootton, Adams Green, Adber, Allington, Allweston, Alton Pancras, Ash, Ashley, Ashley Chase, Askerswell, Atrim, Attisham, Barbridge, Batcombe, Beaminster, Beaulieu Wood, Bedmill, Beer Hackett, Benville, Bere Chapel, Berwick, Bettiscombe, Bincombe, Birdsmoor Gate, Bishops Caundle, Bishops Down, Blackdown, Blackrow Common, Bluntshay, Bockhampton, Bonville, Bookham, Bothenhampton, Bournemouth, Boys Hill, Bradford Abbas, Bradford Peverell, Bradpole, Bridport, Brister End, Broad Oak, Broadmayne, Broadwey, Broadwindsor, Brockhampton, Brockhampton Green, Buckham, Buckham Down, Buckland Newton, Buckland Ripers, Buckshaw, Burstock, Burton, Burton Bradstock, Camesworth, Castleton, Castletown, Catherston Leweston, Cattistock, Caundle Marsh, Caundle Wake, Cerne Abbas, Chalmington, Champernhayes Marsh, Chard Junction, Chard Road, Charlestown, Charlock Hill, Charminster, Charmouth, Chedington, Chesil, Chetnole, Chickerell, Chideock, Chilcombe, Childhay, Chilfrome, Clift, Clifton Maybank, Cobb, Cokers Frome, Coles Cross, Compton Abbas, Compton Valence, Coneygar Hill, Corscombe, Coryates, Cosmore, Cripton, Crouch Hill, Cruxton, Denhay, Dibberford, Dodpen Hill, Dorchester, Dottery, Drimpton, Drive End, Duntish, East Bexington, East Chelborough, East Pulham, Easton, Eggardon Hill, Elwell, Evershot, Eype, Fairfield, Fifehead Neville, Filford, Fishpond Bottom, Fleet, Folke, Folly, Fordington, Forston, Fortuneswell, Frampton, Friar Waddon, Frith, Frome St Quintin, Frome Vauchurch, Frome Whitfield, Gerrards Green, Glanvilles Wooton, Goathill, Godmanston, Godmanstone, Gore, Greenham, Greenway, Gribb, Grimstone, Grove, Gunville, Guppy, Gurtopps, Hail, Halstock, Hamlet, Hardown Hill, Hatchet, Haydon, Heniford, Henley, Hermitage, Herrison, Hewish Hill, Hewood, Higher Bockhampton, Higher Clatcombe, Higher Coombe, Higher Eype, Higher Halstock Leigh, Higher Kingcombe, Higher Nyland, Higher Sandford, Higher Wrackleford, Highgate, Hilfield, Hill Street, Holditch, Holebrook Green, Holnest, Holway, Holwell, Holywell, Hooke, Horchester, Horn Ash, Horn Hill, Horsecastles, Hummer, Hursey, Hyde, Jericho, Kings Stagg, Kingsland, Kingstag, Kingston, Kingston Russell, Kittwhistle, Knighton, Langdon, Langton Herring, Laymore, Leigh, Lenthay, Lewcombe, Leweston, Lillington, Littlebredy, Littlemoor, Littlewindsor, Littlewood, Litton Cheney, Loaders Hill, Loders, Long Bredy, Longburton, Loscombe, Lower Bockhampton, Lower Eype, Lower Halstock Leigh, Lower Kingcombe, Lower Strode, Lower Waterston, Lower Wrackleford, Lydlinch, Lyme Regis, Lyons Gate, Magiston Hill, Maiden Newton, Mangerton, Mapperton, Mappowder, Marshalsea, Marshwood, Martinstown, Maudlin, Meerhay, Melbury Bubb, Melbury Osmond, Melbury Sampford, Melcombe Regis, Melplash, Merriott, Middlemarsh, Minterne Magna, Minterne Parva, Monkton Wyld, Monkwood, Moorbath, Morecombelake, Mosterton, Muckleford, Nether Cerne, Nether Compton, Nether Coombe, Netherbury, Netherhay, Netherstoke, Nettlecombe, Newland, Newtown, North Barn, North Bowood, North Chideock, North Poorton, North Wootton, Northernhay, Norwood, Nottington, Notton, Oathill, Oborne, Osehill Green, Osmington, Over Compton, Overcombe, Oxbridge, Packers Hill, Paddocks Cross, Park Gate, Patson Hill, Penn, Piddlehinton, Piddletrenthide, Pidney, Pilsdon, Pleck, Plush, Poolestown, Poorton Hill, Portesham, Portland, Poundbury, Powerstock, Poxwell, Poyntington, Preston, Priestlands, Puddletown, Pulham, Pulham Common, Puncknowle, Purse Caundle, Putton, Pymore, Radipole, Rampisham, Redford, Reforne, Remedy, Rew, Rhymehorn, Ridgeway, Ringstead, Rocky Knap, Rodden, Rodwell, Round Chimneys, Russon Bottom, Ryall, Ryme Intrinseca, Salway Ash, Sandford Orcas, Sandhills, Sandpit, Sandsfoot Castle, Seaborough, Seatown, Shadrach, Sherborne, Shipton Gorge, Shortmoor, Silverlake, Skilling, Sodern, South Bowood, South Perrott, South Poorton, Southover, Southwell, Spyway, St Andrews Well, Stalbridge, Stalbridge Common, Stalbridge Weston, Stallen, Stanton St Gabriel, Stinsford, Stock Gaylard, Stock Gaylard Park, Stockbridge, Stockwood, Stoke Abbott, Stourton Caundle, Stratton, Swyre, Sydling St Nicholas, Symondsbury, Synderford, Talbothayes, Templemans Ash, The Borough, The Quarr, The Ring, Thorncombe, Thornford, Thornhill, Three Gates, Tiley, Toller Down, Toller Fratrum, Toller Porcorum, Toller Whelme, Tollerford, Totnell, Towns End, Trent, Tut Hill, Up Cerne, Up Sydling, Uphall, Uploders, Upton, Upwey, Victoria Park, Waddon, Walditch, Wanderwell, Ware, Warmwell, Waterston, Watton, Waytown, West Allington, West Bay, West Bexington, West Chelborough, West Compton, West Knighton, West Milton, West Pulham, West Stafford, Westbury, Westfields, Westham, Weston, Weymouth, Whetley, Whitcombe, White Cross, White Lackington, White Sheet Hill, Whitechurch Canonicorum, Whitecross, Whitehall, Winterborne Came, Winterborne Herringston, Winterborne Monkton, Winterborne St Martin, Winterbourne Abbas, Winterbourne Steepleton, Wolfeton, Wonston, Woodbridge, Woodrow, Woolcombe, Woolfords Water, Wootton Fitzpaine, Wrackleford, Wraxall, Wych, Wyke, Wyke Regis, Wynford Eagle, Wytherstone, Yetminster, Yonder Hill, Yondover
Devon Wedding Venues
Arlington Court - Toastmaster
Arlington, Barnstaple, Devon, EX31 4LP Tel 01271 851102/851123
Arundell Arms Hotel - Toastmaster
Fore Street, Lifton, PL16 0AA Tel 01566 784666
Avenues Restaurant - Toastmaster
16 Douglas Avenue, Exmouth, Devon, EX8 2EX Tel 01359 270222
Barnstaple Guildhall - Toastmaster
Butchers Row, Barnstaple, EX31 1BW Tel 01271373311
Barnstaple Hotel - Toastmaster
Braunton Road, Barnstaple Tel 01271 387221
Beaford House Hotel - Toastmaster
Beaford, Winkleigh, EX19 8AB Tel 01805 603303
Bedford Hotel - Toastmaster
1 Plymouth rd, Tavistock, Devon, PL19 8BB Tel 01822 613221
Belmont Hotel - Toastmaster
The Esplanade, Sidmouth Tel 01395 512555
Bickleigh Castle - Toastmaster
Bickleigh, Tiverton, EX16 8RP Tel 01884 855363
Bicton College - Toastmaster
East Budleigh, Budleigh Salterton, Devon, EX9 7BY Tel 01395 562323
Bicton Park Botanical Gardens - Toastmaster
East Budleigh, Budleigh Salterton, EX9 7BJ Tel 01395 568465
Bishops Court - Toastmaster
Bishops Court Lane, Clyst St Mary, Exeter, EX5 1DH Tel 01392 875330
Bitton House - Toastmaster
Bitton Park Road, Teignmouth, TQ14 9DF Tel 01626 775030
Bovey Castle - Toastmaster
North Bovey, Dartmoor National Park, TQ13 8RE Tel 01626 775030
Bridge Inn - Toastmaster
Topsham, Exeter, EX3 0QQ Tel 01392 873862
Broomhill Art Hotel - Toastmaster
Muddiford, Barnstaple, Devon, EX31 4EX Tel 01271 850262
Browns Hotel - Toastmaster
80 West Street, Tavistock, PL19 8AQ Tel 01822 618686
Buckerell Lodge Hotel - Toastmaster
Topsham Road, Exeter, EX1 1HD Tel 01392 221111
Buckland House - Toastmaster
Buckland Filleigh, Beaworthy, Devon, EX21 5JD Tel 01392 221111
Buckland Tout Saints Hotel - Toastmaster
Goveston, Kingsbridge, TQ7 2DS Tel 01548 853055
Burgh Island Hotel - Toastmaster
Burgh Island, Bigbury On Sea, Devon, TQ7 4BG Tel 01548 810514
Burrow Wood Farm - Toastmaster
Ottery St Mary, Devon, EX11 1QG Tel 01404 812700
Burton Farmhouse - Toastmaster
Galmpton, Kingsbridge, TQ7 3EY Tel 01548 561210
Cadhay - Toastmaster
Ottery St Mary, Devon, EX11 1QT Tel 01404 812432
Canonteign Falls - Toastmaster
Christow, Exeter, Devon, Ex6 7NT Tel 01647 252434
Castle Hill - Toastmaster
Filleigh, Barnstaple, EX32 0RH Tel 01598 760421
Cedars Lodge - Toastmaster
Bickington Road, Barnstaple, EX31 2HP Tel 01271 371784
Chambercombe Manor - Toastmaster
Chambercombe Lane, Ilfracombe, EX34 9RJ Tel 01271 862624
Civic Centre - Toastmaster
North Walk, Barnstaple, EX31 1ED Tel 01271 388540
Cliff House - Toastmaster
Cliff Road, Salcombe, Devon, TQ8 8JQ Tel 01548 844704
Colehayes Park Dartmoor Field Study Centre - Toastmaster
Haytor Road, Bovey Tracey, Devon, TQ13 9LD Tel 01626 833033
Collaven Manor Hotel - Toastmaster
Sourton, Okehampton, EX20 4HH Tel 01837 861522
Combe House Hotel - Toastmaster
Gittisham, Honiton, Devon, EX14 3AD Tel 01404 540400
Croyde Bay Holiday Village - Toastmaster
Croyde Bay, Braunton, Devon, EX33 1QB Tel 01271 890890
Dart Marina Hotel - Toastmaster
Sandquay Road, Dartmouth, TQ6 9PH Tel 01803 832580
Dartmouth Golf & Country Club - Toastmaster
Blackawton, Totnes, Devon, TQ9 7DE Tel 01803 712009
Deer Park Hotel - Toastmaster
Buckerell Village, Weston, Honiton Tel 01404 41266
Devon Hotel - Toastmaster
Matford, Exeter, EX8 8XU Tel 01392 59268
Dower House Hotel - Toastmaster
Rousdon, Near Lyme Regis, DT7 3RB Tel 01297 21047
Durrant House Hotel - Toastmaster
Heywood Road, Northam, Bideford, EX39 3QB Tel 01237 472361
East Devon Registration office - Toastmaster
Elmfield house, Dowell Street, Honiton, EX14 1LX Tel 0140442531
Edgemoor Hotel - Toastmaster
Haytor Road, Bovey Tracey, Devon, TQ13 9LE Tel 01626 832466
Elfordleigh Hotel - Toastmaster
Colebrook, Plympton, Plymouth, PL7 5EB Tel 01752 336428
Escot House - Toastmaster
Talaton, Ottery St Mary, EX11 1LU Tel 01404 822 188
Exeter Court Hotel - Toastmaster
Kennford, Exeter, EX6 7UX Tel 01392 832121
Fingle Bridge Inn - Toastmaster
Drewsteignton, EX6 6PW Tel 01647 281287
Fisherman's Cot - Toastmaster
Bickleigh, Tiverton, Devon, EX16 8RU Tel 01884 855237
Fishponds House - Toastmaster
Dunkeswell, Honiton, EX14 4SH Tel 01404 891358
Follaton house - Toastmaster
Plymouth rd, Totnes, Devon, TQ9 5NE Tel 01803861234
Fox & Hounds Country Hotel - Toastmaster
Eggesford, Chumleigh, EX18 7JZ Tel 01769 580345
Gidleigh Park Hotel - Toastmaster
Chagford, Devon, TQ13 8HH Tel 01647 432367
Gipsy Hill Hotel - Toastmaster
Gipsy Hill Lane, Monkerton, Exeter, EX1 3RN Tel 01392 465252
Glazebrook House Hotel - Toastmaster
South Brent Tel 01364 73322
Great Barn - Toastmaster
Place Barton, Ashton, Exeter, EX6 7QD Tel 01647 252552
Haldon Belvedere (Lawrence Castle) Toastmaster
Higher Ashton, Exeter, EX6 7YE Tel 01392 833668
Hare and Hounds - Toastmaster
Putts Corner, Sidbury, Nr Sidmouth, EX10 0QQ Tel 0140 441760
Hartland Abbey - Toastmaster
Nr Bideford, EX39 6DT Tel 01288 331188
Hartnoll Hotel - Toastmaster
Bolham, Tiverton, EX16 7RA Tel 01884 252777
Hatswell Meadows - Toastmaster
Lower Washfield, Tiverton, EX16 9PE Tel 01237 441476
Hazelwood House - Toastmaster
Loddiswell, Kingsbridge, TQ7 4EB Tel 01548 821232
Heddon Hall - Toastmaster
Parracombe, Devon, EX31 4QL Tel 01598 763541
Hewitts Villa Spaldi - Toastmaster
North Walk, Lynton, EX35 6HY Tel 01598 752293
Highbullen Hotel - Toastmaster
Chittlehamholt, Umberleigh, EX37 9HD Tel 01769 540561
Holne Chase Hotel & Restaurant - Toastmaster
Ashburton, TQ13 7NS Tel 01364 631471
Holne Park House - Toastmaster
Ashburton, Devon, TQ13 7NR Tel 01364 655900
Hope and Anchor Inn - Toastmaster
Hope Cove, TQ7 3HQ Tel 01548 53534
Horn of Plenty - Toastmaster
Gulworthy, Tavistock, PL19 8JD Tel 01822 832 528
Hotel Endsleigh - Toastmaster
Milton Abbot, Tavistock, PL19 0PQ Tel 01822 870004
Hunters Inn - Toastmaster
Heddon Valley, Parracombe, Devon, EX31 4PY Tel 01598 763230
Huntsham Court - Toastmaster
Huntsham, Tiverton, EX16 7NA Tel 01398 361365
Ivybridge Town Hall - Toastmaster
Erme Court, Leonards Road, Ivybridge, PL21 0SZ Tel 01803 861234
Kathleen & May - Toastmaster
Brunswick Wharf, Bideford, Devon Tel 01237 473862
Kingston House - Toastmaster
Staverton, Totnes, TQ9 6AR Tel 01803 762235
Kitley House Hotel - Toastmaster
Kitley Estate, Yealmpton, Plymouth, PL8 2NW Tel 01752 881 555
Kittiwell House - Toastmaster
St Mary's Road, Croyde, EX33 1PG Tel 01271 890247
Lakeside - Toastmaster
Roadford Lane, Broadwoodwidger, Devon Tel 01566 784859
Landmark Theatre - Toastmaster
Wilder Road, Ilfracombe, EX34 9BZ Tel 01271 865655
Langdon Court Hotel - Toastmaster
Down Thomas, Plymouth, PL9 0DY Tel 01752 862348
Langford Court South - Toastmaster
Langford, Cullompton, Devon, EX15 1SQ Tel 01752 862348
Langstone Cliff Hotel - Toastmaster
Dawlish Warren, Dawlish, EX7 0NA Tel 01626 865155
Larkbeare House - Toastmaster
Topsham Road, Exeter, EX2 4NG Tel 01392 384230
Lavender House Hotel - Toastmaster
Knowle Hill, Ashburton, TQ13 7QY Tel 01364 652697
Lee Bay Hotel - Toastmaster
Lee, Ilfracombe, Devon, EX33 8LP Tel 01271 867600
Lewtrenchard Manor - Toastmaster
Lewdown, Nr Okehampton, EX20 4PN Tel 01566 783222
Lord Haldon Country House Hotel - Toastmaster
Dunchideock, Nr Exeter, EX6 7YF Tel 01392 832483
Loyton Lodge - Toastmaster
Morebath, Tiverton, EX16 9AS Tel 01398 331051
Market Hall - Toastmaster
Market Square, Holsworthy Tel 01237 474 978
Mid Devon Registration Office - Toastmaster
The Great House, 1 St Peter street, Tiverton, Devon, EX16 6NE Tel 01884 252821
Middle Coombe Farm - Toastmaster
Uplowman, Tiverton, Devon, EX16 7QQ Tel 01884 821176
Moorlands Links Hotel - Toastmaster
Yelverton, Devon, PL20 6DA Tel 01822 852245
Narracott Hotel - Toastmaster
Beach Road, Woolacombe, EX34 7BS Tel 01271 870418
New Inn - Toastmaster
High Street, Clovelly, EX39 5SY Tel 01271 870418
North Devon Registration Office - Toastmaster
Civic Centre, North Walk, Barnstaple, EX31 1ED Tel 01271388540
Northcote Manor - Toastmaster
Burrington, Umberleigh, EX37 9LZ Tel 01769 560501
Nutwell Court - Toastmaster
Lympstone, Exmouth, Devon, EX8 5AN Tel 01392 873230
Old Forde House - Toastmaster
Newton Abbot, TQ12 4XX Tel 01626 361101
Padbrook Park - Toastmaster
Cullompton, Devon, EX15 1RU Tel 01884 38286
Park Hotel - Toastmaster
Taw Vale, Barnstaple, Devon, Ex32 9AE Tel 01271 72166
Parkway House Country Hotel - Toastmaster
Sampford Peverell, Tiverton, EX16 7BJ Tel 01884 820255
Quay House - Toastmaster
Ilbert Road, Kingsbridge, Devon, TQ7 1DZ Tel 01803 861234
Queen's Court Hotel - Toastmaster
Bystock Terrace, Exeter, EX4 4HY Tel 01392 272709
RHS Garden Rosemoor, Great Torrington, EX38 8PH Tel 01805626800
Red Lion Hotel - Toastmaster
The Quay, Clovelly, Bideford, EX39 5TF Tel 01288 331188
Reed Hall - Toastmaster
Streatham Drive, Exeter, Ex4 4QR Tel 01392 263586
River Yealm Hotel - Toastmaster
Yealm Road, Newton Ferrers, Plymouth, PL8 8SL Tel 01752 872419
Royal Beacon Hotel - Toastmaster
The Beacon, Exmouth, EX8 2AF Tel 01395 264886
Royal Castle Hotel - Toastmaster
11 The Quay, Dartmouth, TQ6 9PS Tel 01803 833 033
Royal Clarence Hotel - Toastmaster
Cathedral Yard, Exeter, EX1 1HD Tel 01392 319955
Royal Hotel - Toastmaster
Barnstaple Street, Bideford, Devon, EX39 4AE Tel 01237 472005
Royal Seven stars Hotel - Toastmaster
The Plains, Totnes, TQ9 5DD Tel 01803 833033
Rydon Inn - Toastmaster
Holsworthy, EX22 7HU Tel 01409 259444
Sandy Cove Hotel - Toastmaster
Berrynarbor, Ilfracombe, EX34 9SR Tel 01271 388540
Sandy Park Conference & Banqueting Centre - Toastmaster
Sandy Park, Sandy Park Way, Exeter, EX2 7NN Tel 01392 427427
Saunton Sands Hotel - Toastmaster
Saunton, Braunton, Devon Tel 01271 890212
South Hams Registration Office - Toastmaster
Follaton house, Plymouth rd, Totnes, TQ9 5NE Tel 01803861130
Southgate Hotel - Toastmaster
Souternhay East, Exeter, EX1 1QF Tel 0879 400 8333
St Olave's Hotel - Toastmaster
Mary Arches Street, Exeter, EX4 3AZ Tel 01392 217736
Stoodleigh Court - Toastmaster
Stoodleigh, Tiverton, EX16 9PN Tel 01398 351556
Tapeley Park - Toastmaster
Instow, Devon, EX39 4NT Tel 0845 180 0277
Tavistock Town Hall - Toastmaster
Bedford Square, Tavistock, PL19 0AJ Tel 08451551002
Teignbridge Registration Office - Toastmaster
15 Devon Square, Newton Abbot, TQ12 2HN Tel 01626206340
The Flavel Centre - Toastmaster
Flavel Place, Dartmouth, TQ6 9ND Tel 01803 861234
The Guildhall - Toastmaster
Victoria Road, Dartmouth, TQ6 3RY Tel 01803 861234
The Old Rectory - Toastmaster
Pyworthy, Holsworthy, EX22 6LA Tel 01409 253594
The Tors Hotel - Toastmaster
Lynmouth, Devon, EX35 6NA Tel 01598 753236
Thistle Hotel - Toastmaster
Queen Street, Exeter, EX4 3SP Tel 01392 312252
Three Crowns Hotel - Toastmaster
High Street, Chagford, Devon, TQ13 8AJ Tel 01647 433444
Thurlestone Hotel - Toastmaster
Thurlestone, Kingsbridge, Devon, TQ7 3NN Tel 01548 560382
Tidwell Manor - Toastmaster
Knowle, Budleigh Salterton, Devon, EX9 7AG Tel 01395 424444
Tiverton Hotel - Toastmaster
Blundells Road, Tiverton, EX16 4DB Tel 01884 256120
Torridge Registration Office - Toastmaster
Council Offices, windmill lane, Northam, Bideford, EX39 1BY Tel 01237474978
Town Hall - Toastmaster
St Andrews Road, Exmouth, EX8 1AW Tel 01404 42531
Town Hall - Toastmaster
Lee Road, Lynton, EX35 6HT Tel 01598 752384
Town Hall - Toastmaster
Fore Street, Okehampton, EX20 1AA Tel 01822 616285
Town Hall - Toastmaster
9 Devon Square, Newton Abbot, TQ12 2HN Tel 0845 155 1002
Travellers Rest Old Church - Toastmaster
Cobbaton, Chittlehampton, Devon, EX37 9SD Tel 01769540831
Tumbling Weir Hotel - Toastmaster
Canaan Way, Ottery St Mary, EX11 1AQ Tel 01404 812752
Two Bridges Hotel - Toastmaster
Two Bridges, Dartmoor, PL20 6SW Tel 01822 610897
Waie Inn - Toastmaster
Zeal Monachorum, Crediton, EX17 6DF Tel 01363 82348
Watersmeet hotel - Toastmaster
Mortehoe, Woolacombe, EX34 7EB Tel 01271 870333
West Devon Registration office - Toastmaster
Town Council offices, Drake rd, Tavistock, PL19 0AU Tel 01822616285
Westcliff Hotel - Toastmaster
Manor road, Sidmouth, Devon, EX10 8RU Tel 01395 513252
White Hart Hotel - Toastmaster
The Square, Moretonhampstead, Devon, TQ13 8NF Tel 01647 441340
Woodbury Park Hotel Golf and Country Club - Toastmaster
Woodbury Castle, Woodbury, Exeter, EX5 1JJ Tel 01395 233382
Woodlands Hotel - Toastmaster
Station Road, Sidmouth, EX10 8HG Tel 01395 513120
Woolacombe Bay Hotel - Toastmaster
South Street, Woolacombe, Devon, EX34 7BN Tel 01271 870388
Yarner - Toastmaster
Bovey Tracey, Newton Abbot, TQ13 9LN Tel 01374 661354
Yeo Farm - Toastmaster
Chagford, Devon, TQ13 8ES Tel 01647 432663
Yeoldan House Hotel - Toastmaster
Durrant Lane, Northam, EX39 2RL Tel 01237 474400
Towns and Villages of Devon, England where I will be pleased to be your toastmaster
Abbey, Abbots Bickington, Abbotsbury, Abbotsham, Abbotskerswell, Abbotsleigh, Abham, Accombe, Accott, Addiscott, Affaland Cross, Afton, Aish, Alder, Aldercott, Alfardisworthy, Alfington, All Saints, Allaleigh, Aller, Aller Park, Allercombe, Allercross, Alminstone, Almiston Cross, Alphington, Alston, Alswear, Alverdiscott, Alwington, Annery, Anvil Corner, Appledore, Arlington, Arlington Beccott, Ash, Ash Mill, Ash Thomas, Ashburton, Ashbury, Ashcombe, Ashculm, Ashford, Ashill, Ashley, Ashmansworthy, Ashmill, Ashprington, Ashreigney, Ashton, Ashtown, Ashwater, Ashwell, Atherington, Atway, Aunk, Austin, Aveton Gifford, Avon Wick, Awliscombe, Axminster, Axmouth, Aylesbeare, Ayshford, Babbacombe, Bableigh, Bagtor, Balls Bridge, Bampton, Bamson, Bantham, Barbican, Barbrook, Barbrook Mill, Barne, Barne Barton, Barne Bottom, Barnebarton, Barnfield, Barnstaple, Barons Wood, Barton, Barton Down, Barton Town, Battisborough Cross, Batton, Beacon, Beacon Heath Estate, Beacon Hill, Beacon Park, Beaford, Beamsworthy, Beara, Beare, Beaston, Beaworthy, Beckland, Bedford Precinct, Beenleigh, Beer, Beer Charter, Beesands, Beeson, Bellaire, Belmont, Belsford, Belstone, Belvoir, Beneknowle, Bennah, Bentwitchen, Bere Alston, Bere Ferrers, Berry, Berry Cross, Berry Head, Berry Pomeroy, Berrydown Cross, Berrynarbor, Bevills Hill, Bewley Down, Bibbear, Bickerton, Bickington, Bickleigh, Bickleton, Bicton, Bideford, Bigbury, Bigbury-on-Sea, Billacombe, Binneford, Birch, Bish Mill, Bishops Clyst, Bishops Court, Bishops Nympton, Bishops Tawton, Bishopsteignton, Bishopswood, Bittadon, Bittaford, Bittaford Bridge, Black Dog, Black Torrington, Blackadon, Blackawton, Blackborough, Blackdown, Blackhorse, Blackpool, Blagaton, Blagdon, Blagdonmoor Wharf, Blakemore, Boasley Cross, Bocombe, Bodley, Bogtown, Bolberry, Bolham, Bond, Bondleigh, Bonehill, Boobery, Boode, Boohay, Boreston, Borne, Borough, Bottle Hill, Bottledown Cross, Bottreaux Mill, Bountis Thorne, Bovesand, Bovey Tracey, Bow, Bowden, Bowden Green, Bowditch (Burridge, Bowringsleigh Estate, Boxs Shop, Bradaford, Bradfield, Bradford, Bradiford, Bradninch, Bradstone, Bradwell, Bradworthy, Brampford Speke, Brandis Corner, Branscombe, Bratton Clovelly, Bratton Fleming, Braunton, Brayford, Brayfordhill, Breazle, Brendon, Brent Mill, Brentor, Bridestowe, Bridford, Bridge, Bridge End, Bridge Reeve, Bridge Town, Bridgend, Bridgerule, Brightley, Brimley, Brisworthy, Brithem Bottom, Brixham, Brixton, Broad Clyst, Broad Nymet, Broad Oak, Broadbury, Broadhembury, Broadhempston, Broadlands, Broadparkham, Broadsands, Broadwoodkelly, Broadwoodwidger, Brockscombe, Broden Hill, Brookeador, Brooking, Broom, Brownscombe, Brownsham, Brownston, Brownstone, Brushford, Buckerell, Buckfast, Buckfastleigh, Buckland, Buckland Brewer, Buckland Estate, Buckland Filleigh, Buckland in the Moor, Buckland Monachorum, Buckland-Tout-Saints, Buckleigh, Bucks Cross, Bucks Mills, Buda, Budlake, Budleigh Salterton, Budshead, Bugford, Bulator, Bulkworthy, Bulworthy, Burford, Burlescombe, Burlestone, Burnstone, Burnville, Burraton, Burridge (Bowditch, Burridges, Burrington, Burrow, Burscott, Bursdon, Bursdon Moor, Burston, Butterleigh, Butts, Bystock, Cabbacott, Cadbury, Cadeleigh, Cadleigh, Cadleighpark, Calverleigh, Camels Head, Cannsdown, Canonteign, Capton, Castle, Castle Hill, Caton, Cattedown, Caute, Chaddlewood, Chagford, Challaborough, Challacombe, Chambercombe, Chapelton, Chapmans Well, Chardstock, Charlacott, Charles, Charles Bottom, Charleton, Chasty, Chattan, Chawleigh, Cheglinch, Chelfham, Chelson Meadow, Chelston, Chenson, Cheriton, Cheriton Bishop, Cheriton Cross, Cheriton Fitzpaine, Cheston, Chettiscombe, Chevithorne, Chichacott, Chieflowman, Chillaton, Chillington, Chilsworthy, Chilton, Chitterly, Chittlehamholt, Chittlehampton, Chivelstone, Chivenor, Chollacott Estate, Cholwells, Christow, Chudleigh, Chudleigh Knighton, Chulmleigh, Churchill, Churchland Green, Churchstow, Churchtown, Churchwater, Churston Ferrers, Clanacombe, Clannaborough, Clapham, Clapp, Clapworthy, Clawton, Clayhanger, Clayhidon, Clearbrook, Cleave, Cliff Park Estate, Clifford, Clifton, Clovelly, Clyst Honiton, Clyst Hydon, Clyst St George, Clyst St Lawrence, Clyst St Mary, Cobbaton, Cockingford, Cockwood, Coffcott, Coffinswell, Cofton, Colaton Raleigh, Cold Harbour, Coldeast, Coldharbour, Coldridge, Colebrook, Colebrooke, Coleford, Colehays, Coleridge, Coles Cross, Colestocks, Coleton, Coleton Fishacre, Collapark, Collaton, Collaton St Mary, Colleton Mills, Colliton, Colscott, Columbjohn, Colyford, Colyton, Combe, Combe Fishacre, Combe Martin, Combe Raleigh, Combebow (Or Coombow, Combeinteignhead, Combpyne Rousdon, Compton, Compton Gifford, Connybeare, Cookbury, Cookbury Wick, Cookington, Cookworthy, Coombe, Coombe Pafford, Copplestone, Copy Lake, Corntown, Cornwood, Cornworthy, Coryton, Cotleigh, Cotmaton, Cott, Cotts, Cottwood, Countess Wear, Countisbury, Cove, Cowick, Cowley, Cowley Moor, Coxside, Crabtree, Craddock, Cranford, Crapstone, Craze Lowman, Creacombe, Crediton, Crediton Hamlets, Crockernwell, Croft, Cross, Cross Town, Crossgate, Crowden, Crownhill, Croyde, Croyde Bay, Cruwys Morchard, Cudlipptown, Cullompton, Culm Davy, Culmstock, Curtisknowle, Dainton, Daison, Daison Heights, Dalwood, Darracott, Dartington, Dartmoor Forest, Dartmouth, Dashpers, Dawlish, Dawlish Warren, Dean, Dean Cross, Dean Prior, Deancombe, Decoy, Delley, Denbury, Densham, Deptford, Derby, Derill, Derriford, Derriton, Devon Great Consols, Devonport, Dexbeer, Didworthy, Digby, Dinworthy, Dippermill, Dippertown, Diptford, Dittisham, Doccombe, Dodbrooke, Doddiscombsleigh, Dodscott, Dolbeare, Dolton, Dotton, Dousland, Dowland, Dowlands, Down, Down St Mary, Down Thomas, Downacarey, Downes, Downmoor, Drayford, Drewsteignton, Druxton, Dudland, Dulford, Dumpinghill, Dunchideock, Dunkeswell, Dunkirk, Dunsford, Dunsland, Dunsley, Dunstone, Dunterton, Duryard, Dux, Dyke, East Allington, East and West Buckland, East Anstey, East Buckland, East Budleigh, East Charleton, East Chilla, East Cornworthy, East Down, East Hill, East Kimber, East Knowstone, East Lake, East Leigh, East Mere, East Ogwell, East Panson, East Portlemouth, East Prawle, East Putford, East Stowford, East Town, East Village, East Week, East Wonford, East Worlington, East Youlstone, East-the-Water, Eastacombe, Eastacott, Eastcott, Eastdon, Eastdown, Eastington, Easton, Eastpeek, Ebberly, Ebford, Ebsworthy Town, Eddistone, Edginswell, Efail-Fach, Efford, Egg Buckland, Eggbuckland, Eggesford, Elburton, Ellacombe, Ellerhayes, Elmscott, Elwell, Elysian Fields, Embridge, Englebourne, Erle, Ermington, Ernesettle, Escot, Essington, Essworthy, Eworthy, Exbourne, Exe Island, Exebridge, Exeter, Exeter Cross, Exmansworthy, Exminster, Exmouth, Exton, Exwick, Eyewell Green, Fairmile, Fairy Cross, Farford, Farleigh, Farringdon, Farway, Feniton, Fenny Bridges, Filham, Filleigh, Five Lane End, Flete, Fluxton, Follaton, Folly Gate, Ford, Ford Park, Forda, Forder Green, Fordmoor, Fordton, Fore Street, Fort Hill, Fosterville, Four Elms, Four Ways, Foxcombe, Foxdown, Foxhayes, Foxhole, Foxhole Estate, Frankaborough, Fremington, Friars Green, Frithelstock, Frithelstockstone, Frittiscombe, Frizenham, Frogmore and Sherford, Frogwell, Frost, Fuge, Fullaford, Furley, Furze, Gabber, Galmpton, Gamberlake, Gammaton Moor, Gappah, Garlandhayes, Garramarsh, Gays, George Nympton, Georgeham, Germansweek, Gerston, Gidleigh, Gingerland, Gitcombe, Gittisham, Glen Holt Estate, Glenholt, Godford Cross, Goldworthy, Goodleigh, Goodrington, Goodshelter, Goodstone, Goose Green, Goose Moor, Goosewell, Gorvin, Gosford, Goveton, Granary, Grants, Gratton, Great Cotton, Great Fulford, Great Haye, Great Houndtor, Great Knowle, Great Potheridge, Great Shilhay, Great Torrington, Great Wooden, Greatweek, Green Gate, Greenaway Place, Greenhill Cross, Greenlands Estate, Greenslinch, Grenofen, Gridley Corner, Grimpstonleigh, Grinacombe Moor, Guineaford, Gulliford, Gulworthy, Gunn, Gunstone Mills, Haccombe With Combe, Haddacott, Hagginton Hill, Halberton, Half Moon, Halford, Hallsands, Halsbury, Halsdon Barton, Halsfordwood, Halsinger, Halstow, Halwell and Moreleigh, Halwill, Halwill Cottages, Halwill Junction, Ham, Ham Pool, Hamlet, Hampton, Hamslade, Hand and Pen, Handy Cross, Hannaford, Harberton, Harbertonford, Harbourneford, Harcombe, Harcombe Bottom, Hardaway Head, Hardisworthy, Hareston, Harford, Harford Bridge, Harleston, Harpford Woods, Harracott, Harrowbeer, Hartland, Hartland Quay, Hartley, Hartley Vale, Hatch, Hatherleigh, Haukadon, Haven Banks, Hawkchurch, Hawkerland, Hawkmoor, Hawley Bottom, Haytor Vale, Haytown, Hazelwood, Heale, Heale Town, Heanton Punchardon, Hearders, Heasley Mill, Heath Common, Heathfield, Heathstock, Heatree, Heavitree, Heavitree Park, Heddon, Hele, Hele Lane, Hele Manor, Hellingtown, Hemerdon, Hemyock, Henderbarrow Corner, Henford, Hennock, Herdicott, Herner, Hescott, Hexworthy, Heybrook Bay, High Bickington, High Bullen, High Park, Highampton, Higher Ashton, Higher Batson, Higher Blagdon, Higher Bridge, Higher Brimley, Higher Brixham, Higher Bruckland, Higher Charlecombe, Higher Cheriton, Higher Combe, Higher Dean, Higher Dittisham, Higher Fyldon, Higher Gabwell, Higher Greendale, Higher Guscott, Higher Ham, Higher Hendham, Higher Hooe, Higher Keaton, Higher Lillisford, Higher Metcombe, Higher Moor, Higher Muddiford, Higher Netherton, Higher Prestacott, Higher Redgate, Higher Rocombe, Higher Shute, Higher Slade, Higher Slerra, Higher Stadbury, Higher Sticklepath, Higher Tale, Higher Town, Higher Velly, Higher Wear, Higher Weaver, Higher Westonfields, Higher Whiddon, Higher Winsford, Higher Yalberton, Highford, Highleigh, Highweek, Hill, Hillfield, Hillhead, Hillmoor, Hillside, Hiscott, Hittisleigh, Hockworthy, Holbeton, Holcombe, Holcombe Burnell, Holcombe Rogus, Hole, Holemoor, Hollacombe, Hollamoor, Hollocombe, Holne, Holsome, Holsworthy, Holsworthy Beacon, Holsworthy Hamlets, Holwell, Holwill, Holy City, Homesleigh Green, Honeychurch, Honeycroft, Honicknowle, Honiton, Hoo Meavy, Hook, Hookway, Hoops, Hope, Hope Cove, Hopworthy, Horndon, Horns Cross, Horrabridge, Horrelsford, Horridge, Horsacott, Horsebridge, Horsebrook, Horslett Hill, Horwood, Howley, Howton, Huccaby, Huckham, Huckworthy Bridge, Hugglepit, Huish, Hulham, Humber, Huntsham, Huntshaw, Hurdwick, Hutcherleigh, Huxham, Huxtables Leary, Iddesleigh, Ide, Ideford, Ilfracombe, Ilkerton, Ilsington, Ingleigh Green, Inner Hope, Instow, Inwardleigh, Ipplepen, Itton, Ivybridge, Jack in the Green, Jack Moor, Jacketts, Jacobstowe, Jurston, Keephill, Kellacott, Kellaton, Kelly, Kemacott, Kenn, Kennerleigh, Kennford, Kentisbeare, Kentisbury, Kentisbury Ford, Kenton, Kernstone, Kersbrook, Kerscott, Kerswell, Keyham, Killatree, Killington, Kilmington, Kimworthy, Kingford, Kinghurst, Kings Nympton, Kings Tamerton, Kingsbridge, Kingscott, Kingsheanton, Kingskerswell, Kingsteignton, Kingston, Kingswear, Knightacott, Knighton, Knowle, Knowles Hill, Knowstone, Ladford Mill, Ladram Bay, Laira, Lake, Lamerton, Lana, Land Part, Landcombe, Landcross, Landhill, Landkey, Landkey Newland, Landscove, Lane End, Langaford, Langford, Langridge, Langtree, Lapford, Larkbeare, Lashbrook, Lashingcott, Latchley, Latchmoor, Latchmoor Green, Leary Barton, Ledstone, Lee, Lee Mill Bridge, Lee Mill Estate, Lee Moor, Leigh Cross, Leigh Hill, Leigham, Leonard Moor, Lettaford, Leusden, Lewdown, Leworthy, Lewtrenchard, Liddaton, Lifton, Liftondown, Lillisford Farm, Lincombe, Linton, Lions Holt, Lipson, Little Gorwood, Little Hill, Little Knowle, Little Lashbrook, Little Pilton, Little Potheridge, Little Silver, Little Torrington, Littlebridge, Littleham, Littleham Court, Littleham Cross, Littlehempston, Littletown, Livermead, Liverton, Lobb, Lobhillcross, Loddiswell, Long Barn, Long Cross, Long Weir Field, Longbridge, Longcause, Longdown, Loosebeare, Lopwell, Loughborough, Lounston, Lovaton, Lower Ashton, Lower Batson, Lower Black Dog, Lower Blagdon, Lower Bridge, Lower Brimley, Lower Budlake, Lower Cheriton, Lower Combe, Lower Compton, Lower Crabtree, Lower Dean, Lower Dittisham, Lower Fyldon, Lower Gabwell, Lower Guscott, Lower Hendham, Lower Hooe, Lower Keaton, Lower Loveacott, Lower Loxhore, Lower Lutsford, Lower Moor, Lower Mullacot, Lower Netherton, Lower Newbuildings, Lower Prestacott, Lower Rocombe, Lower Slade, Lower Slerra, Lower Stadbury, Lower Tale, Lower Town, Lower Twitchen, Lower Wadstray, Lower Wear, Lower Whiddon, Lower Woolbrook, Lower Yalberton, Lower Yelland, Lowerside, Lowertown, Lowton, Loxbeare, Loxhore, Loxhore Cott, Loyton, Ludbrook, Luddery Hill, Luffincott, Lundy Island, Luppitt, Lupridge, Lurley, Luscombe, Luson, Lustleigh, Luton, Lutsford, Lutton, Lydford, Lympscott, Lympstone, Lynbridge, Lyneham, Lynmouth, Lynton, Lynton and Lynmouth, Mackham, Maddaford, Madford, Maidencombe, Maidendown, Maidenhayne, Malborough, Mamhead, Manadon, Manaton, Mannamead, Manor Park, Mapstone, Mariansleigh, Maristow, Marldon, Marley, Marpool Estate, Marsh, Marsh Barton, Marsh Green, Marsh Mills, Martinhoe, Marwood, Mary Tavy, Marystow, Mead, Meadwell, Meavy, Meddon, Meeth, Megworthy, Meldon, Membland, Membury, Merrifield, Merrivale, Merrivale Bridge, Merton, Meshaw, Metcombe, Mettaford, Michelcombe, Middle Dean, Middle Fillham, Middle Hills, Middle Marwood, Middle Rocombe, Middlecott, Middleham, Middlemoor, Middlewood, Milber, Mile End, Mile House, Milford, Mill Bay, Mill Cross, Millbay, Millbay Docks, Millbridge, Millbrook, Millcombe, Millhayes, Millhill, Millmoor, Milltown, Milton Abbot, Milton Damerel, Miltoncombe, Modbury, Molland, Monkerton, Monkleigh, Monkokehampton, Monkton, Moor Cross, Moor End, Moorhead, Moorland Park, Moortown, Morchard Bishop, Morchard Road, Morebath, Moreleigh, Moretonhampstead, Morice Town, Mortehoe, Morwellham, Morwenna, Mothecombe, Moult Hill, Mount Batten, Mount Dinham, Mount Gold, Mount Radford, Mounts, Mountsland, Muckworthy, Muddiford, Muddlebridge, Mullacott, Murchington, Murtwell, Musbury, Mutley, Mutterton, Nadderwater, Neopardy, Nether Exe, Nether Velly, Nethercott, Netherdowns, Netherton, Nettacott, Netton, New Inn, New Town, Newbridge, Newbuildings, Newcott, Newhaven, Newnham, Newport, Newquay, Newton Abbot, Newton and Noss, Newton Bushel, Newton Ferrers, Newton Poppleford and Harpford, Newton St Cyres, Newton St Petrock, Newton Tracey, Newtown, Nicholashayne, No Mans Land, Norley, Normans Green, North Bovey, North Brentor, North Buckland, North Furze, North Heasley, North Hill, North Huish, North Lobb, North Molton, North Morte, North Piend, North Pool, North Prospect, North Radworthy, North Tawton, North Town, North Whilborough, Northam, Northcott, Northernhay, Northleigh, Northlew, Northmostown, Norton, Norwood, Noss Mayo, Nymet Rowland, Nymet Tracey, Oakford, Oakland Park, Odham, Offwell, Ogwell, Okehampton, Okehampton Hamlets, Old Bridwell, Oldborough, Oldridge, Oldway, Oldways End, Orchard Hill, Oreston, Orleigh, Otterton, Ottery St Mary, Ottery St Mary, Outer Hope, Outland, Owley, Oxton, Paignton, Palmers, Pancrasweek, Parkham, Parklands, Parnacott, Parracombe, Passageway, Patchacott, Patchole, Payhembury, Peeks Estate, Penninn, Pennycomequick, Pennycotts, Pennycross, Pennymoor, Penquit, Penstone, Pensylvania, Peppercombe, Pepperdon, Perkins Village, Perry Green, Peter Tavy, Peters Marland, Petrockstow, Petticombe, Petton, Peverall, Peverell, Philham, Pillhead, Pillmouth, Pilton, Pinhay, Pinhoe, Pippacott, Pitbridge, Pitt, Plainmoor, Plymouth, Plympton, Plympton Erle, Plympton St Mary, Plympton St Maurice, Plymstock, Plymtree, Polsham, Polsloe Bridge, Polsloe Park, Polsloe Priory, Poltimore, Pomphlett, Ponchydown, Ponsford, Ponsworthy, Popham, Port Bridge, Portgate, Portledge, Portmore, Post Hill, Postbridge, Pottington, Poughill, Poulston, Poundsgate, Powderham, Powlers Piece, Prescott, Preston, Priestacott, Primley, Prince Rock, Princetown, Pristacott, Prixford, Puddavon, Puddington, Putsborough, Pye Corner, Pyworthy, Queens Nympton, Quither, Quoditch, Rack Park, Rackenford, Raddon, Radley, Raleigh, Ramsley, Ranscombe, Ratsloe, Rattery, Rawridge, Raymonds Hill, Reahill, Red Ball, Red Cow, Red Cow Village, Redhill, Redhills, Redlands, Reedy, Rew, Rewe, Rexon, Rickards Down, Rickham, Riddlecombe, Ridgeway, Ridgway, Rimpston, Ringmore, Ringswell, Riverside, Roachill, Roborough, Rock, Rockbeare, Rocombe Bottom, Romansleigh, Rose Ash, Roseberry, Rosedown, Rosemary Lane, Roundham Head, Roundswell, Rowden, Ruggaton, Rugwell, Rumsam, Rundlestone, Ruxhill, Saint Hill, Salcombe, Salcombe Hill, Salcombe Regis, Saltram, Saltrens Cottages, Sampford Chapple, Sampford Courtenay, Sampford Peverell, Sampford Spiney, Sandford, Sandquay, Sandwell, Sandy Gate, Sandypark, Satterleigh and Warkleigh, Saunton, Saunton Sands, Scorriton, Seale Hayne, Seaside, Seaton, Seaton Junction, Seckerleigh, Sector, Shadycombe, Shaldon, Shaugh Prior, Shearlangstone, Shebbear, Sheepstor, Sheepwash, Sheldon, Shelly, Sherrill, Sherwood Green, Shillingford, Shillingford St George, Shilston, Shinners Bridge, Shiphay Collaton, Shirwell, Shobrooke, Shop, Shore Bottom, Shortacombe, Shorton, Shute, Shute Hill, Sid, Sidbury, Sidford, Sidmouth, Sidmouth Junction, Sigford, Silverton, Simpson Moor, Sitcott, Slade, Slapton, Smallbrook, Smallridge, Smeatharpe, Smithincott, Snapper, Soldon, Soldon Cross, Sorley, Sourton, South Allington, South Brent, South Dean, South Hole, South Huish, South Knighton, South Milton, South Molton, South Pool, South Radworthy, South Tawton, South Town, South Whilborough, South Wonford, South Yeo, South Zeal, Southbrook, Southcott, Southerly, Southerton, Southleigh, Southway, Sowton, Sparkwell, Splatt, Spreyton, Spriddlestone, Sprytown, St Anns Chapel, St Budeaux, St Davids, St Giles in the Wood, St Giles on the Heath, St Hill Alphington, St James, St John, St Judes, St Leonards, St Loyes, St Mary Church, St Michaels, St Thomas, Staddiscombe, Staddon, Stags Head, Stamford Fort, Stanton, Stantor, Staplake, Staple, Staple Cross, Staplevale, Starcross, Start, Staverton, Stenhall, Stepcote Hill, Stevenstone, Stibb Cross, Sticklepath, Stitworthy, Stockland, Stockleigh English, Stockleigh Pomeroy, Stockley, Stoke, Stoke Canon, Stoke Fleming, Stoke Gabriel, Stoke Hill, Stoke Rivers, Stokeinteignhead, Stokenham, Stone, Stoneborough, Stonehouse, Stoneycombe, Stony Cross, Stonyford, Stoodleigh, Stormsdown, Stover, Stowford, Stowford Water, Strancombe, Street, Stretch Down, Stretchacott, Strete, Strete Raleigh, Strode, Stroxworthy, Stuckeridge, Suddon, Sugworthy, Sunny Bank, Sunny Side, Sutcombe, Sutcombemill, Sutton, Swallowfields, Sweetham, Swilly, Swimbridge, Swimbridge Newland, Sydenham Damerel, Taddiport, Talaton, Taleford, Talewater, Tamerton Foliot, Tantons Plain, Tavistock, Taw Green, Tawstock, Tedburn St Mary, Teign, Teigncombe, Teigngrace, Teignmouth, Templeton, Templeton Bridge, Tetcott, The Close, The Granary, The Holt, The Quay, Thelbridge, Thornbury, Thorndon, Thornecroft, Thornham, Thornhillhead, Thorverton, Three Beaches, Three Horse Shoes, Throwleigh, Thrushelton, Thurlestone, Ticketwood, Tidcombe, Tigley, Tilleslow, Tinhay, Tiphill Head, Tipton, Tipton St John, Tiverton, Tiverton Junction, Topsham, Tor, Tor Royal, Torbryan, Torcross, Torquay, Torr, Torre, Torridge, Torrs Park, Torwood, Tosberry, Totnes, Townlake, Townstall, Trentishoe, Trimstone, Trinity, True, True Street, Trusham, Tuckenhay, Tuckermarsh, Tuckingmill, Turnchapel, Tweenaway, Twitchen, Two Mile Oak, Tythecott, Tytherleigh, Uffculme, Ugborough, Umberleigh, Underwood, Up Exe, Upcott, Uplowman, Uplyme, Upottery, Uppacott, Uppaton, Uppincott, Upton, Upton Hellions, Upton Pyne, Uton, Valletort, Varley, Velator, Venn, Venn Green, Venn Ottery, Venny Tedburn, Venton, Vicarage, Virginstow, Virworthy, Viveham, Waddeton, Waddicombe, Walkampton, Wapsworthy, Ware, Warfleet, Waringstone (Weston, Warleigh, Warmhill, Wash, Washbourne, Washfield, Washford Pyne, Watchford Moor, Watcombe, Watergate, Waterhead, Watertown, Way Village, Waye, Waytown, Weare Giffard, Webbery, Week, Weirfields, Weirpark, Weirquay, Welcombe, Well Town, Wellswood Park, Welsford, Wembury, Wembworthy, West Alvington, West Anstey, West Appledore, West Ashford, West Blackdown, West Buckfastleigh, West Buckland, West Charleton, West Chilla, West Clyst, West Croft, West Down, West End, West Hill, West Hoe, West Hole, West Leigh, West Lyn, West Ogwell, West Panson, West Pilton, West Prawle, West Putford, West Sandford, West Sowden, West Town, West Upham, West Whitleigh, West Withycombe, West Wonford, West Worlington, West Yelland, Westbridge, Westcombe, Westcott, Western Town, Westlake, Westleigh, Weston, Weston (Waringstone, Weston Mill, Weston Peverell, Westonfields, Westpeek, Westville, Westward Ho, Westweek, Westwood, Weycroft, Wheel, Whiddon Down, Whimble, Whimple, Whipcott, Whipton, Whitchurch, White, Whitehall, Whitestone, Whitestone Cross, Whiteworks, Whitford, Whitleigh, Whitnage, Whitsford, Wick, Widecombe in the Moor, Widewell, Widey, Widworthy, Wiggaton, Wigham, Wilburton, Willand, Willesleigh, Willeswell, Willingcott, Willsworthy, Wilmington, Wiltown, Windy Cross, Winkleigh, Winsford Tower, Winsham, Winston, Winswell, Wishay, Withecott, Witheridge, Withleigh, Withycombe Raleigh, Wolborough, Wolleigh, Wolverstone, Wonford, Wonham, Wonson, Woodacott, Woodacott Cross, Woodbury, Woodbury Salterton, Woodford, Woodgate, Woodhouse, Woodhuish, Woodland, Woodland Head, Woodleigh, Woodmanton, Woodsdown Hill, Woodtown, Woody Bay, Woolacombe, Woolbrook, Woolfardisworthy, Woolston, Woolston Green, Worden, Worlington, Worston, Wotter, Wrafton, Wrangaton, Wrayland, Wrinkleberry, Yarcombe, Yarmacott, Yarnscombe, Yawl, Yealmbridge, Yealmpton, Yelland, Yellowford, Yelverton, Yeo Mill, Yeo Vale, Yeoford, Yettington, Yondertown, Zeal Monachorum, Zoar
Cornwall Wedding Venues
Alphington House - Toastmaster
Alverton place, Penzance, Cornwall, TR18 4JJ Tel 01872322007
Alverton Manor - Toastmaster
Tregolls Road, Truro, Cornwall, TR1 1ZQ Tel 01872 276633
Atlantic Hotel - Toastmaster
Dane Road, Newquay, Cornwall, TR7 1EN Tel 01637 872244
Barrowfield Hotel - Toastmaster
1-5 Hilgrove Road, Newquay, Cornwall, TR7 2QY Tel 01637 878878
Bedruthan Steps Hotel - Toastmaster
Mawgan Porth, Cornwall, TR8 4BU Tel 01637 860555
Blue & The Boardroom –Toastmaster
Beach Road, East Cliff, Porthadown, Cornwall, TR4 8AD Tel 01209 890777
Blue Hayes Private Hotel - Toastmaster
Trelyon Avenue, St Ives, Cornwall, TR26 2AD Tel 01736 797129
Boconnoc - Toastmaster
Lostwithiel, Cornwall, PL22 0RG Tel 01208 872507
Boscundle Manor - Toastmaster
Tregrehen, St Austell, PL25 3RL Tel 01726 813557
Boujis Bar & Restaurant - Toastmaster
15 St Mary's Street, Truro, Cornwall, TR1 2AF Tel 01872 285505
Bowood Park Hotel & Golf Course – Toastmaster
Camelford, Cornwall, PL32 9RF Tel 01840 213017
Broomhill Manor - Toastmaster
Poughill, Bude, EX23 9HA Tel 01288 352940
Budock Vean Hotel - Toastmaster
Mawnan Smith, Falmouth, Cornwall, TR11 5LG Tel 01326 250288
Bullers Arms Hotel - Toastmaster
Marhamchurch, Bude, Cornwall, EX23 0HB Tel 01288 361277
Callywith Quarry - Toastmaster
Old Callywith Road, Bodmin, PL31 2AZ Tel 01208 72029
Camelot Castle - Toastmaster
King Arthur's Castle Hotel, Tintagel, Cornwall, PL34 0DQ Tel 01840 770202
Cape Cornwall Golf & country club - Toastmaster
St Just, Penzance, Cornwall, TR19 7NL Tel 01736 788611
Carbis Bay Hotel - Toastmaster
Carbis Bay, St Ives, TR26 2NP Tel 01736 795311
Carlyon Bay Hotel - Toastmaster
St Austell, Cornwall, PL25 3RD Tel 01726 812304
Carnglaze Caverns - Toastmaster
St Neots, Liskeard, Cornwall, PL14 6HQ Tel 01579 320251
Carnmarth Hotel - Toastmaster
Headland Road, Newquay, Cornwall, TR7 1HN Tel 01637872519
Carnon Yard - Toastmaster
Trolver Croft, Feock, Truro Tel 01872 865217
China Fleet Country Club - Toastmaster
Saltash, PL12 6LJ Tel 01752 848668
Chy-An-Albany Hotel - Toastmaster
Albany Terrace, St Ives, Cornwall, TR26 2BS Tel 01736 796759
Cliffhead Hotel - Toastmaster
Sea Road, Carlyon Bay, St Austell, Cornwall, PL25 3RB Tel 01726 812345
Cobweb Cottage - Toastmaster
Trevone Farm, Mabe, Cornwall, TR10 9JG Tel 01208 841050
Crooked Spaniards Inn - Toastmaster
Fore Street, Cargreen, Cornwall, PL12 6PA Tel 01752 842830
Crossroads Lodge - Toastmaster
Scorrier, Redruth, TR16 5BP Tel 01326 313388
Dalvenie House - Toastmaster
New County Hall, Truro, Cornwall, TR1 3AY
Eagle House Hotel - Toastmaster
3 Castle Street, Launceston, PL15 8BA Tel 01326 313388
Edgcumbe Arms - Toastmaster
Cremyll, Torpoint, PL10 1HX Tel 01752 822294
Falmouth Beach Resort Hotel - Toastmaster
Gyllngvase Beach, Seafront, Falmouth, Cornwall, TR11 4NA Tel 01326 318084
Fentafriddle Farm - Toastmaster
Trewarmett, Tintagel, Cornwall, PL34 0EX Tel 01840 779190
Fistral Blu - Toastmaster
Headland Road, Newquay, Cornwall, TR7 1HY Tel 01637 879444
Fowey Hall - Toastmaster
Hanson Drive, Fowey, Cornwall, PL23 1ET Tel 01726 833866
Glendorgal Resort and Spa - Toastmaster
Lusty Glaze, Porth, Newquay, Cornwall, TR7 3AB Tel 01637 874937
Godolphin Arms - Toastmaster
West End, Marazion, TR11 0EN Tel 01736 710202
Godolphin House - Toastmaster
Godolphin Cross, Helston, TR13 9RE Tel 01736 763194
Graylands - Toastmaster
Dean Street, Liskeard, Cornwall, PL14 4AH Tel 01872322007
Great Western Hotel – Toastmaster
Cliff Road, Newquay, Cornwall, TR7 2NE Tel 01872322007
Green Lawns Hotel - Toastmaster
Western Terrace, Falmouth, Cornwall, TR11 4QJ Tel 01326 312734
Greenbank Hotel - Toastmaster
Harbourside, Falmouth, Cornwall, TR11 3SR Tel 01326 312440
Hannafore Point Hotel - Toastmaster
Marine Drive, West Looe, Cornwall, PL13 2DG Tel 01503 263273
Headland Hotel - Toastmaster
Newquay, Cornwall, TR7 1EW Tel 01637 872211
Hendra - Toastmaster
Dunheved Road, Launceston, Cornwall, PL15 9JG Tel 01872322007
Hotel California - Toastmaster
Pentire Crescent, Newquay, Cornwall, TR7 1PU Tel 01637 872798
Hotel Riviera - Toastmaster
Lusty Glaze Road, Newquay, TR7 3AA Tel 01637 874251
Hotel Tresanton - Toastmaster
Lower Castle Road, St Mawes, Truro, TR2 5DR Tel 01326 270055
Hotel Victoria - Toastmaster
East Street, Newquay, TR7 1DB Tel 01637 872255
Hustyns - Toastmaster
St Breock Downs, Wadebridge, Cornwall, PL27 7LG Tel 01208 893700
Isaac House - Toastmaster
Tyacke Road, Helston, Cornwall, TR13 8RR Tel 01872322007
Jayne Hooper House - Toastmaster
Roskear, Camborne, Cornwall, TR14 8DN Tel 01872322007
Jetty Cottage - Toastmaster
St George's Island, Looe, Cornwall, PL13 2AB Tel 07812 009384
Lamorran House - Toastmaster
Upper Castle Road, St Mawes, Cornwall, TR2 5BZ Tel 01326 270800
Landaviddy Manor Lane - Toastmaster
Landaviddy Lane, Polperro, Cornwall, PL13 2RT Tel 01752 812178
Lands End Hotel - Toastmaster
Lands End, Sennen, Penzance, TR19 7AA Tel 01736 871844
Lanteglos Country House Hotel - Toastmaster
Lanteglos-By-Camelford, Camelford, PL32 9RF Tel 01840 213551
Lostwithiel Golf & country club - Toastmaster
Lower Polscoe, Lostwithiel, PL22 0HS Tel 01208 873550
Lowenac Hotel - Toastmaster
Basset Road, Camborne, TR14 8SL Tel 01209 719295
Lyndhurst - Toastmaster
66 St Nicholas Street, Bodmin, Cornwall, PL31 1AG Tel 01872322007
Mount Edgcumbe House - Toastmaster
Cremyll, Torpoint, Cornwall, PL10 1HZ Tel 01752 822236
National Maritime Museum Cornwall - Toastmaster
Discovery Quay, Falmouth, TR11 3QY Tel 01326 313388
Parkhouse Centre - Toastmaster
Bude, Cornwall, EX23 8LD Tel 01872322007
Pedn-Olva Hotel - Toastmaster
Porthminster Beach, St Ives, TR26 2EA Tel 01736 796222
Pencalenick House - Toastmaster
Pont Pil, Lanteglos-by-Fowey, Polruan, PL23 1NH Tel 0797 657 2086
Pencarrow - Toastmaster
Washaway, Bodmin, PL30 3AG Tel 01208 841369
Pendennis Castle - Toastmaster
Falmouth, Cornwall, TR11 4LP Tel 01326 212044
Penmere Manor Hotel - Toastmaster
Mongleath Road, Falmouth, TR11 4PN Tel 01326 211411
Penmere Manor hotel - Toastmaster
Mongleath road, Falmouth, TR11 4PN Tel 01326 211411
Penmorvah Manor Hotel - Toastmaster
Budock Water, Falmouth, Cornwall, TR11 5ED Tel 01326 250277
Pentillie Castle - Toastmaster
St Mellion, Saltash, Cornwall, PL12 6QD Tel 01579 351512
Penventon Hotel - Toastmaster
West End, Redruth, TR15 1TE Tel 01209 203000
Plougastel Centre - Toastmaster
Plougastel drive, Saltash, Cornwall, PL12 6DL Tel 01872322007
Poldark Mine - Toastmaster
Wendron, Helston, TR15 0ER Tel 01326 573173
Polhawn Fort - Toastmaster
Military Road, Rame, Torpoint, Cornwall, PL10 1LL Tel 01752 822864
Polkyth House - Toastmaster
Council Offices, 12 Carlyon Road, St Austell, Cornwall, PL25 4LD Tel 01872322007
Polurrian Hotel - Toastmaster
Mullion, The Lizard Peninsula, Mullion, Cornwall, TR12 7EN Tel 01326 240421
Porth Avallen Hotel - Toastmaster
Sea Road, Carlyon Road, St Austell, PL25 3SG Tel 01326 240421
Porth-en-Alls House - Toastmaster
Prussia Cove, Penzance, TR20 9BA Tel 01736 762014
Porthminster Hotel - Toastmaster
The Terrace, St Ives, Cornwall, TR26 2BN Tel 01736 795221
Prideaux Place - Toastmaster
Padstow, Cornwall, PL28 8RP Tel 01841 532411
Queens Hotel - Toastmaster
The Promenade, Penzance, Cornwall, TR18 4HG Tel 01736 362371
Rose-In-Vale Country House Hotel - Toastmaster
Mithian, St Agnes, Cornwall, TR5 0QD Tel 01872 552202
Rosteague - Toastmaster
Portscatho, Truro, TR2 5EF Tel 01872 580346
Royal British Legion St Ives - Toastmaster
Higher Stennack, St Ives, TR26 1DB Tel 01736 796284
Royal Duchy Hotel - Toastmaster
Cliff Road, Falmouth, Cornwall, TR11 4NX Tel 01326 313042
Sands Resort - Toastmaster
Watergate Road, Porth, Nr Newquay, Cornwall, TR7 3LX Tel 01637 872864
Scorrier House - Toastmaster
Scorrier, Redruth, Cornwall, TR16 5AU Tel 01209 820264
Seiners Arms - Toastmaster
Beach Road, Perranporth, TR6 0DP Tel 01209 820264
Shun Lee Hotel - Toastmaster
Trelyon Avenue, St Ives, Cornwall, and TR26 2AD Tel 0187276633
Skol Goth - Toastmaster
Albany place, Falmouth, Cornwall, TR11 3BZ Tel 01872322007
St Mawes Castle - Toastmaster
St Mawes, TR2 5AA Tel 01326 310106
St Mellion Hotel Golf & Country Club - Toastmaster
St Mellion, Saltash, Cornwall, PL12 6SD Tel 01579 351351
St Michael's Hotel & Spa - Toastmaster
Gyllyngvase Beach, Seafront, Falmouth, TR11 4NB Tel 01326 312707
The Bay Hotel - Toastmaster
Esplanade Road, Pentire, Newquay, Cornwall, TR7 1PT Tel 01637 852221
The Beeches - Toastmaster
60 Charlestown Road, St Austell, PL25 3NN Tel 01726810800
The Castle - Toastmaster
Bude, Cornwall, EX23 8LG Tel 01288 357301
The Cove - Toastmaster
Lamorna Cove, Penzance, TR19 6XH Tel 01736731411
The Esplanade Hotel - Toastmaster
9 Esplanade Road, Pentire, Newquay, Cornwall, TR7 1PS Tel 01637 873333
The Falcon Hotel - Toastmaster
Breakwater Road, Bude, Cornwall, EX23 8SD Tel 01288 352005
The Falmouth Hotel - Toastmaster
Castle Beach, Falmouth, Cornwall, TR11 4NZ Tel 01326 312671
The Hotel and Extreme Academy Watergate Bay - Toastmaster
Watergate Bay, Cornwall, TR9 6DW Tel 01637 860543
The Liscawn Inn - Toastmaster
Crafthole, Torpoint, PL11 3BD Tel 01503 230863
The Longcross Hotel - Toastmaster
Trelights, Nr Port Isaac, Cornwall, PL29 3TF Tel 01208 880975
The Marina Villa Hotel - Toastmaster
17 The Esplanade, Fowey, Cornwall, PL23 1HY Tel 01726 833315
The Mill House - Toastmaster
Trebarwith, Nr Tintagel, Cornwall, PL34 0HD Tel 01840 770200
The New Inn - Toastmaster
Manaccan, Helston, Cornwall, TR12 6HA Tel 01326 231323
The Old Custom House - Toastmaster
South Quay, Padstow, PL28 8BL Tel 01841 532359
The Old Mill House Inn - Toastmaster
Mill Hill, Polperro, Cornwall, PL13 2RP Tel 01503 272362
The Old Quay House Hotel - Toastmaster
28 Fore Street, Fowey, Cornwall, Pl23 1AQ Tel 01726 833302
The Port William - Toastmaster
Trebarwith Strand, Tintagel, Cornwall, PL34 0HB Tel 01726 833302
The Slipway Hotel - Toastmaster
Harbour Front, Port Isaac, PL29 3RH Tel 01208 880264
The Smokehouse - Toastmaster
The Harbourside, Porthleven, TR13 9JU Tel 01326 563223
The Vean - Toastmaster
The Estate Office, Caerhays Castle, Gorran, PL26 6LY Tel 01872501310
The Widemouth Manor - Toastmaster
Widemouth Bay, Bude, EX23 0DE Tel 01208 354230
Tregenna Castle Hotel - Toastmaster
St Ives, Cornwall, TR26 2DE Tel 01736 795254
Tregoddick Farm - Toastmaster
Madron, Penzance, TR20 8SS Tel 01736 361301
Trelissick - Toastmaster
Feock, Truro, Cornwall, TR3 6QL Tel 01872 862248
Trematon Hall - Toastmaster
Saltash, PL12 4RU Tel 01752 842351
Trereife - Toastmaster
Penzance, Cornwall, TR20 8TJ Tel 01736 362750
Trerice - Toastmaster
Kestle Mill, Newquay, Cornwall, TR8 4PG Tel 01637 875404
Trevarno Estate & Gardens - Toastmaster
Trevarno Manor, Crowntown, Helston, TR13 0RU Tel 01326 574274
Trevenna - Toastmaster
St.Neot, Liskeard, PL14 6NR Tel 01579320447
Trevigue - Toastmaster
Crackington Haven, Bude, Cornwall, EX23 0LQ Tel 01840 230418
Upton Farm - Toastmaster
Trebarwith, Delabole, PL33 9DG Tel 01840 770225
Well Parc Hotel - Toastmaster
Trevone, Padstow, Cornwall, PL28 8QW Tel 01841 520318
Whitsand Bay Hotel - Toastmaster
Portwrinkle, Torpoint, Cornwall, PL11 3BU Tel 01503 230276
Windward Hotel - Toastmaster
Porth Bay, St Austell, Cornwall, TR7 3NB Tel 01637 873185
Wringford Down Hotel - Toastmaster
Hat Lane, Cawsand, Cornwall, PL10 1LE Tel 01752 822287
Cornwall
National Trust Properties
Towns and Villages of Cornwall, England where I will be pleased to be your toastmaster
Acton Castle, Addicroft, Addington, Advent, Afterwashes, Albaston, Allet Common, Altarnun, Alverton, Amalebra, Amalveor, Amble, America, Anderton, Angarrack, Angarrick, Angrouse, Antony, Antony Passage, Antron, Ashton, Ayr, Badgall, Badgers Cross, Badharlick, Bagbury, Bake, Bakesdown, Baldhu, Ball, Balwest, Bangors, Barbican, Bareppa, Bargus Common, Barkla Shop, Barripper, Barteliver, Baskednan, Basset (Wheal Basset and Gryll, Bathpool, Bay of Biscay, Beacon Parc, Bealbury, Bealsmill, Bell Veor, Belowda, Beneathwood, Bennacott, Benoak, Berepper, Beriowbridge, Bethel, Bilberry, Billacott, Binhamy, Biscovey, Bissick, Bissoe, Bitthams, Black Cross, Blackrock, Blackwater, Blisland, Blowinghouse, Blue Anchor, Blunts, Boconnion, Boconnoc, Bodbrane, Bodellick, Bodelva, Boderlogan, Bodgate, Bodieve, Bodiniel, Bodinnick, Bodmin, Bodrean, Bodriggy Fields, Bodwen, Bofarnel, Bohetherick, Bohortha, Bojewyan, Bojewyan Stennack, Bokiddick, Bolankan, Boldventure, Boleigh, Bolenna, Bolenowe, Bolesbridge, Bolingey, Bolitho, Bollowall, Bolventor, Bonyalva, Bonython, Boot, Boquio, Borough, Bosahan, Bosanketh, Bosavern, Boscadjack, Boscarn, Boscastle, Boscawen Ros, Boscean, Boscolla, Boscoppa, Boscrege, Bosfranken, Bosigran, Boskenna, Bosleake, Bosorne, Bosoughan, Bosporthennis, Bossava, Bossiney, Bostrase, Bosullow, Boswarthan, Boswase, Boswedden, Boswednack, Boswin, Boswinger, Botallack, Botelet, Bottoms, Botusfleming, Bowden, Bowden Derra, Bowithick, Bowling Green, Boxs Shop, Boyton, Boytonbridge, Braddock, Bradford, Brane, Bray Shop, Brazacott, Brea, Breage, Breageside, Bridge, Bridgend, Bridgetown, Brighton, Brightor, Brill, Brillwater, Broad Lane, Broad Langdon, Broadlane, Broadoak, Brocton, Brooks, Browda, Broxwater, Brunnion, Bucklawren, Buckshead, Budds Titson, Bude, Bude-Haven, Bude-Stratton, Budes Shop, Budock, Budock Water, Bugle, Bunnys Hill, Burlawn, Burlorne, Burlorne Eglos, Burlorne Tregoose, Burncoose, Burngullow Common, Burnt Downs, Burnthouse, Burnwithen, Burras, Burraton, Burraton Coombe, Burthy, Buryas Bridge, Bush, Busvargus, Busveal, Butteriss Gate, Buttsbear Cross, Cadgwith, Calartha, Calendra, Calenick, Callestick, Callington, Calloose, Calstock, Calvadnack, Camborne, Camborne Beacon, Cambrose, Camelford, Camels, Cann Orchard, Cannalidgey, Cannamanning, Canons Town, Canworthy, Canworthy Water, Caradon Town, Carbean, Carbis, Carbis Bay, Carbis Water, Carclaze, Carclew, Cardinham, Carfury, Cargloth, Cargreen, Cargurra, Cargurrel, Carharrack, Carkeel, Carland, Carleen, Carloggas, Carluddon, Carlyon Bay, Carminow Cross, Carn Arthen, Carn Bosavern, Carn Brea, Carn Canjack, Carn Entral, Carn Grey, Carnanton, Carnbargus, Carne, Carnebone, Carnhell Green, Carnhot, Carnkie, Carnkief, Carnlidnack, Carnmenellis, Carnon Downs, Carnsmerry, Carnyorth, Carpalla, Carrallack, Carrancarrow, Carters Downs, Carthamartha, Carthew, Carvath, Carvear Moor, Carvedras, Carvolth, Carwen, Carwin, Carwynnen, Carzise, Cassacawn, Castallack, Castle, Castle An Dinas, Castle Gate, Castle Kayle, Catchall, Cathebedron, Caudledown, Caudworthy, Causilgey, Cawsand, Chacewater, Chacewater Hill, Chapel, Chapel Amble, Chapel Down, Chapeltown, Charaton Cross, Charlestown, Chenhalls, Chessewring, Chilsworthy, Church Cove, Church Town, Churchbridge, Churchtown, Chyandour, Chyanvounder, Chycoose, Chycowling, Chynhale, Chynoweth, Chytane, Chyvarloe, Clapper, Cleave, Cleavelands, Cleaverfield, Cleers, Clerkenwater, Cliff, Clitters, Clowance, Clubworthy, Coads Green, Coast View, Cocks, Cocksbarrow, Cockwells, Coddles, Colan, Cold Harbour, Cold Northcott, Coldharbour, Coldrenick, Coldvreath, Coldwind, Colligeen, Collorian, Colquite, Colvennor, Comford, Comfort, Commonmoor, Condurrow, Congdons Shop, Connor Downs, Constantine, Constantine Bay, Cooksland, Coombe, Coombe Hill, Coombe Park, Coppathorne, Copperhouse, Copthorne, Corneal, Corran, Cost-Is-Lost, Coswinsawsin, Cotehele, Cottles Barn, Couchsmill, Court Mills, Coverack, Coverack Bridges, Cowlands, Cox Hill, Coxford, Coxpark, Crackington Haven, Crafthole, Crahan, Crane, Crantock, Crean, Creed, Creegbrawse, Crelly, Cremyll, Criggan, Crimp, Cripples Ease, Crippleshill, Croanford, Croft Mitchell, Croft West, Crofthandy, Crooklets, Cross, Cross Common, Cross Coombe, Cross Lanes, Cross Park, Crowan, Crowlas, Crown Town, Crows Nest, Crows-An-Wra, Crugmeer, Crumplehorn, Cubert, Cuby, Cuddycombe, Culdrose, Curry Lane, Cury, Curyan, Cusveorth Coombe, Cutmadoc, Cutmere, Cuttivett, Dadbrook, Danescoombe, Darley, Darleyford, Darracott, Davidstow, Daws, Dawshouse, Daymer Bay, Degibna, Delabole, Delamere, Demelza, Deveral, Deviock, Devoran, Diddies, Dinas, Dinhams Bridge, Dobwalls, Dobwalls and Trewidland, Doddycross, Dolsdon, Doublebois, Doubletrees, Downderry, Downend, Downgate, Downhead, Downinney, Downrow, Downs View, Dowran, Drakewalls, Drannack, Drawbridge, Dreason, Drym, Duloe, Dunmere, Dunnerdake, Dunsley, Duporth, Durgan, Dutson, Dyehouse, East Draynes, East Leigh, East Looe, East Pentire, East Portholland, East Taphouse, East Treneon, Eastcott, Edgcumbe, Edmonton, Egloshayle, Egloskerry, Embla, Empacombe, Engollan, Enniscaven, Enys, Erisey, Erth Barton, Escalls, Escalls Green, Ethy, Factory, Fairy Cross, Falmouth, Farms Common, Fatwark, Fentonadle, Fentonpits, Feock, Fernysplat, Fiddlers Elbow, Fiddlers Green, Fivelanes, Fletchersbridge, Flexbury, Flexbury Park, Flushing, Fonston, Ford, Forder, Forest, Forge, Forrabury and Minster, Fort Tregantle, Foundry, Four Lanes, Fowey, Foxhole, Foxpark, Fraddam, Fraddon, Fradgan, Freathy, Frogpool, Frogwell, Frontier Pasture, Gang, Garkar, Garlidna, Garras, Georgia, Germoe, Gerrans, Gilberts Coombe, Gillhouse, Gimbletts Mill, Gloweth, Gluvian, Glynn, Godolphin Cross, Golant, Golberdon, Golden Bank, Goldsithney, Gollawater, Gonamena, Gonnabarn, Gonnamarris, Gonvena, Goon Gumpas, Goon Piper, Goonbell, Goonhavern, Goonhusband, Goonlaze, Goonown, Goonvrea, Gooseham, Goran Haven, Gorran Haven, Gospenheale, Goss Moor, Gothers, Gover, Goverseth, Gracca, Grade-Ruan, Grampound, Grampound Road, Grampound With Creed, Gravesend, Great Bosullow, Great Grogley, Great Nancekuke, Great Rosevidney, Great Sinns, Great Tree, Great Tree Camp, Great Trevisquite, Great Wheal Busy, Greenaway, Greenbottom, Greenland, Greenlane, Greensplat, Greenwith Common, Grey, Greystone, Gribbas Corner, Griggs, Grimscott, Grove Park, Grumbla, Grylls (Wheal Basset and Gryll, Guildford, Guineaport, Guinear Downs, Gulval, Gummows Shop, Gunnislake, Gunwalloe, Gurnards Head, Gustavus, Gwallon, Gwarder, Gwavas, Gwavas Estate, Gwedna, Gweek, Gwennap, Gwenter, Gwills, Gwindra, Gwinear, Gwinear-Gwithian, Gwithian, Halabezack, Halamanning, Halankene, Hale Mills, Halezy, Halgabron, Hallane, Hallew, Hallworthy, Halsetown, Halton Quay, Halviggan, Halvosso, Halwin, Halwyn, Hannafore, Hanneys Towans, Harcourt, Harlyn, Harrowbarrow, Harrowbridge Hill, Hatches Green, Hatt, Hay, Haye, Hayle, Hayle Towans, Hea, Heamoor, Hele, Helebridge, Helford, Helford Passage, Heligan, Helland, Hellandbridge, Hellescott, Hellesvean, Hellesveor, Helston, Helston Water, Helstone, Hendra, Hendra Barton, Hendra Croft, Hendra Lane, Hendrabridge, Hendrawna, Hengar, Henwood, Herdbury, Herland Croft, Hernis, Herodsfoot, Hersham, Hessenford, Hewas Water, Hexworthy, Hexworthy Barton, Hicks Mill, Hicksmill, High Cross, High Hall, High Lane, High Lanes, High Street, Higher Ayr, Higher Bal, Higher Beeny, Higher Bissoe, Higher Bocaddon, Higher Boscaswell, Higher Brightor, Higher Brill, Higher Burraton, Higher Bussow, Higher Cleaverfield, Higher Cusgarne, Higher Downs, Higher Drift, Higher Fraddon, Higher Hampt, Higher Keason, Higher Kenneggy, Higher Kestle, Higher Langdon, Higher Lank, Higher Larrick, Higher Lezerea, Higher Lidwell, Higher Menadue, Higher Millcombe, Higher Ninnes, Higher Northcott, Higher Pengelly, Higher Penpoll, Higher Penponds, Higher Pill, Higher Polmassick, Higher Polscoe, Higher Port View, Higher Porthmeor, Higher Porthpean, Higher Prospidnick, Higher Reen, Higher Rosewarne, Higher Stanbear, Higher Stennack, Higher Tolcarne, Higher Town, Higher Trefreock, Higher Tregadillet, Higher Tregantle, Higher Tregunnon, Higher Trekenning, Higher Trelavour, Higher Tremarcoombe, Higher Trenowin, Higher Trevilla, Higher Troswell, Higher Truscott, Higher Whiteleigh, Highertown, Highgate, Highway, Highway (St Kew Highway, Hill, Hill Head, Hobbs Hill, Hole, Hollabury, Holloborough, Hollycoombe, Holmbush, Holwinnick Butts, Holwood, Honicombe, Hornacott, Hornick, Horningtops, Horsedown, Horsepool, Howard, Howe Downs, Howton, Hugus, Hurdon, Idless, Illand, Illogan, Illogan Downs, Illogan Highway, Indian Queen, Innis, Inswork, Ireland, Jacobstow, Jetwells, Jobs Water, Jollys Bottom, Joppa, Karslake, Kea, Keason, Kehellan, Keigwin, Kellybray, Kellygreen, Kelynack, Kenegie, Kenidjack Castle, Kennap, Kennards House, Kenneggy Downs, Kents, Kenwyn, Kenwyn Caravan Park, Kerley Downs, Kerris, Kerrow, Kerthen Wood, Kestle, Kestle Mill, Kestle Wartha, Keveral, Keybridge, Keyrse, Kilhallon, Kilkhampton, Killagorden, Killigorrick, Killivose, Kimberley Park, Kingbear, Kingsand, Kingston, Kingswood, Kirriers, Kitleigh, Kitts Hill, Knave-Go-by, Knightsmill, Kuggar, La Feock, Labour-in-Vain, Laddenvean, Ladock, Ladycross, Laity, Laity Moor, Lambo, Lambourne, Lamellen, Lamellion, Lamorick, Lamorna Valley, Lamorran, Lampen, Lanarth, Lancarrow, Landewednack, Landrake With St Erney, Landrends, Lands End, Landue, Landulph, Lane, Lane End, Lane-End, Laneast, Lanescot, Langarth, Langdon, Langdon Hill, Langore, Langunnett, Lanhay, Lanhinsworth, Lanhydrock, Laniley, Laninval, Lanivet, Lanjeth, Lanjore, Lanlivery, Lanner, Lanner Moor, Lanow, Lanoy, Lanreath, Lansallos, Lansenmeth, Lantallack, Lanteglos, Lantuel, Lantundle, Lanvean, Latchleyplain, Launcells, Launcells Cross, Launceston, Lawhitton, Lawhitton Barton, Lawhitton Rural, Lean Hill, Leburnick, Lee, Leedstown, Legonna, Leigh, Lelant, Lelant Downs, Lelant Towans, Lellissick, Lerryn, Lescrow, Lesnewth, Lestowder, Levalsa Meor, Lewannick, Ley, Leyland, Leymill, Lezant, Lezerea, Lidwell, Limehead, Linkinhorne, Liskeard, Lithiack, Little Beside, Little Bosullow, Little Brynn, Little Coldrenick, Little Comfort, Little Kerthen, Little Lamanver, Little Menear, Little Mill, Little Nancekuke, Little Parkwalls, Little Petherick, Little Polgooth, Little Trethewey, Little Viscar, Lizard, Lockengate, Lodge Hill, Loggans Moor, Lombard, London Apprentice, Long Downs, Longlands, Longrock, Longstone, Looe, Looe Island (St Georges, Looemills, Lostwithiel, Low Clicker, Lower Alsia, Lower Amble, Lower Banns, Lower Basil, Lower Beeny, Lower Bocaddon, Lower Boscaswell, Lower Brightor, Lower Burraton, Lower Cleaverfield, Lower Cusgarne, Lower Deviock, Lower Dimson, Lower Downs, Lower Drift, Lower Garris, Lower Green, Lower Hampt, Lower Helland, Lower Kenneggy, Lower Kestle, Lower Lank, Lower Larrick, Lower Lidwell, Lower Menadue, Lower Millcombe, Lower Nanterrow, Lower Ninnes, Lower Northcott, Lower Penpethy, Lower Penpoll, Lower Polmassick, Lower Port View, Lower Porthmeor, Lower Prospidnick, Lower Quarter, Lower Rosewarne, Lower Rosudgeon, Lower Spargo, Lower Sticker, Lower Town, Lower Trebullett, Lower Trefreock, Lower Tregantle, Lower Tregunnon, Lower Treluswell, Lower Trevethan, Lower Trevurvas, Lower Woodford, Lowertown, Lowleybridge, Luckett, Ludgvan, Lukes Shop, Luxulyan, Lynstone, Mabe, Mabe Burnthouse, Maders, Madron, Maenporth, Maer Down, Maker-With-Rame, Malabar Housing Estate, Malpas, Manaccan, Manhay, Marazanvose, Marazion, Marhamchurch, Markwell, Marsh, Marshgate, Maryfield, Maudlin, Mawgan Cross, Mawgan-in-Meneage, Mawgan-in-Pydar, Mawla, Mawnan, Mawnan Smith, Maxworthy, Mayfield Estate, Mayon, Meadrose, Meaver, Medlyn, Mellangoose, Mellingey, Menabilly, Menagissey, Menagwins, Menawollas, Menerdue, Menerlue, Menheniot, Menherion, Menna, Mennor, Menwinnion, Merrose, Merry Meeting, Merrymeet, Merther, Mertherlane, Metherell, Metherin, Methleigh, Mevagissey, Mexico, Michaelstow, Middle Amble, Middle Dimson, Middle Hampt, Middle Penpoll, Middle Taphouse, Middlehill, Middleway, Middlewood, Milcombe, Millbrook, Millendreath, Millook, Millpool, Milltown, Minard, Mingoose, Minions, Mitchell, Mithian, Molinnis, Moorswater, Moreton Pound, Morvah, Morval, Morwenstow, Morwick, Mount, Mount Ambrose, Mount Charles, Mount Edgcumbe, Mount Edgecombe Estate, Mount Hawke, Mount Joy, Mount May, Mount Pleasant, Mount Whistle, Mount Wise, Mousehole, Muchlarnick, Mulberry, Mulfra, Mullion, Mylor, Mylor Bridge, Nampara, Nance, Nancegollan, Nancemellin, Nancenoy, Nancetrisack, Nancledrea, Nanjivey, Nanpean, Nanquidno, Nansladron, Nanstallon, Nanswhyden, Nantewas, Nantithet, Nanturras, Narkurs, Nethercott, Netherton, New Downs, New Mill, New Mills, Newbridge, Newgate, Newhall Green, Newham, Newlyn, Newmill, Newmills, Newport, Newquay, Newton, Newton Ferrers Callington, Newtown, Ninnesbridge, Ninnis, No Mans Land, Noonvares, Norris Green, North Beer, North Boduel, North Corner, North Country, North Darley, North Dimson, North Hill, North Hill Park, North Petherwin, North Pill, North Tamerton, Norton, Notter, Notter Bridge, Ogbeare, Okeltor, Old Cardinham, Old Kea, Old Park, Old Polapit Tamar, Oldmill, Oldwit, Ossington, Otterham, Padstow, Palmanter Water, Palmers Bridge, Pantersbridge, Par, Par Green, Paramoor, Park, Park Bottom, Parkfield, Parsley, Paul, Pauls Green, Paynters Cross, Paynters Lane End, Pednavounder, Pelyn, Pelynt, Penair, Penally, Penare, Penarthtown, Penbeagle, Penberth, Pencalenick, Pencarrow, Pencoys, Pencrebar, Pencuke, Pendeen, Pendoggett, Pendrift, Penelewey, Pengegon, Pengegon Coombe, Pengelly, Pengelly Rockhead, Pengersick, Pengover Green, Pengreep, Penhale, Penhale Jakes, Penhale-An-Drea, Penhallick, Penhallow, Penhalurick, Penhalvean, Penhalveor, Penharget, Penhellick, Penkelly, Penmarth, Penmayne, Penmenor, Penmount, Pennance, Pennard, Penpillick, Penpol, Penpoll, Penponds, Penpont, Penquite, Penrest, Penrose, Penrose Estate, Penryn, Penscombe, Pensilva, Penstrase, Pentewan, Pentire, Pentireglaze, Pentivale, Pentruse, Penweathers, Penwerris, Penwithick, Penwithick Stents, Penwortha, Penzance, Perran Coombe, Perran Downs, Perranarworthal, Perranporth, Perranuthnoe, Perranwell, Perranwharf, Perranzabuloe, Peterville, Petherwin Gate, Phernyssick, Phillack, Philleigh, Piece, Pillaton, Pillatonmill, Pink Moor, Pinnockshill, Pinslapark, Piperspool, Pitomy (Pityme, Pittgreen, Pityme (Pitomy, Plaidy, Plain-An-Gwarry, Playing Place Kea, Plusha, Plushabridge, Point, Polbathic, Polborder, Polbrock, Polcrebo, Poldhu, Poldice, Poldrissick, Polgear, Polgigga, Polgoda Downs, Polgooth, Polhilsa, Polhormon, Polkerris, Polkyth, Polladras, Polmarth, Polmassick, Polmear, Polmenor Downs, Polmorla, Polpeor, Polperro, Polruan, Polstraul, Polstrong, Polsue, Poltesco, Polwhele, Polwheveral, Polwithen, Polyphant, Polzeath, Pond Du, Ponjeravah, Ponsanooth, Ponsharden, Ponsmain, Ponsongath, Pont, Pool, Porcupine, Porkellis, Port Eliot, Port Gaverne, Port Isaac, Porteath, Portgwarra, Porth, Porth Mellin, Porth Navas, Porth Pean, Porth Veor, Porthallow, Porthcothan, Porthcuel, Porthcurno, Portheras, Porthgwidden, Porthkea, Porthleven, Porthmissen, Porthoustock, Porthscatho, Porthtowan, Portloe, Portlooe, Portmellon, Portquin, Portreath, Portwrinkle, Pothole, Poughill, Pounda, Poundfield, Poundstock, Prah Sands, Praze, Praze-An-Beeble, Prazeruth, Prazey, Predannack, Predannack Mullion, Predannack Wartha, Prices Folly, Pridacoombe, Prideaux, Prideaux Place, Probus, Prussia Cove, Prustacott, Puddle, Pulldown, Quenchwell, Quethiock, Quintrell Downs, Quoit, Raftra, Raggot Hill, Raginnis, Railway Terrace, Rame, Rame Cross, Ramsgate, Readymoney, Reawla Lane, Red Post, Redruth, Redvale, Reeshill, Rejerrah, Releath, Relubbus, Rescassa, Rescorla, Reskadinnick, Reskivers, Restronguet, Resugga Green, Resugga Lane-End, Retallack, Reterth, Retew, Retire, Retistien, Retyn, Rezare, Rillamill, Ringwell, Rinsey, Rinsey Croft, Robartes Place, Roche, Rock, Rockhead, Rockwell, Roscarrock, Roscroggan, Rose, Rose Valley, Rose-in-Valley, Rosecare, Rosedinnick, Rosehill, Rosekear Croft, Roseland, Rosemelling, Rosemergy, Rosemodress, Rosemorran, Rosemundy, Rosenannon, Rosenithon, Rosevean, Rosevine, Rosewall Hill, Rosewarne, Rosewin, Roseworthy, Roskorwell, Rosudgeon, Row, Ruan High Lanes, Ruan Minor, Ruanlanihorne, Ruddlemoor, Rumford, Ruthdower, Ruthernbridge, Ruthvoes, Salem, Saltash, Sancreed, Sandoes, Sandplace, Sandy Bottom, Saveock Water, Scarcewater, Scorrier, Screeda, Seaton, Selena, Sellan, Semersdown, Sennen, Sennen Cove, Seworgan, Sharptor, Sheers Barton, Sheffield, Shepherds, Sherwell, Sheviock, Shillingham, Shop, Shorta Cross, Shortlanes End, Shutta, Silverwell, Sithney, Sithney Common, Sithney Green, Skinners Bottom, Slades, Sladesbridge, Slipperhill, Smallhill, South Beer, South Boduel, South Carne, South Down, South Downs, South Hill, South Petherwin, South Pill, South Trekeive, South Wheatley, Sparnon, Sparnon Gate, Sparnon Moor, Sparry Bottom, Splatt, St Agnes, St Allen, St Andrews Terrace, St Anns Chapel, St Anthony-in-Meneage, St Austell, St Austell Moor, St Blaise, St Blazey, St Blazey Gate, St Breock, St Breward, St Buryan, St Cleer, St Clement, St Clether, St Columb Major, St Columb Minor, St Columb Porth, St Columb Road, St Day, St Dennis, St Dominick, St Endellion, St Enoder, St Erme, St Erth, St Ervan, St Eval, St Ewe, St Gennys, St Germans, St Gluvias, St Goran, St Hilary, St Issey, St Ive, St Ive Cross, St Ives, St Jidgey, St John, St Johns, St Juliot, St Just, St Just Lane, St Just-in-Roseland, St Keverne, St Kew, St Kew Highway, St Keyne, St Lawrence, St Levan, St Lukes, St Mabyn, St Martin-by-Looe, St Martin-in-Meneage, St Martins Green, St Mary Magdalene, St Mawes, St Mawgan, St Mellion, St Merryn, St Mewan, St Michael Caerhays, St Michael Penkevil, St Michaels Mount, St Minver, St Minver Highlands, St Minver Lowlands, St Neot, St Newlyn East, St Pinnock, St Ruan, St Sampson, St Stephen, St Stephen-in-Brannel, St Stephens, St Stephens by Launceston Rura, St Stephens Coombe, St Teath, St Thomas, St Thomas the Apostle Rural, St Tudy, St Veep, St Wenn, St Winnow, Stable Hobba, Start, Stenalees, Stennack, Stibb, Sticker, Stithians, Stockaton, Stokeclimsland, Stoketon, Stonaford, Stoptide, Stratton, Summercourt, Sun Rising, Sun Valley, Sunny Corner, Sunnyside, Sutton, Swanvale, Sweetshouse, Talastone, Talskiddy, Tamartown, Tappard, Tarewaste, Tarrandean, Taskus, Tawna, Tehidy, Tempellow, Temple, Tencreek, Tendera, Terras, The Beacon, The Carn, The Coombes, The Fir Hill, The Gears, The Knavocks, The Towans, Thorne, Three Burrows, Three Cross, Three Hammers, Three Mile Stone, Thurdon, Tideford, Tideford Cross, Timbrelham, Tinneyhall, Tintagel, Titson, Todpool, Todsworthy, Tokenbury, Tolborough, Tolcarne, Tolcarne Wartha, Toldish, Tolgullow, Tolgus, Tolroy, Tolskithy, Tolver, Tomperrow, Torleven, Torpoint, Towan, Towednack, Towell, Tower Park, Town Mills, Townshend, Traboe, Trannack, Treal, Treamble, Trease, Treassowe, Treath, Treator, Trebah-Wartha, Trebarrow, Trebartha, Trebarva, Trebarvah, Trebarwith, Trebeath, Trebehor, Trebell, Trebell Green, Trebelzue, Trebetherick, Trebost, Trebudannon, Trebullett, Treburgett, Treburley, Treburrick, Trebursye, Trebyan, Trecarne, Trecrogo, Trecrogo Lane End, Tredarrup, Tredaule, Tredavoe, Tredinneck, Tredinnick, Tredinnickpits, Tredivett, Tredrea, Tredrizzick, Tredrizzickbridge, Tredwoodloe, Treen, Treesmill, Treeve, Treeza, Treforda, Trefresa, Trefrew, Trefula, Trefusis, Tregada, Tregadillet, Tregajorran, Tregamere, Tregaminion, Tregantle, Tregargus, Tregarland, Tregarne, Tregarthen, Tregaswith, Tregatreath, Tregatta, Tregavarras, Tregawne, Tregear, Tregeare, Tregears, Tregellist, Tregembo, Tregenhorne, Tregenna, Tregerthen, Tregeseal, Tregew, Tregidden, Tregidgio, Tregiffian, Tregilliowe, Treginegar, Tregirls, Tregiskey, Tregole, Tregolls, Tregona, Tregonce, Tregonetha, Tregoney, Tregonissey, Tregonissey Lane End, Tregonna, Tregonnett, Tregonwell, Tregoodwell, Tregoose, Tregorrick, Tregoss, Tregotha, Tregowris, Tregrehan, Tregrehan Mills, Tregrill, Tregullan, Tregullas, Tregune, Tregunna, Tregunnel, Tregunnick, Tregurra, Tregurrian, Tregurtha, Trehan, Treharrock, Trehemborne, Treheveras, Trehill, Trehunist, Trekelland, Trekenner, Treknow, Trelaminny, Trelan, Trelash, Trelaske, Trelassick, Trelavour, Trelawne, Trelawny Wood, Treleaver, Treleigh, Trelew, Treligga, Trelights, Trelill, Trelinnoe, Trelion, Treliske, Trelissick, Trelonk, Treloquithack, Trelow, Trelower, Treloweth, Trelowia, Trelowthas, Treloyhan, Treluggan, Treluswell, Trelyon, Tremadart, Tremail, Tremaine, Tremar, Tremarcoombe, Trematon, Tremayne, Trembraze, Trembroath, Tremeader, Tremeddan, Tremeer, Tremellin, Tremore, Tremorebridge, Tremough, Tremough Dale, Trenale, Trenalls, Trenance, Trenance Downs, Trenant, Trenant Girt, Trenant Park, Trenarren, Trenault, Trencreek, Trencrom, Trendeal, Trendrean, Trendrennen, Trendrine, Treneague, Trenear, Treneere, Treneglos, Trenerth, Trenewan, Trenewth, Trengothal, Trengune, Trenhorne, Trenilk, Treninnick, Trenithick Estate, Trenouth, Trenovissick, Trenoweth, Trenowin Downs, Trenwheal, Trequite, Trerank Moor, Treraven, Treringey, Trerose, Trerule Foot, Tresaddern, Tresamble Common, Tresavean, Tresawle, Tresayes, Trescobeas, Trescoll, Trescowe, Tresean, Tresevern Croft, Tresibbett, Tresidder, Tresillian, Tresinney, Treskerby, Treskillard, Treskilling, Treskinnick Cross, Treslothan, Tresmeer, Tresowes Green, Tresoweshill, Tresparrett, Tresparrett Posts, Treswallock, Treswithian, Treswithian Down, Trethawle, Tretheague, Trethevey, Trethewell, Trethillick, Trethingey, Trethinna, Trethosa, Trethurgy, Trevadlock, Trevadlock Cross, Trevalga, Trevalgan, Trevallett, Trevance, Trevanger, Trevanson, Trevarno, Trevarra, Trevarrack, Trevarren, Trevarrian, Trevarrick, Trevarth, Trevarthian, Trevassack, Trevathan, Trevaylor, Treveal, Trevean, Trevear, Trevedran, Trevega, Trevegean Veor, Treveighan, Trevella, Trevellas Downs, Trevellion, Trevelmond, Trevemper, Treven, Trevenen, Trevenen Bal, Treveniel, Trevenner, Trevenning, Treveor, Treverbyn, Treverva, Trevescan, Trevia, Treviddo, Treviglas, Trevigro, Treviles, Trevilley, Trevillian, Trevilson, Trevince, Treviscoe, Treviskey, Trevispen Vean, Trevissick, Trevithal, Trevithick, Trevivian, Trevol, Trevoll, Trevollard, Trevone, Trevoole, Trevorder, Trevorgans, Trevorrick, Trevorva, Trevose, Trevowah, Trew, Trewalder, Trewardale, Trewardreva, Trewarlett, Trewarmett, Trewartha, Trewarthenick, Trewassa, Treway, Trewedna Water, Treween, Trewellard, Trewellard Bottoms, Trewen, Trewennack, Trewetha, Trewethern, Trewey, Trewidden, Trewidland, Trewillis, Trewince, Trewint, Trewirgie, Trewithen, Trewithian, Trewoofe, Trewoon, Trewoon Butts, Trewoone, Treworga, Treworgans, Treworgey, Treworlas, Treworld, Treworthal, Treworthen, Treworval, Treyarnon, Trezalah, Trezelland, Trillacott, Trink, Trispen, Troan, Troon, Trowan, Truas, Truck Cottages, Trungle, Truro, Trusell, Trussall, Truthwall, Trythall, Trythogga, Tucking Mill, Tuckingmill, Tucoyse, Tullimaar, Turfdown, Turnermere, Tutwell, Twelve Heads, Two Burrows, Two Burrows Hill, Two Waters Foot, Tywardreath, Tywardreath Highway, Uny Lelant, Upper Wilcove, Upton, Upton Cross, Upton Towans, Vale Pleasant, Valley Truckle, Vauxhall, Vellanoweth, Venn, Venterdon, Ventongimps, Ventonleague, Veryan, Veryan Churchtown, Veryan Green, Victoria, Viscar, Vogue, Vogue Beloth, Wadebridge, Wainhouse Corner, Walkhams Row, Wall, Warbstow, Warbstow Cross, Warleggan, Washaway, Watergate, Watering, Waterlake, Waterloo, Week Green, Week St Mary, Wendron, Wenfordbridge, Werrington, West Balsdon, West Curry, West Draynes, West Looe, West Pentire, West Phillack, West Portholland, West Taphouse, West Town, West Trewirgie, West Youlstone, Westcott, Westdownend, Westdowns, Wetherham, Whalesborough, Wheal Alfred, Wheal Baddon, Wheal Basset and Grylls, Wheal Busy, Wheal Comford, Wheal Frances, Wheal Gerry, Wheal Kitty, Wheal Mary, Wheal Peevor, Wheal Plenty, Wheal Prussia, Wheal Rose, Wheal Vor, Wherry Town, White Cross, White Lane, Whitecross, Whitehall, Whitehill, Whitemoor, Whitepit, Whiterock, Whitesand Bay Battery, Whitestreet, Whitstone, Widegates, Widemouth, Willapark, Willsworthy, Windmill, Withiel, Withielgoose, Wollaton, Wood, Wooda, Woodabridge, Woodford, Woodknowle, Woodstock, Woolley, Wringworthy, Yellow-Wort, Yeolmbridge, Yondertown, Youlstone, Zelah, Zennor
Somerset Wedding Venues
Ash House Country Hotel
41 Main Street, Ash, Somerset, TA12 6PB Tel 01935 823126
Babington House
Kilmersdon, Frome, Somerset, BA11 3RW Tel 01373 812266
Batch Country Hotel
Lympsham, Nr Weston-super-Mare, Somerset, BS24 0EX Tel 01934 750371
Battleborough Grange Hotel
Brent Knoll, Somerset, TA9 4HJ Tel 01278 760208
Beam Bridge Hotel
Sampford Arundel, Wellington, Somerset, TA21 0HB Tel 01823 672223
Bindon Country House Hotel
Langford Budville, Wellington, Somerset, TA21 0RU Tel 01823 400070
Bridgwater Registration Office
Morgan House, Mount Street, Bridgwater, Somerset, TA6 3ER Tel 01278 422527
Butlins Skyline Limited
Warren Road, Minehead, Somerset, TA24 5SH Tel 01643 700625
Charlton House
Shepton Mallet, Somerset, BA4 4PR Tel 01749 342008
Combe House Hotel
Holford, Bridgwater, Somerset, TA5 1RZ Tel 01278 741382
Compton House
Townsend, Axbridge, Somerset, BS26 2AJ Tel 01934 733944
Cothay Manor
Greenham, Wellington, Somerset, TA21 0JR Tel 01823672283
Cricket St Thomas Hotel
Cricket St Thomas, Chard, Somerset, TA20 4DB Tel 01460 30111
Crossways Hotel
Stocks Lane, North Wootton, Nr Wells, Somerset, BA4 4EU Tel 01749 899000
Crowcombe Court
Crowcombe, Somerset, TA4 4AD Tel 01984 618699
Dillington House
Ilminster, Somerset, TA19 9DT Tel 01460 52427
Dunster Castle
Dunster, Minehead, Somerset, TA24 6SL Tel 01643 821314
Farrington Golf And Country Club
Marsh Lane, Farrington, Gurney, Somerset, BS39 6TS Tel 01761 451596
Farthings Hotel & Restaurant
Hatch Beauchamp, Taunton, Somerset, TA3 6SG Tel 01823 480664
Gants Mill
Bruton, Somerset, BA10 0DB Tel 01749 812393
Gerbestone Manor
Gerbestone Lane, West Buckland, Wellington, Somerset, TA21 9PJ Tel 07952 337595
Glastonbury Town Hall
Magdalene Street, Glastonbury, Somerset, BA6 9EL Tel 01984 618274
Halsway Manor
Halsway, Crowcombe, Somerset, TA4 4BD
Halswel House
Goathurst, Somerset, TA5 2DH Tel 08452041066
Haslebury Mill
Haselbury Plucknett, Crewkerne, Somerset, TA18 7NY Tel 01460 77095
Haynes Motor Museum
Sparkford, Nr Yeovil, Somerset, BA22 7LH Tel 01935 840919
Hestercombe Gardens
Cheddon Fitzpaine, Taunton, Somerset, TA2 8LG Tel 01823 364505/413923
Holbrook House Hotel
Holbrook, Wincanton, Somerset, BA9 8BS Tel 01963 824466
Holiday Inn Taunton
M5 J25, Deane Gate Avenue, Taunton, TA1 2UA Tel 0870 400 9080
Hornsbury Mill
Eleighwater, Chard, Somerset, TA20 3AQ Tel 01460 63317
Laburnam House Lodge Hotel
Sloway Lane, West Huntspill, Highbridge, TA9 3RJ Tel 01278 781830
Lyngford House Conference Centre
Selworthy Road, Priorswood, Taunton, Somerset, TA2 8HD Tel 01823 284649
Maunsel House
North Newton, North Petherton, Nr Bridgewater, Somerset, TA7 0BU Tel 01278 661076
Mill on the Brue
Trendle Farm, Bruton, Somerset, BA10 0BA Tel 01749 812307
Montacute House
Montacute, Somerset, TA15 6XP Tel 01935 823289
Northover Manor Hotel
Ilchester, Somerset, BA22 8LD Tel 01935 840447
Oakhampton Park
Wiveliscombe, Taunton, Somerset, TA4 2RW Tel 01984 624950
Orchardleigh House
Orchardleigh Park, Frome, Somerset, BA11 2PH Tel 01373 472550
Perrott Hill School
North Perrott, Crewkerne, Somerset, TA18 7SL Tel 01460 72051
Ralegh's Cross Inn
Brendon Hill, Exmoor, Somerset, TA23 0LN Tel 01984 640343
Rangeworthy Court Hotel
Church Lane, Rangeworthy, South Gloucestershire, BS37 7ND Tel 01454 228347
Rook Lane Arts
Rook Lane Chapel, Bath Street, Frome, Somerset, BA11 1DN Tel 01373 468040
Rookery Manor
Edingworth Road, Edingworth, Nr Weston-super-Mare, Somerset, BS24 0JB Tel 01934 750200
Rumwell Manor Hotel
Rumwell, Taunton, Somerset, TA4 1EL Tel 01823 461902
Shapwick House
Monks Drive, Shapwick, Somerset, TA7 9NL Tel 01458 210321
Shepton Mallet Registration Office
19b Commercial Road, Shepton Mallet, Somerset, BA54 5BU Tel 01749 343928
Somerton Court
Somerton, Somerset, TA11 7AH Tel 01458 274694
Square And Compass
Windmill Hill, Ashill, Ilminster, Somerset, TA19 9NX Tel 01823 480467
St Audries
West Quantoxhead, Somerset, TA4 4DS Tel 01984 633633
Ston Easton Park
Ston Easton, Radstock, Bath, Somerset, BA3 4DF Tel 01761 241631
Swan Hotel
Sadler Street, Wells, Somerset, BA5 2RX Tel 01749 678877
Taunton Racecourse
Orchard Portman, Taunton, TA3 7BL Tel 01823 337172
Taunton School
Staplegrove Road, Taunton, Somerset, TA2 6AD Tel 01823 349244
The Anchor Hotel
Portlock Weir, Somerset, TA24 8PB Tel 01643 862753
The Castle Hotel
Castle Green, Taunton, Somerset, TA1 1NF Tel 01823 272671
The Centurion Hotel
Charlton Lane, Midsomer Norton, Somerset, BA3 4BD Tel 01761 417711
The Cleve Hotel And Country Club
Mantle Street, Wellington, Somerset, TA21 8SN Tel 01823 663121
The Gallery
4-6A Holyrood Street, Chard, Somerset, TA20 2AH Tel 01460 67925
The George And Pilgrims
1 High Street, Glastonbury, Somerset, BA6 9DP Tel 01458 831146
The George Inn
High Street, Norton St Philip, BA2 6LH Tel 01380 723361
The Guildhall
Fore Street, Chard, Somerset, TA20 1PP Tel 01460 260375
The Hollies Hotel
Bower Hinton, Martock, Somerset, TA12 6LG Tel 01935 822232
The Lordleaze Hotel
Forton Road, Chard, Somerset, TA20 2HW Tel 01460 61066
The Manor Hotel
Hendford, Yeovil, Somerset, BA20 1TG Tel 01935 426116
The Mill at Rode
Rode, Frome, Somerset, BA11 6AG Tel 01373 831100
The Mount Somerset Hotel
Lower Henlade, Taunton, Somerset, TA3 5NB Tel 01823 442500
The Old Municipal Buildings
Corporation Street, Taunton, Somerset, TA1 4AQ Tel 01823282251
The Old Rectory
Cricket Malherbie, Ilminster, Somerset, TA19 0PW Tel 01460 54364
The Old School Jubilee Hall
Batcombe, Shepton Mallet, Somerset, BA4 6HE Tel 01749 850445
The Shrubbery Hotel
Ilminster, Somerset, TA19 9AR Tel 01460 52108
The Tithe barn community hall
Priory Green, Dunster, Minehead, Somerset, TA24 6RJ Tel 01643 821246
The Webbington Hotel
Loxton, Nr Axbridge, Somerset, Bs26 2XA Tel 01934 750100
Tone Dale House
Wellington, Somerset, TA21 0EZ Tel 01823 662673
Walnut Tree Hotel
Fore Street, North Petherton, Somerset, TA6 6QA Tel 01278 662255
Wells Town Hall
Market Square, Wells, Somerset, BA5 2RB Tel 01749 673091
Wessex Hotel
5-15 High Street, Street, Somerset, BA16 0EF Tel 01458 443383
Westland Leisure Complex
Westbourne Close, Yeovil, Somerset, BA20 2DD Tel 01935848380
White Hart Hotel
19-21 Sadler Street, Wells, Somerset, BA5 2RR Tel 01458 442027
Widcombe Grange
Culmhead, Taunton, Somerset, TA3 7DX Tel 01823 421069
Williton Registration Office
2 Long Street, Williton, Somerset, TA4 4QN Tel 01984 633116
Woodlands Hotel
Hill Lane, Brent Knoll, Somerset, TA9 4DF Tel 01278 760232
Woodlands
Ruishton, Taunton, Somerset, TA3 5LU Tel 01823 444955
Wookey Hole Caves
Wookey Hole, Wells, Somerset, BA5 1BB Tel 01749 672243
Yarlington House
Yarlington, Wincanton, Somerset, BA9 8DY Tel 01963 440344
Yeovil Registration Office
Maltravers House, Petters Way, Yeovil, Somerset, BA20 1SP Tel 01935 411230
Ashton Court Mansion
Ashton Court Estate, Long Ashton, Bristol, BS18 9JN Tel 0117 963 343
Banwell castle
Banwell, Somerset, BS29 6NX
Beachlands Hotel
17 Uphill Road North, Weston-Super-Mare, Somerset, BS23 4NQ Tel 01934 621401
Cadbury House Country Club
Frost Hill, Congresbury, Bristol, BS49 5AD Tel 01934 834343
Commodore Hotel
Sandbay, Weston-super-Mare, BS22 9UZ Tel 01934 415778
Coombe Lodge
Bourne Lane, Blagdon, Somerset, BS40 7RQ Tel 01761 463355
Grove House
Grove Park, Weston-Super-Mare, BS23 2QJ Tel 01934 632567
Lakewood Conference Centre
Rhodyate, Blagdon, Bristol, BS40 7YE Tel 01761 463366
Leigh Court
Abbots Leigh, Bristol, BS8 3RA Tel 01275 373393
Lyncombe Lodge Hotel
Lyncombe Drive, Churchill, Somerset, BS25 5PQ Tel 01934 854800
Redwood Hotel and Country Club
Beggar Bush Lane, Failand, Bristol, BS8 3TG Tel 01275 393901
The Royal Hotel
South Parade, Weston-Super-Mare, BS23 1JN Tel 01934 623601
The Winter Gardens
Royal Parade, Weston-Super-Mare, BS23 1AQ Tel 01934 417 117
Walton Park Hotel
Wellington Terrace, Clevedon, Somerset, BS21 7BL Tel 01275 874253
Towns and Villages of Somerset, England where I will be pleased to be your toastmaster
Abbas and Templecombe, Abbey Hill, Acombe, Adderwell, Addison Grove, Adsborough, Adscombe, Aisholt, Alcombe, Aley, Alford, Alhampton, Aller, Aller Moor, Allerford, Allerton, Allowenshay, Alston Sutton, Alstone, Alvington, Ammerdown, Ammerham, Amory Road, Andersey, Andersfield, Angersleigh, Ansford, Appley, Arthurs Bridge, Ash, Ash Cross, Ash Priors, Ashbrittle, Ashcott, Ashcott Corner, Ashill, Ashington, Ashton, Ashwell, Ashwick, Asney, Athelney, Atherstone, Axbridge, Babcary, Babington, Badger Street, Badgworth, Bagborough, Bagley, Bagley Green, Balsam Park, Baltonsborough, Bankland, Barnsclose, Barr, Barrington, Barrow, Barrow Causeway, Barrows, Barton St David, Barwick, Barwick Park, Bason Bridge, Batch, Batcombe, Bathealton, Bathpool, Bathway, Battleborough, Battleton, Batts Bow, Bawdrip, Bayford, Beam Bridge, Beard Hill, Beckery, Beckington, Bedlam, Beer, Beer Hill, Beercrocombe, Beetham, Beggearn Huish, Behind Berry, Benter, Bere Chapel, Berhill, Berkley, Berkley Marsh, Berrow, Berrow Corner, Beryl, Bickenhall, Bicknoller, Biddisham, Bilbrook, Bincombe, Binegar, Birch Wood, Biscombe, Bishops Hull, Bishops Lydeard, Bittescombe Hill, Blackford, Blackmoor, Blackwater, Blackwell, Blackworthy, Bladon, Blagdon, Blagdon Hill, Blakeway, Blatchbridge, Bleadney, Bleak Street, Blue Anchor, Bodden, Bonson, Boozer Pit, Border, Borough Bridge (Burrow Bridge, Bossington, Bove Town, Bowden Hill, Bower Hinton, Bowlish, Bradford-on-Tone, Bradley Cross, Bradley Green, Bradney, Brandish Street, Bratton, Bratton Seymour, Brean, Brendon Hill, Brent Knoll, Brewham, Brewham (South Brewham With No, Brewham Lodge, Bridge, Bridgehampton, Bridgetown, Bridgwater, Bridgwater Without, Brimley Hill, Brindham, Brinscombe, Britty, Broad Mead, Broadway, Broadway Hill, Brompton Ralph, Brompton Regis, Brookhampton, Broomfield, Broomstreet, Brushford, Bruton, Brympton, Buckland Dinham, Buckland St Mary, Buddle Hill, Bulford, Bulls Green, Burford, Burnham Without, Burnham-on-Sea, Burnham-on-Sea and Highbridge, Burrow, Burrowbridge, Burtle, Burton, Bury, Buscott, Bush, Bussex, Butleigh, Butleigh Wootton, Bye Moor, Byrcott, Cad Green, Callow Hill, Camel Hill, Cannards Grave, Cannington, Capland, Capton, Carhampton, Cary Fitzpaine, Castle Cary, Castle Hill, Castles, Catcott, Catcott Burtle, Catsgore, Catsham, Catwell, Chaffcombe, Chalkway, Chantry, Chapel Allerton, Chapel Leigh, Chard, Chard Town, Chardleigh Green, Charlton, Charlton Adam, Charlton Horethorne, Charlton Mackrell, Charlton Musgrove, Charterhouse, Charterhouse-on-Mendip, Cheddar, Cheddon Fitzpaine, Chedzoy, Chelston, Chelston Heathfield, Chelwell, Chelynch, Cherry Grove, Chesterblade, Chewton Mendip, Chilcompton, Chilcote, Chillington, Chilson, Chilson Common, Chilthorne Domer, Chilton Cantelo, Chilton Polden, Chilton Trinity, Chilworthy, Chipley, Chipstable, Chiselborough, Church Fields, Church Hill, Church Row, Churchinford, Churchstanton, Cinder Hill, Clanville, Clapton, Clatworthy, Clavelshay, Clay Castle, Clayhanger, Clean Moor, Clewer, Clicket, Clink, Cloford, Cloford Common, Closworth, Coal Orchard, Coat, Cock Hill, Cockhill, Cocklake, Cockwood, Codsend, Cole, Cole Hill, Coleford, Coleford Water, College Green, Combe, Combe Florey, Combe St Nicholas, Combe Throop, Comberow, Combwich, Comeytrowe, Compass, Compton, Compton Bishop, Compton Dundon, Compton Durville, Compton Pauncefoot, Coombe, Coombe Street, Coombses, Coopers Batch, Corfe, Corton Denham, Cossington, Cote, Cothelstone, Cotley, Cottage Corner, Cottles Oak, Coultings, Coursley, Courtway, Cowbridge, Coxbridge, Coxley, Coxley Wick, Crab Hole, Cranmore, Creech Heathfield, Creech St Michael, Crendle, Crewkerne, Cricket Malherbie, Cricket St Thomas, Crickham, Crickleaze, Crimchard, Crock Street, Croford, Croscombe, Cross, Cross Ways, Crosslands, Crowcombe, Crowcombe Heathfield, Crowpill, Cuck Hill, Cucklington, Cudworth, Culbone, Culmhead, Culverhayes, Curland, Curriott Hill, Curry Mallet, Curry Rivel, Curryload, Cushuish, Cutcombe, Cuttifords Door, Darshill, Darvole, Daws Green, Dead Womans Bottom, Dean, Dillington, Dimmer, Dinder, Dinnington, Dipford, Ditcheat, Dodhill, Dodington, Dolebury, Dommett, Doniford, Donyatt, Doulting, Doverhay, Dowlish Ford, Dowlish Wake, Downend, Downhead, Downside, Draycott, Drayton, Draytons, Drift, Duddlestone, Dulcote, Dulverton, Dunball, Dundon, Dunster, Dunwear, Durleigh, Durston, Earnshill, East Bagborough, East Bower, East Brent, East Brook, East Chinnock, East Coker, East Combe, East Compton, East End, East Horrington, East Huntspill, East Lambrook, East Lydeard, East Lydford, East Lynch, East Lyng, East Pennard, East Quantoxhead, East Stoke, East Street, East Town, East Water, East Woodlands, Eastertown, Eastfield, Easthams, Easton Hill, Easton Town, Edbrook, Edford, Edgarley, Edgcott, Edington, Edington Burtle, Edingworth, Edithmead, Edmund Hill, Egford, Eggwood Hill, Ellicombe, Elliots, Elliots Green, Elm, Elm Close, Elmhurst, Elworthy, Emborough, Enmore, Escott, Etsome, Evercreech, Exebridge, Exford, Exmoor, Exton, Fairy Hill, Farleigh Hungerford, Farncombe, Faulkland, Feltham, Fennington, Fernhill, Fiddington, Fideoak, Field, Firepool, Fitzhead, Fitzroy, Five Bells, Fivehead, Flaxpool, Foddington, Ford, Ford Street, Fordgate, Forge Hammer, Forscote (Foxcote, Four Forks, Fourfoot, Fowlers Plot, Friarn, Frieze Hill, Frog Street, Frome, Fromefield, Frost, Frost Street, Fulford, Fullands, Fulwood, Furland, Furnham, Fyfet, Galhampton, Galmington, Garden City, Garrow, Gibbet Hill, Glastonbury, Glastonbury Heath, Goar Knap, Goathurst, Godney, Golsoncott, Goosenford, Gosling Street, Gothelney Green, Gotton, Goulds Ground, Great Elm, Great Nurcott, Green Down, Green Ore, Greenham, Greens Combe, Greenway, Greinton, Greylake, Greylake Fosse, Gupworthy, Gurney Slade, Hackness, Haddon Hill, Hadspen, Haines Hill, Hale, Halse, Halsway, Ham, Ham Hill, Ham Street, Hambridge, Hambridge and Westport, Hamdon Hill, Hamp, Hams, Hapsford, Hardington, Hardington Mandeville, Hardington Marsh, Hardington Moor, Hardway, Hare, Harters Hill, Hartswell, Haselbury Plucknett, Hastings, Hatch Beauchamp, Havyatt, Hawkaller (Hockholler, Hawkbridge, Hawkcombe, Hawkington, Haybridge, Haydon, Hayes End, Haygrove, Haymoor End, Heale, Heath House, Heathfield, Heddon Oak, Hedging, Hele, Helland, Hembury Hill, Hemington, Hendford, Heniton Hill, Henlade, Henley, Henley Grove, Henstridge, Henstridge Ash, Henstridge Bowden, Henton, Hestercombe, Hewish, Heydon Hill, High Ham, Highbridge, Highbrooks, Highbury, Higher Alham, Higher Horton, Higher Knapp, Higher Shepton, Higher Street, Higher Town, Higher Wambrook, Higher Wrangway, Hill End, Hill Grove, Hillcommon, Hillfarrance, Hillfield, Hindon, Hinton, Hinton St George, Hitchen, Hoccombe, Hockholler (Hawkaller, Holcombe, Holford, Hollam, Hollands, Holly Brook, Holman Clavel, Holnicote, Holton, Holway, Holwell, Holwell Combe, Holywell, Holywell Lake, Honeywick, Horn, Horn Hill, Hornblotton, Hornblotton Green, Horner, Hornsbury, Horsey, Horsington, Horton, Houndsmoor, Houndstone, Howleigh, Howley, Huish, Huish Barton, Huish Champflower, Huish Episcopi, Hungerford, Hungerhill, Huntham, Huntscott, Huntsham, Huntstile, Huntworth, Hurcot, Hurcott, Hurst, Hurst Batch, Huxham Green, Hythe, Ilchester, Ilford, Ilford Bridges, Ilminster, Ilton, Innox Hill, Isle Abbotts, Isle Brewers, Ivy Thorn, Keinton Mandeville, Kenny, Kent, Kersham, Keward, Keyford, Kibbear, Kilkenny, Kilmersdon, Kilton, Kilve, Kings Way, Kingsbridge, Kingsbury Episcopi, Kingsbury Regis, Kingsdon, Kingston, Kingston St Mary, Kingstone, Kingswood, Kingweston, Kissing Batch, Kittisford, Knapp, Knapp Hill, Knighton, Knole, Knoll Hill, Knowle, Knowle St Giles, Lake, Lambrook, Lamyat, Langacre, Langaller, Langford, Langford Budville, Langford Heathfield, Langham, Langley, Langley Marsh, Langport, Langport Eastover, Langport Westover, Larkhill Lane, Latcham, Lattiford, Launcherly, Laverly, Lawford, Leigh Barton, Leigh Common, Leigh Hill, Leigh-on-Mendip, Leighland, Leighland Chapel, Leighton, Liberty Moor, Liddymore, Lidmarsh, Lillesdon, Lilstock, Limington, Liney, Lipe Hill, Lippiatt, Lipyeate, Listoke, Little Elm, Little Green, Little Heydon, Little Ireland, Little Load, Little London, Little Moor, Little Norton, Little Pennard, Little Weston, Littleton, Litton, Lodge Hill, Long Load, Long Sutton, Longaller, Longleat, Lopen, Lottisham, Lottisham Green, Lovington, Low Ham, Low Water, Lower Aisholt, Lower Alham, Lower Downside, Lower Godney, Lower Key, Lower Keyford, Lower Knapp, Lower Laverton, Lower Leigh, Lower Marston, Lower Merridge, Lower Milton, Lower Nowers, Lower Roadwater, Lower Rudge, Lower Shepton, Lower Stratton, Lower Street, Lower Town, Lower Vexford, Lower Washford, Lower Weacombe, Lower Weare, Lower Westford, Lower Westholme, Lower Woolston, Lowton, Luccombe, Luckwell Bridge, Ludney, Lufton, Lugshorn, Lullington, Lusty, Luxborough, Lyatts, Lydeard St Lawrence, Lydford-on-Fosse, Lydon, Lympsham, Lyng, Lyngford, Lytes Cary, Malmsmead, Maperton, Mare Green, Mark, Mark Causeway, Marsh Street, Marshalls Elm, Marston Bigot, Marston Magna, Martock, Masbury, Maundown, Maypole Knap, Meare, Meare Green, Mells, Merridge, Merriott, Middle Burnham, Middle Chinnock, Middle Green, Middle Lambrook, Middle Leigh, Middle Stoford, Middle Stoughton, Middlezoy, Midelney, Midnell, Midney, Midway, Milborne Port, Milborne Wick, Mill Street, Millfield, Milltown, Milton, Milton Clevedon, Milverton, Minehead, Minehead Without, Misterton, Monksilver, Monkton Heathfield, Montacute, Moolham, Moor, Moor Row, Moorland, Moorlinch, Moredon, Mountfields, Mountlands, Muchelney, Mudford, Mudford Sock, Mudgley, Murtry Hill, Musgrove, Nailsbourne, Nash, Nedge Hill, Neighbourne, Nether Stowey, Netherclay, Nethercot, Netherton, Nettlebridge, Nettlecombe, New Cross, New Town, Newbury, Newbury Hill, Newland, Newlands, Newman Street, Newport, Newton, Newtown, Nimmer, North Barrow, North Brewham (South Brewham W, North Cadbury, North Cheriton, North Coker, North Curry, North Down, North End, North Hawkwell, North Newton, North Perrott, North Petherton, North Town, North Wootton, Northay, Northfield, Northgate, Northload Bridge, Northmoor Corner, Northmoor Green, Northover, Northway, Northwick, Norton Camp, Norton Down, Norton Fitzwarren, Norton St Philip, Norton Sub Hamdon, Nunney, Nunney Catch, Nyland Cum Batcombe, Nynehead, Nythe, Oake, Oake Green, Oakhill, Oare, Oareford, Oath, Obridge, Odcombe, Oddway, Old Cleeve, Old Ditch, Old Down, Old Town, Old Way, Oldford, Orchard Portman, Orchardleigh, Othery, Otterford, Otterhampton, Outwood, Over Stowey, Over Stratton, Overleigh, Oxenpill, Panborough, Paradise, Parbrook, Parchey, Park, Parkway, Pathe, Pawlett, Payton, Peasmarsh, Pecking Mill, Pedwell, Pen Hill, Pen Mill, Pen Selwood, Pendomer, Percombe Hill, Periton, Perry, Perry Green, Perry Street, Pibsbury, Pickeridge, Pickney, Picts Hill, Pightley, Pilton, Piltown, Pinksmoor, Pitcombe, Pitcot, Pitminster, Pitney, Pitsford Hill, Pitway, Plainsfield, Pleamore Cross, Plot Gate, Plot Street, Podimore, Poleshill, Polsham, Pontispool, Poole, Pooltown, Porlock, Porlock Weir, Portfield, Portway, Pound, Pound Corner, Poundisford, Prestleigh, Preston, Preston Bowyer, Preston Plucknett, Priddy, Priest Hill, Puckington, Puddle Town, Puriton, Purtington, Purving Row, Putsham, Pye Hill, Pyleigh, Pylle, Pyrland, Quants, Quarme Hill, Queen Camel, Raddington, Radlet, Rainsbury, Ramscombe, Rapps, Red Hill, Redlands, Redlynch, Redways, Rhode, Richs Holford, Rickhayes, Ridgeway, Riding Gate, Rimpton, Road, Road Common, Road Hill, Roadwater, Rock, Rockwell Green, Rodden, Rodden Lake, Rode, Rode Hill, Rodgrove, Rodhuish, Rodney Stoke, Rodway, Rookham, Rooks Bridge, Rooks Nest, Rough Moor, Roundham, Rowbarton, Rowberrow, Rowford, Royston Water, Rudge, Ruggin, Ruishton, Rumwell, Runnington, Rush Hill, Rydon, Sampford Arundel, Sampford Brett, Sampford Moor, Sand, Scotland, Scrapton, Screedy, Sea, Seavington Abbots, Seavington St Mary, Seavington St Michael, Sellicks Green, Selwood, Selworthy, Seven Ash, Shadwell, Shapwick, Sharpham, Shawford, Shearston, Shellthorn, Sheppards Barton, Shepton Beauchamp, Shepton Mallet, Shepton Montague, Sherford, Shipham, Shopnoller, Shoreditch, Shores Hill, Shurton, Shute Hill, Shutter Oaks, Sidbrook, Sigwells, Silver Knap, Silver Street, Simonsbath, Skilgate, Slough Green, Small Way, Smitham Hill, Snails Hill, Sock Dennis, Soho, Somerton, Somerton Door, South Barrow, South Bradon, South Brewham With North Brewh, South Cadbury, South Cary, South Chard, South Cheriton, South Down, South Hill, South Petherton, Southay, Southey Moor, Southover, Southtown, Southway, Southwick, Southwood, Southwood Common, Spargrove, Sparkford, Sparkhayes, Spaxton, Speckington, Splatt, Spring Gardens, Springfield, St Andrew, St Audries, St Audries Bay, St Cleers, St Cuthbert in, St Cuthbert Out, St Decumans, St Michael Church, Staddon Hill, Standerwick, Staple, Staple Fitzpaine, Staplegrove, Staplehay, Stapleton, Stapley, Star, Stathe, Stawell, Stawley, Steanbow, Steart, Stembridge, Stewley, Sticklepath, Sticklinch, Stileway, Stoberry, Stock Hill, Stockland Bristol, Stocklinch, Stoford, Stogumber, Stogursey, Stoke Lane, Stoke St Gregory, Stoke St Mary, Stoke St Michael, Stoke Sub Hamdon, Stoke Trister, Stolford, Ston Easton, Stone, Stone Allerton, Stone Gallows, Stone Hill, Stoney Stoke, Stoney Stratton, Stoodham, Stoughton Cross, Stout, Stowell, Stratton on the Fosse, Stream, Street, Street Heath, Street on the Fosse, Stretcholt, Stringston, Summerland, Summerlands, Sutton, Sutton Bingham, Sutton Mallet, Sutton Montis, Sweethay, Swell, Sydenham, Syndercombe Wood, Tadham Moor, Tadhill, Tail Mill, Tangier, Tarnock, Tarr, Tarr Ball Hill, Tatworth and Forton, Taunton, Tellisford, The Barton, The Batch, The Borough, The Butts, The Folly, The Leys, The Parks, The Terrace, The Tything, The Warren, Theale, Thorne, Thorne St Margaret, Thorney, Thornfalcon, Thorngrove, Three Ashes, Three Bridges, Thrupe, Thurlbear, Thurloxton, Tilham Street, Timberscombe, Tintinhull, Tithill, Tivington, Tolland, Tone, Tone Green, Tonedale, Tor Hole, Torre, Touches, Toulton, Town Marsh, Towns End, Townsend, Trebles Holford, Treborough, Triscombe, Trudoxhill, Trull, Tuckerton, Turners Tower, Tytherington, Union Gate, Up Mudford, Upcott, Upper Cheddon, Upper Downside, Upper Godney, Upper Milton, Upper Vobster, Upper Westholme, Upton, Upton Noble, Urgashay, Vagg, Vellow, Venn Cross, Verrington, Vobster, Vole, Wadeford, Wagg, Walcombe, Wales, Walford, Walpole, Walrow, Walton, Wambrook, Wanstrow, Warrens Hill, Washbrook, Washford, Watchet, Watchfield, Watercombe, Watergore, Waterlake, Waterlip, Waterloo, Waterrow, Wayford, Weacombe, Weare, Wearne, Webb Hill, Webbington, Wedmore, Week (Wick, Weekmoor, Wellington, Wellington Without, Wells, Wellsprings, Welshmill, Wembdon, West Bagborough, West Bradley, West Buckland, West Camel, West Chinnock, West Coker, West Compton, West Crewkerne, West Dowlish, West End, West Hatch, West Hawkwell, West Horrington, West Howetown, West Huntspill, West Lambrook, West Leigh, West Luccombe, West Lydford, West Lynch, West Monkton, West Mudford, West Newton, West Pennard, West Porlock, West Port, West Quantoxhead, West Shepton, West Stoke, West Stoughton, West Town, West Woodlands, West Yeo, Westbury, Westcombe, Westford, Westham, Westhay, Weston Bampfylde, Weston Town, Westonzoyland, Westover, Westowe, Whatley, Wheathill, Wheddon Cross, Whitcomb, White Ball, White Post, Whitechurch, Whitefield, Whitelackington, Whites, Whitestaunton, Whitmoor, Whitnell, Whitney Bottom, Wick, Wick (Week, Wickmoor, Wigborough, Wilkin Throop, Willand, Willett, Williton, Willtown, Wilmersham, Wilton, Wiltown, Wincanton, Windmill Hill, Windsor Hill, Winsbere, Winsford, Winsham, Winter Well, Winterhay Green, Witcombe, Witham Friary, Withial, Withiel, Withybrook, Withycombe, Withypool and Hawkridge, Wiveliscombe, Wood, Woodbury, Woodcombe, Woodford, Woodhill, Woodhouse, Woodland Street, Woodlands, Woodlands End, Woodram, Woods Batch, Wookey, Wookey Hole, Woolavington, Woolmersdon, Woolminstone, Woolston, Woolverton, Wootton Courtenay, Worminster, Worston, Worth, Wortheal, Wrangway, Wrantage, Wraxall, Wreath Green, Wychanger, Wydon, Wyke Champflower, Yard, Yarford, Yarley, Yarlington, Yarrow, Yeabridge, Yearnor, Yellands, Yenston, Yeovil, Yeovil Marsh, Yeovil Without, Yeovilton
Gloucestershire Wedding Venues
Tel 01454 415050 Alveston House Hotel
Alveston, Thornbury, South Gloucestershire, BS35 2LA
Tel 01454 201090 Aztec Hotel
Aztec West, Almondsbury, Bristol, BS32 4TS
Tel 01454 852222 Chipping Sodbury Town Hall
Broad Street, Chipping Sodbury, Bristol, BS37 6AD
Tel not provided Dyrham Park
Nr Chippenham, Wiltshire, SN14 8ER
Tel 01454 262809 Eastwood Park Ltd
Training and Conference Centre Falfield, Wotton-under-Edge, Gloucestershire, GL12 8DA
Tel 01454201144 Hilton Bristol
Woodlands Lane, Bradley Stoke, Bristol, BS32 4JF
Tel 0117 937 2916 Hinton Grange Hotel
Hinton, Nr Dyrham, Chippenham, SN14 8HG
Tel 0870 400 9014 Holiday Inn Bristol Filton
Filton Road, Hambrook, Bristol, BS16 1QX
Tel 01454 414999 Memorial Woodlands
Earthcott Green, Alveston, Bristol, BS35 3TA
Tel 01454 777333 Ramada Grange
Northwoods, Winterbourne, Bristol, BS36 1RP
Tel 0117 9565501 Shortwood Lodge Golf Club
Carsons Road, Mangotsfield, Bristol, BS16 9LW
Tel 01454 620000 The Bristol Golf Club
St Swithins Park, Blackhorse Hill, Almondbury, Bristol, BS10 7TP
Tel 01454 218242 The Compass Inn
Tormarton, Nr Badminton, South Gloucestershire, GL9 1JB
Tel 01454 313000 The Cross Hands Hotel
Tetbury Road, Old Sodbury, South Gloucestershire, BS37 6RJ
Tel 01454 260502 The Gables Hotel
Bristol Road, Falfield, South Gloucestershire, GL12 8DL
Tel 0117 956 7007 The Kendleshire Golf Club
Henfield Road, Coalpit Heath, Bristol, BS36 2TG
Tel 01454 260550 The Park Hotel And Restaurant
Falfield, South Gloucestershire, GL12 8DR
Tel 0117 937 2251 The Park
Wick, Nr Bath, BS30 5RN
Tel 01454 412521 The Ship Inn
Thornbury Road, Alveston, South Gloucestershire, BS35 3LL
Tel 01454 281182 Thornbury Castle
Castle Street, Thornbury, South Gloucestershire, BS35 1HH
Tel 01454 263000 Tortworth Court Four Pillars Hotel
Tortworth, Wotton Under Edge, South Gloucestershire, GL12 8HH
Barcelo Cheltenham Park Hotel
Cirencester Road, Charlton Kings, Cheltenham, Gloucestershire , GL53 3AQ
Tel 01285 740561 Barnsley House
Barnsley , Cirencester, Gloucestershire, GL7 5EE
Tel 01453 810332 Berkeley Castle
Berkeley, Gloucestershire, GL13 9BQ
Tel 01285 740337 Bibury Court Hotel
Bibury , Cirencester, Gloucestershire, GL7 5NT
Tel 01453 883 804 Burleigh Court Hotel
Burleigh , Stroud, Gloucestershire, GL5 2PF
Tel 01666 890 391 Calcot Manor Hotel
Calcot, Tetbury, Gloucestershire, GL8 8TJ
Tel 01386 593555 Charingworth Manor Hotel
Charingworth, Chipping Campden, Gloucestershire, GL55 6NS
Tel 01452 519 988 Cheltenham Chase Hotel
Shurdington Road, Brockworth, Gloucester, GL3 4PB
Tel 01242 573558 Cheltenham Town Football Club
Whaddon Road, Cheltenham, Gloucestershire, GL52 5NA
Tel 01594 832320 Clearwell Castle
Church Road, Clearwell, Gloucester, GL16 8LG
Tel 01386 840330 Cotswold House Hotel
High Street, Chipping Camden, Gloucestershire, GL55 6AN
Tel 01285869550 Cotswold Water Park - Four Pillars Hotel
Spine Road, South Cerney, Gloucestershire, GL7 5FP
Tel 01452 812160 Cotswolds88 Hotel
Kemps Lane, Painswick,Stroud, Gloucestershire, GL6 6YB
Tel 01242 870900 Cowley Manor
Cowley, Nr Cheltenham, Gloucestershire, GL53 9NL
Tel 01285 740035 Cripps Barn
Fosse Cross Lane, Bibury, Gloucestershire, GL7 5ND
Tel 01242 545 454 De La Bere Hotel
Southam, Cheltenham, Gloucestershire, GL52 4NH
Tel 01386 852711 Dormy House Hotel
Willersey Hill, Broadway, Worcestershire, WR12 7LF
Tel 01386 881240 Dumbleton Hall Hotel
Dumbleton, Evesham, Worcestershire, WR11 6TS
Tel 01453 833449 Egypt Mill Hotel
Bath Road, Nailsworth, Gloucestershire, GL6 0AE
Tel 01594 810620 Forest Hills Golf Club
Mile End Road, Coleford, Gloucestershire, GL17 6BY
Tel 01594 832583 Forest of Dean Golf Club
Lords Hill, Coleford, Gloucestershire, GL16 8BE
Tel 01452 830354 Fosse Manor Hotel
Fosseway, Stow-on-the-Wold, Gloucestershire, GL54 1JX
Tel 01452 730217 Hatherley Manor Hotel
Down Hatherley Lane, Down Hatherley , Gloucestershire, GL2 9QA
Tel 01452 617412 Hatton Court Hotel
Upton Hill, Upton St Leonards, Gloucester, GL4 8DE
Tel 01684 296200 Hilton Puckrup Hall
Puckrup, Tewkesbury, Gloucestershire, GL20 6EL
Tel 01452 613311 Holiday Inn Gloucester-Cheltenham
Crest Way, Barnwood, Gloucester, GL4 3RX
Tel 01285 648730 Le Spa Health & Fitness Club
Stratton Place, Gloucester Road, Cirencester,Gloucester, GL7 2LA
Tel 01451 844130 Lodge Park
The National Trust, Aldsworth, Gloucestershire, GL54 3PP
Tel 01451 820243 Lords Of The Manor Hotel
Upper Slaughter, Bourton-on-the-Water, Cheltenham, Gloucestershire, GL54 2JD
Tel 01684 293224 Lower Lode Inn
Forthampton, Gloucestershire, GL19 4RE
Tel 01451 820 456 Lower Slaughter Manor
Lower Slaughter , Cheltenham, Gloucestershire, GL54 2HP
Tel 01242 256393 Manor By the Lake
Hatherley Lane, Cheltenham, Gloucestershire, GL51 6PN
Tel 01452 813204 Painswick Rococo Gardens
Painswick, Gloucester, GL6 6TH
Tel 01242 529533 Prestbury House Hotel
The Burage , Prestbury, Gloucestershire, GL52 3DN
Tel 01452 614121 Ramada Bowden Hall
Bondend Lane, Upton St Leonards, Gloucester, GL4 8ED
Tel 01452 525653 Ramada Hotel and Resort Gloucester
Robinswood Hill, Gloucester, GL4 6EA
Tel 01452 862506 Royal George Hotel
Birdlip, Gloucester, GL4 8JH
Tel 01242 570901 Seasons Conference & Events
Quat Goose Lane, Swindon Village, Cheltenham,Gloucestershire, GL51 9RX
Tel 01453 825155 Stonehouse Court Hotel
Bristol Road, Stonehouse, Gloucestershire, GL10 3RA
Tel 01285 651761 Stratton House Hotel
Gloucester Road, Cirencester, Gloucestershire, GL7 2LE
Tel 01453 753209 Stroud Masonic Hall
12 The Hill, Merrywalks, Stroud, Gloucestershire, GL5 4ER
Tel 01242 602308 Sudeley Castle
Winchcombe , Gloucestershire, GL54 5JD
Tel 01684 295405 Tewkesbury Park Hotel
Lincoln Green Lane, Tewkesbury, Gloucestershire, GL20 2DN
Tel 01453 512920 The Barn Function Centre
Berkeley Heath, Berkeley, Gloucestershire, GL13 9EW
Tel 01453 878 522 The Bear Of Rodborough Hotel
Rodborough Common, Stroud, Gloucestershire, GL5 5DE
Tel 01452 713226 The Cheltenham Regency Hotel
Gloucester Road, Cheltenham, Gloucestershire, GL51 0ST
Tel 01666 502272 The Close Hotel
Long Street, Tetbury, Gloucestershire, GL8 8AQ
Tel 01285 650455 The Corinium Rooms
Old Memorial Hospital, Sheep Street, Cirencester, GL7 1QW
Tel 01285 851806 The Crown of Crucis
Ampney Crucis, Cirencester, Gloucestershire, GL7 5RS
Tel 01242 700 060 The Daffodil
18-20 Suffolk Parade, Cheltenham, Gloucestershire, GL50 2AE
Tel 01452 790412 The Dark Barn
Bridge Farm, Rudford, Gloucester, GL2 8DX
Tel 01285 720721 The Fossebridge Inn
Fossebridge, Cheltenham, Gloucstershire, GL54 3JS
Tel 01242 820547 The Frogmill
Shipton Oliffe, Cheltenham, Gloucestershire, GL54 4HT
Tel 01451 830 344 The Grapevine Hotel
Sheep Streeet, Stow-On-The-Wold, Gloucestershire, GL54 1AU
Tel 01666 502 475 The Great Tythe Barn
Folly Farm, Long Newnton, Tetbury Gloucestershire, GL8 8XA
Tel 01242 862352 The Greenway
Shurdington, Cheltenham, Gloucestershire, GL51 5UG
Tel 01666 880 233 The Hare and Hounds Hotel
Westonbirt, Tetbury, Gloucestershire, GL8 8QL
Tel 01386 840256 The Kings Hotel
The Square, Chipping Campden, GL55 6AW
Tel 01453 861161/01452 740887 The Kingscote Barn, Binley farm
Kingscote, Tetbury, Gloucestershire, GL8 8YE
Tel 01452 425272 The Maitland Suite
Maitland House, Spa Road, Gloucester, GL1 1UY
Tel 01608 650501 The Manor House Hotel
High Street, Moreton-In-Marsh, Gloucestershire, GL56 0LJ
Tel 01453 861050 The Matara Centre
Kingscote Park, Kingscote, Near Tetbury, Gloucestershire, GL8 8YA
Tel 01453 763394 The Museum In The Park
Stratford Park, Stratford Road, Stroud, Gloucestershire, GL5 4AF
Tel 01367 252296 The New Inn Hotel
Market Square, Lechlade, Gloucestershire, GL7 3AB
Tel 01386 840317 The Noel Arms Hotel
High Street, Chipping Campden, Gloucestershire, GL55 6AT
Tel 01594 822113 The Oaks
6, Belle Vue Centre, Cinderford, Gloucestershire, GL14 2AB
Tel 01608 651199 The Old Council Chamber
Moreton Area Centre, High Street, Moreton-in-Marsh, Gloucestershire, GL56 0AZ
Tel 01453 766049 The Old Victorian School
Parliament Street, Stroud, Gloucestershire, GL5 1DY
Tel 01242 523852 The Pittville Pump Room
Pittville Park, Cheltenham, Gloucestershire, GL52 3JE
Tel 0870 400 8107 The Queens Hotel
The Promenade, Cheltenham, Gloucestershire, GL50 1NN
Tel 01594 822607 The Speech House
Coleford, Gloucestershire, GL16 7EL
Tel 01285 740695 The Swan Hotel
Bibury , Gloucestershire, GL7 5NW
Tel 01242 232691 The Thistle Hotel Cheltenham
Gloucester Road, Cheltenham, Gloucestershire, GL51 0TS
Tel 01594 833666 The Wyndham Arms Hotel
Clearwell, Coleford, Gloucestershire, GL15 8JT
Tel 01386 438429 Three Ways House Hotel
Mickleton, Chipping Camden, Gloucestershire, GL55 6SB
Tel 01451 822143 Washbourne Court Hotel
Lower Slaughter , Cheltenham, Gloucestershire, GL54 2HS
Tel 01242 602366 Wesley House
High Street, Winchcombe, Cheltenham, Gloucestershire, GL54 5LJ
Tel 01993 830888 Westcote Inn
Nether Westcote, Chipping Norton, Oxon, OX7 6SD
Tel 01666 880242 Westonbirt School
Westonbirt, Tetbury, Gloucestershire, GL8 8QG
Tel 0792 204 1132 Westonbirt The National Arboretum
Westonbirt Arboretum, Tetbury, Gloucestershire, GL8 8QS
Tel 01285750482 Williamstrip Park
Coln St Aldwyns, Cirencester, Gloucestershire, GL7 5AT
Tel 01451 831936 Wyck Hill House Hotel
Stow-On-The-Wold, Gloucestershire, GL54 1HY
Gloucestershire Towns and Villages
Abenhall, Ablington, Abwell, Adlestrop, Adsett, Alderley, Alderton, Aldsworth, Alkerton, Alkington, Allaston, Allastone Mesne, Alstone, Alstone Croft, Alstone Fields, Alvington, Amberley, Ampney Crucis, Ampney Knowle, Ampney St Mary, Ampney St Peter, Andoversford, Apperley, Arle, Arlingham, Arlington, Ashbrook, Ashchurch, Ashleworth, Ashleworth Quay, Ashley, Ashley Marsh, Ashmead Green, Aston Cross, Aston Down, Aston Magna, Aston on Carrant, Aston Subedge, Avening, Avenis Green, Awre, Aylburton, Ayleford, Aylworth, Babdown, Badbrook, Badgeworth, Bafford, Bagendon, Bagpath, Bakers Hill, Balcarras, Balls Green, Bamfurlong, Barbers Bridge, Barbers Green, Barnsley, Barnwood, Barrington, Barrow, Barrow Wake, Barton, Barton End, Bath Place, Batsford, Battledown, Baunton, Bays Hill, Beachley, Beeches Estate, Beeches Green, Bengrove, Benhall, Bentham, Berkeley, Berkley Heath, Berry Hill, Berrycroft, Beverston, Bevington, Bibury, Bidfield, Bilson Green, Birchamp, Birdlip, Birdsend, Birdwood, Bishops Cleeve, Bishops Norton, Bisley-With-Lypiatt, Blackhall, Blackness, Blackwellsend Green, Blaisdon, Blakeney, Blakeney Hill, Blanchworth, Bleakmoor, Bledington, Bledisloe, Blisbury, Blockley, Boddington, Bollow, Bondend, Botloes Green, Boughspring, Bournes Green, Bournstream, Bourton-on-the-Hill, Bourton-on-the-Water, Bowbridge, Bownham, Box, Boxwell With Leighterton, Bradley, Bradley Hill, Brains Green, Brand Green, Bread Street, Breadstone, Bream, Breams Eaves, Breams Meend, Breams Tufts, Breamwoodside, Bridgend, Brierley, Brimpsfield, Brimscombe, Brimstones, Broad Campden, Broadoak, Broadrock, Broadwell, Broadwell Lane End, Brockeridge Common, Brockhampton, Brockweir, Brockworth, Bromsberrow, Bromsberrow Heath, Brookend, Brookfield, Brookthorpe-With-Whaddon, Brooms Green, Browns Hill, Brownshill, Buckland, Bulley, Bullo Pill, Burleigh, Bussage, Butt Green, Butter Row, Cainscross, Calcot, Callowell, Calmsden, Cam, Cambridge, Camomile Green, Cannop, Cashes Green, Caudle Green, Cerny Wick, Chaceley, Chalford, Chalford Hill, Chalford Lynch, Chalk Hill, Chargrove, Charingworth, Charlton Abbots, Charlton Kings, Chavenage, Chaxhill, Chedworth, Chedworth Laines, Cheltenham, Cherington, Chessgrove, Chesterton, Chipping Campden, Christ Church, Church Icomb, Church Westcote, Churcham, Churchdown, Churchend, Cinderford, Cirencester, Clapton, Claypits, Clearwell, Clearwell Meend, Cleeve, Cleeve Hill, Clements Tump, Cliffords Mesne, Coaley, Coaley Junction, Coaley Peak, Coalway, Coalway Lane End, Coates, Coberley, Cockleford, Cold Aston, Coldharbour, Coleford, Colesbourne, Colethrop, Coln Rogers, Coln St Aldwyns, Coln St Dennis, Coltham Fields, Compton Abdale, Compton Green, Condicote, Coney Hill, Coombe, Coombe Hill, Coopers Hill, Corse, Corse Lawn, Cotswolds, Cowley, Crab End, Cranham, Crawley, Crawley Barns, Cress Green, Crickley Hill, Crooked End, Cross Hill, Crossways, Cudnall, Culkerton, Cutsdean, Daglingworth, Damery, Daneway, Daylesford, Deerhurst, Deerhurst Walton, Didbrook, Didmarton, Dinglewell, Dixton, Dockham, Donnington, Dorn, Double View, Doughton, Dowdeswell, Down Ampney, Down Hatherley, Downend, Downington, Draycott, Driffield, Drybrook, Dudbridge, Dudbridge Hill, Dudgrove, Dumbleton, Dunfield, Dunsmore Green, Duntisbourne Abbots, Duntisbourne Leer, Duntisbourne Rouse, Dursley, Dursley Cross, Dyersbrook, Dymock, East End, Eastcombe, Eastington, Eastleach, Eastleach Martin, Eastleach Turville, Ebley, Ebrington, Edge, Edge End, Edgeworth, Eggs Tump, Egypt, Elkstone, Ellwood, Elmdale, Elmore, Elmore Back, Elmstone Hardwicke, Elton, English Bicknor, Epney, Evenlode, Evergreen, Evington, Ewe Pen, Ewen, Eyford, Fairford, Fairview, Far Green, Far Oakridge, Far Thrupp, Farleys End, Farmcote, Farmington, Fiddington, Fiddlers Green, Fishpool, Five Acres, Flaxley, Footbridge, Ford, Forthampton, Forthay, Forty Green, Forwood, Foscombe Hill, Fossebridge, Four Oaks, Foxcote, Framilode, Frampton Mansell, Frampton on Severn, France Lynch, Fretherne With Saul, Frocester, Fromebridge, Fyfield, Ganborough, Garden Suburb, Garter Court, Gastrells, Gatcombe, Gatcombe Blackeney, Gawcombe, Glasshouse, Glasshouse Hill, Gloucester, Golden Valley, Goldwick, Gorsley, Gossington, Gosty Knoll, Gotherington, Grangecourt, Great Barrington, Great Lemhill, Great Rissington, Great Washbourne, Great Witcombe, Green Street, Greenway, Greet, Gretton, Gretton Field, Guiting Power, Hagloe, Hailes, Haines (Haynes, Hallwood Green, Halmore, Ham, Ham and Stone, Hamfallow, Hamfield, Hampen, Hampnett, Hamshill, Hangerberry, Hanghill, Hardwicke, Harescombe, Haresfield, Harleywood, Harnhill, Harry Hill, Hartley Bottom, Hartpury, Hasfield, Hatherley, Hatherley Brake, Hatherop, Hawkwell, Hawling, Hayden, Haynes (Haines, Hazleton, Hempsted, Henley, Hesters Way, Hethelpit Cross, Hewelsfield and Brockweir, Hewelsfield Common, Hidcote Bartrim, Hidcote Boyce, High Nash, High Orchard, Highfield, Highfields, Highleadon, Highnam, Hill End, Hill End Green, Hillcott End, Hillersland, Hillesley, Hillesley and Tresham, Hinton, Holcombe, Hollingham, Holywell, Homedowns, Hook Street, Horcott, Horse Lea, Horsley, Houndscroft, How Beech, Howley, Hucclecote, Hudnalls, Humphries End, Huntley, Hyde, Hystfield, Icomb, Inchbrook, Innsworth, Joyford, Joys Green, Kemble, Kemble Wick, Kempley, Kempley Green, Kempsford, Kents Green, Ketford, Kilcot, Kilcott, Kilkenny, Kineton, Kings Court, Kings Green, Kings Stanley, Kingscote, Kingshill, Kingsholme, Kingswood, Kitebrook, Knapp, Knights Green, Knightsbridge, Knockdown, Lancaut, Langitts, Lansdown, Lassington, Laverton, Lea Bailey, Leadington, Leazes (the Leaze, Lechlade, Leckhampton, Leigh, Lensbrook, Leonard Stanley, Leysbourne, Lightpill, Lilley Brook, Linton, Little Barrington, Little Cugley, Little Haresfield, Little Herberts, Little Lemhill, Little London, Little Rissington, Little Washbourne, Little Witcombe, Littledean, Littledean Hill, Littleworth, Llanthony, Long Newnton, Longborough, Longford, Longfurlong, Longhope, Longlevens, Longney, Longridge, Lords Hill, Lowbands, Lower Alstone, Lower Apperley, Lower Berry Hill, Lower Bourne, Lower Cam, Lower Chedworth, Lower Cockleford, Lower End, Lower Etloe, Lower Forest Green, Lower Green, Lower Kilcott, Lower Lemington, Lower Ley, Lower Littleworth, Lower Lydbrook, Lower Noverton, Lower Odington, Lower Slaughter, Lower Soudley, Lower Swell, Lower Tuffley, Lower Wick, Lowerstone, Lowfield, Lydbrook, Lydney, Lypiatt, Mailscot Wood, Maisemore, Maiseyhampton, Malswick, Marle Hill, Marsh Lane, Matson, Matson House Estate, Maugersbury, May Hill, Merlin Haven, Meysey Hampton, Mickleton, Middle Duntisbourne, Middle Lypiatt, Middle Street, Middle Yard, Mile End, Milkwall, Mill End, Mill Hill, Millbottom, Millend, Milton End, Minchinhampton, Minsterworth, Miserden, Mitcheldean, Mitton, Mobley, Montpellier, Moorend, Moorslade, Moreton Valence, Moreton-in-Marsh, Mork, Moseley Green, Mount Pleasant, Mule Street, Murrells End, Mythe Hook, Nags Head, Nailbridge, Nailsworth, Nailsworth Hill, Nastend, Naunton, Nesley, Nether Westcote, Nethercote, Netherend, Netherhills, New Mills, Newent, Newerne, Newgrounds, Newham Bottom, Newington Bagpath, Newland, Newmarket, Newnham, Newport, Newton, Newtown, Nibley, Nibley Green, Nine Wells, Norcott, Nordown, North Cerney, North Nibley, North Woodchester, Northfield, Northington, Northleach With Eastington, Northway, Northwood Green, Norton, Norton Hill, Notgrove, Nottswood Hill, Noverton, Noxon, Nup End, Nupend, Nutterswood, Nympsfield, Oakhanger, Oakle Street, Oakridge, Oakridge Lynch, Oakwood, Oakwood Hill, Ockold End, Oddington, Oldbury on the Hill, Oldcroft, Oldend, Orepool, Over, Overbridge, Overton, Overton Park, Overtown, Owlpen, Oxenhall, Oxenton, Oxpens, Ozleworth, Paganhill, Painswick, Palmers Flat, Pamington, Pancakehill, Park Corner, Park Hill, Parkend, Parton, Pauntley, Paxford, Pedington, Pennsylvania, Perrotts Brook, Perry Hill, Pettycroft, Phipps Bottom, Picklenash, Piedmont, Piffs Elm, Pilley, Pillowell, Pinfarthing, Pinnock, Pit Court, Pitchcombe, Pittbrook, Pittville, Playley Green, Plump Hill, Plusterwine, Pool Meadow, Poole Keynes, Poolgreen, Poolhill, Poolway, Popes Hill, Poplar Gate, Postlip, Potters Pound, Poulton, Prescott, Prestbury, Preston, Priding, Primrose Hill, Prinknash Park, Priors Estate, Priors Norton, Priors Park, Prosper, Puckrup, Pucksholes, Puddleworth, Purples, Purton, Putloe, Quarhouse, Quedgeley, Queenwood Grove, Quenington, Rack Hill, Ragnall, Randwick, Readings, Ready Token, Redinhorne, Redmarley D'Abitot, Rendcomb, Rockness Hill, Rockstowes, Rodborough, Rodborough Common, Rodborough Hill, Rodley, Rodmarton, Roel, Rooksmoor, Rowanfield, Ruardean, Ruardean Hill, Ruardean Woodside, Ruddle, Rudford and Highleadon, Ruscombe, Ruspidge and Soudley, Ryeford, Ryeworth, Ryton, Saintbridge, Saintbury, Salperton, Sandfield, Sandfields, Sandhurst, Sandyleaze, Sandywell Park, Sanigar, Sapperton, Saunders Green, Scowles, Scrubs, Sedbury, Selsey, Seven Springs, Seven Waters, Sevenhampton, Sezincote, Shadwell, Shakesfield, Sharpness, Shaw Green, Shawswell, Sheepscombe, Shepherds Patch, Sherborne, Shipton, Shipton Moyne, Shipton Oliffe, Shipton Sollers, Shorncote, Short Standing, Shortwood, Shot Hill, Shurdington, Shuthonger Common, Siddington, Silver Street, Slad, Slade, Slimbridge, Sling, Smallbrook, Smarts Green, Snigs End, Snowshill, Somerford Keynes, Soudley, South Cerney, South Woodchester, Southam, Southend, Southfields, Southrop, Southwick, Sperringate, Spillmans, Spring Bottom, St Briavels, St Briavels Common, St Chloe, St Marks Estate, Stambourne, Stancombe, Standish, Stanford Hall, Stanley Downton, Stanley Marsh, Stanley Pontlarge, Stanton, Stantway, Stanway, Staunton, Staunton Coleford, Staverton, Staverton Bridge, Steam Mills, Stinchcombe, Stockend, Stockwell, Stockwell Green, Stoke Orchard, Stokenhill, Stone Green, Stonehouse, Stow on the Wold, Stow-on-the-Wold, Stowe, Stowell, Stowell Park, Stratton, Stroat, Stroud, Stroud Hill, Sudbrook, Sudeley, Sudgrove, Swanley, Swell, Swellshill, Swindon, Syde, Symonds Hall, Symonds Yat Rock, Synwell, Syreford, Tabernacle Walk, Taddington, Tarlton, Taynton, Teddington, Temple Guiting, Tetbury, Tetbury Upton, Tewkesbury, The Beeches, The Butts, The Camp, The Flats, The Green, The Haw, The Island, The Lake, The Lawn, The Leaze (Leazes, The Lonk, The Lynch, The Moat, The Mythe, The Park, The Pludds, The Quarry, The Reddings, The Stream, The Tynings, The Vatch, The Vineyards, Theescombe, Three Ashes, Througham, Thrupp, Tibberton, Tickmorend, Tickshill, Tidenham, Tillers Green, Tilsdown, Tiltups End, Tirley, Tivoli, Toadsmoor, Toddington, Todenham, Town Street, Townsend, Tredington, Tredworth, Tresham, Trow Green, Tuffley, Tufthorn, Tumpy Green, Tunley, Turkdean, Turners Tump, Tutnalls, Tutshills, Twelve Acres, Twigworth, Twyning, Tyley Bottom, Uckington, Uley, Ullenwood, Up End, Up Hatherley, Uplands, Upleadon, Upper Alstone, Upper Bourne, Upper Coberley, Upper End, Upper Etloe, Upper Forest Green, Upper Hyde, Upper Kilcott, Upper Ley, Upper Lydbrooke, Upper Slaughter, Upper Soudley, Upper Swell, Upper Wick, Upper Windrush, Upperup, Upthorpe, Upton St Leonards, Valley Corner, Vention, Viney Hill, Wainlode Hill, Walham, Walkleywood, Wallow Green, Wallsworth, Walmore Hill, Walton, Walton Cardiff, Walton Hill, Wanswell, Wanswell Green, Washpool, Washpound, Wateredge, Waterlane, Waterley Bottom, Watermoor, Waters Cross, Watledge, Weir Green, West Dean, West End, Westbury-on-Severn, Westcote, Westington, Weston Subedge, Westonbirt With Lasborough, Westrip, Whaddon, Wheatenhurst, Whelford, White End, Whitecliff, Whitecroft, Whiteleaved Oak, Whiteshill and Ruscombe, Whiteshoots Hill, Whiteway, Whitminster, Whittington, Wibdon, Wick Rissington, Wickridge, Wiggold, Wigpool, Willersey, Wimberry Bottom, Winchcombe, Windrush, Windsorash, Windsoredge, Winson, Winstone, Wishanger, Withington, Wood Stanway, Woodchester, Woodcroft, Woodfield, Woodford, Woodmancote, Woolaston, Woolridge, Woolstone, Worley, Wormington, Worrall Hill, Wortley, Wotton, Wotton Village, Wotton-under-Edge, Wyegate, Wynols Hill, Yanworth, Yate, Yorkley, Yorkley Slade, Yorkley Wood
Wedding Venues in Dorset
Alexandra Hotel, Lyme Regis, Dorset
Athelhampton House, Dorchester, Dorset
Avonmouth Hotel, Christchurch, Dorset
Bennett's Water Gardens, Weymouth, Dorset
Birkin House, Dorchester, Dorset
Bishops Court, Blandford, Dorset
Bridge House Hotel, Bridport, Dorset
Bridge House Hotel, Ferndown, Dorset
Britannia Round House Hotel, Bournemouth, Dorset
Cafe Shore, Poole, Dorset
Canford School, Wimbourne, Dorset
Captains Club Hotel, Christchurch, Dorset
Carlton Hotel, Bournemouth, Dorset
Chaffeymoor Grange, Bourton, Dorset
Chantmarle Manor, Frome St Quinne, Dorset
Compton Acres, Poole, Dorset
Da Vinci's Restaurant, Poole, Dorset
Dorchester Municipal Buildings, Dorchester, Dorset
Dudsbury Golf Club, Ferndown, Dorset
Durley Hall Hotel, Bournemouth, Dorset
East Cliff Court Hotel, Bournemouth, Dorset
Edmondsham House, Wimbourne, Dorset
Eype's Mouth Country Hotel, Bridport, Dorset
Eypesmouth Country Hotel, Bridport, Dorset
Forde Abbey, Chard, Somerset, Dorset
Gresham Court Hotel, Bournemouth
Harbour Heights Hotel, Sandbanks, Poole, Dorset
Highcliffe Castle, Christchurch, Dorset
Holton Lee, Poole, Dorset
Hotel Alexandra, Lyme Regis, Dorset
Hotel Prince Regent, Weymouth, Dorset
Kingston Country Courtyard, Kingston, Wareham, Dorset
Kingston Maurward , Dorchester, Dorset
Langtry Manor, Bournemouth, Dorset
Lulworth Castle, Wareham, Dorset
Magdalen Farm, Chard, Somerset
Mansion House Hotek, Poole, Dorset
Mapperton House Gardens, Beaminster, Dorset
Marsham Court Hotel, Bournemouth, Dorset
Merley House, Wimborne, Dorset
Mezza Luna Restaurant and Bar, Poole Park, Poole, Dorset
Milton Abbey School, Blandford Forum, Dorset
Minterne House, Dorchester, Dorset
Mortons House Hotel, Wateham, Dorset
Mountfield, Bridport, Dorset
Parley Manor, Christchurch, Dorset
Portland Castle, Portland, Dorset
Purbeck House Hotel, Swanage, Dorset
Royal Bath Hotel, Bournemouth, Dorset
Sandbanks Hotel, Poole, Dorset
Shaftesbury Town Hall, Shaftesbury, Dorset
Sherborne Hotel, Swanage, Dorset
Sherbourne Castle, Sherbourne, Dorset
Sopley Mill, Christchurch, Dorset
St Leonards Hotel, Ringwood, Dorset
Stockbridge Farm Barn, Sherbourne, Dorset
Summer Lodge Hotel, Evershot, Dorset
Swallow Highcliff Hotel, Bournemouth, Dorset
The Avonmouth Hotel, Christchurch
The Chine, Bournemouth, Dorset
The Coach House, Blandford, Dorset
The Coppleridge Inn, Shaftesbury, Dorset
The Crown Hotel, Blandford forum, Dorset
The Eastbury Hotel, Sherbourne, Dorset
The Grand Hotel, Swanage, Dorset
The Grange at Oborne, Sherborne, Dorset
The Guildhall, Lyme Regis, Dorset
The Guildhall, Poole, Dorset
The Guildhall, Poole, Dorset
The Guildhall, Weymouth, Dorset
The Haven Hotel, Sandbanks, Poole, Dorset
The Hotel Rembrandt, Weymouth, Dorset
The King George V Pavilion, Ferndown, Dorset
The Langton Arms, Blandford, Dorset
The Manor Hotel, West Bexington, Dorchester, Dorset
The Mansion House Hotel, Poole, Dorset
The Orangery Suite, Wimborne, Dorset
The Philip Green Memorial School, Wimborne, Dorset
The Riviera Hotel, Weymouth, Dorset
The Royal Chase Hotel, Shaftesbury, Dorset
The Salterns Harbourside Hotel, Poole, Dorset
The Springhead Trust, Shaftesbury, Dorset
The Thistle Hotel, Poole, Dorset
Tudor Grange Hotel, Bournemouth, Dorset
Tyrells Ford Country House, Christchurch, Dorset
Upton House, Upton Country Park, Upton, Poole, Dorset
Wareham Town Hall, Wareham, Dorset
Wessex Hotel, Bournemouth, Dorset
Wimborne Minster Town Council, Wimborne Minster, Dorset
Yenton Hotel, Bournemouth, Dorset
Dorset Toastmaster
Towns and Villages of Dorset, England
Abbotsbury, Abbotts Wootton, Adams Green, Adber, Allington, Allweston, Alton Pancras, Ash, Ashley, Ashley Chase, Askerswell, Atrim, Attisham, Barbridge, Batcombe, Beaminster, Beaulieu Wood, Bedmill, Beer Hackett, Benville, Bere Chapel, Berwick, Bettiscombe, Bincombe, Birdsmoor Gate, Bishops Caundle, Bishops Down, Blackdown, Blackrow Common, Bluntshay, Bockhampton, Bonville, Bookham, Bothenhampton, Bournemouth, Boys Hill, Bradford Abbas, Bradford Peverell, Bradpole, Bridport, Brister End, Broad Oak, Broadmayne, Broadwey, Broadwindsor, Brockhampton, Brockhampton Green, Buckham, Buckham Down, Buckland Newton, Buckland Ripers, Buckshaw, Burstock, Burton, Burton Bradstock, Camesworth, Castleton, Castletown, Catherston Leweston, Cattistock, Caundle Marsh, Caundle Wake, Cerne Abbas, Chalmington, Champernhayes Marsh, Chard Junction, Chard Road, Charlestown, Charlock Hill, Charminster, Charmouth, Chedington, Chesil, Chetnole, Chickerell, Chideock, Chilcombe, Childhay, Chilfrome, Clift, Clifton Maybank, Cobb, Cokers Frome, Coles Cross, Compton Abbas, Compton Valence, Coneygar Hill, Corscombe, Coryates, Cosmore, Cripton, Crouch Hill, Cruxton, Denhay, Dibberford, Dodpen Hill, Dorchester, Dottery, Drimpton, Drive End, Duntish, East Bexington, East Chelborough, East Pulham, Easton, Eggardon Hill, Elwell, Evershot, Eype, Fairfield, Fifehead Neville, Filford, Fishpond Bottom, Fleet, Folke, Folly, Fordington, Forston, Fortuneswell, Frampton, Friar Waddon, Frith, Frome St Quintin, Frome Vauchurch, Frome Whitfield, Gerrards Green, Glanvilles Wooton, Goathill, Godmanston, Godmanstone, Gore, Greenham, Greenway, Gribb, Grimstone, Grove, Gunville, Guppy, Gurtopps, Hail, Halstock, Hamlet, Hardown Hill, Hatchet, Haydon, Heniford, Henley, Hermitage, Herrison, Hewish Hill, Hewood, Higher Bockhampton, Higher Clatcombe, Higher Coombe, Higher Eype, Higher Halstock Leigh, Higher Kingcombe, Higher Nyland, Higher Sandford, Higher Wrackleford, Highgate, Hilfield, Hill Street, Holditch, Holebrook Green, Holnest, Holway, Holwell, Holywell, Hooke, Horchester, Horn Ash, Horn Hill, Horsecastles, Hummer, Hursey, Hyde, Jericho, Kings Stagg, Kingsland, Kingstag, Kingston, Kingston Russell, Kittwhistle, Knighton, Langdon, Langton Herring, Laymore, Leigh, Lenthay, Lewcombe, Leweston, Lillington, Littlebredy, Littlemoor, Littlewindsor, Littlewood, Litton Cheney, Loaders Hill, Loders, Long Bredy, Longburton, Loscombe, Lower Bockhampton, Lower Eype, Lower Halstock Leigh, Lower Kingcombe, Lower Strode, Lower Waterston, Lower Wrackleford, Lydlinch, Lyme Regis, Lyons Gate, Magiston Hill, Maiden Newton, Mangerton, Mapperton, Mappowder, Marshalsea, Marshwood, Martinstown, Maudlin, Meerhay, Melbury Bubb, Melbury Osmond, Melbury Sampford, Melcombe Regis, Melplash, Merriott, Middlemarsh, Minterne Magna, Minterne Parva, Monkton Wyld, Monkwood, Moorbath, Morecombelake, Mosterton, Muckleford, Nether Cerne, Nether Compton, Nether Coombe, Netherbury, Netherhay, Netherstoke, Nettlecombe, Newland, Newtown, North Barn, North Bowood, North Chideock, North Poorton, North Wootton, Northernhay, Norwood, Nottington, Notton, Oathill, Oborne, Osehill Green, Osmington, Over Compton, Overcombe, Oxbridge, Packers Hill, Paddocks Cross, Park Gate, Patson Hill, Penn, Piddlehinton, Piddletrenthide, Pidney, Pilsdon, Pleck, Plush, Poolestown, Poorton Hill, Portesham, Portland, Poundbury, Powerstock, Poxwell, Poyntington, Preston, Priestlands, Puddletown, Pulham, Pulham Common, Puncknowle, Purse Caundle, Putton, Pymore, Radipole, Rampisham, Redford, Reforne, Remedy, Rew, Rhymehorn, Ridgeway, Ringstead, Rocky Knap, Rodden, Rodwell, Round Chimneys, Russon Bottom, Ryall, Ryme Intrinseca, Salway Ash, Sandford Orcas, Sandhills, Sandpit, Sandsfoot Castle, Seaborough, Seatown, Shadrach, Sherborne, Shipton Gorge, Shortmoor, Silverlake, Skilling, Sodern, South Bowood, South Perrott, South Poorton, Southover, Southwell, Spyway, St Andrews Well, Stalbridge, Stalbridge Common, Stalbridge Weston, Stallen, Stanton St Gabriel, Stinsford, Stock Gaylard, Stock Gaylard Park, Stockbridge, Stockwood, Stoke Abbott, Stourton Caundle, Stratton, Swyre, Sydling St Nicholas, Symondsbury, Synderford, Talbothayes, Templemans Ash, The Borough, The Quarr, The Ring, Thorncombe, Thornford, Thornhill, Three Gates, Tiley, Toller Down, Toller Fratrum, Toller Porcorum, Toller Whelme, Tollerford, Totnell, Towns End, Trent, Tut Hill, Up Cerne, Up Sydling, Uphall, Uploders, Upton, Upwey, Victoria Park, Waddon, Walditch, Wanderwell, Ware, Warmwell, Waterston, Watton, Waytown, West Allington, West Bay, West Bexington, West Chelborough, West Compton, West Knighton, West Milton, West Pulham, West Stafford, Westbury, Westfields, Westham, Weston, Weymouth, Whetley, Whitcombe, White Cross, White Lackington, White Sheet Hill, Whitechurch Canonicorum, Whitecross, Whitehall, Winterborne Came, Winterborne Herringston, Winterborne Monkton, Winterborne St Martin, Winterbourne Abbas, Winterbourne Steepleton, Wolfeton, Wonston, Woodbridge, Woodrow, Woolcombe, Woolfords Water, Wootton Fitzpaine, Wrackleford, Wraxall, Wych, Wyke, Wyke Regis, Wynford Eagle, Wytherstone, Yetminster, Yonder Hill, Yondover
Wiltshire wedding venues that Mark is pleased to work at
Tel 01747 842005 Apollo - a Garden Folly
Stourhead Gardens, Stourton, Warminster, BA12 6QD
Tel 01225 703700 Beechfield House Hotel
Beanacre , Melksham, Wiltshire, SN12 7PU
Tel 01985 212312 Bishopstrow House Hotel
Boreham Road, Warminster, Wiltshire, BA12 9HH
Tel 01249 822228 Bowood Golf and Country Club
Derry Hill, Calne, Wiltshire, SN11 9PQ
Tel 01985 844052 Bradley House
Kingston Lane, Maiden Bradley, Warminster, Wiltshire, BA12 7HL
Tel 01380 827129 Cleeve House
Trowbridge Road, Seend, Melksham, Wiltshire, SN12 6PG
Tel 01225 713120 County Hall
Bythesea Road, Trowbridge, Wiltshire, BA14 8JN
Tel 01793 750751 Cricklade Hotel and Country Club
Common Hill, Cricklade, Wiltshire, SN6 6HA
Tel 01225 863322 Cumberwell Park Golf Club
Bradford on Avon , Wiltshire, BA15 2PQ
Tel 01722 338388 Grasmere House Hotel
70 Harnham Road, Salisbury, Wiltshire, SP2 8JN
Tel 01249 782434 Grittleton House
Grittleton House, Grittleton, Cheppenham, SN14 6AP
Tel 01249 713399 Guyers House
Guyers Lane, Pickwick, Corsham, Wiltshire, SN13 0PS
Tel 01794390700 Hamptworth Lodge
Landford, Salisbury, Wiltshire, SP5 2DR
Tel 01249 700000 Hartham Park
Hartham Park, Corsham, Wiltshire, SN13 0RP
Tel 01793 881777 Hilton National ( Swindon)
Lydiard Fields, Great Western Way, Swindon,Wiltshire, SN5 8UZ
Tel 01249 466800 Lackham House and Countryside Centre
Lacock, Chippenham, Wiltshire, SN15 2NY
Tel 01725 516228 Larmer Tree Gardens
Rushmore Estate, Tollard Royal, Salisbury, Wiltshire, SP5 5PT
Tel 01225 864885 Leigh Park Hotel
Leigh Road West, Bradford on Avon, Wiltshire, BA15 2RA
Tel 01225 723333 Limpley Stoke Hotel
Lower Limpley Stoke, Bath, BA3 6HZ
Tel 01488 682509 Littlecote House Hotel
Hungerford, Berkshire, RG17 0SS
Tel 01985 844400 Longleat House
Warminster, Wiltshire, BA12 7NW
Tel 01225 742777 Lucknam Park Hotel
Colerne, Wiltshire, SN14 8AZ
Tel 01249 782206 Manor House Hotel and Golf Club
Castle Combe, Chippenham , Wiltshire, SN14 7HR
Tel 01380 722162 Marlborough Town Hall
High Street, Marlborough, Wiltshire, SN8 1LP
Tel 01793 848044 Marsh Farm Hotel
Coped Hall, Wootton Bassett, Swindon, SN4 8ER
Tel 01722 417411 Milford Hall Hotel
206 Castle Street, Salisbury, Wiltshire, SP1 3TE
Tel 01725 510055 Newhouse
Redlynch , Salisbury, Wiltshire, SP5 2NX
Tel 01305 826316 Old Wardour Castle
Near Tisbury, Wiltshire, SP3 6RR
Tel 01722 716663 Philipps House
Dinton, Salisbury, Wiltshire, SP3 5HJ
Tel 01722 399955 Rose & Crown Hotel
Harnham Road, Salisbury, Wiltshire, SP2 8JQ
Tel 01225 810555 Rudloe Hall Hotel
Leafy Lane, Rudloe, Corsham,Wiltshire, SN13 0PA
Tel 01249 653120 Sheldon Manor
Sheldon, Chippenham, Wiltshire, SN14 0RG
Tel 01666 837552 Stanton Manor Hotel
Stanton St. Quintin,, CHIPPENHAM, Wiltshire, SN14 6DQ
Tel 01666 827650 The Abbey House
Market Cross, Malmesbury, Wiltshire, SN16 9AS
Tel 07867 525060 The Agricultural Centre
Netherhampton road, Salisbury, Wiltshire, SP2 8RH
Tel 01980 623163 The Antrobus Arms Hotel
15 Church Street, Amesbury, Wiltshire, SP4 7EU
Tel 01985 840816 The Barn at Rye Hill
Longridge Deverill, Warminster, Wiltshire, BA12 7DE
Tel 01380 722444 The Bear Hotel
Market Place, Devizes, Wiltshire, SN10 1HS
Tel 01373 822753 The Cedar Hotel
114 Warminster Road, Westbury, Wiltshire, BA13 3PR
Tel 01722 412144 The Guildhall
Market Place, Salisbury, Wiltshire, SP1 1JH
Tel 01722 782592 The Inn
High Post, Salisbury, Wiltshire, SP4 6AT
Tel 01747 820573 The Lamb Inn
High Street, Hindon, Salisbury,Wiltshire, SP3 6DP
Tel 01249 782982 The Manor House Golf Club
Castle Coombe, Chippenham, SN14 7JW
Tel 01722 412472 The Medieval Hall
The Close, Salisbury, Wiltshire, SP1 2EY
Tel 01793 529678
Tel 01793 529678The Memorial Hall
Station Road, Wootton Bassett, SN4 7EE
Tel 01666 822344 The Old Bell
Abbey Row, Malmesbury, Wiltshire, SN16 0AG
Tel 01793 772100 The Pear Tree at Purton
Church End, Purton, Swindon, SN5 9ED
Tel 01722 743328 The Pembroke Arms Hotel
Minster Street, Wilton, Salisbury, Wiltshire, SP2 0BH
Tel 01666 577194 The Rectory Hotel
Crudwell, Malmesbury, Wiltshire, SN16 9EP
Tel 01722 323334 The Red Lion Hotel
4 Milford Street, Salisbury, Wiltshire, SP1 2AN
Tel 01225 713007 The Registration Office
4 Timber Street, Chippenham, Wiltshire, SN15 3BZ
Tel 01225 713007 The Registration Office
The Beeches, Bath Road, Devizes, Wiltshire, SN10 2AL
Tel 01225 713007 The Registration Office
The Laburnums, 50 Bedwin Street, Salisbury, Wiltshire, SP1 3UW
Tel 01722 399955 The Rose and Crown Hotel
Harnham Road, Harnham, Salisbury, Wiltshire, SP2 8JQ
Tel 01672 810823 The Royal Oak
Wootton Rivers, Marlborough, Wiltshire, SN8 4NQ
Tel 01488 668258 The School
The Old Rectory, Buttermere, Marlborough, Wiltshire
Tel 01225 702836 The Shaw Country Hotel
Bath Road, Shaw, Melksham, Wiltshire, SN12 8EF
Tel 01249 730230 The Sign of The Angel
6 Church Street, Lacock, Chippenham, SN15 2LB
Tel 01225 704187 The Town Hall
Market Place, Melksham, Wiltshire, SN12 6ES
Tel 01249 446699 The Town Hall
High Street, Chippenham, Wiltshire, SN15 3ER
Tel 01249 814000 The Town Hall
The Strand, Calne, Wiltshire, SN11 0EF
Tel 01672 512487 The Town Hall
High Street, Marlborough, Wiltshire
Tel 01225 866551 The West Barn
Barton Grange Farm, Bradford on Avon, Wiltshire
Tel 01722 327476 The White Hart Hotel
St John Street, Salisbury , Wiltshire, SP1 2SD
Tel 01793 849999 The Wiltshire Golf & Country Club
Wootton Bassett, Swindon, Wiltshire, SN4 7PB
Tel 01380 722160 Town Hall
St John's Street, Devizes, Wiltshire, SN10 1BN
Tel 01722 711334 Trafalgar Park
Standlynch, Salisbury, Wiltshire, SP5 3QR
Tel 01249 816804 Wellington Barn
Manor Farm, Calstone-Wellington, Calne, Wiltshire
Tel 01666 822888 Whatley Manor
Easton Grey, Malmesbury, Wiltshire, SN16 0RB
Tel 01225 864750 Widbrook Grange Hotel
Trowbridge Road, Bradford on Avon, Wiltshire, BA15 1UH
Tel 01722 746700 Wilton House
Wilton, Salisbury, Wiltshire, SP2 0BJ
Tel 01225 864705 Woolley Grange
Woolley Green, Bradford-on-Avon, Wiltshire, BA15 1TX
Towns and Villages of Wiltshire, England
Ablington, Alcombe, Aldbourne, Alderbury, Alderton, Allcannings, Allington, Alton, Alton Barnes, Alton Priors, Alvediston, Amesbury, Ansty, Ansty Coombe, Ashley, Ashton Common, Ashton Gifford, Ashton Hill, Ashton Keynes, Atworth, Aughton, Avebury, Avebury Trusloe, Avon, Avoncliff, Axford, Bagshot, Bapton, Barford St Martin, Barnfield, Barrow Street, Bathampton, Baverstock, Baydon, Beanacre, Bearfield, Beckhampton, Beechingstoke, Bemerton, Bemerton Heath, Berryfields, Berwick Bassett, Berwick St James, Berwick St John, Berwick St Leonard, Beversbrook, Biddestone, Birdbush, Birobush, Bishopdown, Bishops Cannings, Bishopstone, Bishopstrow, Black Dog, Blackland, Blackmore Forest, Bleet, Bodenham, Bohemia, Boreham, Boscombe, Boscombe Down, Bottlesford, Bourton, Bowden Hill, Bower Chalke, Bowerhill, Bowood, Box, Box Hill, Boyton, Bradenstoke Cum Clack, Bradford Leigh, Bradford-on-Avon, Bratton, Braydon, Braydon Brook, Braydon Side, Bremhill, Bremhill Wick, Brickworth, Brigmerston, Brinkworth, Britford, Brixton Deverill, Broad Chalke, Broad Hinton, Broad Leaze, Broad Street, Broad Town, Broken Cross, Brokenborough, Brokerswood, Bromham, Brook, Broughton Common, Broughton Gifford, Broxmore, Brunton, Bugley, Bulbridge, Bulford, Bulkington, Bullocks Horn, Bupton, Burbage, Burcombe Without, Burdens Ball, Burton, Burton Hill, Bushton, Buttermere, Cadley, Calcutt, Callow Hill, Calne, Calne Marsh, Calne Without, Calstone Wellington, Castle Combe, Causeway End, Chalford, Chapel Knapp, Chapmanslade, Charlcot, Charlton, Chedglow, Chelworth, Chelworth Lower Green, Chelworth Upper Green, Cherhill, Cheverell Magna, Cheverell Parva, Chicklade, Chilhampton, Chilmark, Chilton Foliat, Chilvester, Chippenham, Chippenham Without, Chirton, Chisbury, Chitterne, Chittoe Heath, Cholderton, Choulston, Christian Malford, Church End, Churchfields, Chute, Chute Forest, Clack (Bradenstoke Cum Clack, Clarendon Park, Clatford, Clear Wood, Clearbury Down, Clevancy, Clivey, Cloatley, Cloatley End, Clyffe Pypard, Coate, Cock Road, Cocklebury, Codford, Codford St Mary, Codford St Peter, Cold Harbour, Colerne, Collingbourne Ducis, Collingbourne Kingston, Compton, Compton Bassett, Compton Chamberlayne, Conkwell, Conock, Coombe, Coombe Bissett, Coped Hall, Corsham, Corsham Side, Corsley, Corsley Heath, Corston, Corton, Cottles, Coulston, Countess, Court Street, Cowbridge, Cowesfield, Cowesfield Green, Cricklade, Crockerton, Crofton, Crooked Soley, Cross Keys, Croucheston, Crudwell, Culverham, Dauntsey, Dauntsey Green, Dauntsey Lock, Dazel Corner, Deptford, Derry Hill, Dertfords, Devizes, Dilton, Dilton Marsh, Dinton, Ditchampton, Ditteridge, Dogridge, Donhead St Andrew, Donhead St Mary, Downton, Draycot Cerne, Draycot Fitz Payne, Drews Pond, Drynham, Dunge, Dunkirk, Durley, Durnford, Durrington, East Chisenbury, East Coulston, East Everleigh, East Gomeldon, East Grafton, East Grimstead, East Harnham, East Hatch, East House Estate, East Kennet, East Knoyle, East Sharcott, East Tytherton, East Winterslow, Eastcott, Eastcourt, Easterton, Easton, Easton Grey, Easton Piercy, Easton Royal, Easton Town, Eastrip, Ebbesborne Wake, Eden Vale, Edington, Elley Green, Elston, Enford, Erlestoke, Etchilhampton, Everleigh, Eysey, Faberstown, Farleigh Wick, Ferne Park, Fiddington, Fifield, Fifield Bavant, Figheldean, Filands, Fir Hill, Firsdown, Fisherton de la Mere, Fittleton, Flintham Hill, Fonthill Bishop, Fonthill Gifford, Ford, Forest, Fosbury, Foscote, Fovant, Foxham, Foxley, Free Trade, Frogmore, Froxfield, Fugglestone St Peter, Fyfield, Gare Hill, Garsdon, Gasper, Gastard, Giddea Hall, Goatacre, Gomeldon, Gores, Grafton, Great Bedwyn, Great Chalfield, Great Durnford, Great Field, Great Hinton, Great Somerford, Great Wishford, Green Hill, Greenhill, Greenway Lane, Greenway Park, Greenways, Grimstead, Grittenham, Grittleton, Grovely Wood, Gutch Common, Ham, Hamptworth, Hanging Langford, Hankerton, Happy Land, Hardenhuish, Hartham, Hawkeridge, Hawkstreet, Hawthorn, Haxon (Or Haxton, Haxton (Or Haxon, Hayes Knoll, Hazeland, Heddington, Heddington Wick, Henfords Marsh, Henley, Heytesbury, Heywood, Higher Coombe, Highway, Hill Deverill, Hillcott, Hillworth, Hilmarton, Hilperton, Hilperton Marsh, Hindon, Hippenscombe, Hisomley, Holloway, Holt, Holwell, Homington, Honey Street, Hook, Horningsham, Horsepool, Horseshoes, Horsey Down, Horton, Hudswell, Huish, Hullavington, Hurdcott, Idmiston, Iford, Inmarsh, Ireland, Keevil, Kellaways, Kent End, Kilmington, Kilmington Common, Kilmington Street, Kings Down, Kingston Deverill, Kington Langley, Kington St Michael, Knighton, Knockdown, Knook, Knowle, Lacock, Landford, Landsend, Lane End, Langley Burrell Without, Larkhill, Latton, Laverstock, Lea and Cleverton, Leigh, Leigh Delamere, Leigh Green (Lye Green, Limpers Hill, Limpley Stoke, Little Ann, Little Ashley, Little Bedwyn, Little Chalfield, Little Durnford, Little Horton, Little Langford, Little London, Little Marsh, Little Salisbury, Little Somerford, Little Wishford, Littlecott, Littleton, Littleton Drew, Littleton Pannell, Littleworth, Lockeridge, Long Close, Long Dean, Longbridge Deverill, Longfield, Longford, Longhedge, Longsplatt, Longstreet, Lopcombe Corner, Lotmoor, Lover, Lowbourne, Lowden, Lowden Hill, Lower Chicksgrove, Lower Chute, Lower Coombe, Lower Everleigh, Lower Seagry, Lower Stanton St Quintin, Lower Studley, Lower Waterhay, Lower Westwood, Lower Whitbourne, Lower Woodford, Lower Wraxall, Lower Zeals, Luckington, Ludgershall, Ludwell, Lydiard Green, Lydiard Millicent, Lydiard Tregoze, Lye Green (Leigh Green, Lyes Green, Lyneham, Lypiatt, Maddington, Maiden Bradley, Maiden Bradley With Yarnfield, Malmesbury, Manningford, Manningford Abbotts, Manningford Bohune, Manningford Bruce, Manton, Marden, Market Lavington, Marlborough, Marridge Hill, Marston, Marston Maisey, Marston Meysey, Marten, Martinslade, Melksham, Melksham Without, Mere, Middle Coombe, Middle Whitbourne, Middle Winterslow, Middle Woodford, Middlehill, Milbourne, Mildenhall, Mile Elm, Milford, Milkhouse Water, Milkwell, Milston, Milton, Milton Lilbourne, Minety, Minety Common, Minety Lower Moor, Monkton Deverill, Monkton Farleigh, Mooray, Moorgreen, Morgans Vale, Mount Pleasant, Mountain Bower, Muddyford, Murcott, Murhill, Nash Hill, Neston, Nether Street, Netheravon, Netherhampton, Nettleton, Nettleton Shrub, Netton, New House Green, New Mill, New Sarum, New Town, New Zealand, Newbury, Newton, Newton Tony, Newtown, Nine Elms, Nore Marsh, Norleaze, Norridge, Norrington Common, North Bradley, North Burcombe, North Common, North Newnton, North Tidworth, North Wraxall, Norton, Norton Bavant, Norton Ferris, Notton, Nunton, Nursteed, Oaksey, Oaksey Green, Oare, Odstock, Ogbourne Maizey, Ogbourne St Andrew, Ogbourne St George, Old Hollow, Old Sarum, Orcheston, Orcheston St George, Orcheston St Mary, Over Street, Overton Heath, Oxenwood, Patney, Patterdown, Paven Hill, Payne (Draycot Fitzpayne, Peckingell, Pembroke Park, Penleigh, Perham Down, Perry Green, Pertwood, Petersfinger, Pew Hill, Pewsey, Pewsey Wharf, Pewsham, Pickwick, Pinkney Or Sherston Parva, Pintney (Or Sherston Parva, Pitton and Farley, Porton, Potterne, Potterne Wick, Potters Hill, Pottle Street, Poulshot, Pound Pill, Preshute, Preston, Prospect, Prospect (Prospect Place, Purlpit, Purton, Purton Common, Purton Stoke, Pythouse, Queen Oak, Quemerford, Quemerford Common, Quemerford Gate, Quidhampton, Ram Alley, Ramsbury, Ratford, Ratfyn, Red Pit, Redlynch, Redstocks, Restrop, Reybridge, Ridge, Rivar, Rixon Gate, Rockley, Rodbourne, Rollestone, Rook Street, Roundway, Rowde, Rowden, Rudge, Rudloe, Rushall, Rushmore Park, Salisbury, Salterton, Sambourne, Sandridge, Sandridge Common, Sandy Lane, Savernake, Sawyers Hill, Scotland, Seagry, Sedgehill and Semley, Seend, Seend Cleeve, Sells Green, Semington, Serrington, Sevington, Shalbourne, Shaw, Shear Cross, Sheldon, Sherrington, Sherston, Sherston Parva (Or Pintney, Shoe Hamlet, Shootend, Short Street, Shrewton, Shripple, Shurnhold, Silver Street, Slaughterford, Sling, Sopworth, South Burcombe, South Newton, South Tedworth, South Wraxall, Southbrook, Southcott, Southend, Southwick, Sparoad, Spirthill, St Bartholomews Hill, St Ediths Marsh, St Martins, St Paul Malmesbury Without, St Pauls, Standen, Standlynch, Stanley, Stanton St Bernard, Stanton St Quintin, Stapleford, Staples Hill, Startley, Staverton, Steeple Ashton, Steeple Langford, Stert, Stibb Green, Stitchcombe, Stockbridge Road, Stockley, Stockton, Stoford, Stoke Farthing, Stonehenge, Stonehill, Stoppers Hill, Stormore, Stourton, Stourton With Gasper, Stradbrook, Straight Soley, Stratford Sub Castle, Stratford Toney, Stratford Tony, Studley, Sturford, Stype, Sundeys Hill, Sunset Hill, Sunton, Sutton Benger, Sutton Mandeville, Sutton Row, Sutton Veny, Swallowcliffe, Swan, Swindon, Teffont, Teffont Evias, Teffont Magna, The Close, The Common, The Folly, The Forty, The Gib, The Green, The Linleys, The Quarry, The Ridge, The Shoe, The Spa, The Stocks, The Strand, Theobalds Green, Thickwood, Thingley, Thornend, Thornhill, Thoulstone, Tidcombe and Fosbury, Tidling Corner, Tidworth, Tilshead, Tinhead, Tisbury, Tockenham, Tockenham Wick, Tollard Royal, Tomkins Pool, Tottens, Totterdown, Townsend, Trowbridge, Trowle Common, Tuckingmill, Turleigh, Tytherington, Tytherton Lucas, Uffcott, Ugford, Upavon, Upper Castle Combe, Upper Chicksgrove, Upper Chute, Upper Draycot, Upper Seagry, Upper Stanton, Upper Studley, Upper Town, Upper Waterhay, Upper Westwood, Upper Whitbourne, Upper Woodford, Upper Wraxall, Uppington, Upton, Upton Lovell, Upton Scudamore, Urchfont, Victoria Park, Vowley, Wadswick, Wardour, Warminster, Warminster Common, Wedhampton, Well Head, West Amesbury, West Ashton, West Chisenbury, West Common, West Coulston, West Dean, West End, West Gomeldon, West Grafton, West Grimstead, West Harnham, West Kennett, West Kington, West Kington Wick, West Knoyle, West Lavington, West Overton, West Sharcott, West Stowell, West Tisbury, West Winterslow, West Yatton, Westbrook, Westbury, Westbury Leigh, Westcourt, Westrop, Westwells, Westwood, Wexcombe, Whaddon, White Cross, White Hill, White Street, Whitefield, Whiteparish, Whitley, Whittonditch, Wick, Wick Green, Wick Hill, Widbrook, Widham, Wilcot, Wilcot Green, Willesley, Wilsford, Wilsford Cum Lake, Wilton, Wincombe, Wingfield, Wingfield Common, Winsley, Winterbourne, Winterbourne Bassett, Winterbourne Dauntsey, Winterbourne Earls, Winterbourne Gunner, Winterbourne Monkton, Winterbourne Stoke, Winterslow, Wishford, Witherington, Wolverton, Woodborough, Woodcock, Woodfalls, Woodford, Woodmarsh, Woodminton, Woodrow, Woodsend, Woolley, Woolmore, Wootton Bassett, Wootton Rivers, Worton, Wylye, Yarnbrook, Yatesbury, Yatton Keynell, Zeals
Towns and Villages of Hampshire
Tel 02392 505602' Explosion' Museum of Naval Firepower
Museum of Naval Firepower, Priddy's Hard, Gosport, PO12 4LE
Tel 01420 86565 Alton Grange Hotel
London Road, Alton, Hampshire, GU34 4EG
Tel 02392 510005 Alverbank Country House Hotel
Stokes Bay, Alverstoke, Gosport, PO12 2QT
Tel 01256 796700 Apollo Hotel
Aldermaston Roundabout, Popley Way, Basingstoke, Hampshire, RG24 9NU
Tel 01256 817555 Audleys Wood Hotel
Alton Road, Basingstoke, Hampshire, RG25 2JT
Tel 01962 779260 Avington Park
Winchester, Hampshire, SO21 1DB
Tel 01590 623116 Balmer Lawn Hotel
Lyndhurst Road , Brockenhurst, Hampshire, SO42 7ZB
Tel 01256 764161 Barcelo Basingstoke Country Hotel
Nately Scures, Scures Hill, Nr Hook, RG27 9JS
Tel 02380 812248 Bartley Lodge Hotel
Cadnam , Hampshire, SO40 2NR
Tel 01794367126 Berrydown Barn
Berrydown Farm, Farley Chamberlayne, Winchester, SO51 0QN
Tel 01489 892460 Bishops Waltham Palace
Winchester Road, Bishops Waltham, Hampshire, SO32 1DH
Tel 01489 787700 Botleigh Grange Hotel
Grange Road , Hedge End, Southampton, SO30 2GA
Tel 01489 780888 Botley Park Hotel Golf and Country club
Winchester Road, Boorley Green, Botley, Southampton, SO32 2UA
Tel 01243 373363 Brookfield Hotel
93 Havant Road, Emsworth, Hampshire, Po10 7LF
Tel 01425 403522 Burley Manor Hotel
Burley, Ringwood, Hampshire, BH24 4BS
Tel 02380 402 286 Bursledon Village Hall
Long Lane, Bursledon, Southampton, SO31 8BZ
Tel 08451 309966 Cain Manor
Churt Road, Headley Down, Hampshire, GU35 8SR
Tel 01329 227444 Cams Hall
Cams Hill, Fareham, Hampshire, PO16 8AB
Tel 01590 623551 Careys Manor Hotel
Lyndhurst Road, Brockenhurst, Hampshire, SO42 7RH
Tel 01252 873275 Casa Dei Cesari Hotel
Handford Lane, Cricket Hill, Yateley, Hampshire, GU46 6BT
Tel 01420541010 Chawton House Library
Chawton, Alton, Hampshire, GU34 1SJ
Tel 01425 275341 Chewton Glen Hotel
Christchurch Road, New Milton, Hampshire, BH25 6QS
Tel 02380 767333 Chilworth Manor
Chilworth , Southampton, Hampshire, SO16 7PT
Tel 01256 896006 Clock Barn
Tufton Warren, Whitchurch, Hampshire, RG28 7RH
Tel 02392 267029 Cowplain Activity Centre
Padnall Road, Cowplain, Hampshire, PO8 8EH
Tel 01425 672404 East Close Country Hotel
Lyndhurst Road, Hinton St Michael, Nr Christchurch, BH23 7EF
Tel 02380 602111 East Horton Golf Centre
Mortimers Lane, Fair Oak, Eastleigh, SO50 7EA
Tel 01329 221338 Edwinns Brasserie
68 High Street, Fareham, Hampshire, PO16 7BB
Tel 01590 676011 Elmers Court Country Club
South Baddesley Road, Lymington , Hampshire, SO41 5ZB
Tel 01264 736444 Esseborne Manor Hotel
Hurstborne Tarrant, Andover, Hampshire, SP11 0ER
Tel 02380 891203 Exbury Gardens
Exbury, Southampton, Hampshire, SO45 1AZ
Tel 01329 824864 Ferneham Hall
Osborn Road, Fareham, Hampshire, PO16 7DB
Tel 02380 283677 Forest Lodge Hotel
Pikes Hill, Lyndhurst, Hampshire, SO43 7AS
Tel 01590 622844 Forest Park Hotel
Rhinefield Road, Brockenhurst, Hampshire, SO42 7ZG
Tel 02380 846310 Fountain Court Hotel
Frost Lane, Hythe, Southampton, SO45 3NE
Tel 01252 853000 Four Seasons Hotel
Dogmersfield Park, Chalky Lane, Dogmersfield, Hook, Hampshire, RG27 8TD
Tel 01256 816664 Hampshire court Hotel
Centre Drive, Great Binfields Road, Chineham, Basingstoke, RG24 8FY
Tel 02392 463 768 Hayling Island Sailing Club
Hayling Island, Sandy Point, Hampshire, PO11 9SL
Tel 01420 472810 Headley Park Hotel
Picketts Hill, Sleaford, Bordon, Hampshire, GU35 8TE
Tel 01189 326868 Heckfield Place
Heckfield, Nr Hook, Hampshire, RG27 0LD
Tel 01425 473973 High Corner Inn
Linwood, Ringwood , Hampshire, BH24 3QY
Tel 01635 253210 Highclere Castle
Newbury, Berkshire, RG20 9RN
Tel 0118 932 6369 Highfield Park
Heckfield, Nr Hook, Hampshire, RG27 0LG
Tel 01256 460460 Hilton Basingstoke
Old Common Road, Blackdam , Basingstoke, RG21 3PR
Tel 02380 702700 Hilton Southampton
Bracken Place, Chilworth, Southampton, SO16 3RB
Tel 0870 400 9075 Holiday Inn Eastleigh
Leigh Road, Eastleigh, Hampshire, SO50 9PG
Tel 0870 400 9029 Holiday Inn Farnborough
Lynchford Road, Farnborough, Hampshire, GU14 6AZ
Tel 0870 400 9028 Holiday Inn,Fareham-Solent
Cartwright Drive, Titchfield, Fareham, PO15 5RS
Tel 01256 762630 Hook House Hotel
London Road, Hook, Hampshire, RG27 9EQ
Tel 01962 841414 Hotel Du Vin
Hotel Du Vin, Southgate Street, Winchester, SO23 9EF
Tel 02380 292272 Hotel Terra Vina
174 Woodlands Road, Woodlands, Southampton, SO40 7GL
Tel 01794 388389 Houghton Lodge
Stockbridge, Hampshire, SO20 6LQ
Tel 01962 863588 Lainston House Hotel
Sparsholt, Winchester , Hampshire, SO21 2LT
Tel 01730 266941 Langrish House Hotel
Langrish House, Langrish, Petersfield, GU32 1RN
Tel 02392 465011 Langstone Hotel
Northney Road, Hayling Island, Hampshire, PO11 0NQ
Tel 01252 628555 Lismoyne Hotel
Church Road, Fleet , Hampshire, GU51 5NE
Tel not provided Lismoyne Hotel
Church Road, Fleet, Hampshire, GU51 4NE
Tel 01590 672337 Lymington Community Centre
New Street, Lymington, Hampshire, SO41 9BQ
Tel 02380 283923 Lyndhurst Park Hotel
Lyndhurst Park Hotel and Restaurant, High Street, Lyndhurst , Hampshire, SO43 7NL
Tel 01329 822622 Lysses House
51 High Street, Fareham, Hampshire, PO16 7BQ
Tel 01962 777407 Marwell Hall
Marwell Zoological Park, Colden Common, Winchester, SO21 1JH
Tel 01962 777681 Marwell Hotel
Thompsons Lane, Colden Common, Hampshire, SO21 1JY
Tel 01590 616253 Master Builders House Hotel
Bucklers Hard, Beaulieu, Hampshire, SO42 7XB
Tel 01425 403285 Moorhill House Hotel
Burley, Nr Ringwood, Hampshire, BH24 4AG
Tel 01794 340757 Mottifont Abbey
Mottifont , Near Romsey, Hampshire, SO51 0LP
Tel 01590 623116 New Park Manor Hotel
Lyndhurst Road, Brockenhurst, Hampshire, SO42 7QH
Tel 01329 833543 New Place
High Street, Shirrell Heath, Southampton, SO32 2JH
Tel 02392 466131 Newtown House Hotel
Manor Road, Hayling Island, Hampshire, PO11 0QR
Tel 01420 525325 Northbrook Park
Nr Bentley, Farnham, Hampshire, GU10 5EU
Tel 01962 763000 Norton Park
Sutton Scotney, Winchester, Hampshire, SO21 3NB
Tel 01256 783350 Oakley Hall
Rectory Road, Oakley, Basingstoke, RG23 7EL
Tel 01428 724555 Old Thorns Golf & Country Estate
Griggs Green , Liphook, Hampshire, GU30 7PE
Tel 01256 850934 Pamber Place
Pamber End, Tadley, Hampshire, RG26 5QJ
Tel 01590 682398 Passford House Hotel
Mount Pleasant Lane, Lymington, Hampshire, SO41 8LS
Tel 02392 210070 Portchester Marriage Rooms
Westlands Grove, Portchester, Fareham, PO16 9AD
Tel 01264 369111 Quality Hotel Andover
Micheldever Road, Andover, Hampshire, SP11 6LA
Tel 01256 328525 Red Lion Hotel
London Street, Basingstoke, Hampshire, Rg21 7Ny
Tel 01590 622922 Rhinefield House Hotel
Rhinefield Road, Brockenhurst, Hampshire, SO42 7QB
Tel 01962 771111 Riversdown Estate
Warnford, Southampton, Hampshire, SO32 3LH
Tel 01734 700421 Romans Country House Hotel
Little London Road, Silchester, Nr Reading , Berkshire, RG7 2PN
Tel 01794 512837 Romsey Town Hall
Romsey Town Council, Town Hall, 1 Market Place , Romsey , SO51 8YZ
Tel 01329 233734 Royal Armouries
Fort Nelson, Portsdown Hill Road, Fareham, PO17 6AN
Tel 023 9252 9952 Royal Naval Submarine Museum
Haslar Jetty Road, Gosport, Hampshire, PO12 2AS
Tel 01635 297881 Sandford Springs Golf Club
Kingsclere, Hampshire, RG26 5RT
Tel 01256 884800 Sherfield
Sherfield-on-Loddon, Hampshire, RG27 0HT
Tel 0118 9701901 Silchester House
Holly Lane , Silchester, RG7 2LT
Tel 01794 369300 Sir Harold Hillier Gardens
Jermyns Lane, Romsey, Hampshire, SO51 0QA
Tel 01425 480819 Somerley House
Somerley House, Ringwood , Hampshire, BH24 3PL
Tel 01425 674196 Sopley Mill
Mill Lane, Sopley , Nr Christchurch, Dorset, BH23 7AU
Tel 01590 643911 South Lawn Hotel
Lymington Road, Milford on Sea, Hampshire, SO41 0RF
Tel 01590 677123 Stanwell House Hotel
High Street , Lymington, Hampshire, SO41 9AA
Tel not provided Staunton Country Park
Middle Park Way, Havant, Hampshire, PO9 5HB
Tel 01590 682754 Sway Manor Restaurant and Hotel
Station Road, Sway, Lymington, SO41 6RA
Tel 0807 7522235 Tadley Court
Tadley Common Road, Tadley, Hampshire, RG26 3TB
Tel 01420 80033 The Alton House Hotel
Normandy Street, Alton, Hampshire, GU34 1DW
Tel 02392 582157 The Anglesey in the Crescent
24 Cresent Road, Alverstoke, Gosport, PO12 2DH
Tel 01420 520351 The Barn at Bury Court
Bury Court, Bentley, Farnham, GU10 5LZ
Tel not provided The Beaulieu Estate
c/o John Montagu Building, Beaulieu, Brockenhurst, SO42 7ZN
Tel 02380 293344 The Beaulieu Hotel
Beaulieu Road, Lyndhurst, Hampshire, SO42 7YQ
Tel 01962 851555 The Chesil Rectory
1 Chesil Street, Winchester, Hampshire, SO23 0HU
Tel 02380 282922 The Crown Hotel
High Street, Lyndhurst, Hampshire, SO43 7NF
Tel 01252 844871 The Elvetham
Hartley Wintney, Hampshire, RG27 8AR
Tel 01252 545378 The Falcon Hotel
68 Farnborough Road, Farnborough, Hampshire, GU14 6TH
Tel 01590 846230 The Gate House
Sway Road, Lymington , Hampshire, SO41 8LP
Tel 01264 810606 The Grosvenor Hotel
High Street, Stockbridge, Hampshire, SO20 6EU
Tel 01264 368000 The Guildhall
High Street, Andover, Hampshire, SP10 1LP
Tel 01705 552841 The Irving Rooms
Lee on Solent Community Centre, 51 Twyford Drive, Lee on Solent, Hampshire, PO13 8JU
Tel 01730 265500 The Manor Barn
Buriton , Petersfield, GU31 5RT
Tel 01329 833455 The Marriott Meon Valley Hotel & Country Club
Sandy Lane, Shedfield, Southampton, SO32 2HQ
Tel 01590 612324 The Montagu Arms Hotel
Beaulieu, New Forest, Hampshire, SO42 7ZL
Tel 01256 783350 The Oakley Hall
Rectory Road, Oakley, Nr Basingstoke, RG23 7EL
Tel 01256 704260 The Old Barn
Blubeckers, Mill House, North Warnborough, Hampshire, RG29 1ET
Tel 01329 833049 The Old House Hotel
The Square, Wickham, Hampshire, PO17 5JG
Tel 02380 266611 The Potters Heron Hotel
Ampfield , Nr Romsey, Hants, SO51 9ZF
Tel 02380 472002 The Rose Bowl
Hampshire County Cricket Club , Botley Road, West End, SO30 3XH
Tel 01489 880000 The Solent Hotel
Rookery Avenue , Whiteley , Fareham, PO15 7JJ
Tel 01730 825562 The Tithe Barn
Old Ditcham Farm, Ditcham, Petersfield, Hampshire, GU31 5RQ
Tel not provided The University of Winchester
The West Downs Centre, Romsey Road, Winchester, SO22 5HT
Tel 01256 881337 The Vyne
Sherborne St John, Basingstoke, Hampshire, RG24 9HL
Tel 01256 322188 The Wellesley Suite
Goldings, London Road, Basingstoke, Hampshire, RG21 4AN
Tel 01962 797259 The Wessex Conference Centre
Sparsholt College, Sparsholt , Winchester, SO12 2NF
Tel 01962 861611 The Wessex Hotel
Paternoster Row , Winchester, Hampshire, SO23 9LQ
Tel 07795 437368 The Winchester Hotel
Worthy Lane, Winchester, SO23 7AB
Tel 01962 840840 The Winchester Royal Hotel
St Peter Street, Winchester , Hampshire, SO23 8BS
Tel 01962 844600 Theatre Royal Winchester
21-23 Jewry Street, Winchester, Hampshire, SO23 8SB
Tel 01256 764881 Tylney Hall
Rotherwick , Hook, Hampshire, RG27 9AZ
Tel 01425 672646 Tyrrells Ford Hotel
Avon, Nr Christchurch, Dorset, BH23 7BH
Tel 01489 878507 Upland Park Hotel
Garrison Hill, Droxford, Southampton, SO32 3QL
Tel 01489 878507 Upland park Hotel
Garrison Hill, Droxford, Hampshire, SO32 3QL
Tel 0118 9732174 Warbrook House
Warbrook Lane, Eversley, Hampshire, RG27 0PL
Tel 01590 643044 Westover Hall Hotel
Park Lane, Milford on Sea, Lymington, SO41 0PT
Tel 01590 622354 Whitley Ridge Hotel
Beaulieu Road, Brockenhurst, Hampshire, SO42 7QL
Tel 01962 840820 Winchester Guildhall
The Broadway, Winchester, Hampshire, SO23 9LJ
Tel 01244 571208 Winchfield House
Odiham Road, Winchfield, Hook, RG27 8BS
Tel 02380 470888 Winslowe House
Quob Lane, West End, Southampton, SO30 3HN
Tel 02380 292257 Woodlands Lodge Hotel
Bartley Road, Woodlands, Southampton, SO40 7GN
Abbots Worthy, Abbotstone, Abbotts Ann, Abbotts Barton, Adbury, Aldershot, Alice Holt, Allbrook, Allenford, Allington, Alresford, Alton, Alverstoke, Ampfield, Amport, Anchor, Andover, Andover Down, Andwell, Anglesey, Anmore, Anna Valley, Anns Hill, Anstey, Anthill Common, Appleshaw, Appleslade Bottom, Arford, Arnewood, Arnewood Common, Ashe, Ashe Park, Ashe Warren, Ashfield, Ashford, Ashford Hill, Ashford Hill With Headley, Ashlett, Ashley, Ashley Walk, Ashmansworth, Ashton, Ashurst and Colbury, Ashurst Bridge, Avington, Avon, Awbridge, Axford, Badger Farm, Bagmore, Bagnum, Bailey Green, Baileys Down, Balksbury Hill, Ball Hill, Balmerlawn, Bank, Bar End, Barford, Barnes Close, Barnet Side, Barrow Hill, Bartley, Bartley Heath, Barton, Barton Common, Barton on Sea, Barton Stacey, Bashley, Basing, Basingstoke, Basingstoke Down, Battramsley, Baughurst, Baybridge, Beacon Bottom, Bearslane End, Beaulieu, Beaulieu Rails, Beauworth, Beckley, Bedenham, Bedhampton, Bedlam Bottom, Beech, Beech Hill, Bell Hill, Bentley, Bentworth, Bere Hill, Berry Down, Beufre, Bickerley Common, Bickton, Bidden, Bighton, Binley, Binsted, Binswood, Bishops Green, Bishops Sutton, Bishops Waltham, Bishopstoke, Bisterne, Bisterne Close, Bittles, Blackfield, Blackheath, Blackhill, Blackmoor, Blacknest, Blackwater, Blackwater and Hawley, Blashford, Bleak Hill, Blendworth, Blissford, Boarhunt, Boldre, Boorley Green, Bordean, Bordon, Bordon Camp, Borough Hill, Bossington, Botley, Botley Station, Boulsbury, Bowling Alley, Bowyers Common, Bradley, Braishfield, Brambridge, Bramdean, Bramley, Bramley Corner, Bramley Green, Bramshaw, Bramshill, Bramshott and Liphook, Bramshott Chase, Bransbury, Bransgore, Breamore, Bridgemary, Brixedone, Broad Laying, Broad Oak, Broadhanger, Broadlands Park, Broadmere, Brockbridge, Brockenford, Brockenhurst, Brockenhurst Weirs, Brockhampton, Brockhurst, Brocks Green, Brook, Brook Heath, Brook Hill, Broomy, Broughton, Brown Candover, Browndown, Brownhill Park, Browninghill Green, Brunes Purlieu, Buckholt, Buckland, Bucklers Hard, Bucks Horn Oak, Buddle, Bullington, Bunkers Hill, Bunstead, Burgate, Burghclere, Buriton, Burkham, Burley, Burley Street, Burridge, Bursledon, Bury, Butlocks Heath, Buttsash, Cadnam, Caigers Green, Calmore, Calshot, Camdentown, Canada, Candovers, Canterton, Cargate, Carters Clay, Catherington, Catherington Hill, Catisfield, Causeway, Chalton, Chandlers Ford, Charlton, Charlwood, Charter Alley, Chatter Alley, Chattis Hill, Chawton, Cheriton, Chidden, Chilbolton, Chilbolton Common, Chilbolton Down, Chilcomb, Chilland, Chilton Candover, Chilworth, Chineham, Chiphall, Church Common, Church Crookham, Church End, Clanfield, Clanville, Clarken Green, Clatford Oakcuts, Clayhall, Clayhill, Cleve Hill Down, Cliddesden, Cold Harbour, Colden Common, Coldrey, Cole Henley, Colemore and Priors Dean, Colt Hill, Common, Compton, Compton and Shawford, Conford, Coombe, Copythorne, Corhampton and Meonstoke, Cottonworth, Court Corner, Cove, Cove Bungalows, Cow Down, Cowplain, Crampmoor, Cranbourne, Crawley, Cricket Hill, Criddlestyle, Crockerhill, Crofton, Crondall, Crookham, Crookham Village, Crow, Crowdhill, Crowsport, Crux Easton, Cuckoos Corner, Cufaude, Culvers Close, Cupernham, Curbridge, Curdridge, Custards, Damerham, Darby Green, Deadwater, Dean, Deane, Deanlane End, Denmead, Denny Lodge, Densome, Denvilles, Dibden, Dibden Purlieu, Dilton, Dipley, Dippenhall, Ditcham, Doctors Hill, Dodwell, Doglets, Dogmersfield, Doras Green, Downton, Drayton, Drayton Pump, Droxford, Duck Street, Dummer, Dunbridge, Dundridge, Dunley, Dunwood, Durley, Durley Street, Durns Town, Durrants, East Anton, East Aston, East Boldre, East Bramshaw, East Cholderton, East Dean, East End, East Green, East Lane, East Leigh, East Liss, East Martin, East Meon, East Oakley, East Stratton, East Tisted, East Tytherley, East Wellow, East Woodhay, East Worldham, Eastland Gate, Eastoke, Easton, Eastover, Eastrop, Ecchinswell and Sydmonton, Egbury, Egypt, Eling, Ellingham, Ellisfield, Elmore, Elson, Elvetham, Emery Down, Empshott, Empshott Green, Emsworth, Enham Alamein, Eversley, Eversley Centre, Eversley Cross, Everton, Ewhurst, Ewshott, Exbury and Lepe, Exton, Eyeworth, Faberstown, Faccombe, Fair Cross, Fair Oak, Fair Oak and Horton Heath, Fair Oak Green, Fairdown, Fareham, Farleigh Wallop, Farley, Farnborough, Farnborough Green, Farnborough Park, Farnborough Street, Farringdon, Fawley, Fernhill, Filmore Hill, Finchdean, Finkley, Fishers Pond, Five Heads, Fleet, Fleet End, Fletchwood, Flushards, Fordingbridge, Fort Brockhurst, Fort Nelson, Forton, Four Marks, Fox Farm, Foxbury, Foxcotte, Foxdown, Foxhills, Freefolk, Freefolk Manor, Freefolk Priors, French Wood, Frenchmoor, Fritham, Frithend, Frobury, Frogham, Frogmore, Frost Hill, Frostlane, Froxfield, Froyle, Fryern Hill, Fulflood, Fullerton, Funtley, Furze Hill, Furzeley, Furzeley Corner, Furzey Lodge, Fyfield, Gable Head, Gally Hill, Gambledown, Gander Down, Ganger Camp, Garlogs, Georgia Down, Gilbert Street, Gins, Glebe, Glidden, Gobley Hole, Godsfield, Godshill, Godwinscroft, Golden Pot, Gomer, Goodworth Clatford, Goose Hill, Gore, Gore End, Gosport, Grateley, Grately, Gravel Hill, Grayshott, Great Knowl Hill, Great Posbrook, Great Shoddesden, Greatham, Greenbank, Greywell, Griggs Green, Gunville, Guss, Hale, Halterworth, Ham Down, Hamble, Hamble-le-Rice, Hambledon, Hamer, Hammer Bottom, Hammonds Green, Hampshire Cross, Hangersley Hill, Hannington, Harbridge Green, Hardley, Hardway, Harestock, Harewood Peak, Harfields, Harrow, Hart Hill Down, Hartfordbridge, Hartley Mauditt, Hartley Row, Hartley Wespall, Hartley Wintney, Haslar, Hatch Bottom, Hatchet Green, Hatherden, Hatt, Hattingley, Havant, Hawkley, Hawthorn, Hay Place, Hayling Island, Hazeley, Hazeley Camp, Hazeley Down, Hazeley Heath, Headbourne Worthy, Headley, Headley Down, Headley Heath End, Heath End, Heath Green, Heathfield, Heckfield, Hedge End, Henley, Hensting, Herriard, Hewshott, High Cross, High Town, Highbridge, Highclere, Highclere Street, Highcliffe, Highcliffe Park, Highfield, Highwood, Hill Brow, Hill Corner, Hill Grove, Hill Head, Hill Park, Hill Pound, Hill Side, Hill Top, Hillstreet, Hiltingbury, Hinton, Hinton Admiral, Hinton Ampner, Hinton Marsh, Hipley, Hockley, Hocombe, Hoddington, Hoe, Hoe Gate, Hoeford, Hogdigging, Holbury, Holland Bottom, Hollington, Hollington Cross, Holly Cross, Hollywater, Holmsley, Holt, Holt End, Holt Pound, Holybourne, Hook, Hook Common, Hoopers Bottom, Hordle, Horndean, Horris Hill, Horsebridge, Horsedown Common, Horseport, Horton Heath, Houghton, Houghton Drayton, Hound, Hound Green, Houndsdown, Hughs Common, Hundred Acres, Hungerford, Huntbourn, Hunton, Hursley, Hurstbourne, Hurstbourne Hill, Hurstbourne Priors, Hurstbourne Tarrant, Hut Hill, Hyde, Hyde Common, Hythe, Hythe and Dibden, Ibsley, Ibthorpe, Ibworth, Idsworth, Inhurst, Isington, Itchen Abbas, Itchen Stoke and Ovington, Itchen Valley, Jack Goddards Moor, Jacks Bush, Jobs Corner, Keeping, Kents Oak, Keyhaven, Kilmeston, Kilmiston, Kiln Green, Kimbridge, Kimpton, Kimpton Down, King Alfred Place, Kings Meads, Kings Somborne, Kings Somborne, Kings Worthy, Kingsclere, Kingsfield, Kingsley, Kingston, Kite Hill, Kitwood, Knapp, Knights Enham, Knowle, Ladwell, Lainston, Lane End, Langdown, Langley, Langrish, Langstone, Lasham, Latchmore Green, Laverstoke, Laverstoke Grange, Leagreen, Leckford, Lee, Lee-on-the-Solent, Leesland, Leigh Park, Leydene, Lindford, Linford, Link, Linkenholt, Linwood, Liphook, Lisle Court, Liss, Liss Forest, Litchfield and Woodcott, Little Ann, Little Basing, Little Brownwich, Little Buckland, Little Down, Little Holbury, Little London, Little Park, Little Posbrook, Little Shoddesden, Little Somborne, Little Stoney Cross, Littleton and Harestock, Lockerley, Locks Heath, London Minstead, Long Beech Camp, Long Common, Long Down, Long Park, Long Sutton, Longmead, Longmoor Camp, Longparish, Longstock, Longwood Dean, Lopshill Common, Lovedean, Lower Ashley Common, Lower Barford, Lower Bordean, Lower Brook, Lower Buckland, Lower Burgate, Lower Common, Lower Daggons, Lower Eldon, Lower Exbury, Lower Farringdon, Lower Froyle, Lower Green, Lower Pennington, Lower Ratley, Lower Soldridge, Lower Swanwick, Lower Upham, Lower Wield, Lower Wyke, Lowford, Ludshott Common, Luzborough, Lyde Green, Lyeway, Lymbourne, Lymington, Lymington and Pennington, Lymore, Lynch, Lynch Hill, Lyndhurst, Malshanger, Mansfield, Mapledurwell and Up Nately, Marchwood, Marsh Court, Martin, Martin Drove End, Martins Corner, Martyr Worthy, Mattingley, Mead End Corner, Meadend, Medstead, Melchet Park and Plaitford, Mellishes Bottom, Mengham, Meon, Meon Valley, Meonstoke, Micheldever, Michelmersh, Middle, Middle Street, Middle Wallop, Middle Wyke, Middleton, Midlington, Milford-on-Sea, Mill Green, Mill Lane, Millfield, Milton, Minley, Minstead, Mislingford, Mockbeggar, Money Hills, Monk Sherborne, Monkwood, Monxton, Moorcourt, Moorgreen, Moorhill, Moortown, Morestead, Mortimer West End, Mottisfont, Moulsham Green, Mount Pleasant, Mulfords Hill, Mullenspond, Murrell Green, Nashs Green, Nately Scures, Neacroft, Neatham, Nether Wallop, Netherton, Netley, Netley Abbey, Netley Marsh, New Alresford, New Brighton, New Down, New Milton, New Town, Newbridge, Newfound, Newgate, Newgrounds, Newnham, Newton Stacey, Newton Valence, Newtown, Newtown Common, Nightingale Bottom, Nine Mile Water, No Mans Land, Noar Hill, Nobs Crook, Nomansland, Norleywood, North Baddesley, North Boarhunt, North Charford, North End, North Fareham, North Farnborough, North Gorley, North Hayling, North Houghton, North Kingston, North Litchfield, North Oakley, North Poulner, North Ripley, North Stoneham, North Street, North Waltham, North Warnborough, Northbrook, Northend, Northington, Northney, Norton, Nursling and Rownhams, Nursted, Nutbane, Nutburn, Nutley, Oak Grove, Oakhanger, Oakley, Oakshott, Odiham, Ogdens, Old Alresford, Old Basing, Old Burghclere, Old Bursledon, Old Down, Old Netley, Old Turnpike, Olivers Battery, Orams Arbour, Ossemsley, Otterbourne, Outwick, Over Wallop, Overton, Ower, Owlesbury, Owslebury, Painters Fields, Palestine, Pamber, Pamber End, Pamber Green, Pamber Heath, Pardown, Park Estate, Park Gate, Park Prewett, Passfield, Paynes Hay, Peel Common, Pennington, Penton Grafton, Penton Mewsey, Penwood, Petersfield, Phoenix Green, Picket Piece, Picket Post, Picket Twenty, Pickets Hill, Pidden Hill, Pikeshill, Pilcot, Pill Heath, Pilley, Pilley Bailey, Pilot Hill, Pithill, Pithouse, Pitt, Pitts Deep, Plaitford Green, Plantation Hill, Plastow Green, Plumley, Pondtail, Pooksgreen, Popham, Portchester, Portmore, Portsmouth & Southsea, Posbrook, Pot Bottom, Potbridge, Poulner, Pound Green, Pound Hill, Pound Street, Preston Candover, Preston Down, Princes Marsh, Privett, Pucknall, Puckridge Hill, Purbrook, Purbrook Park, Purlieu, Pyotts Hill, Quarley, Quidhampton, Quomp, Rafborough, Ragged Appleshaw, Rake, Ramridge, Rams Hill, Ramsdean, Ramsdell, Ratlake, Red Hill, Redbrook, Redenham, Redhill, Redlands, Redrice, Ridge, Ridge Common, Ridgeway, Ringwood, Ripley, Riplington, Rockbourne, Rockford, Rockingham, Roe Downs, Romsey, Romsey Extra, Rook, Ropley, Ropley Dean, Rossen Gutter, Rotherwick, Rotten Green, Row Ash, Row Down, Rowlands Castle, Rowner, Rownhams, Roxfords, Rushmere, Rye Common, Saintbury Hill, Salterns, Salters Heath, Sandford, Sandleheath, Sandy Hill, Sarisbury, Sarisbury Green, Sarson, Scrag Hill, Scures Hill, Sea View, Seafield, Seamans Corner, Seamead Estate, Sedgensworth, Selborne, Selbourne, Selsmore, Setley, Shalden, Shawford (Compton and Shawford, Shawlands, Shedfield, Sheet, Sherborne St John, Sherfield English, Sherfield on Loddon, Shipton Bellinger, Shirley, Shirley Holms, Shirrell Heath, Shobley, Shootash, Shorley, Shortheath, Shotters, Shroner, Silchester, Silkstead, Sinah, Sladen Green, Sleaford, Sleepers Hill, Smannell, Snoddington Down, Snoddington Hill, Soak, Soberton, Soberton Heath, Soldridge, Somerley, Sopley, South Allenford, South Baddesley, South Charford, South End, South Gorley, South Ham, South Hayling, South Street, South Tidworth, South Town, South View, South Warnborough, South Wonston, Southampton, Southend, Southington, Southlea, Southleigh, Southrope, Southwick and Widley, Spanish Green, Sparsholt, Spearywell, Spratts Down, Spring Lane, Springvale, Spursholt, Squabb, St Cross, St Giles Hill, St Mary Bourne, Stanbridge, Standford, Standon, Stanmore, Stanswood, Stapely Down, Star Hill, Starve Acre, Steep, Steepleton, Steventon, Stockbridge, Stockheath, Stoke, Stoke Charity, Stoke Common, Stoke Park, Stokes Bay, Stone, Stonehills, Stoner Hill, Stoney Bottom, Stoney Cross, Stony Batter, Stony Heath, Stonymarsh, Stratfield Saye, Stratfield Turgis, Stroud, Stroud Common, Stroudwood, Stubbington, Stubbins Down, Stuckton, Sunnyside, Sutton Common, Sutton Scotney, Sutton Warblington, Swampton, Swanmore, Swanwick, Swarraton, Sway, Sydmonton, Tadley, Tadley Common, Tadley Hill, Tangley, Teg Down, Testcombe, Testwood, The Bench, The Borough, The Bury, The Butts, The Close, The Dell, The Dene, The Forest, The Furlong, The Knoll, The Lawn, The Marsh, The Mint, The Mount, The Point, The Pound, The Soke, The Straits, Thorn Hill, Thorney Hill, Thornhill, Thruxton, Thruxton Down, Thruxton Hill, Tichborne, Tichborne Down, Tidpit, Tidworth, Tilly Down, Tilmore Gardens, Timsbury, Tiptoe, Titchfield, Titchfield Common, Titchfield Park, Toothill, Tot Hill, Tote Hill, Totford, Totton, Totton and Eling, Tower Hill, Towns End, Tufton, Tunworth, Turgis Green, Turkey Island, Turmer, Twyford, Tye, Tylney, Up Green, Up Somborne, Upham, Upper Ashley Common, Upper Bridgemary, Upper Bullington, Upper Burgate, Upper Canterton, Upper Clatford, Upper Enham, Upper Farringdon, Upper Froyle, Upper Green, Upper Pennington, Upper Ratley, Upper Street, Upper Westley, Upper Wield, Upper Wootton, Upper Wyke, Upton, Upton Grey, Vereley, Vernham Bank, Vernham Row, Vernham Street, Vernhams Dean, Vicars Hill, Wadwick, Walhampton, Wall Down, Wallington, Waltham Chase, Warblington, Warnford, Warren, Warren Corner, Warsash, Water End, Waterditch, Waterford, Waterlooville, Watts Common, Weavers Down, Week Green, Weeke, Well, Wellow, Wellow Wood, West Common, West Dean, West Down, West End, West End Green, West Green, West Ham, West Heath, West Hill, West Meon, West Stratton, West Tisted, West Town, West Tytherley, West Wellow, West Worldham, Westfield, Westmeon, Weston, Weston Colley, Weston Corbett, Weston Patrick, Westover, Westridge, Weyhill, Weyhill Bottom, Wharf Hill, Wheat Hold, Wheatley, Wherwell, Whitchurch, Whitehall, Whitehill, Whiteley, Whitenap, Whitsbury, Whitway, Wickham, Wickham Common, Wicor, Wield, Wigley, Wildern, Wildhern, Wildmoor, Wilsom, Winchester, Winchfield, Winchfield Hurst, Windmill Hill, Winklebury, Winnall, Winslade, Winsor, Wintershill, Wishanger, Wivelrod, Wolverton, Wolverton Common, Wonston, Woodcott, Woodend, Woodfidley, Woodgreen, Woodhouse, Woodlands, Woodley, Woodmancott, Woodside, Woolton Hill, Wooton St Lawrence, Wootton, Wootton St Lawrence, Worldham, Worlds End, Worthy Down, Worthy Park, Worting, Worting Town End, Wyck, Yateley