Leona is based in London and has over fifteen years' experience of looking after clients and has been welcoming guests as the head of reception at the Grand Connaught Rooms for the last nine years. She is extremely client focused and will attend to your every need.
Having been involved in award dinners, dinner dances, corporate hospitality, conferences, weddings, luncheons, private celebrations, fundraising and anniversaries, to name but a few, Leona is well experienced at many types of functions and will be pleased to put you at ease.
Leona will be very pleased to personally assist you on your special day, spending time with you to plan and tailor your day to your exact specifications.
Leona's passion is looking after her clients for any special occasions. She will be delighted to look after you and make sure that you have total peace of mind and that your guests are all made to feel special!
Please give Leona a call now for more information on
0207 916 2512 or 07710 619812
Some of the pictures below have not been given captions and titles yet, but these will follow shortly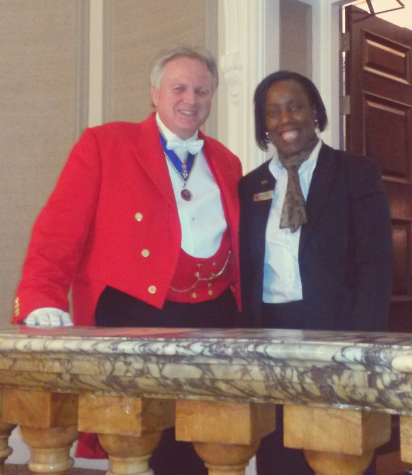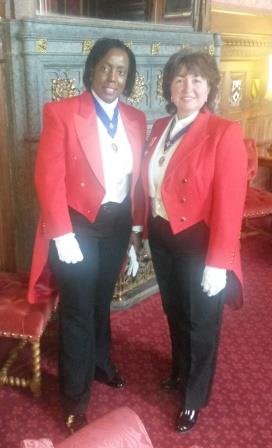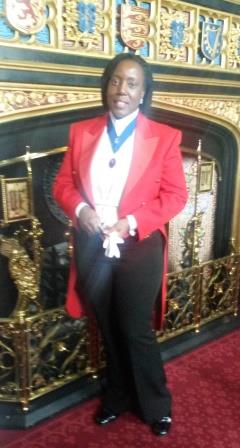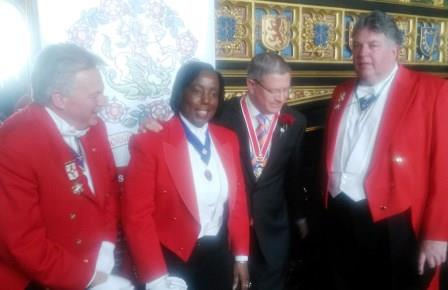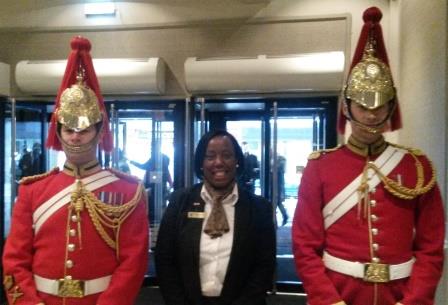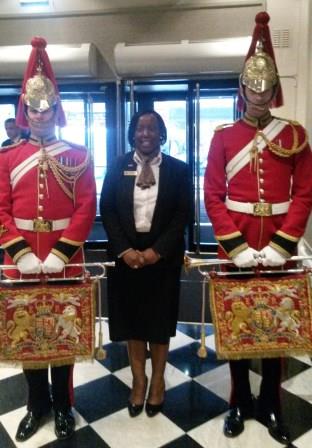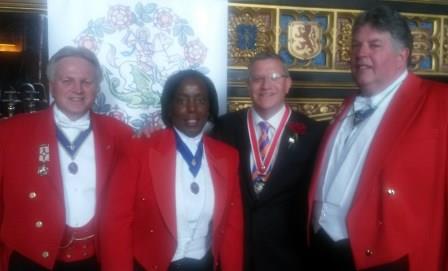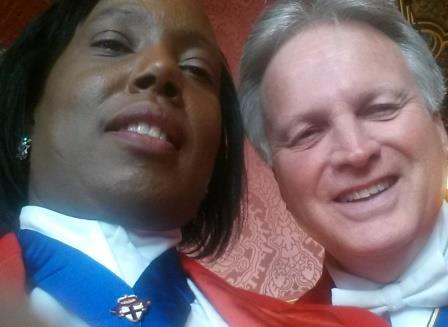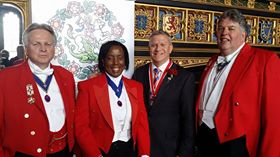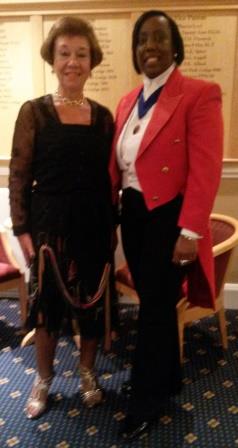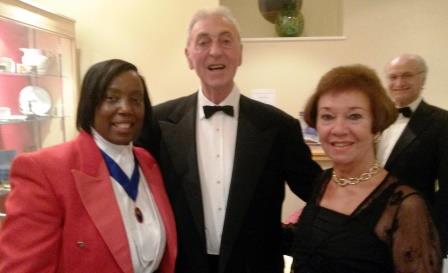 Saturday 5th October at the Jubilee and Ionic Lodge Ladies Festival with president W. Bro. Andrew Bowtle and his lady Jill Bowtle at The Halsey Masonic Hall and Centre, Turners Hill, Cheshunt, Hertfordshire.
Pictures above show Leona with (left) Mrs. Wendy Smith and (right) with Mr. Smith and Mrs. Wendy Smith. Wendy was responsible for helping to put the festival together and and created the wonderful table decorations.

Leona Cunningham
The London Lady Toastmaster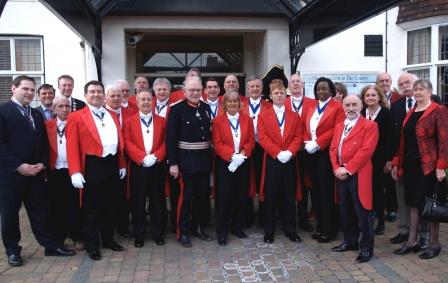 Leona Cunningham with
colleagues at the
English Toastmasters Association
Leona Cunningham with Lord Petre
and Patrick Stevenson at the
English Toastmasters Association,
St. George's Day Meeting
London Lady Toastmaster London Toastmaster Hire a Toastmaster in London London Wedding Toastmaster Wedding Toastmaster in London Master of Ceremonies
London Wedding Venues
Lanesborough Hotel
1 Lanesborough Place, London, SW1X 7TA Tel 0207 259 5599
Adam Street Private Members Club
9 Adam Street, London, WC2N 6AA Tel 020 7379 8000
Arundel House
13-15 Arundel Street, London, WC2R 3DX Tel 020 7653 6666
Asia House
63 New Cavendish Street, London, W1G 7LR Tel 020 7307 5454
Athenaeum Hotel
116 Piccadilly, London, W1J 7BJ Tel 0207 499 3464
Bertorelli
11-13 Frith Street, London, W1D 4RB Tel 020 7494 3491
British Academy of Film and Television Arts
195 Piccadilly, London, W1J 9ET Tel 020 7292 5800
Brown's Restaurant
82-84 St Martin's Lane, London, WC2N 4DY Tel 020 7292 5800
Browns Hotel
30 Albemarle Street, London, W1S 4BP, 020 7493 6020 Tel 020 7641 1161/2/3
Cafe Royal
68 Regent Street, London, W1 Tel 020 7437 9090
Cafe de Paris
3-4 Coventry Street, London, W1D 6BL Tel 020 7734 7700
Carlton Club
69-70 St James's Street, London, SW1A 1PJ Tel 0207 493 1164
Century Club
61-63 Shaftesbury Avenue, London, W1D 6LQ Tel 020 7534 3080
Chandos House
Royal Society of Medicine, 2 Queen Anne Street, London, W1G 9LQ Tel 020 7290 2951
Chesterfield Hotel
35 Charles Street, London, W1J 5EB Tel 020 7290 2951
Chesterfield Hotel
35 Charles Street, Mayfair, London, W1J 5EB Tel 0207 491 2622
Cinnamon Club
30 Great Smith Street, London, SW1 3BU Tel 020 7222 2555
City Inn Westminster
30 John Islip Street, London, SW1P 4DD Tel 020 7630 1000
Claridges Hotel
45/47 Brook Street, Mayfair London, London, W1A 2JQ Tel 0207 629 8860
Courthouse Hotel Kempinski
19-21 Great Marlborough Street, London, W1F 7HH Tel 020 7297 5555
Crowne Plaza Hotel St James Hotel
41-54 Buckingham Gate, London, SW1 6AF Tel 0207 828 7826
Cumberland Hotel
Great Cumberland Place, London, W1H 7AL Tel 0207 828 7826
Dartmouth House
37 Charles Street, London, W1J 5ED Tel 0207 493 3328
Dorset Square Hotel
39-40 Dorset Square, London, NW1 6QN Tel 020 7723 7874
Dukes Hotel
St James's Place, London, SW1 1NY Tel 0207 491 4840
Forbes House
7 Halkin Street, London, SW1X 7DS Tel 020 7344 9211

181-184 Piccadilly, Westminster, London, W1J 9ES Tel 020 7734 8040
Four Seasons Hotel
Hamilton Place, Park Lane, London, W1A 1AZ Tel 0207 499 0888
H Q S Wellington
Temple stairs, Victoria Embankment, London, WC2R 2PN Tel 02078368179
Haymarket Hotel
1-5 Suffolk Place, London, SW1Y 4HX Tel 020 7470 4000
Hilton London Paddington Hotel
Hilton London Paddington, 146 Praed Street, London, W2 1RL Tel 020 7850 0500
Home House
20 Portman Square, London, W1H 6LN Tel 020 7670 2000
Hotel Intercontinental
1 Hamilton Place, London, W1J 7QY Tel 0207 409 3131
Hyatt Regency London-The Churchill
30 Portman Square, London, W1H 7BH Tel 0207 486 5800
Icebar London
31 Heddon Street, London, W1B 4BN Tel 020 7478 8910
Institute of Contemporary Arts
Nash House, 12 Carlton House Terrace, London, SW1Y 5AH Tel 020 7766 1413
Institute of Physics
76-78 Portland Place, London, W1B 1NT Tel 020 7470 4884
International Students House- Cyber Cafe/Uno Mundo Bar
229 Great Portland Street, London, W1W 5PN Tel 020 7631 8300
Jolly St Ermins Hotel
Caxton Street, London, SW1H 0QW Tel 0207 2227 888
Just St. James
12 St. James's Street, London, SW1A 1EF Tel 020 7976 2222
Le Meridien Piccadilly
21 Piccadilly, London, W1J 0BH Tel 0207 734 8000
London Hilton
22 Park Lane, London, W1K 1BE Tel 0207 208 4045
London Marriott Hotel
84-86 Duke street, London, W1K 6JP Tel 0207 499 6363
London Palladium
7-8 Argyll Street, London, W1F 7TQ Tel 0207 734 6846
London Zoo
Regents Park, London, NW1 4RY Tel 0207 722 3333
Mandarin Oriental Hotel
66 Knightsbridge, London, SW1X 7LA Tel 0207 235 2000
Marriot Grosvenor House
86-90 Park Lane, London, W1A 3AA Tel 020 7499 6363
Metropolitan Hotel
18-19 Old Park Lane, London, W1K 1QU Tel 020 7447 1000
Mint Leaf
Kinnaird House, 1 Pall Mall East, London, SW1Y 5AU Tel 020 7930 9020
Mosimann's
11B West Halkin Street, London, SW1 8JL Tel 0207 235 9625
National Liberal Club
(Ground Floor), 1 Whitehall Place, London, SW1 2HD Tel 0207 930 9871
One Aldwych Hotel
1 Aldwych, London, WC2 4BZ Tel 0207 300 1000
One Whitehall Place
Westminster, London, SW1A 2HD Tel 0207 839 3344
Pacha
Ground floor and first floor, 191 Victoria Street, London, SW1E 5NE Tel 020 7833 3139
Park Lane Hotel
108/115 Piccadilly, London, W1J 7BX Tel 0207 499 6321
Pasley Tyler & Co
42 Berkley Square, London, W1J 5AW Tel 0207 917 9799
Porchester Hall
Queensway, Bayswater, London, W2 Tel 0207 792 2823
Portman Hotel
22 Portman Square, London, W1 Tel 0207 208 6000
Prince of Wales Theatre
31 Coventry Street, London, W1D 6AS Tel 020 7766 2102
Queen Elizabeth Conference Centre
Broad Sanctuary, London, SW1 Tel 0207 798 4020
R S Hispaniola
Victoria Embankment, London, WC2N 5DJ Tel 020 7839 3011
Radisson Edwardian Mayfair hotel
17 Stratton street, London, W1J 8PE Tel 020 7627 7777
Radisson SAS Portman Hotel
22 Portman Square, London, W1H 7BG Tel 0207 208 6000
Royal College Of Surgeons Of England
35-43 Lincoln's Inn Fields, London, WC2A 3PN Tel 020 7869 6560
Royal Institute of Public Health
28 Portland Place, London, W1B 1DE Tel 0207 653 6666
Royal Institution of Great Britain
18-21 Albemarle Street, London, W1S 4BS Tel 020 7409 2992
Royal Thames Yacht Club
60 Knightsbridge, London, SW1X 7LF Tel 020 7235 2121
Royal college of Obstetricians and Gynaecologists
27 Sussex place, Regents park, London, NW1 4RG Tel 020 7772 6200
Selfridges
400 Oxford Street, London, W1C 2DZ Tel 0870 8377377
Sherlock Holmes Hotel
108 Baker Street, London, W1U 6LJ Tel 020 7486 6161
Simpsons In The Strand
100 Strand, London, WC2R 0EW Tel 020 7836 9112
Sketch
9 Conduit Street, London, W1S 2XD Tel 0870 777 4488
Sofitel St James London Hotel
6 Waterloo Place, London, SW1Y 4AN Tel 0207 747 2200
Soho Hotel
4 Richmond Mews, London, W1D 3BD Tel 020 7559 3000
Soho House Club
40 Greek Street, London, W1D 4ED Tel 0207 734 5188
Spencer House
27 St James's Place, London, SW1 1NR Tel 0207 514 1964
St George's Hotel
3/7 Langham Place, London, W1B 2QS Tel 0207 580 0111
St Stephen's Club
34 Queen Anne's Gate, London, SW1H 9AB Tel 020 7222 1382
Stafford Hotel
16-17 St James's Place, London, SW1A 1NJ Tel 0207 493 0111
Swissotel, The Howard
12 Temple Place, London, WC2 1PR Tel 020 7836 3555
TS Queen Mary
Victoria Pier, Victoria Embankment, London, WC2 Tel 0207 240 9404
The Army and Navy Club
36-39 Pall Mall, London, SW1Y 5JN Tel 0207 930 9721
The Arts Club
40 Dover Street, London, W1S 4NP Tel 020 7499 8581
The Avenue Restaurant & Bar
Ground Floor, Byron House, 7-9 James's Street, London, SW1A 1EE Tel 0207 321 2111
The Berkley Hotel
40 Wilton Place, London, SW1X 7RL Tel 0207 235 6000
The Berners Hotel
10 Berners Street, London, WA1 3BE Tel 0207 636 1629
The Cafe Royal
68 Regent Street, London, W1B 5RQ Tel 020 7333 8718
The Caledonian Club
9 Halkin Street, London, SW1X 7DR Tel 0207 235 5162
The Commonwealth Club
25 Northumberland Avenue, London, WC2N 5AP Tel 0207 930 6733
The Dorchester Hotel
53 Park Lane, London, W1A 2HJ Tel 0207 629 8888
The Gore Hotel
189 Queen's Gate, London, SW7 5EX Tel 020 7584 6601
The Goring Hotel
15 Beeston Place, London, SW1 Tel 0207 396 9000
The Groucho Club
45 Dean Street, London, W1D 4QB Tel 0207 439 4685
The Hempel Hotel
31/35 Craven Hill Gardens, London, W2 3EA Tel 0207 298 9000
The Institute of Directors
116 Pall Mall, London, SW1 Tel 0207 391233
The Institution of Civil Engineers
One Great George Street, London, SW1 Tel 0207 665 2323
The Institution of Mechanical Engineers
1-3 Birdcage walk, London, SW1H 9JJ Tel 0207 222 7899
The Landmark London Hotel
222 Marylebone Road, London, NW1 6JQ Tel 0207 631 8000
The Langham Hotel
1 Portland Place, Regent Street, London, W1B 1PR Tel 0207 636 1000
The Lansdowne Club
9 Fitzmaurice Place, London, W1 Tel 0207 629 7200
The Law Society
113 Chancery Lane, London, WC2A 1PL Tel 0207 242 1222
The London Cricketers Club
71 Blandford Street, London, W1U 8AB Tel 0207 486 2635
The Mayfair Intercontinental Hotel
Stratton Street, London, W1 Tel 0207 915 2858
The New Players Theatre Restaurant & Bar
15 The Arches, London, WC2N 6NQ Tel 020 7930 6601
The Odeon Cinema
23-27 Leicester Square, London, WC2 Tel 0207 930 6111
The Old Marylebone Town Hall
Westminster Council House, Marylebone Road, London, NW1 Tel 0207 641 1161
The Player's Theatre
The Arches, Villiers Street, London, WC2 Tel 0207 976 1307
The Ritz Hotel
150 Piccadilly, London, W1J 9BS Tel 0207 493 8181
The Royal Geographical Society
1 Kensington Gore, London, SW7 2AR Tel 0207 591 3000
The Royal Society of Arts
8 John Adam Street, London, WC2N 6HA Tel 0207 930 5115
The Savoy Hotel
1 Savoy Court, London, WC2 0ER Tel 0207 836 4343
The Soho Lounge
Basement, 69-70 Dean street, London, W1D 3SE Tel 020 7734 1231
The University Women's Club
2 Audley Square, London, W1K 1DB Tel 020 7499 2268
The Victoria Park Plaza Hotel
Vauxhall Bridge Road, London, SW1 Tel 0207 769 9999
The Waldorf Hilton
Waldorf Hotel, Aldwych, London, WC2B 4DD Tel 0207 836 2400
Theatre Royal Drury Lane
Catherine Street, London, WC2B 5JS Tel 020 7379 4981
Thistle Hotel Charing Cross
The Strand, London, WC2N 5HR Tel 0870 333 9105
Westbury Hotel
37 Conduit street, London, W1S 2YF Tel 020 7629 775
22 Jermyn Street Hotel - London
Abney Public Hall - London
Ace Cafe London - London
Adam Street Private Members Club - London
Airport House - London
Albert Hall London
Alexandra Palace - London
Anne Boleyn Hotel - London
Arundel House - London
Athena Palace - London
Auriol Kensington Rowing Club - London
Bank of England Sports Centre - London
Barbican Centre - London
Battersea Arts Centre - London
Beauberry House - London
Bina Banqueting Hall - London
Blakes Hotel - London
Blooms Town House Hotel - London
Bluebird - London
Brick Lane Music Hall - London
Brilliant Restaurant - London
British Academy of Film and Television Arts - London
British Airways London Eye - London
Browns Courtrooms - London
Bruce Castle Museum - London
Cafe De Paris - London
Cafe Royal - London
Carlton Club - London
Celtic Hotel - London
Century - London
Century Club - London
Chandos House - London
Charlton Athletic Fc Limited - London
Charlton House - London
Chelsea Football Club - London
Chelsea Old Town Hall - London
Chiswick - London
Chutney Mary - London
Crowne Plaza London - Docklands - London
Crowne Plaza London - The City - London
Croydon Clock Tower - London
Dukes Hotel - London
Forbes House - London
Four Seasons Canary Wharf - London
Glaziers Hall - London
Goring Hotel - London
Hall Place & Gardens - London
Hampstead Britannia Hotel - London - London
Hilton London Docklands Riverside - London
Holiday Inn - London Regents Park - London
Honourable Society of Grays Inn - London
Hotel Russell - London
Ironmongers' Hall - London
Jumeirah Carlton Tower - London
Jurys Great Russell Street Hotel - London
Kew Bridge Steam Museum - London
Kingsway Hall Hotel - London
Le Gothique - London
Le Meridien Piccadilly - London
Leiths Event Team - London
Licensed Wedding ceremonies and receptions - London
London Aquarium - London
London Canal Museum - London
London Dungeon - London
London Marriott Hotel Grosvenor Square - London
London Marriott Kensington Hotel - London
London Marriott West India Quay - London
London Wetland Centre - London
London Zoo - London
Lord's Cricket Ground - London
Matilda - London
Merchant Taylors Hall - London
Millennium Gloucester Hotel & Conference Centre - London
Museum of Garden History - London
No.4 Hamilton Place - London
One Great George Street - London
Parkstead House in London - London
Pembroke Lodge - London
Pitzhanger Manor House - London
Plaisterers' Hall - London
President Hotel - London
Prism Restaurant and Bar - London
R.S. Hispaniola in London - London
Rembrandt Hotel - London
Renaissance Chancery Court - London
RIBA - Royal Institute of British Architects - London
Roof Gardens - London
RSA - London
Rumi Bar - London
Shakespeares Globe - London
Shepperton Studios - London
Skinners Hall - London
Smollensky's Canary Wharf - London
Southwark Cathedral - London
St George Hotel - London
Staple Inn Hall - London
Stationers Hall - London
Thames Lighthouses Chainstore Building - London
The Amadeus Centre - London
The Atrium - London
The Bentley Kempinski Hotel - London
The Britannia International Hotel - London - London
The Commonwealth Club - London
The Conservatory at Chelsea - London
The HAC - London
The Ivy - London
The Lansdowne Club - London
The Melia White House - London
The Montague Hotel - London
The Montague on the Gardens - London
The Natural History Museum - London
The Private Rooms at Buckingham Gate in London - London
The Queens Club - London
The Queens House - London
The Ritz London - London
The Union Club - London
Tower Bridge - London
Urban Bar and Brasserie - London
Victoria Park Plaza - London
Victory Services Club - London
Vinopolis - London
Waldorf Hilton - London
Wembley Stadium - London
West Ham United Football Club - London
Westminster Abbey - London
Winchester House - London
ZSL London Zoo - London