Contact details:

Address

16, Stoneleigh Road, Oxted, Surrey RH8 0TR

Telephone

08432 892040

Mobile

07968 956921

Website

e-mail

info@toastmasterinsurrey.co.uk

A passionate, caring and professional toastmaster

to deliver you a first class service

with a touch of elegance and style

for your special occasion.

Please call me now on 07968 956921

for further help or information
The warmest welcome to you, and many thanks for visiting my personal profile page.
If you are organising an event of any type, where your ultimate aim is to enjoy time with your guests without having the worry about co-ordinating everything on the day, I am here to help.
Whether it is a Grand Party affair, Traditional or non traditional Wedding, a Special Birthday Party, Charity Ball, Masonic Ladies Festival or Corporate Event, I will be pleased to be there from the outset, helping you with expert advice and assistance.
You will be able to relax, safe in the knowledge that you can rely on me to help deliver your event with the utmost style and panache.
For your event – I am your Butler, Personal Assistant, Party Organiser, Advisor, Master of Ceremonies and essentially not someone who just makes announcements and bangs his gavel, unless of course that is indeed all you require of me. I can work with your staff, your chosen suppliers, party planners - naturally with the absolute discretion, diplomacy and professionalism.
I cordially invite you to visit my website, where I proudly share with you my testimonials from past happy clients, but in the meantime please do not hesitate to contact me if you feel that I would be of any further assistance. I would be delighted to hear from you and help you to realise your dreams.
A lovely testimonial from a a recent Bride and Groom
29th December 2013 Felbridge Spa Hotel, East Grinstead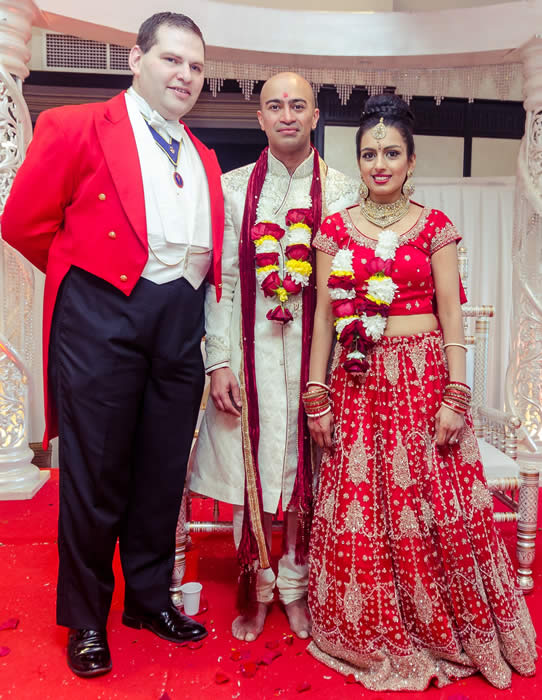 Hi Ralph,
How are you? Sorry we have not got back to you sooner but we have literally just returned from our honeymoon!
We were really pleased that we used you as without your coordination and support I don't think the wedding would have run on time or so smoothly.
There were a few hick-ups such as the Dhol players going astray however, this was because of a misunderstanding with the guys themselves (who had not read their copy of the schedule) rather than anything to do with you.
All the guests thought you were superb. We liked the fact that you kept everyone in check, ensured they were in the right place at the right time. In addition to helping out with keeping suppliers updated and taking lead to ensure tasks were being actioned as per the plan.
We also liked and very much appreciated the suggestions you put forward when issues did arise. This more than met our expectations as we were did not expect this role from the toastmaster.
The commentary was apt and you kept people's attention. There was a bit of hit and miss with the pronunciations of the names for the photos, however, noting there were some very long names in the list and there were a few last minute additions, you did a good job with it.
We are grateful that you made such an effort with the research you carried out into Hindu weddings and it's culture prior to the wedding as it really showed on the day. Not to mention the time you spent with us to walk through the schedule and help us iron out issues with the last minute preparations.
Once again thank you very much for helping us prior to and on the day of the wedding. We defiantly without hesitation would and will be recommending you to all of our friends and family and passing on your details!
Please do not hesitate to contact us if you have any clients who would like to speak to someone whom have used you before or would like any testimonials.
Kindest regards, Hemina
Dorton House, Sevenoaks, Kent
11th. August, 2012
Dear Ralph,
Sorry for the not being in contact sooner, we have been meaning to email you since returning from the honeymoon, which was fantastic thank you!
Thank you for being our toast master, you did an amazing job and made our wedding a fantastic day. We were not planning on having a toastmaster but looking back I cannot see how the day would have run without you. We have received fantastic feedback about you from our guests with many people saying that you made the day run very smoothly, without being too intrusive or loud! That is what Paul and I wanted (someone to help our day run smoothly without invading it). You even managed to save the day when the band arrived without any lights! Paul and I were very grateful for that and don't know what we would have done without you (and your lights)! We feel you went above and beyond what a toastmaster should do!
We are not just being 'polite!' but I cannot think of anyway that you can improve. You were extremely thorough, spending a long time with us before the wedding to ensure the day was how we hoped it would be. You were very efficient on the day and it ran extremely smoothly and without you having to address us all the time. Our photographer also commented on how efficient you were, especially compared to some toastmasters he has previously worked with.
Appointing you as our toastmaster was a fantastic decision and we will recommend you to anyone who is looking for a toastmaster!
Best wishes
Kelly and Paul Battman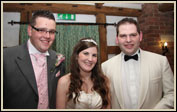 Surrey Toastmaster Kent Toastmaster Kent Wedding Toastmaster Sussex Toastmaster Sussex Wedding Toastmaster London Toastmaster Ladies Festival Toastmaster
Master of Ceremonies MC M C Southern Toastmaster England Toastmaster English Toastmaster International Toastmaster Ireland Toastmaster Herts Toastmaster
Hertfordshire Toastmaster Essex Toastmaster Corporate Toastmaster Wedding Toastmaster in Kent Hire a Toastmaster in Kent
Wedding Venues in Surrey
Addington Palace, Surrey
Aerodrome Hotel, Surrey
Airport House, Surrey
Albury Park Mansion, Surrey
Anchor Hotel, Surrey
Antionette Hotel Kingstom. Surrey
Barnett Hill, Surrey
Bingham, Surrey
Bookham Grange Hotel, Surrey
Botleys Mansion, Surrey
Bourne Hotel, Surrey
Boxhill School, Surrey
Branksome Place, Surrey
Burhill Golf Club, Surrey
Burrows Lea, Surrey
Bush Hotel, Surrey
Cain Manor, Surrey
Cambridge Cottage, Surrey
Caterham School, Surrey
Chak 89, Surrey
Cherkley Court, Surrey
Chessington Golf Centre, Surrey
Civic Centre, Surrey
Clandon Park, Surrey
Coltswold Mill, Surrey
Coombe Farm Manor, Surrey
Coulsdon Manor Hotel, Surrey
Coverwood Lakes, Surrey
Croydon Clock Tower, Surrey
Croydon Park Hotel, Surrey
Denbies Wine Estate, Surrey
Ditton Field, Surrey
Epsom Downs Racecourse, Surrey
Ewell Court House, Surrey
Fairfield Halls, Surrey
Farnham House Hotel, Surrey
Frensham Heights, Surrey
Gate Street Barn, Barmley
Gatton Hall, Surrey
Gatton Manor, Surrey
Gorse Hill, Surrey
Great Fosters, Surrey
Hampton Court Palace, Surrey
Hartsfield Manor, Surrey
Hilton Hotel, Surrey
Holiday Inn London Kingston, Surrey
Holiday Inn Sutton, Surrey
Horsley Towers, Surrey
Jarvis Higs Back Hotel, Surrey
Jarvis Thatchers Hotel, Surrey
Kempton Park Racecourse, Surrey
Kew Gardens, Surrey
Kings Arms & Royal Hotel, Surrey
La Barbe, Surrey
Langshott Manor, Surrey
Leatherhead Golf Club, Surrey
Lingfield Park Racecourse, Surrey
Liongate Hotel, Surrey
Longacres, Surrey
Loseley Park, Surrey
Lovekyn Chapel, Surrey
Lythe Hotel & Spa, Surrey
Macdonald Frimley Hall Hotel, Surrey
Mandolay, Surrey
Manor House Hotel, Surrey
Manor House, Surrey
Mercure Burford Bridge Hotel, Surrey
Merrist Wood, Surrey
Nonsuch Mansion, Surrey
Nutfield Priory Hotel & Spa, Surrey
Oak Park Golf Club, Surrey
Oaks Farm Barn, Surrey
Oatlands Park Hotel, Surrey
Old Whitgiftian Association, Surrey
Onslow Arms, Surrey
Parrot Inn, Surrey
Pendell Court, Surrey
Pennyhill Park Hotel, Surrey
Pine Ridge, Surrey
Preston Cross Hotel, Surrey
Ramada Farnham, Surrey
Ramada Guildford, Surrey
Ramster, Surrey
Richmond Gate Hotel, Surrey
Richmond Hill Hotel, Surrey
Richmond Theatre, Surrey
Royal Holloway, Surrey
Russ Hill Hotel, Surrey
Secombe Theatre, Surrey
Selesdon Park Hotel, Surrey
Shepperton Moathouse, Surrey
Stanhill Court Hotel, Surrey
Stanwell Hall Hotel, Surrey
Surrey Downs Golf Club, Surrey
Surrey National, Chaldon
The Barn at Bury Court, Surrey
The Bed Bar, Surrey
The Bridge at Pierrepoint, Surrey
The Bury's, Surrey
The Chalk Lane Hotel, Surrey
The Chateau, Surrey
The Cricket Centre, Surrey
The Dorking Halls, Surrey
The Hautboy, Surrey
The Kings Arms Barn, Surrey
The Manor Hotel, Surrey
The Petersham, Surrey
The Red Barn, Surrey
The Room in the Country, Surrey
The Savill Garden, Surrey
The Talbot Inn, Surrey
The Wharf Restaurant, Surrey
Tiger Tiger, Surrey
Tu Tu L'Auberge, Surrey
Turk Launches, Surrey
Warren House, Surrey
Wentworth Club, Surrey
Woldingham Golf Club, Surrey
Woldingham School, Surrey
Woodlands Park Hotel, Surrey
Woodstock House, Surrey
Wotton House, Surrey
York House, Surrey
Zinnia Gardens, Surrey
Towns and Villages of Surrey England
Abbey Bridge , Abbey Mead , Abbotswood , Abinger , Abinger Common , Abinger Hammer , Addlestone , Addlestone Moor , Albury , Alderstead Heath , Alfold , Alfold Bars , Alfold Crossways , Almshouse Common , Ansteadbrook , Anthonys , Apps Court , Artington , Ash , Ash Green , Ash Vale , Ashford , Ashford Common , Ashford Park , Ashley Park , Ashstead , Ashtead , Badshot Lea , Bagshot , Baldwins Hill , Banstead , Banstead Newton , Barfields , Barford , Barnsbury , Barrow Green , Batts Corner , Baynards , Beacon Hill , Beare Green , Bellfields , Bennetts Green , Betchworth , Binscombe , Birch Green , Birtley Green , Bishops Gate , Bisley , Bisley Camp , Blackbrook , Blackdown , Blackheath , Bletchingley , Blindley Heath , Bookers Lee , Botley Hill , Botleys , Boundstone , Bowlhead Green , Box Hill , Boxgrove , Boxhill Road , Boxhurst , Bramley , Briars Cross , Bridge End , Bridge Field , Bridley , Brimshot , Broad Street , Broadwells Estate , Brockham , Brockham Hill Farm , Brockham Park , Brook , Brooklands , Brookwood , Broome Park , Broomhall , Brox , Buckland , Bull Green , Bunce Common , Burgh Heath , Burntcommon , Burpham , Burrowhill , Burrows Cross , Burrows Lea , Burstow , Burwood Park , Buryfields , Busbridge , Bushbury , Byfleet , Callowhill , Camberley , Camilla Lacey , Capel , Cartbridge , Castle Green , Caterham , Cattershall , Chaldon , Charleshill , Charlotteville , Charlton , Charlwood , Chathill , Chattern Hill , Cheapside , Chelsham , Chelsham and Farleigh , Chertsey , Chertsey Lock , Chiddingfold , Chilsey Green , Chilworth , Chipstead , Chipstead Bottom , Chobham , Church Lammas , Church Town , Churt , Clacket Green , Claremont , Clarks Green , Clasford , Claygate , Cobham , Cobham Tilt , Coldharbour , Coles Meads , Colley Corner , Colnbrook , Combe Common , Common Fields , Compton , Cooks Green , Coombelands , Copthorne Bank , Copthorne Common , Courtshill , Cox Green , Cramhurst , Cranleigh , Cranleigh Common , Crawley Hill , Creed Hole , Critchmere , Crosswater , Crossways , Crowhurst , Crowhurst Lane End , Crownpits , Cudworth , Culmer , Culmer Hill , Dawesgreen , Deepcut , Deepdene , Deepdene Wood , Denbies , Dippenhall , Ditton Common , Dockenfield , Dogkennel Green , Domewood , Donkey Town , Dorking , Dormans Land , Dormans Park , Doversgreen , Downside , Downswood , Dunley Hill , Dunsfold , Duxhurst Farm Village , Earlswood , Eashing , East Clandon , East Ewell , East Horsley , East Molesey , Eastly End , Eastwick , Eastworth , Effingham , Effingham Junction , Egham , Ellens Green , Elm Corner , Elstead , Englefield Green , Enterdent , Enton , Enton Green , Epsom , Epsom Common , Epsom Downs , Esher , Ewell , Ewell Court , Ewhurst , Eyehurst , Fairchildes , Fairfield , Fairlands Estate , Fairmile , Farleigh , Farley Green , Farncombe , Farnham , Felbridge , Felcourt , Felday , Fernhill , Fetcham , Fickleshole , Field Common , Flexford , Flint Hill , Folly Hill , Fordbridge , Forest Green , Fowlerscroft , Foxhills , Frensham , Friday Street , Frimley , Frimley Green , Frith Hill , Furze Hill , Gadbrook , Gatton , Gatwick , Gibraltar , Giggshill , Glanty , Godalming , Godstone , Goldsworth , Gomshall , Goodwyns , Gosden , Grafham , Grangefield Estate , Gravel Hill , Grayswood , Grayswood Common , Great Bookham , Great Burgh , Great Roke , Green Cross , Greenhurst Estate , Guildford , Hale , Ham Moor , Hambledon , Hambledon Common , Hamsey Green , Harelane , Harelane Green , Harestone Valley , Haroldslea , Harrow Common , Harrowsley Green , Hartswood , Hascombe , Haslemere , Haste Hill , Hatch Hill , Hatchetts , Hatchford , Hatchford End , Hatton Hill , Haxted , Headley , Heath End , Heatherdene , Heatherside , Henfold , Hersham , High Loxley , Highcomb Bottom , Highland Park , Highstreet Green , Hinchley Wood , Hindhead , Hindhead Common , Hockford , Hoe , Hog Hatch , Hogs Back , Holland , Holloway Hill , Holmbury St Mary , Holmethorpe , Holmwood , Holmwood Corner , Holt Pound , Hook Heath , Hookfield , Hookwood , Hookwood Common , Hooley , Horley , Horley Row , Horne , Horsehills , Horsell , Horton , Houndown , How Green , Howell Hill , Hurst Green , Hurtmore , Hydestile , Hydon Heath , Hythe , Irons Bottom , Jacobswell , Keepers Corner , Kemishford , Kempton Park , Kent Town , Kingfieldgreen , Kingsland , Kingswood , Kingswood Firs , Knaphill , Knowle Green , Knowlehill , Lagham Wood , Lakers Green , Laleham , Langhurst , Langley Bottom , Langley Vale , Leatherhead , Leatherhead Common , Lee Street , Leebrooke , Leigh , Leith Hill , Lightwater , Limpsfield , Limpsfield Chart , Linersh Wood , Lingfield and Dormansland , Linkside , Lion Green , Little Bookham , Little Green Lane , Little London , Littleton , Littleton Common , Littlewick , Littleworth Cross , Long Cross , Long Ditton , Lordshill Common , Loseley Park , Lower Ashtead , Lower Bourne , Lower Cobham Tilt , Lower Duxhurst , Lower Eashing , Lower Green , Lower Halliford , Lower Kingswood , Lowicks , Loxhill , Lullenden , Lyne , Lythe Hill , Marden Park , Margery , Martyrs Green , Maybury , Mayes Green , Mayford , Mays Green , Mead Vale , Meadowbank Estate , Meadrow , Meath Green , Merle Common , Merrow , Merstham , Mickleham , Middle Bourne , Milford , Millbridge , Milton , Milton Heath , Mimbridge , Moor Park , Moorhouse Bank , Moorhurst , Mount Hermon , Mount Pleasant , Mousehill , Mugswell , Munstead , Mutton Hill , Mynthurst , Mytchett , Nalderswood , Netherne , New Chapel , New Haw , New Holland , New Oxted , Newdigate , Nork , Norley Common , Normandy , Norney , North Bridge , North Holmwood , North Looe , North Munstead , North Town , Northbourne , Norwood Hill , Nutcombe , Nutfield , Oakwoodhill , Oatlands Park , Ockford Ridge , Ockfordwood , Ockham , Ockley , Old Holland , Old Park , Old Woking , Onslow Village , Ottershaw , Outwood , Oxshott , Oxted , Pagewood , Paines Hill , Park Copse , Parkgate , Parkhouse Green , Path Fields , Peaslake , Peasmarsh , Pebblecombe , Penny Pot , Penton Hook , Peper Harow , Petridgewood Common , Pewley Common , Pewley Hill , Pikes Hill , Pile Hill , Pinewood , Pinks Hill , Pirbright , Pitch Place , Pitland Street , Pixham , Plaistow Street , Pooley Green , Portmore Park , Pot Common , Poyle , Pray Heath , Prestwick Rough , Prince Hill , Purbright , Puttenham , Pyrcroft , Pyrford , Quakers Plat , Ramsnest Common , Ranmore Common , Redhill , Reigate , Ricketts Wood , Rickford Common , Ridge Green , Ridgeway , Ridgway , Ripley , Roothill , Rose Hill , Row Town , Rowledge , Rowly , Runfold , Rushett , Rushett Common , Russ Hill , Rutton Hill , Ruxbury , Ruxley , Rydeshill , Ryestead Common , Salfords , Salfords and Sidlow , Sandhills , Sandy Cross , Sanway , Seale and Sands , Send , Send Marsh , Sendmarsh , Shabden , Shackleford , Shalford , Shamley Green , Shawfield , Sheerwater , Shellwood Common , Shepherds Hill , Shepperton , Shepperton Green , Shere , Shipley Bridge , Shoelands , Shortfield Common , Shortheath , Shortwood Common , Shottermill , Shrubs Hill , Sicklemill , Sidlow Bridge , Slyfield Green , Smallfield , Smithwood Common , Snowdenham Hall , South Godstone , South Holmwood , South Merstham , South Munstead , South Nutfield , South Park , Spratts , Spreakley , Spring Bottom , St Catherines , St Georges Hill , St Johns , St Johns Lye , St Martha , Stag Leys , Staines , Stamford Green , Standard Hill , Stanford , Stanners Hill , Stanwell , Stanwell Moor , Starrock , Stepgates , Stoke D'Abernon , Stoke Park , Stonebridge , Stonehill , Stoneleigh , Stoneleigh Park , Stoughton , Strood Green , Stroude , Summersbury , Sunbury , Sunbury Common , Sutton , Sutton Green , Sutton Place , Swan Pit , Tadworth , Tandridge , Tatsfield , Tattenham Corner , Thames Ditton , The Borough , The Bourne , The Chart , The Clump , The Grange , The Holmwood , The Moor , The Sands , The Warren , The Waste , Thistlecroft , Thorncombe Street , Thorns Flush , Thorpe , Thorpe Green , Thorpe Lea , Thursley , Tilburstow Hill , Tilford , Tillingbourne , Tilthams Green , Titsey , Tongham , Tower Hill , Trumpsgreen , Tuesley , Twynersh , Tylers Green , Tyrells Wood , Underhill Park , Updown Hill , Upper Birtley , Upper Bourne , Upper Eashing , Upper Hale , Upper Halliford , Valley End , Virginia Water , Walkingstead , Walliswood , Walliswood Green , Walton on the Hill , Walton-on-Thames , Wanborough , War Coppice Garden Village , Warlingham , Warwick Wold , Wasp Green , Waterloo , Waterside , Waverley , Waverley Estate , Weatherhill , Wells Bottom , Wentworth , West Bedfont , West Byfleet , West Clandon , West End , West Ewell , West Horsley , West Humble , West Molesey , West Park , Westbrook , Westcott , Westcott Heath , Westfield , Westhumble , Westmore Green , Weston Green , Westwood , Weybourne , Weybridge , Wheeler Street , White Bushes , Whiteley Village , Whitewood , Whitmead , Whitmoor , Whitmore Vale , Wilderwick , Willey Heath , Windlesham , Wisley , Withybed Corner , Witley , Woking , Woldingham , Wonersh , Wood Street , Woodbridge Hill , Woodcock Hill , Woodcote , Woodcut Estate , Woodfield , Woodham , Woodham Estate , Woodhatch , Woodhurst Park , Woodmansterne , Worcester Park , Wormley Hill , Worplesdon , Wotton , Wray Common , Wray Park , Wrecclesham , Wyke , York Town
Dorset Wedding Venues
Alexandra Hotel, Lyme Regis, Dorset
Athelhampton House, Dorchester, Dorset
Avonmouth Hotel, Christchurch, Dorset
Bennett's Water Gardens, Weymouth, Dorset
Birkin House, Dorchester, Dorset
Bishops Court, Blandford, Dorset
Bridge House Hotel, Bridport, Dorset
Bridge House Hotel, Ferndown, Dorset
Britannia Round House Hotel, Bournemouth, Dorset
Cafe Shore, Poole, Dorset
Canford School, Wimbourne, Dorset
Captains Club Hotel, Christchurch, Dorset
Carlton Hotel, Bournemouth, Dorset
Chaffeymoor Grange, Bourton, Dorset
Chantmarle Manor, Frome St Quinne, Dorset
Compton Acres, Poole, Dorset
Da Vinci's Restaurant, Poole, Dorset
Dorchester Municipal Buildings, Dorchester, Dorset
Dudsbury Golf Club, Ferndown, Dorset
Durley Hall Hotel, Bournemouth, Dorset
East Cliff Court Hotel, Bournemouth, Dorset
Edmondsham House, Wimbourne, Dorset
Eype's Mouth Country Hotel, Bridport, Dorset
Eypesmouth Country Hotel, Bridport, Dorset
Forde Abbey, Chard, Somerset, Dorset
Gresham Court Hotel, Bournemouth
Harbour Heights Hotel, Sandbanks, Poole, Dorset
Highcliffe Castle, Christchurch, Dorset
Holton Lee, Poole, Dorset
Hotel Alexandra, Lyme Regis, Dorset
Hotel Prince Regent, Weymouth, Dorset
Kingston Country Courtyard, Kingston, Wareham, Dorset
Kingston Maurward , Dorchester, Dorset
Langtry Manor, Bournemouth, Dorset
Lulworth Castle, Wareham, Dorset
Magdalen Farm, Chard, Somerset
Mansion House Hotek, Poole, Dorset
Mapperton House Gardens, Beaminster, Dorset
Marsham Court Hotel, Bournemouth, Dorset
Merley House, Wimborne, Dorset
Mezza Luna Restaurant and Bar, Poole Park, Poole, Dorset
Milton Abbey School, Blandford Forum, Dorset
Minterne House, Dorchester, Dorset
Mortons House Hotel, Wateham, Dorset
Mountfield, Bridport, Dorset
Parley Manor, Christchurch, Dorset
Portland Castle, Portland, Dorset
Purbeck House Hotel, Swanage, Dorset
Royal Bath Hotel, Bournemouth, Dorset
Sandbanks Hotel, Poole, Dorset
Shaftesbury Town Hall, Shaftesbury, Dorset
Sherborne Hotel, Swanage, Dorset
Sherbourne Castle, Sherbourne, Dorset
Sopley Mill, Christchurch, Dorset
St Leonards Hotel, Ringwood, Dorset
Stockbridge Farm Barn, Sherbourne, Dorset
Summer Lodge Hotel, Evershot, Dorset
Swallow Highcliff Hotel, Bournemouth, Dorset
The Avonmouth Hotel, Christchurch
The Chine, Bournemouth, Dorset
The Coach House, Blandford, Dorset
The Coppleridge Inn, Shaftesbury, Dorset
The Crown Hotel, Blandford forum, Dorset
The Eastbury Hotel, Sherbourne, Dorset
The Grand Hotel, Swanage, Dorset
The Grange at Oborne, Sherborne, Dorset
The Guildhall, Lyme Regis, Dorset
The Guildhall, Poole, Dorset
The Guildhall, Poole, Dorset
The Guildhall, Weymouth, Dorset
The Haven Hotel, Sandbanks, Poole, Dorset
The Hotel Rembrandt, Weymouth, Dorset
The King George V Pavilion, Ferndown, Dorset
The Langton Arms, Blandford, Dorset
The Manor Hotel, West Bexington, Dorchester, Dorset
The Mansion House Hotel, Poole, Dorset
The Orangery Suite, Wimborne, Dorset
The Philip Green Memorial School, Wimborne, Dorset
The Riviera Hotel, Weymouth, Dorset
The Royal Chase Hotel, Shaftesbury, Dorset
The Salterns Harbourside Hotel, Poole, Dorset
The Springhead Trust, Shaftesbury, Dorset
The Thistle Hotel, Poole, Dorset
Tudor Grange Hotel, Bournemouth, Dorset
Tyrells Ford Country House, Christchurch, Dorset
Upton House, Upton Country Park, Upton, Poole, Dorset
Wareham Town Hall, Wareham, Dorset
Wessex Hotel, Bournemouth, Dorset
Wimborne Minster Town Council, Wimborne Minster, Dorset
Yenton Hotel, Bournemouth, Dorset
Dorset Towns and Villages
Alton Pancras, Ash, Ashley, Ashley Chase, Askerswell, Atrim, Attisham, Barbridge, Batcombe, Beaminster, Beaulieu Wood, Bedmill, Beer Hackett, Benville, Bere Chapel, Berwick, Bettiscombe, Bincombe, Birdsmoor Gate, Bishops Caundle, Bishops Down, Blackdown, Blackrow Common, Bluntshay, Bockhampton, Bonville, Bookham, Bothenhampton, Bournemouth, Boys Hill, Bradford Abbas, Bradford Peverell, Bradpole, Bridport, Brister End, Broad Oak, Broadmayne, Broadwey, Broadwindsor, Brockhampton, Brockhampton Green, Buckham, Buckham Down, Buckland Newton, Buckland Ripers, Buckshaw, Burstock, Burton, Burton Bradstock, Camesworth, Castleton, Castletown, Catherston Leweston, Cattistock, Caundle Marsh, Caundle Wake, Cerne Abbas, Chalmington, Champernhayes Marsh, Chard Junction, Chard Road, Charlestown, Charlock Hill, Charminster, Charmouth, Chedington, Chesil, Chetnole, Chickerell, Chideock, Chilcombe, Childhay, Chilfrome, Clift, Clifton Maybank, Cobb, Cokers Frome, Coles Cross, Compton Abbas, Compton Valence, Coneygar Hill, Corscombe, Coryates, Cosmore, Cripton, Crouch Hill, Cruxton, Denhay, Dibberford, Dodpen Hill, Dorchester, Dottery, Drimpton, Drive End, Duntish, East Bexington, East Chelborough, East Pulham, Easton, Eggardon Hill, Elwell, Evershot, Eype, Fairfield, Fifehead Neville, Filford, Fishpond Bottom, Fleet, Folke, Folly, Fordington, Forston, Fortuneswell, Frampton, Friar Waddon, Frith, Frome St Quintin, Frome Vauchurch, Frome Whitfield, Gerrards Green, Glanvilles Wooton, Goathill, Godmanston, Godmanstone, Gore, Greenham, Greenway, Gribb, Grimstone, Grove, Gunville, Guppy, Gurtopps, Hail, Halstock, Hamlet, Hardown Hill, Hatchet, Haydon, Heniford, Henley, Hermitage, Herrison, Hewish Hill, Hewood, Higher Bockhampton, Higher Clatcombe, Higher Coombe, Higher Eype, Higher Halstock Leigh, Higher Kingcombe, Higher Nyland, Higher Sandford, Higher Wrackleford, Highgate, Hilfield, Hill Street, Holditch, Holebrook Green, Holnest, Holway, Holwell, Holywell, Hooke, Horchester, Horn Ash, Horn Hill, Horsecastles, Hummer, Hursey, Hyde, Jericho, Kings Stagg, Kingsland, Kingstag, Kingston, Kingston Russell, Kittwhistle, Knighton, Langdon, Langton Herring, Laymore, Leigh, Lenthay, Lewcombe, Leweston, Lillington, Littlebredy, Littlemoor, Littlewindsor, Littlewood, Litton Cheney, Loaders Hill, Loders, Long Bredy, Longburton, Loscombe, Lower Bockhampton, Lower Eype, Lower Halstock Leigh, Lower Kingcombe, Lower Strode, Lower Waterston, Lower Wrackleford, Lydlinch, Lyme Regis, Lyons Gate, Magiston Hill, Maiden Newton, Mangerton, Mapperton, Mappowder, Marshalsea, Marshwood, Martinstown, Maudlin, Meerhay, Melbury Bubb, Melbury Osmond, Melbury Sampford, Melcombe Regis, Melplash, Merriott, Middlemarsh, Minterne Magna, Minterne Parva, Monkton Wyld, Monkwood, Moorbath, Morecombelake, Mosterton, Muckleford, Nether Cerne, Nether Compton, Nether Coombe, Netherbury, Netherhay, Netherstoke, Nettlecombe, Newland, Newtown, North Barn, North Bowood, North Chideock, North Poorton, North Wootton, Northernhay, Norwood, Nottington, Notton, Oathill, Oborne, Osehill Green, Osmington, Over Compton, Overcombe, Oxbridge, Packers Hill, Paddocks Cross, Park Gate, Patson Hill, Penn, Piddlehinton, Piddletrenthide, Pidney, Pilsdon, Pleck, Plush, Poolestown, Poorton Hill, Portesham, Portland, Poundbury, Powerstock, Poxwell, Poyntington, Preston, Priestlands, Puddletown, Pulham, Pulham Common, Puncknowle, Purse Caundle, Putton, Pymore, Radipole, Rampisham, Redford, Reforne, Remedy, Rew, Rhymehorn, Ridgeway, Ringstead, Rocky Knap, Rodden, Rodwell, Round Chimneys, Russon Bottom, Ryall, Ryme Intrinseca, Salway Ash, Sandford Orcas, Sandhills, Sandpit, Sandsfoot Castle, Seaborough, Seatown, Shadrach, Sherborne, Shipton Gorge, Shortmoor, Silverlake, Skilling, Sodern, South Bowood, South Perrott, South Poorton, Southover, Southwell, Spyway, St Andrews Well, Stalbridge, Stalbridge Common, Stalbridge Weston, Stallen, Stanton St Gabriel, Stinsford, Stock Gaylard, Stock Gaylard Park, Stockbridge, Stockwood, Stoke Abbott, Stourton Caundle, Stratton, Swyre, Sydling St Nicholas, Symondsbury, Synderford, Talbothayes, Templemans Ash, The Borough, The Quarr, The Ring, Thorncombe, Thornford, Thornhill, Three Gates, Tiley, Toller Down, Toller Fratrum, Toller Porcorum, Toller Whelme, Tollerford, Totnell, Towns End, Trent, Tut Hill, Up Cerne, Up Sydling, Uphall, Uploders, Upton, Upwey, Victoria Park, Waddon, Walditch, Wanderwell, Ware, Warmwell, Waterston, Watton, Waytown, West Allington, West Bay, West Bexington, West Chelborough, West Compton, West Knighton, West Milton, West Pulham, West Stafford, Westbury, Westfields, Westham, Weston, Weymouth, Whetley, Whitcombe, White Cross, White Lackington, White Sheet Hill, Whitechurch Canonicorum, Whitecross, Whitehall, Winterborne Came, Winterborne Herringston, Winterborne Monkton, Winterborne St Martin, Winterbourne Abbas, Winterbourne Steepleton, Wolfeton, Wonston, Woodbridge, Woodrow, Woolcombe, Woolfords Water, Wootton Fitzpaine, Wrackleford, Wraxall, Wych, Wyke, Wyke Regis, Wynford Eagle, Wytherstone, Yetminster, Yonder Hill, Yondover
Sussex Wedding Venues
Alexander House Hotel - Sussex
Amberley Castle - Sussex
Amberley Working Museum - Sussex
Angmering Manor - Sussex
Arora International Hotel - Sussex
Arundel Town Hall - Sussex
Ashdown Park Hotel - Sussex
Bailiffscourt Hotel & Spa - Sussex
Bartholomew Barns - Sussex
Best Western Berkeley Hotel - Sussex
Bibnor Park House - Sussex
Birch Hotel - Sussex
Birling Manor - Sussex
Blakewood - Sussex
Bluebell Railway Horsted Keynes Station - Sussex
Brighton Pier - Sussex
Brighton Racecourse - Sussex
Broomhill Lodge Hotel - Sussex
Broyle Place - Sussex
Butlins Skyline Ltd - Sussex
Buxted Park Hotel - Sussex
Charleston Manor - Sussex
Chatsworth Hotel - Sussex
Chichester Park Hotel - Sussex
Circa at Laughton Barns - Sussex
Cisswood House Hotel - Sussex
Crowne Plaza Gatwick- Crawley - Sussex
Deans Palace Hotel - Sussex
Dorset House - Sussex
East Court - Sussex
Eastlands - Sussex
Edes House - Sussex
Europa Gatwick Hotel - Sussex
Farbridge - Sussex
Findon Manor Hotel
Fitz Leroi Barn - Sussex
Fontwell Park Racecourse
Gatwick Manor - Sussex
Gatwick Worth Hotel - Sussex
Ghyll Manor Country Hotel - Sussex
Goffs Park - Sussex
Goodwood House - Sussex
Goodwood Racecourse - Sussex
Grand Hotel - Sussex
Gravetye Manor - Sussex
Great Ballard School Limited - Sussex
Grittenham Barn - Sussex
Handcross Park School - Sussex
Haywards Heath Town Hall - Sussex
Herst Monieaux Castle - Sussex
Hickstead Hotel - Sussex
Highdown Hotel - Sussex
Highley Manor - Sussex
Hilton Avisford Park Hotel - Sussex
Horsham Museum - Sussex
Horstead Place Country House - Sussex
Horsted Palace Hotel - Sussex
Hydro Hotel - Sussex
Inglenook Hotel - Sussex
Jeremy's Restaurant - Sussex
Kings Hotel Brighton - Sussex
Kitsbridge House Hotel - Sussex
Langham Hotel - Sussex
Leeford Palace Hotel - Sussex
Look and Sea Centre - Sussex
Mannings Heath Golf Club - Sussex
Mannings Heath Hotel - Sussex
Manor Barn - Sussex
Manor House - Sussex
Mercure London Gatwick Hotel - Sussex
Michelam Priory - Sussex
Newick Park - Sussex
Norfolk Arms Hotel - Sussex
Ockenden Manor -Sussex
Oldship Hotel - Sussex
Park House Hotel - Sussex
Pelham House - Sussex
Pippingford Park - Sussex
Plumpton Racecourse - Sussex
Powdermills Hotel - Sussex
Queen's Hall - Sussex
Queens Hotel - Sussex
Ramada Brighton - Sussex
Ramada Plaza Hotel Gatwick - Sussex
Ravenswood Country Inn -Sussex
Roundabout Hotel - Sussex
Rowbuck Hotel - Sussex
Rumbolds Farm - Sussex
Seaford College - Sussex
Shoreham (Brighton City) Airport - Sussex
Slaugham Place - Sussex
South Lodge Hotel - Sussex
Southdowns Hotel - Sussex
Spread Eagle Hotel and Health Spa - Sussex
St Mary's House - Sussex
Stammer House - Sussex
Stansted House - Sussex
Swallows Oast - Sussex
The All England Jumping Course - Sussex
The Angel Hotel - Sussex
The Birch Hotel - Sussex
The Coombes Barn - Sussex
The Copthorne Hotel - Sussex
The Council House - Sussex
The Counting House - Sussex
The Dome Complex - Sussex
The Felbridge Hotel - Sussex
The Gatwick George Hotel - Sussex
The Gatwick Manor Hotel - Sussex
The Goodwood Park Hotel - Sussex
The Green Jackets - Sussex
The Hickstead - Sussex
The Horsehoe Inn - Sussex
The Inglenook Hotel - Sussex
The Mansion House at East Court - Sussex
The Mendian Hall - Sussex
The Millstream Hotel And Restaurant - Sussex
The Old Tollgate Restaurant and Hotel - Sussex
The Pier Hotel - Sussex
The Ravenswood - Sussex
The Shelleys Hotel - Sussex
The Ship Inn - Sussex
The White Swan - Sussex
Tottington Manor Hotel - Sussex
Upwaltham Barns, The Granary - Sussex
Wadhurst Castle - Sussex
Wakehurst Place - Sussex
Weald and Downland Open Air Museum - Sussex
West Stoke House - Sussex
White Vine House - Sussex
Wickwoods Country Club - Sussex
Willow Barn Function Suite - Sussex
Windsor Hotel - Sussex
Yew Lodge - Sussex
York House Hotel - Sussex
Sussex Towns
Alfriston | Amberley | Angmering | Ansty | Ardingly | Arlington | Arundel | Ashburnham Place | Ashington | Ashurst | Balcombe | Barcombe | Barnham | Battle | Beckley | Bepton | Bexhill on Sea | Bexhill-on-Hill | Bexhill-on-Sea | Billingshurst | Birling Gap | Blackboys | Bognor Regis | Bolney | Bosham | Bracklesham | Bracklesham Bay | Bramber | Brighton | Brighton & Hove | Burgess Hill | Burpham | Burwash | Bury | Camber | Chailey | Charlton | Chichester | Chiddingly | Chidham | Chilgrove | Climping | Colgate | Compton | Cooden | Copsale | Copthorne | Countywide | Cowbeech | Cowden | Cowfold | Crawley | Crowborough | Crowhurst | Cuckfield | Danehill | Ditchling | Duncton | Eartham | East Chiltington | East Dean | East Grinstead | East Hoathly | Eastbourne | Elsted | Etchingham | Exceat | Fairlight | Felpham | Fernhurst | Findon | Firle | Fishbourne | Fittleworth | Fletching | Fontwell | Ford | Forest Row | Framfield | Fulking | Furner's Green | Gatwick | Gatwick Airport | Goodwood | Graffham | Hailsham | Halesowen | Halland | Halnaker | Hartfield | Haslemere | Hassocks | Hastings | Haywards Heath | Heathfield | Henfield | Herstmonceux | Heyshott | Hickstead | Holtye | Horam | Horsham | Horsted Keynes | Houghton | Hove | Hurst Green | Hurstpierpoint | Icklesham | Ifield | Jevington | Kingston | Kirdford | Lancing | Lewes | Lickfold | Litlington | Little Horsted | Littlehampton | Lodsworth | Lurgashall | Mannings Heath | Maplehurst | Mayfield | Midhurst | Newhaven | Newick | Normans Bay | North Walsham | Northiam | Nutbourne | Nuthurst | Nyetimber | Offham | Old Heathfield | Oving | Partridge Green | Patching | Peacehaven | Peasmarsh | Petworth | Pevensey | Piddinghoe | Plumpton | Polegate | Portslade | Poynings | Pulborough | Pyecombe | Ridgewood | Ringmer | Robertsbridge | Rottingdean | Rowhook | Rudgwick | Rushlake Green | Rusper | Rustington | Rye | Saltdean | Seaford | Sedlescombe | Selsey | Sharpthorne | Shipley | Shoreham | Shottermill | Sidlesham | Sinfold | Singleton | Slinfold | Sompting | South Harting | Southwick | St Leonards | St Leonards on Sea | St. Leonards On Sea | St. Leonards-On-Sea | Staplecross | Stedham | Steyning | Storrington | Three Leg Cross | Ticehurst | Tillington | Turners Hill | Uckfield | Upper Dicker | Wadhurst | Walberton | Walderton | Warbleton | Warnham | Warninglid | Wartling | Washington | West Chiltington | West Hoathly | West Wittering | Westfield | Wick | Wilmington | Winchelsea | Wineham | Wisborough Green | Withyham | Worthing | Yapton |
Hampshire Wedding Venues
Alton Grange Hotel, Alton, Hampshire
Alton House Hotel, Alton, Hampshire
Audleys Wood Hotel, Alton, Hampshire
Avington Park, Winchester, Hampshire
Balmer Lawn, Brockenhurst, Hampshire
Beaulieu Hotel, Hampshire
Bertley Lodge Hotel, Codnam, Hampshire
Botleigh Grange Hotel, Hampshire
Busketts Lawn Hotel, Southampton, Hampshire
Cain Manor, Headleydown, Hampshire
Cams Hall, Fareham, Hampshire
Careys Manor, Brockenhurst, Hampshire
Chawton House, Alton, Hampshire
Chewton Glen Hotel, New Milton, Hampshire
Clockbarn, Whitchurch, Hampshire
Ditcham House, Petersfield, Hampshire
Elmers Court Country Club, Lymington, Hampshire
Esseborne Manor Hotel, Andover, Hampshire
Falcon Hotel, Farnborough, Hampshire
Fifehead Manor Hotel, Stockbridge, Hampshire
Forest Lodge Hotel, Lyndhurst, Hampshire
Forest Park Hotel, Hampshire
Fountain Court Hotel, Southampton, Hampshire
Grand Harbour, Southampton, Hampshire
Groomes Country House, Bordon, Hampshire
Grosvenor Hotel, Stockbridge, Hampshire
Heckfield Place, Hook, Hampshire
Hook House Hotel, Hook, Hampshire
Lainston Home Hotel, Winchester, Hampshire
Langrish House, Petersfield, Hampshire
Leiths at Bealieu, Brockenhurst, Hampshire
Lysses House, Fareham, Hampshire
Marriott Moon Valley Hotel, Hampshire
New Park Manor Hotel, Hampshire
Newton House Hotel, Hampshire
Norton Park, Winchester, Hampshire
Oakley Hall, Basingstoke, Hampshire
Old Somerley, Ringwood, Hampshire
Old Thorns, Liphook, Hampshire
Osborne House, East Cowe, Hampshire
Paddock Cottage, Hampshire
Princess Caroline, Portsmouth, Hampshire
Quayside, Portsmouth, Hampshire
Red Lion Hotel, Basingstoke, Hampshire
Rhinefield House, Brockenhurst, Hampshire
Rivervale Barn, Yateley, Hampshire
Sandingham Hotel, Southsea, Hampshire
Shorefield Country Park, Downton, Hampshire
Somerley, Ringwood, Hampshire
Southsea Castle, Hampshire
Stanwell House Hotel, Lymington, Hampshire
The Cloud Hotel, Brockenhurst, Hampshire
The Elvetham, Hampshire
The Game Larder, Stockbridge, Hampshire
The Langstone Hotel, Hampshire
The Lyndhurst Park Hotel, Lyndhurst, Hampshire
The Manor Barn, Buriton, Hampshire
The Old Barn, Hook, Hampshire
The Potters Heron Hotel, Hampshire
The Vine. Basingstoke, Hampshire
The Winchester Hotel, Hampshire
The Winchester Royal Hotel, Hampshire
Upland Park Hotel, Droxford, Hampshire
Warbrook House, Hook, Hampshire
Wessex Hotel, Winchester, Hampshire
West End Farm, Alton, Hampshire
Westover Hall Hotel, Lymington, Hampshire
Winchester Guildhall, Hampshire
Winslowe House, Southampton, Hampshire
Woodlands Lodge Hotel, Southampton, Hampshire
Hampshire Towns
Aldershot | Alresford | Alton | Ampfield | Andover | Ashurst | Barton on Sea | Barton Stacey | Barton-on-Sea | Basingstoke | Baughurst | Beaulieu | Bentley | Bentworth | Bishops Waltham | Bordon | Botley | Bramdean | Bramshill | Bransgore | Brockenhurst | Broughton | Bucklers Hard | Buriton | Burlesdon | Burley | Cadnam | Chalton | Chandlers Ford | Charter Alley | Chawton | Cheriton | Copythorne | Countywide | Crawley | Crondall | Crookham | Damerham | Denmead | Dibden | Dogmersfield | Downton | Dummer | Dunbridge | East End | East Meon | East Stratton | East Tytherley | East Wellow | Eastleigh | Easton | Emsworth | Eversley | Faccombe | Fair Oak | Fareham | Farnborough | Fleet | Fordingbridge | Fritham | Froxfield | Gosport | Hamble | Hambledon | Hartley Wintney | Havant | Hawkley | Hayling Island | Heckfield | Highfield | Hook | Horndean | Horsebridge | Hurstbourne Tarrant | Ibsley | Itchen Abbas | Kingsclere | Kingsley | Langstone | Leckford | Lee-on-the-Solent | Linwood | Liphook | Liss | Longparish | Lymington | Lyndhurst | Mapledurwell | Mattingley | Micheldever | Milford on Sea | Minstead | New Alresford | New Milton | Newtown | North Waltham | Northington | Odiham | Old Basing | Otterbourne | Overton | Ovington | Ower | Owslebury | Petersfield | Pikes Hill | Pilley | Plaitford | Portchester | Portsmouth | Preston Candover | Ringwood | Romsey | Rotherwick | Rowlands Castle | Selborne | Setley | Shawford | Shedfield | Silchester | Soberton | Sopley | Southampton | Southsea | Southwick | Sparsholt | St Mary Bourne | Stockbridge | Stuckton | Sway | Tadley | Tangley | Tichborne | Tidworth | Titchfield | Totton | Twyford | Upper Chute | Upper Froyle | Upton Grey | Warsash | Waterlooville | Well | West Tytherley | Wherwell | Whitchurch | Whitsbury | Wickham | Winchester | Winchfield | Wolverton | Woodlands | Yateley |
Kent Wedding Venues
Abbey Hotel - Kent
Abbots Barton Hotel Canterbury - Kent
Aberdeen House - Kent
Abode Canterbury - Kent
Acacia Hall - Kent
Alexandra Suite - Kent
Ashford International Hotel - Kent
Ashford Post House - Kent
Beckenham Place - Kent
Bell Hotel Sandwich - Kent
Best Western - Kent
Best Western Churchill Hotel - Kent
Best Western Russell Hotel - Kent
Bickley Manor Hotel & Restaurant - Kent
Boughton Monchelsea Place - Kent
Brandshatch Place Hotel & Spa - Kent
Brick House Farm - Kent
Bridgewood Manor - Kent
Bromley Manor Hotel - Kent
Broome Park - Kent
Burlington Hotel - Kent
Canterbury Cathedral - Kent
Castle Keep Hotel - Kent
Castlemere Hotel - Kent
Chart Hills Golf Club - Kent
Chartwell - Kent
Chaucer Hotel - Kent
Chiddingstone Castle - Kent
Chilston Park Country House Hotel - Kent
Clarendon Hotel - Kent
Cobham Hall - Kent
Combe Bank School - Kent
Conningbrook Hotel - Kent
Conniston Hotel - Kent
Cooling Castle Barn Ltd - Kent
Court Stairs Country Club - Kent
Croft Hotel - Kent
Crofton Halls - Kent
Cygnet House - Kent
Deal Castle - Kent
Deal Town Hall - Kent
Dover Castle - Kent
Eastwell Manor - Kent
Eastwell Park Boat House - Kent
Elwick House - Kent
Etchinghall Golf Club - Kent
Faringham Hotel - Kent
Finchcocks - Kent
Fort Amherst - Kent
Gads Hill Place - Kent
Grand Burstin Hotel - Folkestone - Kent
Grange Moor Hotel - Kent
Groombridge Place - Kent
Grove Ferry Inn - Kent
Grove Hill House - Kent
Hadlow Manor Hotel - Kent
Harrow Hall Hotel - Kent
Hartlip Place - Kent
Hempstead House - Kent
Hever Castle Golf Club - Kent
Hever Castle Tudor Village - Kent
High Rocks - Kent
Hilltop Hotel - Kent
Hilton Dartford Bridge - Kent
Hilton Maidstone - Kent
Holiday Inn Ashford - Central - Kent
Holiday Inn Ashford North (A20) - Kent
Holiday Inn Maidstone - Kent
Hop Farm Country Park - Kent
Hotel Du Vin - Kent
Hotel St George - Kent
Howfield Manor - Kent
Imperial College London Wye - Kent
Inn on the Lake - Kent
Julie Rose Stadium - Kent
Kent National Golf Club Brenchley - Kent
Kings Hall - Kent
Kits Coty - Kent
Knowle Country House - Kent
Knowlton Court - Kent
Ladham House - Kent
Langley Hotel - Kent
Larkfield Priory Hotel, Kent
Leas Cliff Hall - Kent
Leaves Manor Hotel - Kent
Leeds Castle - Kent
Little Hermitage - Kent
Little Silver Country Hotel - Kent
Little Woottons - Kent
London Beach Country Hotel & Golf Club - Kent
London Golf Club - Kent
Lost Village of Dode - Kent
Lympne Castle - Kent
Maidstone Post House - Kent
Marriott Tudor Park - Kent
Maybrook House - Kent
Milton Place - Kent
Mount Ephraim Gardens - Kent
Mountains Country House - Kent
Museum of Kent Life - Kent
Nettlestead Place - Kent
New Wellington Hotel - Kent
Nurstead Court - Kent
Oakley House - Kent
Oakwood House - Kent
Orangery at Turkey Mill - Kent
Pavillion on the Sands - Kent
Pegwell Bay Hotel - Kent
Penshurst Place - Kent
Philpots Manor - Kent
Port Lympne Wild Animal Park - Kent
Priestfield - Kent
Quality Hotel Burlington - Kent
Quex House - Kent
Ramada Dover - Kent
Ramada Maidstone - Kent
Ratsbury Barn - Kent
Rochester Cathedral - Kent
Rowhill Grange Hotel - Kent
Royal Wells Hotel - Kent
Sackville School - Kent
Salmestone Grange - Kent
Salomons - Kent
Sandwich Guildhall - Kent
Sharsted Court - Kent
Shorncliff House - Kent
Sole Street House - Kent
Spa Hotel Tunbridge Wells - Kent
St Augustines - Kent
St Augustines Priory - Kent
St Julians Club - Kent
St Martins Priory - Kent
Stade Court - Kent
Stone Castle - Kent
Stone Green Hall - Kent
Swarling Manor - Kent
Tenterden Town Hall - Kent
The Barn - Tunbrideg Wells - Kent
The Beacon - Kent
The Bell Hotel - Kent
The Croft - Kent
The Dog Inn - Kent
The Falcons (Rare Breeds Centre) - Kent
The Granby Hotel & Restaurant - Kent
The Grand Folkestone - Kent
The High Rocks - Kent
The Hythe Imperial - Kent
The Marine Hotel - Kent
The Marquisat Alkam - Kent
The Orchard - Kent
The Owl House - Kent
The Pines Calyx - kent
The Queens Inn - Kent
The Smugglers Restaurant - Kent
The Star & Eagle Hotel - Kent
The Swallow Chaucer Hotel - Kent
The Swallow Kent International - Kent
The Swan - Kent
The Three Tuns Inn - Kent
The White Horse Inn - Kent
The Woodstock - Kent
Theatre Royal - Kent
Thistle Brands Hatch - Kent
Timbers - Ashford - Kent
Tollgate Hotel - Kent
Tonbridge Castle - Kent
Turkey Mill Events Ltd - Kent
Village Hotel & Leisure Club - Kent
Wadhurst Castle - Kent
Walmer Castle & Gardens - Kent
Waltham Court - Kent
Weald of Kent - Kent
Westenhanger Castle - Kent
Westerham Golf Club - Kent
Willesborough Windmill - Kent
Windy Ridge - Kent
Woodlands Manor Golf Club - Kent
Wyvern Hall - Kent
Yotes Court - Kent
Towns and Villages of Kent England
Abbey Gate, Ackholt, Acol, Acrise, Acton, Addington, Adisham, Aldington, Alkham, Alland Grange, Allhallows, Allington, Amber Green, Amberfield, Ansdore, Anvil Green, Appledore, Appledore Heath, Arnold, Arpinge, Ash, Ash-Cum-Ridley, Ashford, Ashley, Aycliff, Aylesford, Aylesford Green, Aylesham, Badgers Mount, Badlesmere, Bagham, Bakers Hole, Bapchild, Barden Park, Barfrestone, Bargains Hill, Barham, Barksore, Barming, Barming Heath, Barnes Street, Barnsole, Barrow Green, Barrow Hill, Bartletts, Basted, Battle Street, Bay Hill, Beacon Hill, Bean, Bearsted, Beaver, Beaver Green, Bedgebury, Bedmonton, Bekesbourne, Bekesbourne Hill, Bekesbourne With Patrixbourne, Bellevue, Beltinge, Beltring, Beluncle, Benenden, Benover, Berwick, Bessels Green, Bethersden, Betsham, Betteshanger, Betteshanger Colliery, Bewlbridge, Bewley, Bexon, Bicknor, Bidborough, Biddenden, Biddenden Green, Bifrons, Bill Street, Bilsington, Bilting, Birchington, Bircholt, Birchwood, Birling, Bishops Down, Bishops Down Park, Bishopsbourne, Bishopsdale, Bishopstone, Bitchet Green, Black Princes Chantry, Blackhurst, Blackwall, Bladbean, Blean, Bletchenden, Bloodden, Blowers Hill, Blue Pigeons, Blue Town, Bluebell Hill, Bluetown, Boarley, Bobbing, Bodsham Green, Bogden, Bogle, Bonnington, Boons, Bopeep, Borden, Bordyke, Borough Green, Borstal, Bossingham, Bossington, Botolphs Bridge, Bottom Pond, Bough Beach, Boughton Aluph, Boughton Green, Boughton Lees, Boughton Malherbe, Boughton Monchelsea, Boughton under Blean, Bowhill, Boxley, Boyden Gate, Brabourne, Brabourne Lees, Bradbourne, Brambledown, Brambles, Bramling, Brandfold, Brandridges, Brands Hatch, Brasted, Brasted Chart, Breach, Bredgar, Bredhurst, Brenchley, Brenzett, Bridge, Bridge Woods, Brissenden Green, British Legion Village, Broad Ford, Broad Street, Broad Tenterden, Broadlees, Broadoak, Broadstairs, Broadstairs and St Peters, Broadstone, Broadwater Down, Broadway, Bromley Green, Brompton, Bromstone, Brook, Brook Place, Brook Street, Brookland, Brooks End, Broom Street, Broome Park, Broomfield, Broomfield and Kingswood, Broomhill, Buckhurst, Buckland, Buckmans Green, Buckwell, Bull Green, Bulleign, Bullen, Bullingstone, Bullockstone, Burham, Burlings, Burmarsh, Burntwick Island, Busheyfield, Bushy Ruff, Butlers Place, Button Street, Buttsole, Bybrook, Cage Green, Calcott, Calehill Park, Calverley Park, Camden Park, Camer, Canterbury, Capel, Capel Cross, Capel Street, Capel-le-Ferne, Capstone, Castle Hill, Castle Street, Cellarhill, Chainhurst, Chalk Hole, Chalkenden, Chalkwell, Challock, Chambers Green, Chapel Hill, Charcott, Charing, Charing Heath, Chart Corner, Chart Hill, Chart Sutton, Chartham, Chartham Hatch, Chartway Street, Chatham, Chattenden, Cheesmans Green, Chegworth, Chennell Park, Chequers Street, Cheriton, Chestfield, Chestnut Street, Chetney, Chevening, Chiddingstone, Chiddingstone Causeway, Chiddingstone Hoath, Chilham, Chillenden, Chilmington Green, Chilton, Chilton Hills, Chingley, Chipstead, Chislet, Chitty, Christophers Row, Church Hill, Church Hougham, Church Street, Church Whitfield, Clap Hill, Clapper Hill, Clares Forstal, Clay Gate, Claydene, Claygate, Claygate Cross, Claypits, Clement Street, Cliffe and Cliffe Woods, Cliffe Woods, Cliffsend, Cliftonville, Cobbs Croft, Cobham, Cock Street, Coldblow, Coldharbour, Coldred, Coldred Street, Coldrum, Colebrooke, Colham Green, Collier Street, Colliers Green, Combe Bank, Combourne, Comp, Congelow, Conghurst, Conyer, Cooling, Cooling Street, Coolinge, Coombe, Coopers Corner, Coopers Street, Cop Street, Coppins Corner, Copton, Corks Pond, Corn Hill, Coursehorne, Court Lees, Court Lodge, Court-At-Street, Courtsole, Cowden, Coxheath, Coxhill, Crabble, Cranbrook, Craylands, Crittenden, Crockenhill, Crockham Hill, Crockhurst Street, Crockley Green, Crocksfoot Hill, Cross-At-Hand, Crouch, Crouch House Green, Crow Corner, Crowbourne, Crowdleham, Crowhill, Crowhurst, Crown Quay, Crundale, Cuckolds Green, Culmers, Culverstone Green, Curteis' Corner, Curtisden Green, Cuxton, Danaway, Dane John, Dane Street, Daniels Water, Dans Hill, Darenth, Dargate, Dargets Wood, Darland, Dartford, Dartford Heath, David Street, Davington Hill, Deal, Dean Bottom, Dean Street, Deans Bottom, Deans Hill, Deerton Street, Delce, Denge Marsh, Denny Bottom, Densole, Denstroude, Dent de Lion, Denton, Denton With Wootton, Derringstone, Detling, Devils Den, Dibden, Dingleden, Ditton, Doddington, Donkey Street, Dover, Dowle Street, Downgate, Downswood, Duckpit, Dully, Dumpton, Dundle, Dungate, Dungeness, Dunkirk, Dunkirk End, Dunks Green, Dunn Street, Dunton Green, Durlock, Durrant Green, Dymchurch, Each End, Easole Street, East Barming, East Bottom, East Brabourne, East Dumpton, East End, East Farleigh, East Langdon, East Malling and Larkfield, East Malling Heath, East Peckham, East Rainham, East Stourmouth, East Street, East Studdal, East Sutton, Eastchurch, Eastling, Eastons Corner, Eastry, Eastwell, Eastwood, Ebbsfleet, Eccles, Eddington, Edenbridge, Egerton, Egmore Hatch, Elham, Elham Valley, Elinlegh, Elmley, Elms, Elmsted, Elmstone, Elvington, Epple, Erriottwood, Etchinghill, Everden, Ewell Minnis, Eyhorne Green, Eyhorne Street, Eynsford, Eythorne, Fairbourne, Fairfield, Fairhill, Fairseat, Falconhurst (Fawkenhurst, Farleigh Green, Farleigh Hill, Farningham, Fartherwell, Farthing Common, Farthing Green, Farthingloe, Farthings, Faversham, Fawke Common, Fawkham, Felderland, Fenn Street, Fernfield, Field Green, Finglesham, Five Oak Green, Five Wents, Fleete (Flete, Flemings, Fletchers Green, Flishinghurst, Folkestone, Folkstone, Force Green, Ford, Ford Place, Fordcombe, Fordwich, Forstal, Fostall, Fosten Green, Foster Clark Estate, Foulmead, Four Elms, Four Oaks, Four Throws, Four Wents, Fowle Hall, Foxendown, Fredville, French Street, Frindsbury, Frindsbury Extra, Frinsted, Frith, Frittenden, Frogham, Froghole, Frogholt, Frognal Lane, Frogs Hill, Fullers Corner, Further Quarter, Gadshill, Gain Hill, Galley Hill, Garlinge, Garlinge Green, Garrington, Gennings, Gibraltar, Giddinge, Gildenhill, Gills Green, Glassenbury, Goat Lees, Goathurst Common, Goddards Green, Godden Green, Godmersham, Godwell, Gold Street, Golden Green, Golden Square, Golford, Goodnestone, Goose Green, Gore, Gore Green, Gore Street, Gorse Green, Goudhurst, Gover Hill, Grafty Green, Grain, Grange, Gransdon, Gravel Castle, Graveney, Graveney With Goodnestone, Gravesend, Great Bayhall, Great Budds, Great Chart With Singleton, Great Cheveney, Great Comp, Great Foxholt, Great Jobs Cross, Great Mongeham, Great Pattenden, Great Stonar, Great Tottington, Great Watersend, Greatness, Greatstone, Green Hill, Green Lane, Green Street Green, Greenhill, Greenhithe, Greenway Forstal, Greet, Grigg, Groombridge, Grove, Grove Green, Grovehurst, Grubb Street, Guildsted, Guilton, Gun Green, Gushmere, Guston, Hackington, Hacklinge, Hadlow, Haffenden Quarter, Haine, Hale, Hale Street, Halfway Houses, Halfway Street, Hall Wood, Halling, Halstead, Halstow, Ham, Ham Green, Ham Hill, Ham Street, Hamden, Hammill, Hampton, Hamptons, Hamstreet, Harbledown, Harbourland, Hareplain, Harmans Corner, Harrietsham, Hartley, Hartley Green, Hartley Hill, Hartlip, Harty, Harvel, Hassell Street, Haste Hill, Hastingleigh, Haviker Street, Hawkenbury, Hawkhurst, Hawkinge, Hawkwell, Hawley, Hawleys Corner, Hayle Place, Haysden, Hazel Street, Headcorn, Hearnden Green, Hearts Delight, Heath Side, Heaverham, Hempstead, Hemsted, Henbury, Hengherst, Hengrove, Henhurst, Henley Street, Henwood Green, Hereson, Herne, Herne and Broomfield, Herne Bay, Herne Hill, Herne Pound, Hernhill, Heronden, Hersden, Hever, Hextable, Hickmans Green, Hicks Forstal, High Brooms, High Halden, High Halstow, High Rocks, High Street, Higham, Higham Upshire, Highfield, Highgate, Highstead, Highsted Forstal, Hilden Park, Hildenborough, Hill Green, Hill Park, Hill Street, Hillborough, Hillside, Hinxhill, Hoaden, Hoath, Hoath Corner, Hoathly, Hodsoll Street, Hogbens Hill, Hogtub Green, Holborough, Hole Street, Hollanden, Hollands Hill, Hollicondane, Hollingbourne, Hollins Bottom, Hollow Street, Holly Hill, Hollybushes, Holmbush, Holt Street, Home Street, Homestall, Honey Hill, Hoo, Hoo St Wergurgh, Hook Green, Hoppers Corner, Horn Street, Hornes Place, Horns Cross, Horns Green, Horselees, Horseshoe Green, Horsham, Horsmonden, Horton, Horton Green, Horton Kirby, Horton Kirby and South Darenth, Horton Park, Hosey Hill, Hothfield, Hougham Without, How Green, Howt Green, Hucking, Hulberry, Hungershall Park, Hunters Forstal, Hunton, Hunts Hill, Hurst Hill, Hythe, Ickham and Well, Ide Hill, Iden Green, Ifield, Ightham, Ileden, Isle of Grain, Istead Rise, Ivy Hatch, Ivychurch, Iwade, Johns Green, Johns Hole (St Johns Hole, Joyce Green, Jubilee Corner, Julliberrie Downs, Kearsney, Kempes Corner, Kemsing, Kemsley, Kemsley Street, Kenardington, Kench Hill, Kennaways, Kennington, Kensham Green, Kent Hatch, Kent Street, Kenward, Kettle Corner, Key Street, Keycol, Keys Green, Kilndown, King Hill, Kings Farm, Kingsdown, Kingsdown Park, Kingsdown Plot, Kingsgate, Kingsnorth, Kingston, Kippings Cross, Kippington, Kits Coty Estate, Knatts Valley, Knaves Ash, Knockhall, Knockholt, Knockholt Pound, Knockmill, Knowle Hill, Knowles Bank, Knowlton, Knox Bridge, Lacton Green, Laddingford, Lade, Ladham, Lamberden, Lamberhurst, Lane End, Langdon, Langley, Langton Green, Lark Hill, Larkfield, Lashenden, Laughing Water, Leadingcross Green, Leaveland, Leeds, Leigh, Leigh Green, Lenham, Lenham Forstal, Lenham Heath, Letts Green, Lewson Street, Leybourne, Leysdown, Leysdown-on-Sea, Lidsing, Lillesden, Lilyhole, Linkhill, Linton, Little Beachborough, Little Berwick, Little Betteshanger, Little Biddenden Green, Little Buckland, Little Budds, Little Chart, Little Cheveney, Little Coldharbour, Little Comp, Little Fisher Street, Little Foxholt, Little Halden Place, Little Hermitage, Little Hothfield, Little Houses, Little London, Little Mill, Little Preston, Little Scotney, Little Sheephurst, Little Shuttlesfield, Little Stonar, Little Tottington, Littlebourne, Littlebrook, Littlestone-on-Sea, Liverton Street, Livesey Street, Lloyds Green, Loddington, Lodge Hill, London Beach, Longfield, Longfield Hill, Longford, Longridge, Longspring Wood, Loose, Loose Hill, Loose Valley, Love Street, Lower Barnend, Lower Bush, Lower Ensden, Lower Eythorne, Lower Goldstone, Lower Green, Lower Halling, Lower Halstow, Lower Hardres, Lower Luddesdown, Lower Rainham, Lower Stoke, Lower Upnor, Lower Walmer, Lower Willington, Lower Woolwich, Luddenham, Luddesdown, Lullingstone, Lunsford, Luton, Lydd, Lydd-on-Sea, Lydden, Lymbridge Green, Lyminge, Lympne, Lynsore, Lynsore Bottom, Lynsted, Macknade, Maidstone, Malmains, Maltmans Hill, Mangravet Estate, Manston, Maplescombe, Mapleton, Marchurst, Marden, Marden Beech, Marden Thorn, Margate, Marine Town, Markbeech, Market Heath, Marley, Marling Cross, Marlpit Hill, Marsh Green, Marsh Quarter, Marshborough, Marshside, Martin, Martin Mill Station, Martyrs Field, Matfield, Matts Hill, Maxted Street, Maxton, Maypole, Medhurst Row, Meopham, Meopham Green, Meresborough, Mereworth, Mersham, Mid Higham, Middle Deal, Middle Quarter, Middlestoke, Mile End Green, Mile Town, Milebush, Mill Street, Millbank, Millbank Place, Millhall, Milstead, Milstead and Kingsdown, Milton, Milton Regis, Milton Street, Minster, Minster in Sheppey, Modest Corner, Molash, Monday Boys, Monks Hill, Monks Horton, Monkton, Moons Green, Moor Street, Moorstock, Morehall, Motney Hill, Mount, Mount Ephraim, Mount Pleasant, Mountain Street, Mowshurst, Mud Row, Murston, Mystole, Nackholt, Nackington, Nagden, Napchester, Nash, Nash Street, Nepicar, Nether Hale, Nettlestead, Nettlestead Green, Nevill Park, New Barn, New Barns, New Broadlees, New Horsted, New Hythe, New Mill, New Pound, New Romney, New Street, New Town, Newbarn, Newchurch, Newenden, Newingreen, Newington, Newland Green, Newnham, Newtown, Nizels Hoath, Noahs Ark, Nonington, North Ash, North Elham, North Foreland, North Frith, North Halling, North Leigh, North Lyminge, North Poulders, North Stonar, North Street, North Willesborough, Northbourne, Northdown, Northfleet, Northumberland Bottom, Northwood, Norton, Norton Green, Norwood, Nurstead, Nutts, Oad Street, Oare, Ockley, Offham, Old Broadlees, Old Park Barracks, Old Place, Old Romney, Old Soar, Old Tree, Old Wives Lees, Oldbury, Ongley East, Ongley West, Ordnance Place, Orlestone, Ospringe, Otford, Otham, Otham Hole, Otterden, Otterham Quay, Ottinge, Out Elmstead, Overland, Oxney, Paddlesworth, Paddock, Paddock Wood, Pagehurst, Painters Forstal, Palm Bay Estate, Palmarsh, Palmers Green, Paramour Street, Park, Park Barracks (Old, Park Field, Park Hill, Parkgate, Patrixbourne, Pattenden, Payden Street, Pean, Pearsons Green, Peckham Bush, Pedlinge, Peene, Peening Quarter, Pegwell, Pemble Cross, Pembury, Penhill, Pennypot, Penshurst, Perry, Perry Street, Perrywood, Pested, Petham, Pett Bottom, Pett Place, Pett Street, Petteridge, Pettings, Petty France, Pierremont, Pinden, Pineham, Pinks Corner, Pitts Wood, Pivington, Pizien Well, Platt, Platts Heath, Platts Heath, Plaxdale Green, Plaxtol, Pluckley, Plumtree Green, Pod Corner, Pollhill, Pootings, Port Victoria, Postling, Postling Green, Potmans Heath, Potten Street, Potters Forstal, Pouces, Poulders Gardens Estate, Poulhurst, Pounds Bridge, Pratling Street, Preston, Preston Village, Priestlands, Priestwood, Priestwood Green, Prospect Place, Provender, Puddledock, Purfleet, Pye Corner, Queen Street, Queenborough, Queenborough-in-Sheppey, Queensdown, Rabbits Cross, Radfall Hill, Radfield, Rainham, Ram Lane, Ramsgate, Ranscomb, Ratling, Rawling Street, Reading Street, Reculver, Red Hill, Red Oak, Redstreet, Reinden, Renville, Rhode Common, Rhoden Green, Rhodes Minnis, Richborough, Richdore, Ridge Row, Ridgway, Ringlestone, Ringwould With Kingsdown, Rippers Cross, Ripple, Riseden, River, River Hill, River Without, Riverhead, Rochester, Rochester Park Estate, Rodmersham, Rodmersham Green, Rolvenden, Rolvenden Layne, Romden Bridge, Romford, Romney Street, Rooting Street, Roseacre, Rosherville, Rough Common, Roughway, Round Street, Rowhill, Rowling, Rowling Street, Royal British Legion Village, Royal Tunbridge Wells, Roydon, Ruckinge, Ruffins Hill, Rugmer Hill, Rumfields Gap, Rushams, Rushbourne, Rushenden, Rushmere, Rusthall, Ryarsh, Sackettshill, Saints Hill, Salters Cross, Salters Heath, Saltwood, Sand Hills, Sandgate, Sandhurst, Sandhurst Cross, Sandling, Sandling Junction, Sandown Park, Sandway, Sandwich, Sandwich Bay, Sandwich Hill, Sarre, Satmar, Sayes Court, Scalers Hill, Scarborough, Scrapsgate, Seabrook, Seal, Seasalter, Seaton, Seaview Estate, Seed, Sellindge, Selling, Selson, Selstead, Sevenoaks, Sevenoaks Weald, Sevenscore, Sevington, Shadoxhurst, Shalmsford Street, Sharnal Street, Sharps Hill, Sharsted, Shatterling, Shaw Hill, Sheep Court, Sheerland, Sheerness, Sheerness East, Sheerwater, Sheet Hill, Sheldwich, Sheldwich Lees, Shellness, Shelvin, Shepherdswell (Sibertswold, Shepherdswell With Coldred, Shepway, Shipbourne, Shipley Hatch, Shirkoak, Sholden, Sholdenbank, Shoreham, Shorncliffe Camp, Shorne, Shottenden, Shuart, Sibertswold (Shepherdswell, Sibton Park, Silver Hill, Silver Street, Singles Cross, Singlewell, Sinkhurst Green, Sissinghurst, Sittingbourne, Skeete, Skinners Farm, Skinners Hill, Slade, Small Hythe, Smarden, Smarts Hill, Smeeth, Snargate, Snave, Snipeshill, Snoad Hill, Snodland, Snoll Hatch, Snowdown, Snughorne, Sole Street, Solestreet, Somerhill, South Alkham, South Ashford, South Darenth, South Green, South Park, South Poulders, South Stour, South Street, South Willesborough, Southborough, Southborough Common, Southernden, Southfleet, Southstreet, Sparkeswood, Spearpoint Corner, Spekes Bottom, Spelders Hill, Speldhurst, Spelmonden, Spendiff, Spitals Cross, Spittle Crouch, Sponden, Sprattling Street, Spring Grove, Springetts Hill, Springhead, Spurban Hill, St Albans Downs, St Anns Green, St Clere, St Cosmus and St Damian in T, St Cosmus and St Damian in the, St Johns, St Lawrence, St Leonards Street, St Margarets, St Margarets At Cliffe, St Margarets Bay, St Margarets Road, St Mary Hoo, St Mary in the Marsh, St Marys Bay, St Michaels, St Nicholas At Wade, St Stephens, St Thomas Cross, St Thomass Hill, Stalisfield, Stallions Green, Standen, Standen Street, Standings Cross, Stanford, Stanfords End, Stangate, Stanhill, Stanhope, Stansted, Staple, Staplehurst, Staplestreet, Statenborough, Station Road, Stede Quarter, Steeds Lane, Stelling, Stelling Minnis, Stiff Street, Stockbury, Stockers Head, Stockland Green, Stocks Green, Stodmarsh, Stoke, Stonar, Stone, Stone Cross, Stone Hill, Stone Street, Stone-Cum-Ebony, Stonebridge Green, Stonecrouch, Stonegreen, Stonehall Village, Stonehill Green, Stonehill Woods, Stonestreet Green, Stonewood, Stourmouth, Stowting, Street End, Strood, Stubbs Cross, Studd Hill, Studdal, Sturry, Styants Bottom, Summer Hill, Summerfield, Sundridge, Susans Hill, Sutton, Sutton At Hone, Sutton Street, Sutton Valence, Sutton-At-Hone and Hawley, Swalecliffe, Swanley, Swanley Bottom, Swanley Junction, Swanley Village, Swanscombe and Greenhithe, Swanton, Swanton Street, Swaylands, Sweetlands Corner, Swifts Green, Swing Gate, Swingfield, Swingie Hill, Syndale Valley, Tankerton, Tatlingbury, Tedders Lea, Temple, Temple Ewell, Tenterden, Teston, Teynham, Thanington Without, The Alders, The Brents, The Corner, The Crook, The Down, The Farthing, The Forstal, The Freehold, The Gore, The Green, The Groves, The Ham, The Heath, The Hoath, The Horns, The Leacon, The Mean, The Moor, The Paddock, The Park, The Pound, The Quarter, The Rocks, The Springs, The Stair, The Stocks, The Valley, Thong, Thorne, Three Chimneys, Three Elm Lane, Throwley, Throwley Forstal, Thurnham, Tickenhurst, Tickham, Tilmanstone, Timberden Bottom, Tonbridge, Tong, Tong Green, Tonge, Torry Hill, Tovil, Tower Hamlets, Tower Hill, Townland Green, Toys Hill, Trosley, Trottiscliffe, Troy Town, Tudeley, Tudeley Hale, Tunstall, Tut Hill, Tweed Hill, Twelve Acres, Twenties, Twitham, Twitton, Twydall, Tyland, Tyler Hill, Tylers Green, Ulcombe, Under River, Underdown, Underhill, Underling Green, Upchurch, Uphill, Uplees Marshes, Upnor, Upper Barnend, Upper Bush, Upper Deal, Upper Ensinge, Upper Eythorne, Upper Garrington, Upper Goldstone, Upper Hale, Upper Halling, Upper Harbledown, Upper Hardres, Upper Harvel, Upper Haysden, Upper Luton, Upper Mill, Upper Upnor, Upper Willington, Upper Woolwich, Upstreet, Upton, Upton Wood, Vexour, Victoria Town, Vigo Village, Vinters Park, Wainscott, Walderslade, Wall End, Wallend, Walmer, Walmestone, Walnut Tree, Walters Green, Waltham, Wanden, Wanshurst Green, Warden, Warden Mill, Warden Point, Ware, Ware Street, Warehorne, Warmlake, Warren Street, Watchgate, Waterham, Wateringbury, Waterman Quarter, Watts Cross, Way, Weavering Street, Weddington, Well Hill, Well Street, Wellers Town, Wenderton, West Brabourne, West Cross, West Dumpton, West End, West Farleigh, West Hougham, West Hythe, West Kingsdown, West Langdon, West Malling, West Minster, West Ongley, West Peckham, West Rainham, West Ripe, West Stourmouth, West Street, West Whitfield, West Yaldham, West Yoke, Westbere, Westbrook, Westcourt, Westenhanger, Westerham, Western Heights, Westfield Sole, Westgate-on-Sea, Westmarsh, Westwell, Westwell Leacon, Westwood, Wetham Green, Whatsole Street, Wheelbarrow Town, Wheelers Street, Whetsted, Whiteacre, Whitefriars, Whitehall, Whitehill, Whites Hill, Whitfield, Whitstable, Wichling, Wickham, Wickhambreaux, Wierton, Wigmore, Wildernesse, Wilgate Green, Willesborough, Wilmington, Wilsley Green, Wilsley Pound, Winchet Hill, Windmill Hill, Wingfield, Wingham, Wingham Well, Wingmore, Winkhurst Green, Winterbourne, Wissenden, Withersdane, Wittersham, Wolverton, Womenswold, Woodchurch, Woodland, Woodlands, Woodnesborough, Woodside Green, Woodstock, Woolage Green, Woolage Village, Woolpack, Wootton, Wormshill, Worsenden Green, Worth, Wouldham, Wrangling Green, Wrotham, Wrotham Heath, Wye With Hinxhill, Yalding, Yelsted, Yewhedges, Yewtree Green, Yopps Green, Yorklets