Contact details for the Yorkshire Wedding Toastmaster

and Master of Ceremonies Kevin Johnson

Address
15 Church Lane, Ripon, North Yorkshire HG4 2ES
Contact Number
01765 690686 and 07973 786161
Website
www.toastmasterkrj.com
e-mail
toastmaster_krj@btinternet.com

Kevin is a friendly Toastmaster

and Master of Ceremonies

who will help you relax

on your special day

Your Wedding - Your Way

With lots of years' experience in the hospitality industry you are assured of quality service to make your special day run like clockwork.

To make your day, one that is perfect, special and remembered forever for all the right reasons, I would be pleased to work with you to make your dreams come true.

As a member of the English Toastmasters Association team which is delivering higher standards at weddings, I will ensure that you get exactly what you want.

Service with a smile.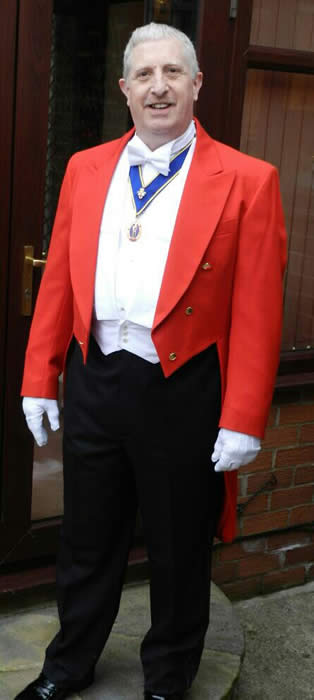 Available for the following functions:
Weddings & Civil Ceremonies
Receptions &
Dinners of all types
Dinner Dances
Themed Banquets
Gala Balls
Hunt Balls
Prom Nights
Civic Luncheons & Dinners
Garden Parties
Award Ceremonies
Charity Functions
Ladies/Masonic Festivals
Sporting Events
Diplomatic & Civic Occasions
Military & Regimental Functions
Conferences
Family Occasions
t
o name but a few
..
West Yorkshire wedding venues
Bagden Hall - West Yorkshire
Best Western Guide Post Hotel - West Yorkshire
Bradford Cathedral - West Yorkshire
Bradford City Football AFC - West Yorkshire
Bramham Park - West Yorkshire
Cedar Court Hotel Leeds Bradford - West Yorkshire
Chevin Country Park Hotel - West Yorkshire
Clay House Park - West Yorkshire
Courtyard by Marriott Tong - West Yorkshire
Crowne Plaza - West Yorkshire
East Riddlesden Hall - West Yorkshire
Great Victoria - West Yorkshire
Haleys - West Yorkshire
Haleys Hotel - West Yorkshire
Harewood House - Vistas - West Yorkshire
Healds Hall Hotel - West Yorkshire
Hey Green Hotel - West Yorkshire
Holdsworth House - West Yorkshire
Holiday Inn Leeds - Bradford - West Yorkshire
Holiday Inn Leeds Garforth - West Yorkshire
Hoyle Court - West Yorkshire
Kings Croft Hotel - West Yorkshire
Leeds Marriott Hotel - West Yorkshire
Leeds Seventeen Suites - West Yorkshire
Leeds United Conference & Banqueting Centre - West Yorkshire
Leeds United Conference Centre - West Yorkshire
Linton Springs Hotel - West Yorkshire
Marriott Hollins Hall - West Yorkshire
Merrion Hotel - West Yorkshire
Midland Hotel - West Yorkshire
Nostell Priory - West Yorkshire
Oakwell Hall - West Yorkshire
Oakwood Hall - West Yorkshire
Park Plaza Leeds - West Yorkshire
Queens Hotel Leeds - West Yorkshire
Ramada Jarvis Bradford - West Yorkshire
Ramada Leeds North - West Yorkshire
Ramada Leeds Parkway - West Yorkshire
Ramada Wetherby - West Yorkshire
St Pierre Hotel - West Yorkshire
The George Hotel - West Yorkshire
The Grove - West Yorkshire
Village Hotel Leeds - West Yorkshire
Wakefield Cathedral - West Yorkshire
Weetwood Hotel Leeds - West Yorkshire
Wentbridge House Hotel - West Yorkshire
Wood Hall - West Yorkshire
Woodlands - West Yorkshire
Wedding Venues in Yorkshire
Alder House Hotel, Batley, Yorkshire
Aldwark Manor Hotel, York, Yorkshire
Allerton Castle, Knaresborough, Yorkshire
Ambassador Hotel, York, yorkshire
Angel Inn, Thirsk, Yorkshire
Ardsley House Hotel, Barnsley, Yorkshire
Ascot House Hotel, Harrogate, Yorkshire
Ashmount Country House, Haworth, Yorkshire
Aske Hall, Richmond, Yorkshire
Aston Hall Hotel, Aston, Yorkshire
Bagden Hall, Huddersfield, Yorkshire
Barley Hall, York ,Yorkshire
Barn Hill Farm. Goole, Yorkshire
Barnsley Football Club, Yorkshire
Beauchief Hotel, Sheffield, Yorkshire
Bedale Hall, Bedale, Yorkshire
Beningrough Hall, York, Yorkshire
Best Western Guide Post Hotel, Bradford, Yorkshire
Bilton House, Harrogate, Yorkshire
Black Swan Publib House, Sheffield, Yorkshire
Bolton Castle, Leyburn, Yorkshire
Bradfield Village Hall, Sheffield, Yorkshire
Bradford City Football Club, Yorkshire
Bretton Hall College, Wakefield, Yorkshire
Briar Court Hotel, Huddersfield, Yorkshire
Bridge House Hotel, Richmond, Yorkshire
Bridge Inn Hotel, Wetherby, Yorkshire
Brittania Grand Hotel, Scarborough, Yorkshire
Brittanis Leeds Bradford Airport Hotel, Yorkshire
Burn Hall, Huby, Yorkshire
Cairn Hotel, Harrogate, Yorkshire
Cannon Hall Museum, Barnsley, Yorkshire
Carlton Hotel, Hebden Bridge, Yorkshire
Carlton Lodge Hotel, Helmsley, Yorkshire
Carlton Park Hotel, Rotherham, Yorkshire
Carlton Towers, Goole, Yorkshire
Carthorne Hall, Yarm, Yorkshire
Castle Hill Area Offices, Settlle, Yorkshire
Castle Park, Doncaster, Yorkshire
Catwright Hall, Bradford, Yorkshire
Cave Castlle Hotel, Brough, Yorkshire
Cedar Court Hotel, Harrogate, Yorkshire
Cedar Court Hotel, Wakefield, Yorkshire
Charnwood Hotel, Sheffiled, Yorkshire
Chaseley Hotel, Wakefield, Yorkshire
Chevin Country Park Hotel, Leeds, Yorkshire
Churchill Hotel, York, Yorkshire
City Hall, Bradford, Yorkshire
Civic Hall Leeds, Yorkshire
Clay House, Halifax, Yorkshire
Club XS, Scarborough, Yorkshire
Coniston Hall Hotel, Skipton, Yorkshire
Consort Hotel, Thurcroft, Yorkshire
Cornmill Hotel, Hull, Yorkshire
County Hall, Northallerton, Yorkshire
Courtyard By Marriott, Bardford, Yorkshire
Crab Manor, Thursk, Yorkshire
Craiglands Hotel, Ilkley, Yorkshire
Cranthorne Hall Hotel, Yarm, Yorkshire
Croft Spa Hotel, Croft on Tees, Yorkshire
Crow Hill, Marsden, Yorkshire
Crown Hotel Scarborough, Yorkshire
Crown Hotel, Doncaster, Yorkshire
Crown Hotel, Harrogate, Yorkshire
Crown Hotel, York, Yorkshire
Crown Inn, Boroughbridge, Yorkshire
Crown Spa Hotel, Scarborough, Yorkshire
Cutlers Hall, Sheffirled, Yorkshire
Dam House, Sheffield, Yorkshire
Danby Castle, Danby, Yorkshire
Danum Hotel, Doncaster, Yorkshire
Dean Court Hotel, York, Yorkshire
Devonshire Arms Country House, Skipton, Yorkshire
Devonshire Fell Hotel, Burnsall, Yorkshire
Dimple Well Lodge, Ossett, Yorkshire
Doncaster Racecourse, Doncaster, Yorkshire
Dorchester Hotel, Hull, Yorkshire
Duncombe Park, York, Yorkshire
Dunsley Hall Hotel, Whitby, Yorkshire
Durker Roods Hotel, Huddersfield, Yorkshire
Earl of Doncaster Hotel, Yorkshire
East Riddlesden Hall, Keighlry, Yorkshire
Elton Hotel, Rotherhma, Yorkshire
Eskholme, Whitby, Yorkshire
Falcon Manor Hotel, Settle, Yorkshire
Flying Horse Country Hotel, Huddersfield, Yorkshire
Forest and Vale Hotel, Pickering, Yorkshire
Forte Posthouse, Brighouse, Yorkshire
Forte Posthouse, Feriby, Yorkshire
Forte Posthouse, Hull, Yorkshire
Fountains Abbey, Ripon, Yorkshire
George Hotel, Huddersfield, Yorkshire
Georgian Theatre Hotel, Richmond, Yorkshire
Golden Fleece Hotel, Thirsk, Yorkshire
Goldsborough Hall, Harrogate, Yorkshire
Gomersal Park Hotel, Bradford, Yorkshire
Grand St Ledger Hotel, Doncaster, Yorkshire
Grinkle Park, Easington, Yorkshire
Haleys Hotel, Leeds, Yorkshire
Hamiltons Hotel, Doncaster, Yorkshire
Hanover International Hotel, Huddersfield, Yorkshire
Hartforth Hall Hotel, Richmond, Yorkshire
Hazelwood Castl, Tadcaster, Yorkshire
Headingly Experience, Leeds, Yorkshire
Heath Cottage Hotel, Dewsbury, Yorkshire
Hellaby Hall Hotel, Rotherham, Yorkshire
Hey Green, Huddersfield, Yorkshire
Highfield Hotel, Middlesborough, Yorkshire
Hiliday Inn Rotherham - Sheffield, Yorkshire
Hilton Bradford, Yorkshire
Hilton Leeds City, Yorkshire
Hilton Sheffield, Yorkshire
Hilton York Hotel, Yorkshire
Hilton York, Yorkshire
Hob Green Hotel, Harrogate, Yorkshire
Hobbit Hotel, Sowerby Bridge, Yorkshire
Holdsworth House. Halifax, Yorkshire
Holiday INN Crowne Plaza, Leeds, Yorkshire
Holiday Inn leeds - Bradford, Bradford, Yorkshire
Holiday Inn leeds, Yorkshire
Hotel DU Vin Harrogate, Harrogate, Yorkshire
Hotel Metropole, Leeds, Yorkshire
Hotel St Nicholas, Scarborough, Yorkshire
Hoyle Court, Baildon, Yorkshire
Imperial Crown Hotel, Halifax, Yorkshire
Imperial Hotel, Harrogate, Yorkshire
Jarvis Bankfield Hotel, Bingley, Yorkshire
Jarvis International Hotel, Willerby, Yorkshire
Jarvis Wetherby Hotel, Leeds, Yorkshire
Karvis Parkway Country Club, Leeds, Yorkshire
Kenwood Hall, Sheffield, Yorkshire
Kings Croft Hotel, Pontefract, Yorkshire
Kings Hall, Ilkley, Yorkshire
Kingston Theatre Hotel, Hull, Yorkshire
Knavesmire Manor Hotel, York, Yorkshire
KP Club, Pocklington, Yorkshire
Le Bistro, Doncaster, Yorkshire
Leeds Marriott, Leeds, Yorkshire
Leeds Town Hall, Yprkshire
Leeds United Conference Centre, Yorkshire
Lightwater Valley, Ripon, Yorkshire
Linton Springs Hotel, Leeds. Yorkshire
Londesnrough Hotel, Market Weighton, Yorkshire
Lucorum & Latinos. Barnsley, Yorkshire
Majestic Hotel, Harrogate, Yorkshire
Malmaison Leeds, yorkshire
Manygates House, Wakefield, Yorkshire
Marriott Hollins Hall, Shipley, Yorkshire
Marsden Mechanics Hall, Huddersfield, Yorkshire
Marton Hall, Bridlington, Yorkshire
Masonic Hall, Harrogate, Yorkshire
Mercure St Pauls Hotel, Sheffield, Yorkshire
Mewsholme Manor, Keighley, Yorkshire
Middlesborough Football Club, Yorkshire
Middlethorpe Hall, York, Yorkshire
Midland Hotel, Bradford, Yorkshire
Milburmn Arms, Pickering, Yorkshire
Monk Fryston Hall, Yorkshire
Monkbar Hotel, York, Yorkshire
Moorland Lodge, Huddersfield, Yorkshire
Morley Town Hall, Leeds, Yorkshire
Mount Pleasant Hotel, Doncaster, Yorkshire
Newburgh Priory, Coxwold, Yorkshire
Newby Hall, Harrogate, Yorkshire
North Cliff House, Scarborough, Yorkshire
Nostell Priory, Wakefie;d, Yorkshire
Novotel Sheffield, Yorkshire
Oaklands, York, Yorkshire
Oakwell Hall, Birstall, Yorkshire
Oakwood Hall Hotel, Bingley, Yorkshire
Old Golf House, Outlane, Yorkshire
Old Granary, Knaresborough, Yorkshire
Old Hall Doncaster, Yorksire
Old Hall, Todmordern, Yorkshire
Old Libarary, Sheffield, Yorkshire
Old Lodge Hotel, Malton, Yorkshire
Old Swan Hotel, Harrogate, Yorkshire
Ormesby Hall, Middlesborough, Yorkshire
Oulton Hall, Leeds, Yorkshire
Owston Parl Lodge, Doncaster, Yorkshire
OX Pasture Hall, Scarborough, Yorkshire
Parsonage Country House Hotel, York, Yorkshire
Parsonage Hall Hotel, Northallerton, Yorkshire
Pastures Lodge, Doncaster, Yorkshire
Pld Deanery, Ripon, Yorkshire
Priests House, Skipton, Yorkshire
Quebecs, Leeds, Yorkshire
Queens Hotel, Leeds, Yorkshire
Qulaity Royal Hotel, Hull, Yorkshire
Ramada Bradford, Yorkshire
Ramada Hull, Wilerby, Yorkshire
Ramada Leeds Parkway, Leeds, Yorkshire
Raven Hall, Whitby, Yorkshire
Red Lion Hotel, Skipton, Yorkshire
Regency Hotel, Sheffield, Yorkshire
Registration Office Rochmond Yorkshire
Registration Office Settle, Yorkshire
Ripley Castle, Harrogate, Yorkshire
Ripon Spa Hotel, Ripon, Yorkshire
Rock Inn Hotel, Halifax, Yorkshire
Rogerthorpe Manor Hotel, Pontefract, Yorkshire
Rombalds Hotel, Ilkley, Yorkshire
Rowley Manor Hotel, Beverely, Yorkshire
Royal Victoroa Hotel, Sheffield, Yorkshire
Royal York Hotel, York, Yorkshire
Rudding Park House & Hotel, Harrogate, Yorkshire
Rudstone Walk Farm, Brough, Yorkshire
Rushworth Suites, Halifax, Yorkshire
Rutland Hotel, Sheffield, Yorkshire
Ryedale House, Malton, Yorkshire
Sandburn Hall, Flaxton, Yorkshire
Scaitcliffe Hall, Todmordern, Yorkshire
Scampston Hall, Malton, Yorkshire
Scotch Corner Hotel, Richmond, Yorkshire
Sewerby Hall, Bridlington, Yorkshire
Shears Yard, Leeds, Yorkshire
Sheffield Park Hotel, Sheffield, Yorkshire
Sheffield United Football Club, Sheffield, Yorkshire
Shibden Mill, Halifax, Yorkshire
Siedmere House, Driffield, Yorkshire
Simonstone Hall, Hawes, Yorkshire
Solberge Hall Hotel, Northallerton, Yorkshire
Southwood, Halifax, Yorkshire
Spa Cpmplex, Scarborough, Yorkshire
Sporting Lodge Inn, Bradford, Yorkshire
Sporting Lodge Inns, Middlesborough, Yorkshire
Staff House, Hull, Yorkshire
Staindrop Lodge, Sheffield, Yorkshire
Stakis Bradford Hotel, Bradford, Yorkshire
Steeton Hall, Keighley, Yorkshire
Stephen Joseph Theatre, Scarborough, Yorkshire
Sun Pavillion, Harrogate, Yorkshire
Swallow Hotel, Sheffield, Yorkshire
Swallow St George Hotel, Harrogate, Yorkshire
Tan Hill Inn, Richmon, Yorkshire
Tankersley Manor, Barnsley, Yorkshire
Tempest Arms, Skipton, Yorkshire
Temple Newsam House, Leeds, Yorkshire
The Annexe, Selby, Yorkshire
The Bell Inn, Driffield, Yorkshire
The Courtyard, Goole, Yorkshire
The Cutler & Stardust, Sheffield, Torkshire
The Expanse Hotel, Bridlington, Yorkshire
The George, Harrogate, Yorkshire
The Grange Hotel, York, Yorkshire
The Grove, Pontefract, Yorkshire
The Manor House, Beverley, yorkshire
The Psalter Tavern, Sheffield, Yorkshire
The Royal Oak, Huddersfield, Yorkshire
The Scholar, Sheffield, Yorkshire
The Sherwood, Sheffield, Yorkshire
The Sun Pavillion, Harrogate, Yorkshire
The Swallow Hotel, Rotherham, Yorkshire
The Wilton, Castleford, Yorkshire
Thistle Hotel, Middlesborough, Yorkshire
Thornborough Hall, Leyburn, Yorkshire
Tickton Grange Hotel, Beverley, Yorkshire
Todmordern Town Hall, Todmordern, Yorkshire
Tower House Hotel, Halifax, Yorkshire
Town Hall Huddersfield, Yorkshire
Town Hall Rotherham, Yorkshire
Town Hall, Batley, Yorkshire
Town Hall, Cleckheaton, Yorkshire
Town Hall, Dewsbury, Yorkshire
Treasurers House, York, Yorkshire
Two Brewers, Orsett, Yorkshire
Victoria Hall, Saltiare, Yorkshire
Wainstones Hotel, Middlesborough, Yorkshire
Waterford House, Middleham, Yorkshire
Waterton Park Hotel, Wakefield, Yorkshire
Weetwood Hall, Leeds, Yorkshire
Wentbridge House Hotel, Pontefract, Yorkshire
Whirlow Brook Hall, Sheffield, Yorkshire
Whitby Pavilion, Whitby, Yorkshire
White Hart Hotel, Harrogate, Yorkshire
White House, Harrogate, Yorkshire
Whitley Hall Hotel, Sheffield, Yorkshire
Willerby Manor Hotel, Willerby, Yorkshire
Wood Hall Hotel & Spa, Linton, Yorkshire
Wood Hall Hotel, Linton, Yorkshire
Wood Hall Hotel, Wetherby, Yorkshire
Woolley Hall, Wakefield, Yorkshire
Worsley Arms, York, Yorkshire
Wortley Hall, Sheffield, Yorkshire
Yeadon Town Hall, Leeds, Yorkshire
York Moat House, Yorkshire
Towns and Villages of North Yorkshire, England
Abbey, Acaster Selby, Acklam, Ainderby Mires With Holtby, Ainderby Quernhow, Ainderby Steeple, Ainthorpe, Aireville, Airton, Aiskew, Aislaby, Akebar, Aketon, Aldborough, Aldbrough, Aldbrough St John, Aldfield, Aldwark, Allerston, Allerton Mauleverer With Hoppe, Alne, Amotherby, Ampleforth, Anchorage Hill, Angram, Angram Grange, Anteforth, Appersett, Appleton East and West, Appleton Roebuck, Appleton Wiske, Appleton-le-Moors, Appleton-le-Street With Eastho, Appletreewick, Arkendale, Arkengarthdale, Arkle Town, Arkleside, Arncliffe, Arrathorne, Arrowfield, Asenby, Aske, Askrigg, Askwith, Austwick, Aysgarth, Azerley, Babthorpe, Backleys, Bagby, Bagdale, Bainbridge, Baldersby, Balk, Balne, Balne Moor, Bank Newton, Barden, Barkston, Barkston Ash, Barlby, Barlow, Barnby, Barnoldswick, Barthorpe, Bartindale Row, Barton, Barton Hill, Barton Moor, Barton-le-Street, Barton-le-Willows, Barugh (Great and Little, Battersby, Beadlam, Beal, Beamsley, Beck Hole, Beck Isle, Beckermonds, Beckwith, Beckwithshaw, Bedale, Bedlam, Beech Hill, Bell Busk, Bell Hill, Bellerby, Beningbrough, Bentham, Bewerley, Bickerton, Bickley, Biggin, Bilbrough, Bilsdale Midcable, Bilton, Bilton in Ainsty With Bikerton, Binnington, Binsoe, Birdforth, Birdsall, Birkby, Birkin, Birstwith, Bishop Monkton, Bishop Thornton, Bishopdale, Bishopton, Blades, Blakey, Bland Hill, Blazefield, Blossomgate, Blubberhouses, Bochall, Bohemia, Boltby, Bolton Abbey, Bolton Bridge, Bolton Park, Bolton Percy, Bolton-on-Swale, Bondgate, Boors Closes, Booze, Bordley, Boroughbridge, Borrage Green, Borrowby, Borwins, Boscar, Boulby Bank, Bouthwaite, Bowthorpe, Boythorpe, Brackenbottom, Brackenhill, Brackenholme, Brackenthwaite, Bradley, Bradleys Both, Brafferton, Bramelane, Bramley Grange, Bramley Head, Brampton, Brandsby-Cum-Stearsby, Bransdale, Branton Green, Brawby, Braworth, Braythorn, Brayton, Brayton Barff, Brearton, Breary Bank, Breckonbrough, Bridge Hewick, Bridgehouse Gate, Briggate, Briggswath, Broadmires, Brockadale, Brockholme, Brockrigg, Brompton, Brompton-on-Swale, Brook Park, Brotherton, Brough With St Giles, Broughton, Broxa-Cum-Troutsdale, Buckden, Bulmer, Burdale, Burn, Burn Bridge, Burneston, Burniston, Burnsall, Burnt Yates, Burrill With Cowling, Burtersett, Burton in Lonsdale, Burton Leonard, Burton Salmon, Burton-Cum-Walden, Burton-on-Yore, Burtree Cragg, Burythorpe, Buttercrambe With Bossall, Butterwick, Byland Abbey, Byland With Wass, Byram Cum Sutton, Calcutt, Caldbergh With East Scrafton, Caldwell, California, Calton, Calvert Houses, Camblesforth, Camomile Hill, Cams Houses, Carlesmoor, Carleton, Carlton, Carlton Highdale, Carlton Husthwaite, Carlton Miniott, Carlton Town, Carperby-Cum-Thoresby, Carpley Green, Carthorpe, Castle Bank, Castle Bolton With East and We, Castle Howard, Castleton, Castley, Cattal, Catterick, Catterick Bridge, Catterton, Catton, Cawood, Cawthorne, Cawton, Cayton, Chapel Haddlesey, Chapel Hill, Chapel-le-Dale, Chop Gate, Church End, Church Fenton, Church Green, Citadilla, Clap Gate, Clapham Cum Newby, Clapham Green, Claxton, Cleasby, Cliffe, Clifton on Yore, Clint, Clints, Clitherbeck, Close House, Clotherholme, Cloughton, Cloughton Newlands, Cobby Syke, Cober, Cock Hill, Cockayne, Cockrah Foot, Colburn, Cold Cotes, Cold Kirby, Colsterdale, Colton, Common End, Commondale, Coneysthorpe, Coneythorpe and Clareton, Coniston Cold, Conistone With Kilnsey, Cononley, Constable Burton, Coomboots, Copgrove, Copt Hewick, Cornbrough, Cotcliffe, Cote, Cotescue Park, Cotterdale, Coulton, Countersett, Coverham With Agglethorpe, Cowbar, Cowesby, Cowling, Cowling Hill, Cowthorpe, Coxwold, Crackpot, Cracoe, Crag, Crakehall, Crambe, Crathorne, Cray, Crayke, Cridling Park, Cridling Stubbs, Crimple, Croft, Croft on Tees, Croft Spa, Crookleth, Cropton, Crosby, Cross Hills, Cross Lanes, Cross Rigg, Crowdon, Cundall With Leckby, Dacre, Dacre Banks, Dalby-Cum-Skewsby, Dale End, Dalehouse, Dallow Gill, Dalton, Dalton-on-Tees, Danby, Danby Wiske, Darley Head, Darncombe-Cum-Langdale End, Daw Cross, Dawker Hill, Deepdale, Deighton, Delves, Denton, Derry Close, Dishforth, Dob Park, Downholme, Draughton, Drax, Drebley, Dub Cote, Duggleby, Dunsforths, Dunsley, Easby, Easingwold, East Ayton, East Barnby, East Cowton, East End, East Field, East Fields Estate, East Haddlesey (Goose Haddlese, East Harlsey, East Hauxwell, East Heslerton, East Knapton, East Layton, East Lutton, East Marton, East Moor, East Moors, East Ness, East Newton, East Rounton, East Row, East Tanfield, East Witton Out Parish, East Witton Town, Easterside, Eavestone, Ebberston and Yedingham, Eddlethorpe, Edstone, Eggborough, Egton, Egton Bridge, Eldmire With Crakehill, Eldroth, Ellenthorpe, Ellerbeck, Ellerburn, Ellerby, Elleron, Ellerton Abbey, Ellerton-on-Swale, Ellingstring, Ellington High and Low, Elslack, Embsay With Eastby, Enterpen, Eppleby, Eryholme, Escrick, Eshton, Esk Valley, Eskdaleside Cum Ugglebarnby, Everley, Ewe Cote, Faceby, Fadmoor, Fair Head, Fairburn, Fairfield, Fairy Cross Plain, Falsgrave, Fangdale Beck, Far Rosedale, Far Westhouse, Farlington, Farndale East, Farndale West, Farnham, Farnhill, Farnley, Fawdington, Fearby, Fearby Cross, Feetham, Feizor, Felixkirk, Fellbeck, Felliscliffe, Ferrensby, Ferrybridge, Fewston, Filey, Finghall, Firby, Fishburn Park, Fisher Head, Flasby With Winterburn, Flawith, Flaxby, Flaxton, Fleet Bank, Flixton, Florence Terrace, Flotmanby, Folkton, Follifoot, Folly Gill, Forcett and Carkin, Foredale, Forest Lane Head, Forest Moor, Foston, Foulbridge, Foulrice, Fountains Abbey, Fountains Earth, Fowgill, Foxholes, Foxton, Foxup, Friars Hill, Fryton, Fryup, Fulwith, Fyling Thorpe, Fylingdales, Galphay, Gammersgill, Ganthorpe, Ganton, Gargrave, Garriston, Gate Helmsley, Gateforth, Gatenby, Gatherley, Gayle, Gayles, Giggleswick, Gillamoor, Gilling East, Gilling With Hartforth and Sed, Girsby, Givendale, Glaisdale, Glasshouses, Glusburn, Goathland, Goldsborough, Gollinglith Foot, Goose Haddlesey (East Haddlese, Goulton, Gowland, Grange, Grantley, Grassington, Great and Little Broughton, Great Ayton, Great Busby, Great Crakehall, Great Edstone, Great Fencote, Great Habton, Great Langton, Great Ouseburn, Great Ribston With Walshford, Great Smeaton, Great Thirkleby, Great Timble, Green Close, Green End, Green Hammerton, Green Hill, Green Houses, Greenfoot, Greenhow, Greenhow Hill, Greenthwaite, Grewelthorpe, Grimston, Grimstone, Grinton, Gristhorpe, Grosmont, Grove End, Gunby, Gunnerside, Habton, Hackforth, Hackness, Haggerlythe, Haggitt Hill, Hagthorpe, Halfpenny Houses, Hallwith, Halton East, Halton Gill, Halton West, Hambleton, Hampsthwaite, Hanlith, Hardgroves Hill, Hardisty Hill, Hardriggs, Hardrow, Hardy Flatts, Harland, Harlow Hill, Harlow Moor, Harmby, Harome, Harrogate, Hartlington, Hartoft, Harton, Hartwith Cum Winsley, Hartwith Moor, Harwood Dale, Haverah Park, Hawes, Hawkswick, Hawnby, Hawsker-Cum-Stainsacre, Hawthorne Hill, Hay-A-Park, Hazel Bank, Hazel Green, Hazel Head, Hazlewood With Storiths, Healaugh, Healey, Heathfield, Hebden, Heck, Hellgill, Hellifield, Helm, Helmsley, Helperby, Helperthorpe, Helwith, Helwith Bridge, Hemingbrough, Henderskelfe, Hensall, Heslerton, Hesselton, Hetton, Heyshaw, High Abbotside, High and Low Bishopside, High Bentham, High Bradley, High Common, High Field, High Fremington, High Grantley, High Harrogate, High Hawsker, High Houses, High Hutton, High Langdale End, High Roans, High Shaw, High Skyreholme, High Stakesby, High Worsall, Higher Westhouse, Highfield, Highgate, Hildenley, Hillam, Hinderwell, Hindlethwaite, Hipswell, Hirst Courtney, Hollin Tree, Holly Bank, Holly Hill, Holme, Holme Green, Hood Grange, Hornby, Horse House, Horton in Ribblesdale, Hovingham, Howe, Howgill, Howgrave, Howlsike, Howsham, Hubberholme, Huby, Huddleston With Newthorpe, Hudswell, Humanby Gap, Humber Howe, Humberton, Hunmanby, Hunsingore, Hunton, Hurgill, Hurst, Husthwaite, Hut Green, Huthwaite, Hutton Bonville, Hutton Buscel, Hutton Conyers, Hutton Hang, Hutton Mulgrave, Hutton Rudby, Hutton Sessay, Hutton Wandesley, Hutton-le-Hole, Huttons Ambo, Iburndale, Ickornshaw, Ilton-Cum-Pott, Ingerthorpe, Ingleby Arncliffe, Ingleby Cross, Ingleby Greenhow, Ingleton, Ingmanthorpe, Irton, Ivelet, Jack Hill, Jeater Houses, Jervaulx, Junction, Kearby Town End, Kearby With Netherby, Kearton, Keasbeck, Keasden, Keld, Keld Head, Keldholme, Keldsikes, Kelfield, Kellingley, Kellington, Kennythorpe, Kepwick, Kettleness, Kettlesing, Kettlesing Bottom, Kettlesing Head, Kettlewell With Starbotton, Kex Moor, Key Green, Kidstones, Kilburn High and Low, Kildale, Kildwick, Killerby, Killinghall, Kingthorpe, Kiplin, Kirby Grindalythe, Kirby Hall, Kirby Hill, Kirby Knowle, Kirby Misperton, Kirby Sigston, Kirby Wiske, Kirk Deighton, Kirk Hammerton, Kirk Smeaton, Kirkbridge, Kirkby, Kirkby Fleetham With Fencote, Kirkby Malham, Kirkby Malzeard, Kirkby Mills, Kirkby Overblow, Kirkby Wharfe With North Milfo, Kirkbymoorside, Kirkdale, Kirkham Priory, Kirklington-Cum-Upsland, Knapton, Knaresborough, Knayton With Brawith, Knox, Landmoth-Cum-Catto, Lane End, Langbaurgh, Langcliffe, Langdale End, Langthorne, Langthorpe, Langthwaite, Langton, Lastingham, Laverton, Lawkland, Lawkland Green, Lazenby, Lead, Lead Green, Leaholm, Leake, Lease Rigg, Leathley, Leavening, Lebberston, Leeming Bar, Leighton, Leppington, Levensdale, Levisham, Leyburn, Lillings Ambo, Limber Hill, Lindley, Lindrick With Studley Royal An, Lingerfield, Linton, Linton Spring, Linton-on-Ouse, Litherskew, Little Ayton, Little Busby, Little Crakehall, Little Fencote, Little Fenton, Little Langton, Little Ouseburn, Little Ribston, Little Scaling, Little Sessay, Little Smeaton, Little Stainforth, Little Thirkleby, Little Timble, Littlebeck, Littlethorpe, Litton, Lockton, Lodge, Lodge Green, Lofthouse, Loftsome, London, Londonderry, Long Drax, Long Hill End, Long Marston, Long Preston, Longscales, Lothersdale, Lovesome Hill, Low Abbotside, Low Bradley, Low Dalby, Low End, Low Fremington, Low Green, Low Harrogate, Low Hawsker, Low Hutton, Low Laithe, Low Langdale End, Low Mill, Low Row, Low Stakesby, Low Swainby, Low Thorpe, Low Wiske Moor, Low Worsall, Lowbell End, Lowdale, Lower Bentham, Lower Dunsforth, Lowmills, Lumby, Lund, Lund House Green, Lunds, Luttons, Lythe, Machell Hill, Mains Estate, Malham, Malham Moor, Malton, Manfield, Marishes, Markingfield Hall, Markington With Wallerthwaite, Marrick, Marsett, Marsh End, Marske, Marston, Marston Moor, Marton, Marton Cum Grafton, Marton-Cum-Moxby, Marton-le-Moor, Martons Both, Masham, Masongill, Maunby, Meadowfields, Meadowside, Meagill, Mearbeck, Meg Gate, Melbecks, Melmerby, Melsonby, Menethorpe, Menwith Hill, Menwith With Darley, Merrybent, Mickleby, Mickley, Middle Skyreholme, Middle Town, Middlecave, Middleham, Middlesmoor, Middleton, Middleton Quernhow, Middleton Tyas, Middleton-on-Leven, Milby, Millfields, Millgate, Minskip, Moke Hill, Monk Fryston, Moor End, Moor Monkton, Moor Park, Moreby, Morton-on-Swale, Moss Haws, Moulton, Mount Grace, Mount Pleasant, Mowthorpe, Moxby, Muker, Muscoates, Muston, Muston Carr, Myton-on-Swale, Nab End, Nappa, Nawton, Near Hardcastle, Nesfield With Langbar, Nether Silton, New Forest, New Houses, New Park, New Parks, New Road Side, New Thirsk, New York, Newall With Clifton, Newbiggin, Newbridge, Newburgh, Newby, Newby and Scalby, Newby Wiske, Newby With Mulwith, Newhay, Newholm-Cum-Dunsley, Newhouse, Newland, Newsham, Newsham With Breckenbrough, Newton, Newton Kyme Cum Toulston, Newton Morrell, Newton Mulgrave, Newton-le-Willows, Newton-on-Ouse, Nidd, Norby, Normanby, North Cowton, North Deighton, North Duffield, North End, North Grimston, North Hill, North Kilvington, North Lees, North Otterington, North Rigton, North Stainley With Sleningfor, Northallerton, Northstead, Norton Conyers, Norton-le-Clay, Norton-on-Derwent, Norwood, Nosterfield, Nun Appleton, Nun Monkton, Nunnington, Nuns' Close, Oakdale, Oakley Side, Oatlands, Oatlands Mount, Old Byland and Scawton, Old Carr Head, Old Malton, Old Park, Old Thirsk, Oldstead, Olliver, Osgodby, Osgoodby, Osmotherley, Oswaldkirk, Otterburn, Oughtershaw, Oulston, Over Dinsdale, Over Silton, Overton, Ox Close, Oxton, Pannal, Pannal Ash, Park Gate, Park Hill, Pateley Bridge, Patrick Brompton, Pickering, Pickhill Garth, Pickhill With Roxby, Picton, Pilmoor, Plompton, Pockley, Poole, Port Mulgrave, Pott, Potter Brompton, Potto, Preston-under-Scar, Raindale Head, Rainton With Newby, Raisgill, Raisthorpe, Raithwaite, Ramsgill, Rand Grange, Raskelf, Rathmell, Raven Hill, Ravenscar, Ravensworth, Rawcliffe, Raydale, Red Cat Hill, Redmire, Reighton, Riccall, Richmond, Rievaulx, Rillington, Ripley, Ripon, Risplith, Roall, Robin Hoods Bay, Roecliffe, Romanby, Rookwith, Rosedale Abbey, Rosedale East Side, Rosedale West Side, Rossett Green, Row, Roxby, Rudby, Rudding Park, Rudland, Ruffadene, Runswick, Runswick Bank Top, Ruston, Ruswarp, Rylstone, Ryther Cum Ossendyke, Saintoft, Saltergate, Salton, Sand Hutton, Sandbeck, Sandhutton, Sandsend, Satron, Sawdon, Sawley, Saxdale Fields, Saxton With Scarthingwell, Scackleton, Scagglethorpe, Scaling Dam, Scampston, Scamridge, Scar Houses, Scar Village, Scarborough, School House Hill, Scoreby, Scorton, Scosthrop, Scotton, Scotton Moor, Scrayingham, Scriven, Scruton, Seamer, Seave Green, Sedbusk, Selby, Sessay, Settle, Settrington, Sexhow, Sharow, Shaw, Shaw Cote, Shaw Green, Shaw Mills, Shepherd Hill, Sherburn, Sherburn in Elmet, Sheriff Hutton, Shipton, Short Wait, Sicklinghall, Siddle, Silpho, Silver Hill, Simon Stone, Sinderby, Sinnington, Skeeby, Skelding, Skell Gill, Skelton, Skewsby, Skipton, Skipton-on-Swale, Skipwith, Skutterskelfe, Skyrakes, Skyreholme, Skythorns, Sleegill, Sleights, Slingsby, Smarber, Smelthouses, Smiths Hill, Snainton, Snaizeholme, Snape Park, Snape With Thorp, Sneaton, Sneaton Thorpe, Snowden, Solberge, Sorrelsykes Park, South Cowton, South Duffield, South End, South Holme, South Kilvington, South Milford, South Otterington, South Stainley With Cayton, Southgate, Sowerby, Sowerby under Cotcliffe, Spaunton, Speeton, Spennithorne, Spinksburn, Spital Bridge, Spital Croft, Spofforth With Stockeld, Spring Gardens, Sproxton, St Helena, St Martins, St Nicholas Cliff, Stack House, Staddle Bridge, Stainburn, Stainforth, Stainsacre, Stainton, Stainton Dale, Staithes, Staithes Lane End, Stakesby, Stalling Busk, Stank, Stanwick St John, Stape, Stapleton, Starbeck, Staupes, Staveley, Staxton, Stean, Stearsby, Steeton, Stillingfleet, Stillington, Stirton With Thorlby, Stittenham, Stockwell, Stokesley, Stonebeck Down, Stonebeck Up, Stonegate, Stonegrave, Stoney Haggs, Stony Bank, Stoupe Brow, Street, Street Houses, Streetlam, Stubblewaite, Studfold, Studley Roger, Stump Cross, Stutton With Hazlewood, Suffield-Cum-Everley, Summerbridge, Sutton, Sutton Grange, Sutton Hill, Sutton With Howgrave, Sutton-on-the-Forest, Sutton-under-Whitestonecliffe, Swainby, Swainby With Allerthorpe, Swarcliffe, Swincliffe, Swincliffe Side, Swinden, Swineside, Swinithwaite, Swinton, Swinton With Warthermarske, Tadcaster, Tancred, Tang, Tanton, Temple Hirst, Tentergate, Terrington, Tewit Park, The Brows, The Green, The Holme, The Intake, The Lund, The Mount, Theakston, Thimbleby, Thirkleby, Thirkleby High and Low With Os, Thirlby, Thirn, Thirsk, Thistle Hill, Thixendale, Tholthorpe, Thoralby, Thoresby, Thorganby, Thorganby Gale, Thorgill, Thormanby, Thornborough, Thornbrough, Thornthwaite With Padside, Thornton Bridge, Thornton in Craven, Thornton in Lonsdale, Thornton Rust, Thornton Steward, Thornton Watlass, Thornton-le-Beans, Thornton-le-Clay, Thornton-le-Dale, Thornton-le-Moor, Thornton-le-Street, Thornton-on-the-Hill, Thornville, Thorpe, Thorpe Bassett, Thorpe Green, Thorpe Perrow, Thorpe Underwoods, Thorpe Willoughby, Threapland, Threshfield, Thrintoft, Throxenby, Thruscross, Thwaite, Tockwith, Tollerton, Topcliffe, Town Green, Town Head, Town Hill, Towton, Treblesyke, Trenholme, Tunstall, Turker, Uckerby, Ugthorpe, Ulleskelf, Upper Dunsforth, Upper Helmsley, Upper Settle, Uppleby, Upsall, Upsland, Ure Bank, Urra, Wake Lady Green, Walburn, Walden, Walden Head, Walden Stubbs, Walkerville, Walkingham Hill With Occaney, Wanlass, Warlaby, Warsill, Warthill, Washfold, Water Gate, Water Houses, Wath, Weaponness, Weaverthorpe, Wedding Hall Fold, Weeton, Welburn (Amotherby Ward, Welburn (Kirkbymoorside Ward, Welbury, Welham, Well, Wellington Place, Wensley, Wensleydale, Wentbridge, Wescoe Hill, West Ayton, West Barnby, West Bolton, West Burton, West Cliff, West Cottingwith, West Croft, West End, West End Park, West Haddlesey, West Harlsey, West Hauxwell, West Heslerton, West Knapton, West Layton, West Lilling, West Lutton, West Marton, West Moor, West Ness, West Park, West Rounton, West Scrafton, West Syke, West Tanfield, West Witton, Westerdale, Westfield, Westhouse, Weston, Westow, Westwick, Westwood, Weydale, Wharfe, Wharram, Wharram le Street, Wharram Percy, Whashton, Whaw, Wheatcroft, Whenby, Whitby, White Leys, Whitewall Corner, Whitley, Whitleybridge, Whitwell, Whitwell-on-the-Hill, Whixley, Whorlton, Widdale, Wiganthorpe, Wigglesworth, Wighill, Wildon Grange, Willerby, Wilsill, Wilstrop, Wilton, Winksley, Wintringham, Wiske Moor, Wistow, Wombleton, Womersley, Wood End, Woodale, Woodhall, Woodhill Field, Woodlands, Woodside, Wormald Green, Worton, Wreaks Mill, Wrelton, Wrench Green, Wycar, Wydra, Wykeham, Yafforth, Yarlsber, Yatts, Yearsley, Yockenthwaite, York, Youlton
Towns and Villages of West Yorkshire, England
Aberford, Ackton, Ackworth, Ackworth Moor Top, Acre Rise, Addingham, Adel, Adel East Moor, Agbrigg, Ainley Top, Aire View Crescent, Aire Way, Aireborough, Airedale, Aireworth, Aketon, Akroydon, Allerton, Allerton Bywater, Almondbury, Almondbury Common, Altofts, Alverthorpe, Alwoodley, Alwoodley Gates, Alwoodley Park, Ambler Thorn, Apperley Bridge, Applehaigh, Ardsley East, Ardsley West, Armitage Bridge, Armitage Fold, Armley, Arrunden, Arthington, Arthursdale, Ashenhurst, Ashtons Estate, Aspley, Astley, Atkinson Hill, Austhorpe, Austonley, Back Braid, Back Leeming, Badger Hill, Badsworth, Bagby Fields, Baghill, Bagley, Baildon, Baildon Wood Bottom, Bailiff Bridge, Bank, Bank End, Bank Foot, Bank Top, Bankfoot, Bantam Grove, Bardsey Cum Rigton, Barkerend, Barkisland, Barley Fields, Barnbow, Barrowby, Barton, Barwick in Elmet, Barwick in Elmet and Scholes, Batley, Batley Carr, Battyeford, Bawn, Bay Hall, Beacon Lane Bottom, Beastfair, Becca Moor, Beck Bottom, Beck Foot, Beck Hill, Becks, Beechcliffe, Beechwood, Beechwood Estate, Beeston, Beeston Hill, Beeston Park Side, Beeston Royds, Beggarington, Beggarington Hill, Beldon Hill, Bell Hall, Bell Hill, Belle Isle, Belle Vue, Ben Rhydding, Benomley, Berry Brow, Big Valley, Bingley, Binns, Binnswood, Birchcliffe, Birchencliffe, Birdacre, Birds Edge, Birds Royd, Birkby, Birkenshaw, Birks, Birkwood Common, Birstall, Black Gates, Black Moor, Blackledge, Blackley, Blackmoor, Blackmoorfoot, Blackshaw, Blackshaw Head, Blackwall, Blake Hall, Blue Bell Hill, Bocking, Bogthorn, Bolster Moor, Bolton, Bolton Outlanes, Bolton Woods, Bondgate, Booth Town, Booth Wood, Boothroyd, Boshaw, Boston Spa, Botany Bay, Bottom Boat, Bottomley Holes, Boulderclough, Bowers Row, Bracken Bank, Bracken Hill, Brackenhall, Brackenhill, Bradford, Bradford Moor, Bradley, Bradley Brook, Bradley Hill, Bradley Mills, Bradley Wood, Bradshaw, Braglane End, Braithwaite, Bramham Cum Oglethorpe, Bramhope, Bramley, Bramstan, Brandy Carr, Branshaw, Brearley, Bretton, Brianside, Bridge Fold, Briestfield, Briggate, Brighouse, Brigshaw, Broad Carr, Broad Folds, Broadlands, Brockadale, Brockholes, Brook Hill, Brook House, Brookfoot, Brookhouse, Brooklands, Brookroyd, Brooks Bank, Broom Hill, Broomfield, Broomfields, Brow Bridge, Brow Moor, Brown Hill, Brown Royd, Brown Royd Fold, Brown Royd Hill, Brownhill End, Bruntcliffe, Brunthwaite, Bunkers Hill, Burley, Burley in Wharfdale, Burley Lawns, Burley Wood Head, Burmantofts, Burn, Burnlee, Burnley Hill, Burnwells, Burton Dean, Buslingthorpe, Butcher Hill, Buttershaw, Cabbage Hill, Caddy Field, Calder Grove, Calder Vale, Calderside, Calmlands, Calverley, Calverley Green, Calversyke Hill, Cambridge, Camp Field, Canada, Carleton, Carlinghow, Carlton, Carlton Grange, Carr Crofts, Carr Gate, Carr Lane Bottom, Carr Lane Top, Carr Syke, Cartworth, Cartworth Moor, Castle Hill, Castle Mount, Castle Street, Castleford, Castleton, Catharine Slack, Cattlelaith, Caund, Causeway Foot, Causeway Head, Cavalier Hill, Chapel Allerton, Chapel Fold, Chapel Green, Chapelthorpe, Chapeltown, Charlestown, Charlestown Estate, Chequerfield, Chevet, Chevin End, Chickenley, Chickenley Heath, Chidswell, Chisley, Choppards, Church Garforth, Churchbalk, Churwell, Cinder Hills, City, Claremount, Clayton, Clayton Edge, Clayton Heights, Clayton West, Cleckheaton, Clerk Green, Cliff, Cliff End, Cliffe Hill, Clifford, Clifton, Clifton Villas, Close Hill, Clough Foot, Clough Gate, Clough Head, Clough Lee, Cluntergate, Cobden, Cockersdale, Cockley Hill, Cockpit Houses, Colden, Coley, Coll Place, Collingham, Colne Bridge, Colne Valley, Colton, Combs, Common End, Common Side, Common Top, Compton, Cookridge, Copley, Copley Hall, Copley Hill, Copy Field, Cornholme, Cote Hill, Cottingley, Cottonstones, Cow Lane Bridge, Cowcliffe, Cowcliffe (Top of Cowcliffe, Cowcliffe Side, Cowlersley, Cowmes, Cowrakes, Coxley, Crackenedge, Crag End, Cragg, Cragg Bottom, Cragg Hill, Cragg Vale, Creskeld, Crigglestone, Crimble, Crimbles, Cringles, Croft Hollow, Crofton, Crosland Edge, Crosland Hill, Crosland Moor, Crosland Moor Bottom, Cross, Cross Bank, Cross Flatts, Cross Gates, Cross Green, Cross Hill, Cross Roads, Cross Stone, Crossflatts, Crossley, Crossley Hall, Crow Nest, Crow Trees, Crown Point, Cuddy Hill, Cullingworth, Cutler Heights, Cutsyke, Cuttlehurst, Daisy Hill, Dalefield, Dalton Fold, Dalton Green, Damems, Darrington, Darrington Leys, Daw Green, Dean, Dean Head, Dean Top, Deanhead, Deanhouse, Dearne, Deighton, Delph End, Delph Hill, Denby Dale, Denby Grange, Denholme, Denholme Clough, Denholme Gate, Dennington, Dewsbury, Dewsbury Moor, Dirk Hill, Dirker Bank, Dobb, Dobroyd, Dodlee, Dogley Lane, Dover, Dowley Gap, Drighlington, Drub, Dryclough, Dudley Hill, Dunkeswick, Dunkirk, Dunningley, Durkar, Durker Roods, Dyehouse Fold, Dyson Lane, Earlsheaton, East Bierley, East Bowling, East Carlton, East Garforth, East Hardwick, East Keswick, East Moor, East Morton, East-Thorpe, Eastborough, Eastbrook, Eastmoor Estate, Eastwood, Eccleshill, Eccup, Edge End East, Edgerton, Eightlands, Eldwick, Eldwick Beck, Elland, Emley, Erringden, Esholt, Exley, Exley Head, Fagley, Fairfield, Fairfield Estate, Fairweather Green, Fairy Hill, Falklands, Fall Ings, Far Dean, Far Fold, Far Headingley, Far Royds, Farnley, Farnley Tyas, Farsley, Farsley Beck Bottom, Fartown, Fartown Green, Fearns Island, Featherstone, Featherstone Green, Fell Lane, Fenay, Fenay Bridge, Ferncliffe, Ferniehurst, Fernley Green, Field Head, Field House, Firthfield, Fisher Green, Fitzwilliam, Fixby, Flanshaw, Flat Top, Flockton, Flush, Flush Dyke, Folly Hall, Ford, Four Lane Ends, Fourlands, Foxhill, Friar Wood, Friendly, Frizinghall, Fulneck, Fulstone, Gaisby, Gamble Hill, Garden Village, Garforth, Garforth Bridge, Gate Head, Gauxholme, Gawthorpe, Gawthorpe Green, Gibraltar, Gilbert Royd, Gildersome, Gildersome Street, Gillroyd, Gilstead, Gipton, Gipton Wood, Girlington, Glass Houghton, Gledholt, Gledhow, Godley Bridge, Golcar, Golcar Brow, Gomersal, Gomersal Hill Top, Goose Eye, Goose Hill, Goosehill, Gosport Bridge, Grange, Grange Moor, Granny Hill, Graveleythorpe, Great and Little Preston, Great Cliff, Great Horton, Great Preston, Green Hill, Green Market, Green Side, Green Thorpe Estate, Greengates, Greenholme, Greenside, Greetland, Grimescar, Grove Place, Grovetown, Guard House, Guiseley, Gully, Guycroft, Hade Edge, Hagg, Haggs Hill, Haigh, Haigh Fold, Haigh Moor, Hainworth, Half Acres, Half Mile, Halfroods, Halifax, Hall Bower, Hall Cliffe, Hall Field, Hall Green, Hall Ing, Hall Orchards, Halton, Halton Moor, Hanging Heaton, Hanging Stone, Harden, Hare Croft, Harehills, Harehills Corner, Harewood, Harewood Estate, Harewood Park, Harley Wood, Harrop Edge, Hartshead, Hartshead Moor Side, Hartshead Moor Top, Havercroft With Cold Hiendley, Haw Hill, Hawks Clough, Hawksworth, Hawksworth Estate, Haworth, Haworth Brow, Haycliffe Hill, Headingley, Headingley Hill, Headlands, Heald Wall Nook, Healey, Heath Grove, Heathcote, Heaton, Heaton Grove, Hebble End, Hebden Bridge, Hebden Royd, Heckmondwike, Helme, Hemsworth, Hemsworth Lane Ends, Henshaw, Heptonstall, Hepworth, Hermit Hole, Hessle and Hill Top, Hey Green, Heys Gardens, High Ackworth, High Flats, High Henshaw, High Road Well, High Utley, High Weardley, Highburton, Highfield, Hightown, Hightown Heights, Hill, Hill Crest, Hill End, Hill Foot, Hill Side, Hill Side Villas, Hill Top, Hillhouse, Hillside, Hinchliffe Mill, Hipperholme, Hirst, Hodgsons Fold, Holbeck, Holdsworth, Hole Bottom, Hollin Park, Hollingthorpe, Hollins Bottom, Hollinthorpe, Holmbridge, Holme, Holme Top, Holme Valley, Holme Village, Holmfield, Holmfirth, Holt Head, Holywell Brook, Holywell Green, Honey Hole, Honley, Hoo Hole, Hope Bank, Hope Town, Horbury, Horbury Bridge, Horbury Junction, Horsefair, Horsforth, Horsforth Woodside, Horton Bank, Horton Bank Bottom, Horton Bank Top, Hough End, Hough Side, Houghton Bridge, Houses Hill, Hove Edge, Howden Clough, Howley, Hoyle House, Hubberton, Huddersfield, Hundhill, Hunslet Carr, Hunslet Moor, Hunsworth, Huntwick With Foulby and Noste, Hyde Park, Hyde Park Corner, Idle, Idle Moor, Ilkley, Illingworth, Illingworth Moor, Ireland Wood, Islington, Jackson Bridge, Jagger Green, Jagger Hills, John O' Gaunts, Johnny Moores Hill, Junction, Kebroyd, Keelham, Keighley, Kent, Kettlethorpe, Kew Hill, Kiddal Lane End, Kidroyd, Killingbeck, Kilpin Hill, Kineholm, King Cross, Kings Mead, Kingsway, Kinsley, Kippax, Kippax Hollins, Kirkburton, Kirkby, Kirkfield, Kirkhamgate, Kirkheaton, Kirkroyd, Kirkstall, Kirkthorpe, Kitchenroyd, Kitson Hill, Knostrop, Knottingley, Knowl, Knowl Wood, Knowle Height, Knowler Hill, Knowles Hill, Knowsthorpe, Krumlin, Ladybalk, Ladywood, Laisterdyke, Lane, Lane Bottom, Lane End, Lane Head, Lane Top, Langley, Laund, Laurel Crescent, Lawnswood, Laxelles Hall, Laycock, Ledsham, Ledston, Lee Brigg, Lee Green, Lee Head, Lee Moor, Lee Mount, Leeches, Leeds, Leeming, Lees, Lees Moor, Lepton, Leventhorp, Leventhorpe, Leymoor, Lidgate, Lidget, Lidget Green, Lidgett Park, Lightcliffe, Lindley, Lindwell, Linfit, Lingards, Lingards Wood, Lingbob, Lingwell Gate, Linthwaite, Linton, Liphill Bank, Listerhills, Little Bradley, Little Hemsworth, Little Horton, Little Lepton, Little London, Little Moor, Little Sandal, Little Woodhouse, Littlemoor, Littlemoor Bottom, Littletown, Liversedge, Lobb Mill, Lockwood, Lofthouse, Lofthouse Gate, Long Lane Bottom, Long Lee, Long Walls, Longcauseway, Longley, Longroyde, Longwood, Loscoe, Lotherton Cum Aberford, Low Ackworth, Low Common, Low Fold, Low Grantley, Low Green, Low Littlemoor, Low Moor, Low Moor Side, Low Town End, Low Utley, Low Weardley, Lower Altofts, Lower Cumberworth, Lower Denby, Lower Edge, Lower Fagley, Lower Fold, Lower Grange, Lower Hall, Lower Hollin, Lower Hopton, Lower Houses, Lower Newlands, Lower Popeley, Lower Reins, Lower Row, Lower Soothill, Lower Thirstin, Lower Town, Lower Wellhouse, Lower Whitley, Lower Woodlands, Lower Wortley, Lower Wyke, Lowside, Lowtown Bottom, Lud Hill, Luddenden, Luddenden Foot, Lumb, Lumb Foot, Lumbutts, Lumley Hill, Lupset, Lydgate, Mabgate, Machpelah, Magdale, Mankinholes, Manningham, Manston, Manygates Park, Marl Pits, Marley, Marsden, Marsh, Marsh Fold, Marshfields, Masons Green, Meanwood, Meanwood Grove, Meltham, Meltham Mills, Menston, Methley, Micklefield, Micklethwaite, Mickletown, Middle Gate, Middlestown, Middleton, Middleton Park, Midge Hole, Midgley, Miles Hill, Mill Bank, Mill Hill, Mill Moor, Mill Shaw, Millbridge, Millwood, Milnsbridge, Milnthorpe, Milton Square, Minsthorpe, Mint, Mirfield, Mixenden, Moldgreen, Monkhill, Monkton, Moor Allerton, Moor Bottom, Moor End, Moor Garforth, Moor Head, Moor Side, Moor Top, Moorhead, Moorlands, Moorside, Moorside Edge, Moorthorpe, Moortown, Morley, Morley Carr, Morley Hole, Mossman Fields, Mount, Mount Pellon, Mount Pleasant, Mount Tabor, Mountain, Mytholm, Mytholm Bridge, Mytholmroyd, Nab Hill, Nab Wood, Nether End, Nether Yeadon, Netherfield House, Netherley, Netheroyd Hill, Netherthong, Netherton, Nethertown, Nettleton, Nettleton Hill, Nevison, New Blackpool, New Brighton, New Brunswick, New Crofton, New Delight, New Farnley, New Fold, New Fryston, New Gate, New Huddersfield, New Leeds, New Mill, New Pellon, New Road Side, New Scarborough, New Scarbro, New Sharlston, New Toftshaw, New Town, New Wells, New Wortley, Newall, Newbridge, Newhall, Newlaiths, Newland With Woodhouse Moor, Newlay, Newlaywood, Newmarket, Newmillerdam, Newsam Green, Newsholme, Newsome, Newsome Cross, Newstead, Newton, Newton Hill, Newton Lane End, Newtown, Nip Square, Nook, Noon Nick, Norland Town, Normanton, Normanton Common, Norr, Norristhorpe, North Bierley, North Elmsall, North Featherstone, Northfields, Northgate, Northorpe, Northowram, Norton Towers, Norwood Green, Notton, Nova Scotia, Nun Royd, Nunbrook, Nut Clough, Nut Hill, Oakenshaw, Oakes, Oakwell, Oakwood, Oakworth, Odsal, Odsal Top, Ogden, Old Bramhope, Old Dolphin, Old Earth, Old Lindley, Old Micklefield, Old Town, Oldfield, Osmondthorpe, Ossett, Ossett Spa, Ossett Street Side, Otley, Oulton, Ousel Hole, Outlane, Outwood, Ouzlewell Green, Ovenden, Ovenden Cross, Overthorpe, Overthorpe Park, Overton, Owlet Hall Estate, Oxenhope, Paddock, Paddock Brow, Paddock Foot, Page Hill, Painthorpe, Paleside, Paradise Green, Paris, Park, Park Gate, Park Mill, Park Villas, Parklands, Parkspring, Parkwood Bottom, Parlington, Patricks Green, Peacock Estate, Pecket Well, Peel Mount, Pepper Hill, Pickles Hill, Pickwood Scar, Pineberry Hill, Pinnacle, Pismire Hill, Pitts, Pledwick, Pole Moor, Pontefract, Pontefract Park, Ponty, Pool, Portobello, Potovens, Potternewton, Potterton, Pottery Field, Prickleden, Priestthorpe, Priestwell, Primrose, Primrose Hill, Prince Royd, Princeville, Providence Place, Pudsey, Pule Hill, Purlwell, Purston, Purston Jaglin, Pye Nest, Quarmby, Quarry Hill, Quebec, Queens Park, Queensbury, Queenswood, Raby Park, Ramsden, Ramsden Wood, Rashcliffe, Rastrick, Ravens Lodge, Ravensthorpe, Raw Nook, Rawden Hill, Rawdon, Rawfolds, Rawthorpe, Richmond Hill, Riddings, Riddlesden, Ripleyville, Ripponden, Rishworth, Roberttown, Robin Hood, Rocks, Rodley, Roe Head, Rookwood, Rooms, Ropewalk, Rothwell, Rothwell Haigh, Round Hill, Round Hill Bottom, Roundhay, Roundwood, Rowley Hill, Royd Moor, Roydhouse, Royds Green, Royds Green Upper, Royds Hall, Ryecroft, Ryhill, Salendine Nook, Salford, Salt Horn, Saltaire, Salterhebble, Sandal, Sandal Common, Sandal Magna, Sandhills, Sandy Lane, Savile Park, Savile Place, Savile Town, Scalebor Park, Scammonden, Scapegoat Hill, Scar Bottom, Scar Gill, Scar Top, Scarcroft, Scarlet Heights, Scholemoor, Scholes, Scholey Hill, School Close, School Green, Scissett, Scotland, Scott Hall, Scotty Croft, Scout, Scout Hill, Seacroft, Seed Hill, Sellars Fold, Seventy Acres, Shackleton, Shade, Shadwell, Shaley Top, Sharlston, Sharlston Common, Shaw, Shaw Cross, Shaw Mill, Shawhill, Shay Brow, Shearbridge, Shearing Cross, Sheepridge, Sheepscar, Shelf, Shelley, Shelley Far Bank, Shelley Woodhouse, Shepherd Hill, Shepley, Shepley Bridge, Shibden, Shibden Head, Shipley, Shipley Fields, Siddal, Silcoates, Silsden, Silver Royd Hill, Simpson Green, Sitlington, Skelmanthorpe, Skircoat, Skircoat Green, Slack, Slackside, Slaid Hill, Slaithwaite, Slead Syke, Smith House, Smithy Place, Snake Hill, Snydale, Soil Hill, South Crosland, South Elmsall, South Hiendley, South Kirkby and Moorthorpe, South Moor, South Ossett, Southowram, Southroyd Park, Sowerby Bridge, Sowerby Town, Sowood, Sowood Green, Soyland Town, Spen, Spenborough, Spring Bank, Spring End, Spring Grove, Spring Hill, Spring Side, Springfield, Springwood, Squirrel Ditch, St James Place, St Johns, St Johns Grove, St Michaels, Stafford Hill, Staincliffe, Stainland, Stanbury, Stand Bridge, Stank, Stanks, Stanley, Stanley Ferry, Stanley Lane Ends, Stanningley, Stansfield, Staygate, Stead, Steander, Steeton With Eastburn, Steps, Stile, Stile Common, Stockbridge, Stocks Bank, Stocksmoor, Stone, Stone Chair, Stoney Royd, Stony Batter, Storrs Hill, Storth, Stourton, Streethouse, Streetside, Strines Gate End, Stump Cross, Stumpcross, Sturton Grange, Sunny Bank, Sunny Mead, Sutton Estate, Swain Royd Lane Bottom, Swallow Hill, Swarcliffe, Swartha, Swashland, Swillington, Swincliffe, Swinnow, Swinnow Hill, Sycamore, Tandem, Taylor Hill, Temple Newsam, Thackley, Thackley End, The Crofts, The Dean, The Fall, The Flatts, The Green, The Holes, The Leylands, The Moor, The Oval, The Shay, The Square, The Wells, Thick Hollins, Thongsbridge, Thornbury, Thorncliff, Thorner, Thornes, Thornes Common, Thornhill Bridge, Thornhill Briggs, Thornhill Edge, Thornhill Lees, Thornhills, Thornton, Thorp Arch, Thorpe, Thorpe Audlin, Thorpe Edge, Thorpe Green, Thorpe-on-the-Hill, Throstle Bower, Thrum Hall, Thurstonland, Thwaite Gate, Thwaites, Thwaites Brow, Tingley, Tingley Common, Tinshill, Todmorden, Toftshaw, Toll Hill, Tom Royd, Tong, Tong Park, Tong Street, Top of Cowcliffe, Topcliffe, Totties, Town End, Town Gate, Town Head, Townville, Trafalgar, Tranmere Park, Triangle, Trough, Troy, Troy Hill, Troydale Estate, Truncliffe, Tunnacliffe Hill, Tunnel End, Turnbridge, Tyersal, Under Bank, Undercliffe, Underhill, Upper Armley, Upper Banks, Upper Brockholes, Upper Common, Upper Cumberworth, Upper Denby, Upper Edge, Upper Fagley, Upper Green, Upper Greetland, Upper Heaton, Upper Hey, Upper Hiendley, Upper Hopton, Upper House, Upper Moor, Upper Moor Side, Upper Thirstin, Upper Town, Upper Wellhouse, Upper Woodhouse, Upper Wortley, Upper Wyke, Upperthong, Upton, Utley, Vale, Vegal Crescent, Victoria, Wadsworth, Wadsworth Mill, Wainstalls, Wakefield, Wall Nook (Heald Wall Nook, Walsden, Walt Royd, Walton, Wapping, Warburton, Wards End, Warehouse Hill, Waring Green, Warley Clough, Warley Town, Warmfield Cum Heath, Washer Lane Bottom, Washpit, Water Fryston, Watergate, Waterloo, Weardley, Wearley, Weather Hill, Weetwood, Welbeck, Well Fold, Well Heads, Wellhouse, Wentbridge, Wesley Place, Wessenden Head, West Bowling, West Bretton, West Carlton, West Chevin, West Croft Head, West End, West Field, West Garforth, West Hardwick, West Park, West Scholes, West Town, West Vale, Westborough, Westbourne Park, Westerton, Westfield, Westgate, Westgate Common, Westgate Hill, Westroyd, Westroyd Hill, Westwood, Wetherby, Wharfedale (Burley in Wharfeda, Wharrels, Wheatley, Wheldale, Whinmoor, Whins Wood, White Cross, White Lee, Whitecote, Whitkirk, Whitkirk Lane End, Whitley, Whitley Head, Whitwood, Whitwood Mere, Wibsey, Wigton, Wike, Willow Bank, Willow Park, Wilsden, Wilshaw, Windhill, Windmill Hill, Winters, Wintersett, Wiring Field, Witchfield, Wolfstones, Wood End, Wood Hill, Wood Row, Wood Top, Woodbottom, Woodhall, Woodhall Park, Woodhead, Woodhouse, Woodhouse Carr, Woodhouse Cliff, Woodhouse Hill, Woodkirk, Woodlesford, Woodnook, Woods Avenue, Woodsome Lees, Woodthorpe, Wooldale, Woolley, Woolley Colliery, Woolley Edge, Worth, Worth Village, Wothersome, Wragby, Wrangbrook, Wrenthorpe, Wrose, Wyke, Wyke Common, Wyther, Wyther Park, Yeadon, Yew Green, Yew Tree, Yews Green
Towns and Villages of South Yorkshire, England
Abbeydale, Abbydale Park, Adwick le Street, Adwick upon Dearne, Aldwarke, Almholme, Alpha Place, Alverley, Arbourthorne, Ardsley, Arksey, Armthorpe, Ash Hill, Askern, Aston Common, Aston Cum Aughton, Aston Terrace, Athersley, Athersley North, Athersley South, Attercliffe, Auckley, Austerfield, Backmoor, Balby, Ballifield, Ballifield Green, Balne Croft Common, Banner Cross, Barley Hole, Barnboro Colliery, Barnburgh, Barnby Dun, Barnby Dun With Kirk Sandall, Barnby Green, Barnesdale Bar, Barnsley, Barrow, Barrow Field Gate, Barugh, Barugh Green, Batemoor, Bawtry, Bearswood Green, Beauchief, Beaver Hill, Beechwood, Beighton, Beighton Hollow, Bell Hagg, Belle Green, Belle Vue, Bennetthorpe, Bentley, Bentley Rise, Bents Green, Berry Moor, Bessacarr, Billingley, Bingham Park, Birdwell, Birdwell Common, Birdwell Flats, Birkendale, Birley Carr, Birley Edge, Birley Estate, Birley Spa, Blackburn, Blacker, Blacker Common, Blacker Green, Blacker Hill, Blaxton, Bloomhouse Green, Bole Hill, Bolehill, Bolsterstone, Bolton upon Dearne, Boulder Hill, Bow Broom, Bowbroom, Bracken Hill, Bracken Moor, Bradfield, Bradgate, Bradway, Braithwaite, Braithwell, Bramley, Brampton Bierlow, Brampton En le Morthen, Branton, Brick Houses, Bridge End, Brierley, Brightholmlee, Brightside, Brincliffe, Brinsworth, Broad Hill, Brodsworth, Bromley, Brookhouse, Broom, Broom Hill, Broomfield, Broomhill, Bullhouse, Burcroft, Burghwallis, Burncross, Burngreave, Burton Grange, Butterbusk Green, Butterthwaite, Cadeby, Campsall, Canklow, Cantley, Carbrook, Carcroft, Carfield, Carlecotes, Carlton, Carr, Carr Head, Carsick, Carsick Hill, Carter Knowle, Castle Green, Castlebeck, Catcliffe, Catshaw, Causeway Head, Cawthorne, Chapeltown, Charltonbrook, Charnock Hall, Clayton With Frickley, Clifton, Clough Field, Clough Green, Coisley Hill, Common Side, Conanby, Conisbrough, Conisbrough Parks, Corker Bottoms, Cortworth, Crane Moor, Crimpsall, Crookesmoor, Crosspool, Crow Edge, Cubley, Cudworth, Cundy Cross, Cusworth, Dalewood, Dalton, Dalton Brook, Dalton Magna, Dalton Parva, Danum, Darfield, Darley Cliff, Darnall, Darton, Darton Lane Head, Darton West, Dearne, Dearne (Bolton upon Dearne, Deep Pit, Deepcar, Den Bank, Denaby, Denaby Main, Dinnington St Johns, Dodworth, Dodworth Bottom, Dodworth Green, Dolcliff Common, Doncaster, Dore, Drakehouse, Dropping Well, Dunford, Dunford Bridge, Dungworth, Dunscroft, Dunsville, East Bank, East Dene, East Herringthorpe, East Whitwell, Eastfield, Eastwood, Eastwood Vale, Eastwood View, Ecclesall, Ecclesfield, Ecklands, Edderthorpe, Edenthorpe, Edlington, Ellers, Elliots Terrace, Elm Tree Hill, Elsecar, Endcliffe Edge, Eskholme, Ewden Village, Fairleigh, Far Bank, Fence, Fenwick, Finkle Street, Finningley, Fir Vale, Firbeck, Firsby, Firth Park, Fishlake, Flanderwell, Flashley Carr, Foldrings, Fosterhouses, Four Lane Ends, Frecheville, Friary Closes, Fulshaw, Fulshaw Cross, Fulwood, Garden Village, Garrow Tree Hill Field, Gawber, Gildingwells, Gilroyd, Gleadless, Gleadless Townend, Goldthorpe, Goole Green, Gore Hill, Grange Lane, Greasbrough, Great Houghton, Green Lane, Green Moor, Greenfoot, Greenhill, Greenland, Greenoak, Greenside, Grenoside, Greystones, Greystones Cliff, Griffs, Grimesthorpe, Grimethorpe, Guilthwaite, Gunthwaite and Ingbirchworth, Hackenthorpe, Haggs Wood, Haigh, Halfway, Hallam Head, Hallowmoor, Hampole, Hampole Stubbs, Handsworth, Handsworth Hill, Hanging Water, Hangsman Hill, Hardwick, Harley, Harlington, Hartcliff, Harthill With Woodall, Hatfield, Hatfield Woodhouse, Hay Green, Haywood, Hazlehead, Heeley, Hellaby, Hemingfield, Henley Grove, Herdings, Hermit Hill, Herringthorpe, Hexthorpe, Hickleton, High Green, High Hoyland, High Melton, High Storrs, High Thorn, High Wincobank, Higham, Higham Common, Higher Stubbin, Highfield, Highfields, Highgate, Highwood Estate, Hill End, Hill Foot, Hill Top, Hillsborough, Hillside, Holbrook, Holdworth, Holehouse, Hollin Busk, Hollins End, Hollow Meadows, Hollowgate, Holmes, Honeywell, Hoober, Hood Green, Hood Hill, Hooton Levitt, Hooton Pagnell, Hooton Roberts, Howard Hill, Howbrook, Hoyland Common, Hoyland Nether, Hoyland Swaine, Hoyle Mill, Hunningley, Hunshelf, Hunshelf Bank, Hurl Field, Hurlfield, Huthwaite, Hyde Park, Ickles, Intake, Istoneville, Jeffrey Green, Joan Croft, Jordan, Jordanthorpe, Jump, Kelham Island, Kendal Green, Kendray, Kexbrough, Kilnhurst, Kimberworth, Kimberworth Park, Kingstone Place, Kirk Bramwith, Kirk Sandall, Kirkhouse Green, Kitroyd, Kiveton, Klondyke, Knoll Top, Knowle Top, Lane End, Lane Head, Langold, Langsett, Laughton Common, Laughton En le Morthen, Laughton-En-le-Morthen, Lea Brook, Lee Brook, Letwell, Levitt Hagg, Lewden, Liberty Hill, Lindholme, Lindrick, Lindrick Common, Lindrick Dale, Listerdale, Little Houghton, Little Matlock, Little Norton, Little Sheffield, Littleworth, Load Brook, Lodge Moor, London Hill, Long Sandall, Longley Estate, Loversall, Low Barugh, Low Bradfield, Low Ellers, Low Harley, Low Stubbin, Low Valley, Low Wincobank, Lowedges, Lower Bradway, Lower Crabtree, Lower Pilley, Lower Walkley, Lowfield, Loxley, Loxley Bottom, Lund Hill, Lundwood, Lydgate, Magnum Bonum, Malin Bridge, Malinbridge, Maltby, Manor Estate, Mapplewell, Marr, Marsh Hills, Masbrough, Masbrough Common, Maugerhay, Mawson Green, Meadow Hall, Meadow Head, Meadow View, Measborough Dike, Meersbrook, Meersbrook Bank, Melton Brand, Melton Green, Mexborough, Micklebring, Middlecliff, Middlewood, Midhopestones, Millhouse, Millhouse Green, Millhouses, Milton, Mitchell Main, Monk Bretton, Monk Wood, Moor End, Moorends, Moorhole, Moorhouse, Morthen (Laughton En le Morthe, Mortomley, Mosborough, Moscar, Moss, Neepsend, Nether Cantley, Nether Edge, Nether Green, Nether Haugh, Nether Houses, Nether Shire Green, Nether Thorpe, Nethergate, Netherthorpe, New Conisbrough, New Edlington, New Gawber, New Hexthorpe, New Lodge, New Rossington, New Totley, New Village, New York, Newfield Green, Newhill, Newington, Newton, Newtown, Nook End, Normandale, Normanton Spring, North and South Anston, North End, North Staveley, Northfield, Norton, Norton Hammer, Norton Lees, Norton Woodseats, Nutwell, Oaks Park, Old Brodsworth, Old Denaby, Old Edlington, Old Hexthorpe, Old Kirk Sandall, Old Mill, Old Rossington, Old Town, Old Wheel, Onesacre, Orgreave, Oughtibridge, Owlerton, Owlthorpe, Owston, Oxclose, Oxspring, Park Gate, Park Hill, Park Lane, Parkhead, Parkside, Parkwood Springs, Parson Cross, Pashley Green, Penistone, Philadelphia, Piccadilly, Pickburn, Piece End, Pilley, Pincheon Green, Pismire Hill, Pitsmoor, Platts Common, Plumbley, Pog Moor, Pogmoor, Port Mahon, Potter Hill, Primrose Hill, Pudding Hill, Rails, Rainsforth, Ranmoor, Rattan Row, Ravenfield, Raw Green, Rawmarsh, Red Brook, Richmond, Richmond Park, Ringinglow, Rivelin, Rockley, Roman Terrace, Rose Hill, Rossington, Rostholme, Rotherham, Rotherwood, Roughbirchworth, Royd, Royston, Ryecroft, Sandbeck, Sandhill, Sandygate, Scarfield, Scawsby, Scawthorpe, Scholes, School Hill, Scotch Springs, Shaftholme, Shafton, Sharrow, Sharrow Head, Sharrow Vale, Shaw Lands, Shawlands, Shay House, Sheephouse, Sheffield, Sheffield Lane Top, Sheffield Park, Shirecliffe, Shiregreen, Silkstone, Silkstone Common, Sim Hill, Sitwell Vale, Skelbrooke, Skellow, Slackhills, Slade Hooton, Slay Pits, Small Bridge, Smithies, Smithley, Smithy Green, Smithy Hill, Smithy Wood, Snape Hill, Snowden Hill, Sothall, South Bank, South Bramwith, Southey, Southey Green, Spink Hall, Spital Hill, Spring Gardens, Spring Vale, Sprotbrough and Cusworth, St Helens, St Michaels Field, Stacey Bank, Stainborough, Staincross, Stainforth, Stainton, Stairfoot, Stancil, Stannington, Steel Bank, Stephen Hill, Sticking Hill, Stockbridge, Stocksbridge, Stone, Stone Hill, Storrs, Street, Stubbin, Stumperlowe, Summerfield, Sunnyfields, Sunnyside, Sutton, Swaithe, Swallow Hill, Swallow Nest, Swinton, Swinton Bridge, Swithen, Sykehouse, Tankersley, Tapton Hill, Templeborough, The Brecks, The Cross, The Dale, The Fleets, The Green, The Holmes, The Junction, The Lings, The Wheel, Thompson Hill, Thorn Hill, Thorne, Thorpe Common, Thorpe Hesley, Thorpe House, Thorpe in Balne, Thorpe Salvin, Throapham, Thrybergh, Thurcroft, Thurgoland, Thurlstone, Thurnscoe, Tickhill, Tin Mill, Tingle Bridge, Tinsley, Tivy Dale, Toad Hole, Todwick, Toll Bar, Top O' Th' Town, Topham, Totley, Totley Bents, Totley Brook, Totley Rise, Town End, Town Head, Town Moor, Townhead, Treeton, Trumfleet, Tumholme, Tun Well Knowl, Turner Wood, Tyers Hill, Ughill, Ulley, Under Tofts, Upper Bradway, Upper Carr Green, Upper Crabtree, Upper Cudworth, Upper Gate, Upper Haugh, Upper Hoyland, Upper Midhope, Upper Tankersley, Upper Whiston, Upperthorpe, Victoria Park, Wadsley, Wadsley Bridge, Wadworth, Wales, Wales Bar, Waleswood, Walkley, Ward Green, Warmsworth, Warren, Warren Vale, Water Royd, Waterside, Waterthorpe, Wath upon Dearne, Wath Wood, Wath-upon-Dearne, Weetshaw Lane, Wellingley, Wentworth, Wentworth Castle, Wentworth Park, West Bank, West End, West Melton, West Mosbrough, Westwood Row, Wharncliffe, Wharncliffe Side, Wheatley Hills, Wheatley Park, Whinney Hill, Whirlow, Whiston, White Cross, White Hill, White Lane, Whiteley Wood, Whitley, Whitley Common, Wickersley, Wigtwizzle, Wike Well End, Willow Bridge, Wilthorpe, Wilthorpe Redbrooke, Wincobank, Windmill Hill, Wisewood, Wombwell, Wombwell Junction, Wombwell Main, Wood Hill, Wood Willows, Woodhouse, Woodhouse Green, Woodhouse Mill, Woodland View, Woodlands, Woodlands East, Woodsetts, Woodside, Woodthorpe Estate, Wormley Hill, Worrall, Worsborough Common, Worsbrough, Worsbrough Bridge, Worsbrough Dale, Wortley, Wybour
Approved marriage and civil partnership venues in Lancashire

Tel 015242 21859 Arkholme Village Hall
Arkholme, Carnforth, LA6 1AZ
Tel 01257 515555 Astley Hall
Astley Park, Chorley, PR7 1NP
Tel 01772 690506 Bartle Hall Hotel
Lea Lane, Bartle, Nr Preston, PR4 0HA
Tel 01772 862551 Barton Grange Hotel
Garstang Road, Barton, Preston, PR3 5AA
Tel 01704 892655 Beaufort Hotel
High Lane, Burscough, L40 7SN
Tel 01253 724636 Bedford Hotel
307-313 Clifton Drive South, Lytham St Annes, FY8 1HN
Tel 01253 723241 Best Western Glendower Hotel
32-38 North Promenade, St Annes, FY8 2NQ
Tel 01524 732508 Borwick Hall
Borwick, Carnforth, LA6 1JU
Tel 01704 895989 Briars Hall Hotel
Briars Lane, Lathom, Nr Ormskirk, L40 5TH
Tel 01282 700008 Burnley Football Club
Turf Moor, Harry Potts Way, Burnley, BB10 4BX
Tel 01200 441218 Calf's Head
Worston, Clitheroe, BB7 1QA
Tel 01253 891000 Civic Centre
Breck Road, Poulton -le-Fylde, FY6 7PU
Tel 01524 410180 Clarendon Hotel
Marine Road West, Morecambe, LA4 4EP
Tel 01254 822556 Clarion Hotel & Suites Foxfield
Whalley Road, Billington, Clitheroe, BB6 9HY
Tel 01253 739898 Clifton Arms Hotel
West Beach, Lytham, FY8 5QJ
Tel 01282 661661 Council Chamber
Town Hall, Albert Road, Colne, BB8 0AR
Tel 01254 398021 Dunkenhalgh Hotel
Blackburn Road, Clayton-Le-Moors, Accrington, BB5 5JP
Tel 01200 425271 Eaves Hall Country Hotel
Eaves Hall Lane, West Bradford, Clitheroe, BB7 3JG
Tel 01282 721416 Elizabeth House
3/5 Elizabeth Street, Burnley, BB11 2BQ
Tel 01772 421321 Farington Lodge Hotel
Stanifield Lane, Farington, Leyland, PR25 4QR
Tel 01282 618101 Fence Gate Inn And Banqurting Centre
Wheatley Lane Road, Fence, Near Burnley, BB12 9EE
Tel 01772 783148 Ferrari's Country House Hotel
Chipping Road, Thornley, Longridge, PR3 2TB
Tel 01253 874580 Fleetwood House
Central Library, North Albert Street, Fleetwood, FY7 6AJ
Tel 01995 600100 Garstang Country Hotel And Golf Club
Bowgreave, Garstang, Nr Preston, PR3 1YE
Tel 01524 65673 Georgian House
4 Queen Street, Lancaster, LA1 1RS
Tel 01995 61456 Gibbon Bridge Hotel
Chipping, Forest Of Bowland, PR3 2TQ
Tel 01253 721288 Grand Hotel
South Promenade, Lytham St Annes, FY8 1NB
Tel 01695 585779 Greetby Building
Derby Street, Ormskirk, L39 2BS
Tel 01772 651432 Haighton Manor
Haighton Green Lane, Haighton, Preston, PR2 5SQ
Tel 01772 894505 Harris Park Conference Centre
253 Garstang Road, Preston, PR2 9XB
Tel 01254 233782 Haworth Art Gallery
Haworth Park, Manchester Road, Accrington, BB5 2JS
Tel 01524 412525 Headway Hotel
Marine Road East, Morecombe, LA4 5AW
Tel 01257452044 Heskin Hall
Wood Lane, Heskin, Chorley, PR7 5PA
Tel 01282 772781 Higher Trapp Country House Hotel
Trapp Lane, Simonstone, Nr Burnley, BB12 7QW
Tel 015242 71187 Hipping Hall
Cowan Bridge, Kirkby Lonsdale, LA6 2JJ
Tel 01254 852986 Hoghton Tower
Hoghton, Preston, PR5 0SH
Tel 01706 222500 Holden Vale Hotel and Conference Centre
Holcombe Road, Helmshore, Rossendale, BB$ 4NF
Tel 01695 624426 Holland Hall Hotel
Lafford Lane, Upholland, WN8 0QZ
Tel 01253 876525 Hotel Elizabeth North Euston
The Esplanade, Fleetwood, FY7 6BN
Tel 01704 840400 Hurlston Hall Golf Club
Hurlston Lane, Scarisbrick, L40 8HB
Tel 01253 726726 Inn on the Prom
11/17 South Promenade, St Annes-on-Sea, FY8 1LU
Tel 01253 723444 Joya
25 Wood Street, Lytham St Annes, FY8 1QR
Tel 01695 720401 Lancashire Manor Hotel
Prescott Road, East Pimbo,Upholland, Nr Wigan, WN8 9PU
Tel 08450530021 Lancashire Rose Suite
PO Box 24, Bow Lane, Preston, PR1 8SE
Tel 01524 844 822 Lancaster House Hotel
Green Lane, Ellel, Lancaster, LA1 4GJ
Tel 01524 734474 Leighton Hall
Carnforth, LA5 9ST
Tel 01772 422922 Leyland Hotel
Leyland Way, Leyland , Preston, PR25 4JX
Tel 01253 736652 Lytham Hall
Ballam Road, Lytham, FY8 4LE
Tel 01253 771141 Marine Hall
The Esplanade, Fleetwood, FY7 6HF
Tel 01704 822552 Mawdsley's Hotel
Hall Lane, Mawdesley, Nr Ormskirk, L40 2GZ
Tel 01254 871360 Mechanics Institute
Willow Street, Accrington, BB5 1LP
Tel 01254 813333 Millstone Hotel
Church Lane, Mellor, Blackburn, BB2 7JR
Tel 01254 826544 Mitton Hall Country House Hotel
Mitton Road,Mitton, Whalley, BB7 9PQ
Tel 01200 422333 Moorcock Inn
Slaidburn Road, Waddington, Clitheroe, BB7 3AA
Tel 01254 240662 Mytton Fold Hotel And Golf Complex
Whalley Road, Langho, BB6 8AB
Tel 01282 436116 Nicholas House
12 Nicholas Street, Burnley, BB11 2AQ
Tel 01772 675920 Nigel Smith's Restaurant
Ribby Hall Village, Ribby Road, Wrea Green, Preston, PR4 2PR
Tel 01254 240555 Northcote Manor
Northcote Road, Langho, Blackburn, BB6 8BE
Tel 01257 452090 Park Hall Hotel
Park Hall Road, Charnock Richard, Chorley, PR7 5LP
Tel 01772 338551 Pines Hotel
Preston Road, Clayton-Le-Woods, Chorley, PR6 7ED
Tel 01772 864087 Preston Marriott Hotel
418 Garstang Road, Broughton, Preston, PR3 5JB
Tel 01772 600110 Quality Hotel Chorley
Moor Road, Croston, Preston, PR26 9HP
Tel 01200 420493 Ribble House
Off Pimlico Road, Clitheroe, BB7 2BW
Tel 01772 671111 Ribby Hall Village
Ribby Road, Wrea Green, PR4 2PA
Tel 01204 697738 Rivington Hall Barn
Rivington, BL6 7SB
Tel 01282 818826 Rolls-Royce Leisure
Skipton Road, Barnoldswick, BB18 6HR
Tel 01282 453931 Rosehill House Hotel
Rosehill Avenue, Burnley, BB11 2PW
Tel 01704 821254 Rufford Old Hall
200 Liverpool Road, Rufford, Nr Ormskirk, L40 1SG
Tel 01254 812010 Samlesbury Hall
Preston New Road, Samlesbury, Preston, PR5 0UP
Tel 01257 269221 Shaw Hill Hotel Golf And Country Club
Preston Road, Whittle-Le-Woods, Chorley, PR6 7PP
Tel 01254 826518 Shireburn Arms Hotel
Hurst Green, Clitheroe, BB7 9QJ
Tel 01253 883854 Singleton Lodge
Lodge Lane, Singleton, Poulton-Le-Fylde, FY6 8LT
Tel 01772 625510 South Ribble Banqueting Suite
Civic Centre, West Paddock, Leyland, PR25 1DH
Tel 01254 872263 Sparth House Hotel
Whalley Road, Clayton-Le-Moors, Accrington, BB5 5RP
Tel 01253 790301 Springfield House Hotel
Wheel Lane, Pilling, Nr Preston, PR3 6HL
Tel 01257 263143 St Georges House
16 St George's Street, Chorley, PR7 2AA
Tel 01706 223222 St Mary's Chambers
Haslingden Road, Rawtenstall, BB4 6QX
Tel 01254 769200 Stanley House
Mellor, BB2 7NP
Tel 01200 445581 Stirk House Hotel
Gisburn, Nr Clitheroe, BB7 4LJ
Tel 01524 421234 Strathmore Hotel
East Promenade, Morecambe, LA4 5AP
Tel 01282 867985 Sun Inn
Back Colne Road, Trawden, BB8 8PG
Tel 01772 877351 Swallow Hotel
Preston New Road, Samlesbury, Preston, PR5 0UL
Tel 01524 32451 Swallow Royal Kings Arms Hotel
Market Street, Lancaster, LA1 1HP
Tel 01282 863447 The Alma Inn
Emmott Lane, Laneshawbridge, Colne, BB8 7EG
Tel 01524 33318 The Ashton Memorial
Williamson Park, Lancaster, LA1 1UX
Tel 01995 604128 The Crofters Hotel
A6 Road, Cabus, Garstang, PR3 1PH
Tel 01253340118 The Dunes Conference Centre
Clifton Drive North, Lytham St Annes, FY8 2SX
Tel 01524 63773 The Elms Hotel
Bare Lane, Morecambe, LA4 6DD
Tel 01282 770353 The Great Barn
Gawthorpe Hall, Burnley Road, Padiham, BB12 8UA
Tel 01253 885130 The Great Hall at Mains
Mains Lane, Little Singleton, FY6 7LE
Tel 01200 448222 The Inn At Whitewell
Forest Of Bowland, Nr Clitheroe, BB7 3AT
Tel 01524 424000 The Midland Hotel
Marine Road West, Morecambe, LA4 4BU
Tel 01282 414141 The Oaks Hotel
Colne Road, Reedley, Burnley, B10 2LF
Tel 01706 854130 The Riverside
Whitworth Civic Hall, Market Street, Whitworth, OL12 8DP
Tel 01200 441202 The Spread Eagle
Sawley, Nr Clitheroe, BB7 4NH

Tel 01695 42145 0The Swan




Springfield Road, Aughton, Nr Ormskirk, L39 6ST

Tel 01772 684347 The Villa Country House Hotel
Moss Side Lane,Wrea Green, Nr Kirkham, Preston, PR4 2PE
Tel 01524 71284 The Whoop Hall
Burrow-With-Burrow, Kirkby Lonsdale, Carnforth, LA6 2HP
Tel 01772 877671 Tickled Trout Hotel
Preston New Road, Samlesbury, Preston, PR5 0UJ
Tel 01524 582000 Town Hall
Dalton Square, Lancaster, LA21 1PJ
Tel 01282 424213 Towneley Hall
Burnley, BB11 3RQ
Tel 015242 22227 Village Institute
20 Main Street, Hornby, Lancaster, LA2 8JR
Tel 01772 432881/421354 Wellington Park
Church Road, Leyland, Preston, PR25 3AB
Tel 01695 423328 West Tower Country House Hotel
Mill Lane, Aughton, Ormskirk, L39 7HJ
Tel 01524 822768 Whitewalls Restaurant
39 Hatlex Lane, Hest Bank, Lancaster, A2 6EZ
Tel 01995 61574 Wolfen Mill
Chipping, Forest of Bowland, PR3 2GR
Tel 01772 455908 Worden Arts Centre
Worden Park, Leyland, PR25 1DJ
Tel 01257 425803 Wrightington Hotel And Country Club
Moss Lane, Wrightington, Wigan, WN6 9PB
Towns and Villages of Lancashire, England
Abbey Villa, Abbeystead, Abby Village, Accrington, Acre, Acre Mill, Addington, Adlington, Admarsh in Bleasdale, Admergill, Aldcliffe, Alder Grange, Alkincoats, Alston, Altham, Anchorsholme, Anderton, Anglezarke, Angram Green, Ansdell, Antley, Appley Bridge, Arbour, Arkholme-With-Cawood, Ashen Bottom, Ashton Bank, Ashton Five Lane Ends, Ashton on Ribble, Astley Village, Aughton, Avenham, Back O'Bowley, Bacup, Bailey Green, Bailrigg, Balderstone, Ball Grove, Balladen, Bamber Bridge, Bangors Green, Bank Bottom, Bank Fold, Bank Head, Bank Hey, Bank Houses, Bank Top, Banks, Bankside, Barbers Moor, Bare, Barley Green, Barley-With-Wheatley Booth, Barnacre-With-Bonds, Barnoldswick, Barrow, Barrow Nook, Barrowford, Barton, Bashall Eaves, Bastwell, Bawlands, Baxenden, Bay Horse, Bazil, Beacon Fell, Beard Wood, Bedlam, Belle Vue, Belmont, Belthorn, Bent Gate, Bents, Bescar, Bescar Lane, Bickerstaffe, Billingescar, Billington and Langho, Bilsborrow, Birkacre, Birks, Bispham, Bispham Green, Black Lane End, Black Pole, Blackamoor, Blackburn, Blackleach, Blackmoor, Blacko, Blackpool, Blacksnape, Blackthorn, Blackwood, Blaguegate, Blea Tarn, Bleasdale, Bolton, Bolton Green, Bolton Houses, Bolton-by-Bowland, Bolton-le-Sands, Bonds, Booth Fold, Borwick, Botany Bay, Bottom of Hutton, Botton Head, Bourne, Bowerham, Bowgreave, Bowkers Green, Bowland Forest High, Bowland Forest Low, Bowland-With-Leagram, Bracewell and Brogden, Bradley, Brandwood, Bretherton, Bridge End, Bridge Mills, Briercliffe, Brierfield, Brimmicroft, Brindle, Brinscall, Britannia, Broad Clough, Broad Water, Broadfield, Broadhalgh, Broadhead, Broadhurst, Broadley, Brock, Brock Bottom, Brockhall, Brockholes, Brook Side, Brookfields, Brookfields Green, Brookhouse, Brooklands, Broughton, Brown Edge, Brownedge, Brownhill, Brownside, Browsholme, Brunshaw, Brunshaw Bottom, Bryning-With-Warton, Buckhurst, Bunkers Hill, Burn Naze, Burnley, Burnley Lane Head, Burr Green, Burrow, Burrow-With-Burrow, Burscough, Burscough Bridge, Burscough Town, Butt Yeats, Cabus, Cadley, Cadshaw, Calder Vale, Calderbanks, Cantsfield, Capernwray, Carleton, Carnforth, Carr Cross, Carrs, Carry Bridge, Catforth, Catlow, Caton-With-Littledale, Catshaw, Catterall, Cawl Meadow, Chadswell, Change, Channel Head, Chapel Hillock, Chapels, Chapeltown, Charnock Richard, Chatburn, Chatterton, Cheetham Hill, Cherry Tree, Chew Mill, Childers Green, Chipping, Chorley, Church, Church Clough, Churchtown, Claremont, Claughton, Clay Bank, Clayton Brook, Clayton Green, Clayton-le-Dale, Clayton-le-Moors, Clayton-le-Woods, Cleveley, Cleveleys, Clieves Hill, Cliffe, Clifton, Clitheroe, Cliviger, Clough Fold, Clough Head, Clow Bridge, Coates, Cob Wall, Cockden, Cocker Bar, Cocker Brook, Cockerham, Cockersand Abbey, Cockleach, Cold Row, Coldcoats, Colne, Common Edge, Conder Green, Constable Lee, Coopers Allotment, Coppull, Copster Green, Copy Nook, Corner Row, Cote Holme, Cottam, Cotton Tree, Coup Green, Cow Ark, Cowan Bridge, Cowhill Fold, Cowling, Cowpe, Crag Bank, Cragfoot, Cranberry Fold, Crawford, Crawshaw Booth, Cribden Side, Crimbles, Crisp Delf, Croft, Cross Edge, Cross Hill, Crossgill, Crossmoor, Croston, Croston Close, Croston Estate, Crow Trees, Cuddy Hill, Cuerdale, Cuerden, Cumeragh Village, Cutler Greens, D'Urton Lane End, Daisyfield, Dalton, Dam Side, Dangerous Corner, Darwen, Davies Gate, Dawber Delf, Dean, Deepdale, Deeply Vale, Deerplay, Digmoor, Dill Hall, Dilworth, Dimpenley, Dinckley, Dinkling Green, Doals, Docker, Dolphinholme, Dotcliffe, Douglas, Dowbridge, Downham, Downholland, Drink House, Drummersdale, Duckworth, Duckworth Hall, Duncombe, Dunnockshaw, Dunsop Bridge, Dutton, Duxbury, Eagland Hill, Earby, Earcroft, Earnsdale, Earnshaw Bridge, Easington, Eaves Hall, Eccleshill, Eccleston, Eccleston Green, Edenfield, Edge End, Edge Fold, Edgeside, Edgeworth, Edisford, Ellel, Ellenthorpe, Elston, Elswick, Ending, Enfield, Entwistle, Eskrigge, Esprick, Euxton, Ewood, Ewood Bridge, Facit, Fairhaven, Fairview, Fallbarn, Far Banks, Farington, Farington Moss, Farleton, Fearns, Fence, Fence Wood, Feniscliffe, Feniscowles, Fern Gore, Fernhill, Fernyhalgh, Fiddlers Ferry, Finnington, Fishers Row, Fishwick, Flash Green, Flax Moss, Fleetwood, Fleetwood Warren, Fold Head, Fooden, Ford Green, Forest Becks, Forest Holme, Forton, Foulridge, Four Lane Ends, Foxhill Bank, Foxholes Hill, Freckleton, Frenchwood, Frenchwood Knoll, Fulwood, Galgate, Gambleside, Garstang, Giller Fold, Gillets Houses, Gillians, Gisburn, Gisburn Cotes, Gisburn Forest, Glasson, Glen Top, Golden Hill, Goldshaw Booth, Golgotha, Goodshaw, Goodshaw Chapel, Goodshawfold, Goose Green, Goosnargh, Gore Houses, Grane, Grange Park Estate, Great Altcar, Great Crimbles, Great Eccleston, Great Harwood, Great Marton, Great Marton Moss, Great Mitton, Great Plumpton, Great Singleton, Greave, Greaves Town, Green, Green Haworth, Greenbank, Greenfield, Greenhalgh-With-Thistleton, Greens, Greensnook, Gregory Fold, Gregson Lane, Gressingham, Greyfriars, Griffin, Grimeford Village, Grimehills, Grimsargh, Grimshaw Green, Grimshaw Park, Grindleton, Grunsagill, Guide, Gunner Thwaite, Habergham, Habergham Eaves, Hackensall, Haggate, Haighton, Hale Nook, Hall Carr, Hall Cross, Hall Fold, Hall Green, Hall Moor End, Hall Park, Halsall, Halton-With-Aughton, Hambleton, Hampson Green, Hapton, Harden, Hardhorn, Hardsough, Hare Appletree, Hareden, Hareholme, Harle Syke, Harrop Fold, Hartwood, Haskayne, Haslingden, Haslingden Grane, Hatlex, Haverbreaks, Hawes Side, Hawkshaw, Hawkshaw Lane, Hawkshead, Hawthornthwaite, Headless Cross, Healey, Heap Clough, Heapey, Heasandford, Heath Charnock, Heaton-With-Oxcliffe, Heatons Bridge, Height End, Heightside, Helmcroft, Helmshore, Henfield, Henthorne, Hesketh Bank, Hesketh Lane, Hesketh-With-Becconsall, Heskin, Hest Bank, Hey, Hey Houses, Heyhouses, Heysham, High Cross, High Moor, High Riley, Higham-With-West Close Booth, Higher Antley, Higher Audley, Higher Ballam, Higher Bartle, Higher Boarsgreave, Higher Change, Higher Clough Fold, Higher Constable Lee, Higher Copthurst, Higher Croft, Higher Fowler Height, Higher Harpers, Higher Hill, Higher Hodder, Higher Standen, Higher Twiston, Higher Walton, Higher Wheelton, Higherford, Hilderstone, Hill Dale, Hill End, Hill Foot, Hill Place, Hill Top, Hillock Vale, Hindle Fold, Hob Green, Hoddlesden, Hoghton, Holden, Holden Vale, Hole House, Holland, Holland Lees, Holland Moor, Holland Slack, Holleth, Hollin Bank, Hollin Grove, Hollin Hall, Hollins, Hollins Grove, Hollins Lane, Holme, Holme Chapel, Holme Slack, Holmes, Holmes Wood, Holt Hill, Hoohill, Hook Cliffe, Hornby-With-Farleton, Horncliffe, Horns Inn, Horrocksford, Horsemans Hill, Horton, Hoscar, Hothersall, Hough Hill, Houghclough, Howgill, Howick, Hoyle Bottom, Hud Hey, Hugh Mill, Huncoat, Hundred End, Hunting Hill, Huntroyde Demesne, Hurlston, Hurst Green, Hurstwood, Hutch Bank, Huttock End, Huttock Top, Hutton, Ightenhill, Inglewhite, Ingol, Inskip-With-Sowerby, Intack, Ireby, Jack Green, Jackson Hill, Johnsons Hillock, Keer Holme, Keighley Green, Kelbrook, Kelbrook and Sough, Kellamergh, Kemple End, Kirkham, Kirkland, Knott End, Knowe Hill, Knowle Fold, Knowle Green, Knowley, Knowley Top, Knuzden, Kylnclough, Lamb Roe, Lammack, Lancaster, Lane Bottom, Lane Ends, Lane Heads, Lanehead, Laneshaw Bridge, Laneside, Langho, Lathom, Laund, Layton, Lea, Lea Town, Leagram, Leavengreave, Leck, Leighton Beck, Lenches, Lewth, Leyland, Lickhurst, Lidgett, Limbrick, Lindeth, Little Bispham, Little Carleton, Little Eccleston-With-Larbreck, Little Harwood, Little Hoole, Little Layton, Little Marsden, Little Marton, Little Mitton, Little Moor, Little Moor End, Little Plumpton, Little Poulton, Little Singleton, Little Thornton, Little Town, Livesey, Lockgate, Lodge Mill, Lomeshaye, Long Acres, Long Ing, Longholme, Longridge, Longshaw, Longton, Longworth, Lostock Hall, Loveclough, Low Moor, Lower Audley, Lower Ballam, Lower Bartle, Lower Black Moss, Lower Boarsgreave, Lower Cloughfold, Lower Copthurst, Lower Darwen, Lower Fold, Lower Gate, Lower Green, Lower Lane, Lower Leck, Lower Rosegrove, Lower Westhouse, Lowerfold, Lowerhouse, Lowgill, Lumb, Lunesdale View, Lytham St Annes, Lythe, Marsden, Marsden Height, Marshaw, Marton Fold, Maudlands, Mawdesley, Meadow Top, Mearley, Medlar-With-Wesham, Melling-With-Wrayton, Mellor, Mellor Brook, Mere Brow, Mereclough, Mereside, Middleforth Green, Middleton, Middleton Tower, Middop, Midge Hall, Mill Hill, Millgate, Millhead, Millhouses, Milnshaw, Monkroyd, Montford, Moor Bottom, Moor End, Moor Side, Moorend, Moorgate Fold, Moorside, Morecambe, Moss Bridge, Moss Edge, Moss Houses, Moss Side, Mossy Lea, Mount Pleasant, Much Hoole, Musbury, Myerscough, Myerscough Smithy, Mythop, Nabs Head, Narrow Moss, Nateby, Naze, Nelson, Nether Burrow, Nether Kellet, Nether Wyersdale, Nethertown, New Fold, New Gate, New Hall Hey, New Lane, New Longton, New Town, Newbridge, Newburgh, Newchurch, Newfield, Newgate, Newsham, Newsholme, Newton, Newton-With-Clifton, Newton-With-Scales, Nixon Hillock, Nog Tow, Nook, Nook Fold, Nooklands, Norbreck, Norcross, Normoss, North Meols, North Planks, North Shore, North Turton, Nun Hills, Oakenclough, Oakenhead Wood, Oakenhurst, Oakenshaw, Oakley, Old Glasson, Old Grange, Old Hive, Old Langho, Old Laund Booth, Ollerton, Ormskirk, Orrell Fold, Ortner, Osbaldeston, Oswaldtwistle, Out Rawcliffe, Outhwaite, Over Burrow, Over Houses, Over Kellet, Over Leck, Over Wyresdale, Overhouses, Overton, Overtown, Oxcliffe, Padiham, Parbold, Park, Park Place, Parkfield, Paythorne, Peel, Peel Bank, Peel Park, Pendle, Pendleton, Penwortham, Pepper Hill, Piercy, Pike Hill, Pilling, Pilling Lane, Pimbo Lane, Pimlico, Pincock, Pinfold, Pippin Street, Pleasington, Pleck Gate, Pool Heys, Portfield, Portsmouth, Potters Brook, Poulton-le-Fylde, Preesall, Preese, Preston, Priest Hutton, Primet Bridge, Primrose, Primrose Hill, Pudding Pie Nook, Quarlton, Queensgate, Queenstown, Quernmore, Radbrook, Rainhall Estate, Rake Foot, Rake Head, Ramsbottom, Ramsgreave, Rann, Raven Shore, Rawcliffe, Rawtenstall, Read, Red Bank, Reedley, Reedley Hallows, Reeds Holme, Revidge, Revoe, Ribbleton, Ribby-With-Wrea, Ribchester, Ridge, Riley Green, Rileys, Rimington, Ring O' Bells, Rinkton, Rip Row, Rishton, Rising Bridge, Rivington, Roach Bridge, Roby Mill, Rockcliffe, Roddlesworth, Roe Lee, Roeburndale, Roggerham, Rose Grove, Rosehill, Rossall, Rossall Beach, Rossendale Valley, Rough Heys, Roughlee Booth, Roughlee Waterfoot, Rowe Green, Royal Oak, Royshaw, Rufford, Runshaw Moor, Rush Bed, Ryal Fold, Sabden, Sabden Fold, Sagar Holme, Salesbury, Salford, Salt Hill End, Saltcotes, Salter, Salterforth, Salwick, Samlesbury, Sandhams Green, Sandside, Sandylands, Sawley, Scaitcliffe, Scale Hall, Scales, Scarisbrick, Scarth Hill, School Lane, Scorton, Scotforth, Scout, Scout Fold, Scout Moor, Scoutbottom, Scronkey, Seed Lee, Seven Stars, Shadsworth, Sharneyford, Sharoe, Sharoe Green, Sharples, Shaw Bridge, Shaw Green, Shaw Hill, Shawclough, Shawforth, Sherfin, Shirdley Hill, Shireshead, Shorey Bank, Showley Fold, Silverdale, Silverdale Green, Simonstone, Simonswood, Singleton, Sissclough, Skelmersdale, Skerton, Skippool, Skitham, Slaidburn, Slyne-With-Hest, Smallwood Hey, Smithy Fold, Smithy Lane Ends, Snab Green, Snape Green, Snodworth, Sollom, Sough, South Hill, Southfield, Sower Carr, Sowerbutts Green, Sowerby, Sparth, Spring Bank, Spring Gardens, Spring Hill, Spring Side, Spring Vale, Springfield, Squires Gate, St Annes on Sea, St Huberts, St Johns, St Michaels on Wyre, Stacksteads, Staghills, Staining, Stakepool, Stalmine Moss Side, Stalmine-With-Staynall, Stanah, Standen Hey, Stanhill, Stanley, Stanley Gate, Stanworth, Staynall, Steelands, Stidd, Stodday, Stone Fold, Stone Trough, Stoneyholme, Stony Hill, Stonyhurst, Stopper Lane, Stormy Corner, Straits, Street, Strongstry, Stubbins, Stubbylee, Sunderland, Sunderland Point, Sunny Bank, Sunnybank, Sunnyhurst, Swillbrook, Syke Side, Talbot Bridge, Tardy Gate, Tarleton, Tarlscough, Tarnacre, Tarnbrook, Tatham, Tatham Fells, Tawd Bridge, Tenter Hill, Tewitfield, The Booths, The Bottoms, The Breck, The Flats, The Greaves, The Green, The Mount, The Ridge, The Row, The Wrangling, Thistleton, Thorn, Thorney Holme, Thornley-With-Wheatley, Thornton, Thorpe Green, Thurnham, Tinedale, Tockholes, Tonacliffe, Tong, Tong End, Tontine, Tootle Height, Torrisholme, Tosside, Tottleworth, Town Bent, Town End, Town Green, Town Head, Towngate, Townhead, Townsend Fold, Townsfield, Trawden, Trawden Forest, Trough Gate, Trunnah, Tunley, Tunstall, Tunstead, Turn, Turner Green, Turpin Green, Turton, Turton Bottoms, Twiston, Ulnes Walton, Upholland, Upper Rawcliffe-With-Tarnacre, Waddington, Wade Hall Estate, Walk Mill, Walker Fold, Walkers Hill, Walmer Bridge, Walshaw, Walthen Green, Walton-le-Dale, Walverden, Wapping, Warbreck, Ward Green Cross, Ward Houses, Warton, Water, Waterbarn, Waterfall, Waterfoot, Waterhouse Green, Waterloo, Waterside, Wayoh Fold, Weeton Lane Heads, Weeton-With-Preese, Weir, Welch Whittle, Weldbank, Well Bank, Wennington, Wensley Fold, Wesham, West Bradford, West End, Westby-With-Plumptons, Westfield War Memorial Village, Westhead, Whalley, Whalley Banks, Wheatley, Wheatley Carr, Wheatley Lane, Wheelton, Whin Lane End, Whinny Heights, White Chapel, White Coppice, White Fold, White Horse Village, White Lund, White Walls, Whitebirk, Whitefield, Whitehall, Whiteholme, Whitehough, Whitestake, Whitewell, Whitewell Bottom, Whittingham, Whittington, Whittle-le-Woods, Whittlefield, Whittlestone Head, Whitworth, Willacy Lane End, Willows, Wilpshire, Wilworth, Winckley, Windmill Hill, Windy Bank, Windy Harbour, Winewall, Winmarleigh, Winter Hill, Wiswell, Withgill, Withnell, Withnell Fold, Witton, Wood Top, Woodbine, Woodfields, Woodhill, Woodnook, Woodplumpton, Woodtop, Worsaw End, Worsthorne, Worsthorne-With-Hurstwood, Worston, Wray-With-Botton, Wrayton, Wrea Bridge, Wrea Green, Wrightington, Wycoller, Wyre Dock, Yate and Pickup Bank, Yealand Conyers, Yealand Redmayne, Yealand Storrs, York
Some Lancashire venues including wedding and corporate venues
Bolton School
Chorley New Road, Bolton, BL1 4PA
Tel 01204 651511 Britannia Hotel
Beaumont Road, Bolton, BL3 4TA
Brookfield
Westhoughton Masonic Hall, Peel Street, Westhoughton, Bolton
Tel 01204 331035 De Vere Whites Hotel
Reebok Stadium, De Haviland Way, Bolton, BL6 6SF
Tel 01204 307171 Egerton House Hotel
Blackburn Road, Bolton, BL7 9PC
Tel 01204 879988 Holiday Inn
Bolton centre, 1 Higher Bridge Street, Bolton, BL1 2EW
Tel 01204 591131 Last Drop Hotel and Spa
Hospital Road, Bolton, BL7 9PZ
Tel 01942 814598 Ramada Bolton Hotel
Manchester Road, Bolton, BL6 5RU
Tel 01204 696246 Ridgmont House
Chorley Old Road, Bolton, BL6 3RF
Tel 01204 840377 Smithills Coaching House
Smithills Dean Road, Bolton, BL1 7NR
Tel 01204 332377 Smithills Hall
Smithills Dean Road, Bolton, BL1 6LJ
Tel 01204 392258 Sweet Green Tavern
127 Crook Street, Bolton, BL3 6DD
Tel 01204 522311 The Albert Halls
Victoria Square, Bolton, BL1 1RU
Tel 01204 527261 The Pack Horse Hotel
Nelson Square, Bradshawgate, Bolton, BL1 1DP
Tel 01204 591798 Toby Carvery
Crompton Way, Bolton, BL1 8TJ
Tel not provided Bury Football Club


Gigg Lane, Bury, Lancs, BL9 9HR

Tel 0161 798 8905 Fairways Lodge and Leisure Club
George Street, Prestwich, M25 9WS
Tel 0161 253 7812 Radcliffe Civic Hall
Thomas Street, Radcliffe
Tel 0161 764 388 The Bolholt Country Park Hotel
Walshaw Road, Bury
Tel 01612536026 The Ceremony Suite
Town hall, Bury, Lancs, BL9 0SW
Tel not provided The Old Mill Hotel and Leisure Club
Springwood, Ramsbottom, Bury, BL0 9DS
Tel 07904 375920 Arora International Hotel
18-24 Princess Street, Manchester, M1 4LY
Tel 0161 4343411 Britannia Country House Hotel
Palatine Road, Didsbury, Manchester, M20 8UF
Tel 0161 2282288 Britannia Hotel
Portland Street, Manchester, M1 3LA
Tel 0161 9047414 Chancellors Hotel and Conference Centre
Chancellors Way, Moseley Road, Fallowfield, M14 6NN
Tel not provided City Inn Manchester
One Piccadilly Place, 1 Auburn Street, Manchester, M1 3DG
Tel 0161 904 9460 Concorde G- BOAC The Aviation Viewing Park
Wilmslow Old Road, Manchester Airport, Manchester
Tel 01618398642 Dukes 92
19-25 Castle street, Castlefield, Manchester, M3 4LZ
Tel 0161 4990500 Etrop Grange Hotel
Thorley Lane, Manchester Airport, Manchester, M90 4EG
Tel 0870 2202277 Great John Street Hotel
Great John Street, Manchester, M3 4FD
Tel 0161 7732581 Heaton Hall
Heaton Hall, Prestwich, Manchester, M25 5SW
Tel 0161 435 3000 Ext 4502 Hilton Manchester Airport
Outwood Lane, Manchester, M90 4WP
Tel 0161 870 1600 Hilton Manchester Deansgate
303 Deansgate , Manchester, M3 4LQ
Tel 0161 236333 Holiday Inn Crown Plaza
Midland Hotel, Peter Street, Manchester, M60 2DS
Tel 0844 879 9088 Macdonald Manchester Hotel
London Road, Piccadilly, Manchester, M1 2PG
Tel not provided Manchester Art Gallery
Mosley Street, Manchester, M2 3LL
Tel 0161 834 2700 Manchester Central Convention Centre
Windmill Street, Manchester, M2 3GX
Tel 0161 4387641 Manchester City Football Club
City of Manchester Stadium, Sports City, Manchester, M11 3FF
Tel 0161 234 3555 Manchester Town Hall
Albert Square, Manchester, M60 2LA
Tel 0161 8321188 Marriott Manchester Victoria and Albert
Water Street, Manchester, M3 4JQ
Tel 0161 236 3333 Midland Hotel
Peter Street, Manchester, M60 2DS
Tel 0161 8359929 Radisson Edwardian Manchester Hotel
Free Trade Hall, Peter Street, Manchester, M2 5GP
Tel 0161 490 5000 Radisson SAS Hotel
Chicago Avenue, Manchester Airport, Manchester, M90 3RA
Tel 0161 236 8414 Ramada Manchester Piccadilly Hotel
Piccadilly Plaza, Portland Street, Manchester, M60 1QR
Tel 0161 8352555 Renaissance Manchester Hotel
Blackfriars Street, Manchester, M3 2EQ
Tel 0161 2281234 Sachas Hotel
Tib Street, Manchester, M4 1PQ
Tel not provided Simply Heathcotes
Jacksons Row, Off Deansgate, Manchester, M2 5WD
Tel 0161 8326256 The Freemasons Hall
36 Bridge Street, Manchester, M3 3BT
Tel 01565 622312 The Living room
80 Deansgate, Manchester, M3 2ER
Tel 0161 2881111 The Palace Hotel (Le Meridien)
Oxford Street, Manchester, M60 7HA
Tel 0161 838 4111 The Victoria and Albert Hotel
Water Street, Manchester, M3 4JQ
Tel 0161 4450225 The Waterside Hotel and Galleon
Wilmslow Road, Didsbury, Manchester, M20 5WZ
Tel 0161 2240461 The Willow Bank Hotel
340 Wilmslow Road, Fallowfield, Manchester, M14 6AF
Tel 0161 2283400 Thistle Hotel Manchester
3/5 Portland Street, Manchester, M1 6DP
Tel 01616058200 URBIS
Cathedral gardens, Manchester, M4 3BG
Tel 0161 2752156 University of Manchester
Oxford Road, Manchester, M13 9PL
Tel 0161 9985083 Wythenshawe Hall
Wythenshawe Park, Off Altrincham Road, Manchester
Tel 0161 9114071 Chadderton Town Hall
Middleton Road, Chadderton , Oldham
Tel 01457 876665 Civic Hall
Lee Street, Uppermill, Oldham, OL3 6AE
Tel 01457 871040 Clough Manor
Rochdale Road, Denshaw, Oldham, OL3 5UE
Tel 0161 7855000 Hotel Smokies Park
Ashton Road, Bardsley, Oldham, OL8 3HX
Tel 0161 911 4452 Menzies Avant Hotel
Windsor Road, Manchester Street, Oldham, OL8 4AS
Tel 0161 785 5000 Smokies Park Hotel
Ashton Road, Oldham, OL8 3HX
Tel 01457 877 471 Talking Point Conference and Exhibition Centre
Huddersfield Road, Scouthead, Oldham, OL4 4AG
Tel 0161 6827254 The Bower Hotel
Hollinwood Avenue, Chadderton, Oldham, OL9 8DE
Tel 01457 871888 The Saddleworth Hotel
Huddersfield Road, Delph, Saddleworth, Oldham
Tel 01457 872566 White Hart Inn
51 Stockport Road, Lydgate, Oldham, OL4 4JJ
Tel 01706 369606 Albany Hotel
87/89 Rochdale Road East, Heywood, Rochdale, OL10 1PX
Tel 01706 359 766 Bella Vista Ristorante
Wildhouse Lane, Milnrow, Rochdale, OL16 3JW
Tel 01706 369606 Birch Hotel
Manchester Road, Birch, Heywood, OL10 2QD
Tel 01706 630788 Mercure Norton Grange Hotel & Spa
Manchester Road, Castleton, Rochdale, OL11 2XZ
Tel 01616432951 Middleton Masonic Club
The Pavilion, Manchester Old Road, Middleton, M24 4DY
Tel 01706 350555 Moss Lodge Hotel
Kings Road, Rochdale, Lancashire, OL16 5HW
Tel 01706 650167 Nutters Restaurant
Edenfield Road, Norden, Rochdale, OL12 7TT
Tel 01706 646343 Rochdale Cricket,Lacross & Squash Club
Bridgefold Road, Rochdale, OL11 5BX
Tel 01706 864783 Roche SuiteTown Hall, Vicars Gate, Rochdale, OL16 1AB
Tel 01706 644085 The Broadfield Hotel
Sparrow Hill, Rochdale, OL16 1AF
Tel 01706 861861 The Royal Toby
Manchester Road, Castleton, Rochdale, OL11 3HF
Tel not provided The Villiage Hotel and Leisure Club
Waterfold Business Park, Rochdale Road, Bury, BL9 7DB
Tel 01706 864773 Town Hall
The Esplanade, Rochdale, OL16 1AB
Tel 0161 737 6277 Buile Hill Park Hall
Eccles Old Road, Salford 6, M6 8GL
Tel 0161 873 7321 Copthorne Hotel Manchester
Clippers Quay, Salford Quays, Salford, M50 3SN
Tel 0161 827 4000 Lowry Hotel
Dearmans Place, Chapel Wharf, Salford, M3 6AA
Tel 0161 975 2000 Marriott Manchester Hotel
Worsley Park, Worsley, Manchester, M28 2QT
Tel 0161 975 2000 Marriott Worsley Park Hotel & Country Club
Worsley Park, Worsley, Manchester, M28 2QT
Tel 0161 789 7811 Monton House Hotel
116 - 118 Monton Road, Monton, Eccles,Salford, M30 9HG
Tel 0161 799 3535 Novotel
Worsley Brow, Worsley, Manchester, M28 2YA
Tel 01617894489 Pacifica Cantonese Restaurant
5-7 Church Road, Eccles, M30 0DL
Tel 0161 736 8541 The Board Room
Salford Rugby League FC, Willows Road, Salford, M5 2F
Tel 0161 876 2020 The Lowry
Pier 8, Salford Quays, Salford, M5 2AZ
Tel 0161 794 5760 Worsley Court House
Old Courthouse, Barton Road, Worsley, M28 2PB
Tel 0161 483 4431 Alma Logde Hotel
Buxton Road, Stockport, Cheshire, SK2 6EL
Tel 0161 485 3708 Bramhall Hall
Bramhall Park , Bramhall, Stockport, SK7 3NX
Tel 016 430 7421 Bredbury Hall Hotel And Country Club
Goyt Valley , Bredbury, Stockport, Cheshire, SK6 2DH
Tel 0161 930 1000 Britannia Hotel
Dialstone Lane, Offerton, Stockport, SK2 6AG
Tel 0161 492 1000 Cheadle House
Royal Crescent, Cheadle Royal Business Park, Cheadle , Cheshire
Tel 0161 286 8888 Cheshire Conferene Centre
Edgeley Park, Hardcastle Road, Stockport, SK3 9DD
Tel 0161 483 9421 Davenport Park Hotel
175 Buxton Road, Stockport, SK2 6E
Tel 0161 474 3052 Sir A Brumwell Thomas Room
Town Hall, Stockport, SK1 3XE
Tel 01625 522906 The Deanwater Hotel
Wilmslow Road, Woodford, Cheshire, SK7 1RJ
Tel 0161 428 0404 The Village Hotel and Leisure Club
Cheadle Road, Cheadle , Cheshire, SK8 1HW
Tel 0161 474 3451/0 Town Hall
Stockport, Cheshire, SK1 3XE
Tel 01457 852704 Woodheys Restaurant & Bar
Glossop Road, Chisworth, Stockport, SK6 5RX
Tel 0161 747 0606 Chill Factore
Trafford Way, Trafford Quays, Manchester, M41 7JA
Tel 0161 926 8992 Cinnamonclub at the Bowdon Rooms
The Firs, Bowdon, Cheshire, WA14 2TQ
Tel 0161 980 8321 Clay Lane Sports Club
Clay lane, Timperley, Cheshire, WA15 7AF
Tel 0161 273 4999 Davenport Green Hall
Shay Lane/Brooks Drive, Hale Barns, Cheshire, WA15 8UD
Tel 0161 748 2945 Flixton House
Flixton Road, Flixton, Trafford
Tel 0161 873 8899 Golden Tulip Hotel
Waters reach, Trafford Park, Manchester, M17 1WS
Tel 0161 282 4020 Lancashire County Cricket Club
Talbot Road, Old Trafford, Manchester, M16 0PX
Tel 0161 904 0301 Manchester Airport Marriott Hotel
Hale Road, Hale Barns, Cheshire, WA15 8XW
Tel 0161 828 8300 Manchester United Football Club
Sir Matt Busby Way , Old Trafford, Manchester, M16 0RA
Tel 0161 748 3896 Manorhey Hotel
130 Stretford Road, Urmston, Manchester, M41 9LT
Tel 0161 928 7121 Quality Hotel
Langham Road, Bowdon, Altrincham, WA14 2HT
Tel 0161 9123026 Sale Town Hall
Sale Waterside, Sale, M33 7ZF
Tel 0161 927 7272 The Cresta Court Hotel
Church Street, Altrincham, Trafford, WA14 4DP
Tel 0161 748 6533 Urmston Masonic Hall
15 Westbourne Road, Urmston, Manchester, M41 0XQ
Tel 0161 912 5616 Waterside Arts Centre
1 Waterside Plaza, Sale waterside, Sale, M33 7ZF
Tel 01942 820225 AMF Bowling
Miry Lane, Wallgate, Wigan,Lancs, WN3 4EA
Tel 01257 473500 Ashfield House
Ashfield Park Drive, Standish , Wigan, WN6 0EQ
Tel 01942 243893 Bellingham Hotel
141-149 Wigan Lane , Wigan, WN1 2NB
Tel 01257 499988 Britannia Hotel
Almond Brook Road, Standish, Wigan, WN6 0SR
Tel 01942 832895 Haigh Hall
Copperas Lane, Haigh, Wigan, WN2 1PE
Tel 01942 774000 J J B Stadium
Loire Drive, Robin Park, Wigan,Lancs, WN5 0UH
Tel 01257 472100 Kilhey Court Hotel
Chorley Road, Standish , Wigan, WN1 2XN
Tel 01942 672241 Leigh Town Hall
Market Street, Leigh
Tel 01942 826888 Quality Hotel
Riversway, Wigan, WN1 3SS
Tel 01257 472100 Tennyson Suite
Kilhey Court Hotel, Chorley road, Standish,Wigan, WN1 2XN
Tel 01257 426432 The Beeches Hotel and Restaurant
School Lane, Standish, Wigan, WN6 0TD
Tel 01942 671256 The Greyhound Hotel
Warrington Road, Leigh, Wigan, WN7 3XQ
Tel 01942 211516 The Mount
Orrell Road, Orrell, Wigan, WN5 8HQ
Tel 01942 323034 The Orwell
Wigan Pier, Wallgate , Wigan, Lanc's, WN3 4EU
Tel 01942 705346 Waterside Conference Centre
Wigan Investment Centre, Waterside Drive, Wigan, Lancashire, WN3 5BA
Sheffield Wedding Venues
Tel 0114 2620500 Beauchief Hotel, 161 Abbeydale Road South, Sheffield, S7 2QW
Tel 0114 278 2715 Bishop's House, Meersbrook Park, Norton Lees Lane, Sheffield, S8 9BE
Tel 0114 2851227 Bradfield Village Hall, The Sands, Low Bradfield, Sheffield, S6 6LB
Tel 0114 213 3800 Burngreave Vestry Hall, 2 Burngreave Road, Sheffield, S3 9DD
Tel 0114 273 9939 Cutlers Hotel, George Street, Sheffield, S1 2PF
Tel 0114 267 6551 Damhouse Bar & Restaurant, Mushroom Lane, Sheffield, S3 7NZ
Tel 0114 275 4616 Dempseys, 1 Hereford Street, Sheffield, S1 4PR
Tel 0114 2525500 Hilton Sheffield Hotel, Victoria Quays, Furnival Road, Sheffield, S4 7YA
Tel 0114 2768822 Holiday Inn Royal Victoria , Victoria Station Road, Sheffield, S4 7YE
Tel 0114 2505635 Kenwood Hall, Kenwood Road, Sheffield, S7 1NQ
Tel not provided Leopold Hotel, Leopold Street, Sheffield, S1 2TG
Tel 0114 280 8880 Mercure St Paul's Hotel, 119 Norfolk Street, Sheffield, S1 2JE
Tel 0114 2484353 Mosborough Hall Hotel, High Street, Mosborough, Sheffield, S20 5EA
Tel 0114 296 4945 Niagra Conference & Leisure Centre, Niagra Road, Sheffield, S6 1LU
Tel not provided Norfolk Arms Hotel, 2 Ringinglow Village, Sheffield, S11 7TS
Tel 0114 278 7744 Novotel, 50 Arundel gate, Sheffield, S1 2PR
Tel 0114 2664411 Rutland Hotel, 452 Glossop Road, Sheffield, S10 2PY
Tel 0114 2676496/07713150 Sheffield Botanical Gardens, Clarkehouse Road, Sheffield, S10 2LN
Tel 0114 203 7592 Sheffield City Council, Town Hall, Sheffield, S1 2HH
Tel 0114 2734550Sheffield City Hall, Barkers Pool, Sheffield, S1 1JA
Tel 0114 2660051 Sheffield Masonic Hall Company Ltd, Tapton Hall, Shore Lane, Sheffield, S10 3BU
Tel 0114 282 9988 Sheffield Park Hotel, Chesterfield Road South, Sheffield, S8 8BW
Tel 0870 458 3671 Sheffield United Football Club, Bramall Lane, Sheffield, S2 4SU
Tel 0114 2212302 Sheffield Wednesday Football Club, Hillsborough, Sheffield, S6 1SW
Tel 0114 284 3111 Staindrop Lodge Hotel, Lane End, Chapeltown, Sheffield, S35 9DF
Tel 0114 276 8149 The Cutlers Hall, Church Street, Sheffield, S1 1HG
Tel 0114 2499555 The Garrison Hotel, Hillsborough Barracks, 635 Penistone Road,Hillsborough, Sheffield, S6 2GB
Tel 0114 278 2724 The Millenium Gallery, 44-48 Arundel Gate, Sheffield, S1 2PP
Tel 0114 2654741 The Sherwood, Birley Moor Road, Sheffield, S12 4NG
Tel 0114 205 3500 Weston Park Bandstand, Weston Park, Sheffield, s10 2tp
Tel 01142782724 Weston Park museum, Weston Bank, Sheffield, S10 2TP
Tel 0114 221 3004 Whirlowbrook Hall, Ecclesall Road South, Sheffield, S11 9QD
Tel 0114 245 4444 Whitley Hall Hotel, Elliot Lane, Grenoside, Sheffield, S35 8NR
Towns and Villages of Derbyshire, England
Abney and Abney Grange, Acresford, Aldercar, Aldercar and Langley Mill, Alders, Alderwasley, Aldwark, Alfreton, Alicehead, Alkmonton, Alma, Alport, Alport Hill, Alsop En le Dale, Alton, Ambaston, Amber Hill, Amber Row, Ambergate, Anacrehill, Ankerbold, Ann Croft, Ann Well Place, Apperknowle, Arkwright Town, Arleston, Arnfield, Ash, Ashbourne, Ashbourne Green, Ashford-in-the-Water, Ashgate, Ashleyhay, Ashopton, Ashover, Ashover Hay, Aston, Aston Heath, Aston Moor, Aston upon Trent, Aston-on-Trent, Astwith, Atlow, Ault Hucknall, Badway Green, Bagshaw, Bailey Grove, Bakershillock, Bakestone Moor, Bakewell, Ballidon, Bamford, Barber Booth, Bargate, Barlborough, Barlborough Common, Barlow, Barlow Common, Barlow Lees, Barrow Hill, Barrow upon Trent, Barton Blount, Baslow, Baslow and Bubnell, Batham Gate, Bearwardcote, Beeley, Beighton Fields, Beighton Hill, Bellevue, Belper, Belperlane End, Belph, Berristow Lane, Berristow Place, Biggin, Birch Vale, Birchover, Birdholme, Birley, Birleyhay, Blackbrook, Blackwall, Blackwell, Blackwell in the Peak, Bladon Hill, Blindlow Hollow, Bole Hill, Bolehill, Bolsover Woodhouse, Bondhay Common, Bonds Main, Bonsall, Booth, Boothgate, Borrowash, Botany Bay, Bowbridge, Bowden Head, Bowshaw, Boylestone, Boylestonfield, Boythorpe, Brackenfield, Bradbourne, Bradford, Bradley, Bradley Nook, Bradwell, Bradwell Hills, Brailsford, Brailsford Green, Bramley, Bramley Moor, Bramley Vale, Brampton, Brand End, Brand Side, Brand Top, Brassington, Breadsall, Breadsall Hilltop, Breamfield, Breaston, Breck End, Breckhead, Bretby, Bretton, Bridge End, Bridge Hill, Bridgemont, Brierley Green, Brierlow Bar, Brightgate, Brimington, Brimington Common, Broadgates, Broadholme, Brockhurst, Brockwell, Brockwell Hill, Brook Bottom, Brookfield, Brookhill, Brookside, Broomfield, Broomhill Park, Bross Croft, Brosterfield, Brough and Shatton, Brushfield, Buckland Hollow, Bullbridge, Bullsmoor, Burbage, Burley Hill, Burnaston, Burntheath, Burrfields, Butterley, Butterley Park, Butts, Buxton, Cackleton Green, Caldwell, Calke, Calling Low, Callow, Calow, Calow Green, Calton Lees, Calver, Calver Sough, Canholes, Carr Hill, Carr Vale, Carsington, Cartledge, Castle Gresley, Castle Hill, Castleton, Catton, Cauldwell, Chandler Hill, Chapel En le Frith, Chapel Milton, Charlestown, Charlesworth, Chatsworth, Chatsworth Park, Chelmorton, Chesterfield, Chevinside, Chew, Chisworth, Chunal, Church Broughton, Church Gresley, Church Hill, Church Town, Churchbalk, Churchtown, Cinderhill, Clay Cross, Clay Lane, Clay Mills, Cliff Hill, Clifton and Compton, Cloves Hill, Clowne, Coal Aston, Cock Alley, Cockerhill, Coddington, Codnor, Codnor Gate, Codnor Park, Cokhay Green, Coldeaton, Coldwell End, Combs, Common End, Common Side, Commonside, Compton, Conksbury, Coplow Dale, Corbriggs, Cordwell, Coronation Road, Cotes Park, Cotmanhay, Coton in the Elms, Coton Park, Court Heath, Cowdale, Cowerslane, Cowhill, Cowley, Cowley Bar, Cowlow, Coxbench, Cressbrook, Creswell, Crich, Crich Carr, Cromford, Cromfordhill, Cropper, Cross Hill, Cross O' Th' Hands, Crowden, Crowdicote, Crowhole, Cubley, Cubley Common, Cumberhill, Curbar, Cutthorpe, Cuttle Bridge, Daisy Bank, Dalbury, Dalbury Lees, Dale Abbey, Dale End, Dale Head, Dale Moor, Dalebank, Dalebrook, Danesmoor, Darley, Darley Bridge, Darley Dale, Darley Hillside, Denby, Denby Bottles, Denby Common, Denby Village, Derby, Derwent, Derwentmouth, Dethick Lea and Holloway, Dimple, Dinting Vale, Dobholes, Doe Lea, Doehill, Doehole, Dove Head, Dove Holes, Doveridge, Dowlow, Drakelow, Draycott and Church Wilne, Dronfield, Dronfield Woodhouse, Duckmanton, Duffield, Duffieldbank, Dunsa, Dunston, Eagle Tor, Earl Sterndale, Eastmoor, Eaton and Alsop, Eaves, Eaves Knoll, Eckington, Edale, Edale End, Eddlestow, Edensor, Edgemoor, Edlaston and Wyaston, Ednaston, Egginton, Egstow, Elmton, Elmton Common, Elton, Elvaston, Emmett Carr, Etwall, Etwall Common, Eyam, Eyam View, Fairfield, Fallgate, Far Duckmanton, Far End, Far Laund, Farhill, Farlands, Farley, Farnah Green, Fenny Bentley, Fern, Fernilee, Findern, Flagg, Flaxholme, Fletcher Hill, Folds, Foolow, Ford, Foremark, Foston, Foston and Scropton, Foxley Oaks, Freebirch, Friden, Fritchley, Froggatt, Furnacehill, Gallows Inn, Gamesley, Gannow Hill, Gladwins Mark, Glapwell, Gleadless Townend, Glossop, Glutton, Glutton Bridge, Godfreyhole, Golden Valley, Goodwins Lumbs, Goosegreen, Goosehill, Gorsey Leys, Gorseybank, Goseley Dale, Gotham, Gowhole, Grangemill, Grangewood, Grasshill, Grassmoor, Gratton, Great Cubley, Great Hucklow, Great Longstone, Great Rocks Lees, Green Fairfield, Green Head, Greenhill Lane, Greenhillocks, Greenside, Greenwich, Griffe Grange, Grindleford, Grindleford Bridge, Grindlow, Grindsbrook Booth, Hackney, Hackney Lane, Haddon Grove, Hadfield, Hady, Hadyhill, Hague Bar, Hales Green, Hallam Fields, Hallfield Gate, Hallowes, Hammersmith, Handley, Hardstoft, Hardwick, Harehill, Hargate Manor, Hargate Wall, Harlesthorpe, Harper Hill, Harpurhill, Harthill, Hartington, Hartington Middle Quarter, Hartington Nether Quarter, Hartington Town Quarter, Hartington Upper Quarter, Hartshay, Hartshorne, Hasland Green, Hassop, Hathersage, Hatton, Hayfield, Hazelford, Hazelwood, Hazlebadge, Heage, Heage Firs, Heanor, Heanor and Loscoe, Heanor Gate, Hearthstone, Heath and Holmewood, Heath End, Heathcote, Heathtop, Heathy Lea, Henmoor, Hepthorne Lane, Heyden, Hidebank, Higginholes, High Cross Bank, High Lee, High Moor, High Needham, Higher Bibbington, Higher Dinting, Highfield, Highfields, Highgate, Highlane, Highlow, Highoredish, Hilcote, Hill Houses, Hill Somersal, Hill Top, Hillclifflane, Hills Town, Hilltop, Hillyfields, Hilton, Hinchley Wood, Hindlow, Hockerley, Hockley, Hodthorpe, Hognaston, Hogshawe, Holborn, Holbrook, Holbrook Moor, Hole in the Wall, Holehouse, Holestone, Hollin, Hollington, Hollingwood, Hollins, Hollinsmoor, Holmesdale, Holmesfield, Holmewood Heath, Holmgate, Holmley Common, Holymoorside, Holymoorside and Walton, Hoon, Hoon Hay, Hoon Ridge, Hope, Hope Woodlands, Hopping Hill, Hopton, Hopwell, Hordens Park, Horeston Place, Horse Dale, Horsley, Horsley Woodhouse, Horsleygate, Horwich End, Houghton Bassett, Howe Green, Hulland, Hulland Moss, Hulland Ward, Hundall, Hungry Bentley, Hurdlow Town, Ible, Idridgehay Green, Idrigehay and Alton, Ilkeston, Ingleby, Ingmanthorpe, Inkersall, Ireton Wood, Ironville, Ivonbrook Grange, Jericho, Kedleston, Kelstedge, Kilburn, Killamarsh, Kinder, King Sterndale, Kings Mills, Kings Newton, Kirk Hallam, Kirk Ireton, Kirk Langley, Kirkstead, Knathole, Kniveton, Ladmanlow, Ladygrove, Lane End, Lane Ends, Langley, Langley Common, Langley Green, Langley Mill, Langwith, Langwith Bassett (Upper Langwi, Langwith Colliery, Langwith Junction, Larklands, Laund Hill, Lea Bridge, Lea Hall, Leabrooks, Leaden Knowl, Leadmill, Leam, Lee Head, Lees, Lees Green, Leisure House, Lidgate, Lightwood, Lilypool, Limekiln Field, Linacre, Linton, Linton Heath, Little Common, Little Cubley, Little Derby, Little Eaton, Little Hallam, Little Hayfield, Little Hucklow, Little Liverpool, Little Longstone, Little Moor, Littlemoor, Litton, Litton Dale, Littonslack, Long Duckmanton, Long Eaton, Longcliffe, Longford, Longfordlane, Longlands, Longlane, Longwaybank, Loscoe, Loscoe Grange, Loundsley Green, Low Leighton, Lower Birchwood, Lower Crossings, Lower Hartshay, Lower Kilburn, Lower Midway, Lower Pilsley, Lower Somercotes, Lower Thurvaston, Lowgates, Lullington, Lumsdale, Mackworth, Mackworth Estate, Makeney, Malcoff, Mammerton, Mapleton, Mapperley, Marehay, Markeaton, Marlpool, Marshgreen, Marshlane, Marston Montgomery, Marston on Dove, Martinside, Mastin Moor, Mathersgrave, Matlock, Matlock Bank, Matlock Bath, Matlock Bridge, Matlock Green, Matlock Moor, Matlock Town, Mawstone Lane, Meadow, Melbourne, Melbourne Common, Mercaston, Meynell Langley, Mickley, Middle Duckmanton, Middle Handley, Middlecroft, Middleton, Middleton and Smerrill, Midway, Milford, Mill Green, Mill Hill, Millers Dale, Millers Green, Millington Green, Millthorpe, Milltown, Milnhay, Milton, Model Village, Monsal Dale, Monyash, Moorend, Moorfield, Moorhall, Moorside, Moorwood, Moorwood Moor, Moravian Settlement, Morley, Morley Park, Morley Smithy, Morleymoor, Mornington Rise, Morton, Mount Pleasant, Muggington, Muggington Lane End, Mytham Bridge, Nether Biggin, Nether Booth, Nether Burrows, Nether End, Nether Green, Nether Haddon, Nether Handley, Nether Heage, Nether Holloway, Nether Loads, Nether Moor, Nether Padley, Nether Pilsley, Nether Sturston, Nether Wheal, Netherlea, Netherseal, Netherthorpe, New Barlborough, New Bolsover, New Brampton, New Brimington, New Higham, New Horwich, New Houghton, New Mills, New Sawley, New Smithy, New Stanton, New Tupton, New Wessington, New Whittington, New York, Newbold, Newbold Moor, Newbold Village, Newhall, Newhaven, Newmarket, Newschool, Newton, Newton Grange, Newton Green, Newton Solney, Newtown, Nithen End, Norbriggs, Norbury, Norbury and Roston, Normanton Common, North Wingfield, Northedge, Northwood, Northwood and Tinkersley, Norwood, Nuttals Park, Oak Flat, Oakerthorpe, Oaks Green, Ockbrook, Oddo, Offcote and Underwood, Offerton, Oker, Old Blackwell, Old Bolsover, Old Brampton, Old Dam, Old Glossop, Old Higham, Old Matlock, Old Sawley, Old Tupton, Old Whittington, Ollerbrook Booth, Ollersett, Openwoodgate, Osleston and Thurvaston, Osleton, Osmaston, Outseats, Over Burrows, Over End, Over Haddon, Over Newbold, Over Woodhouse, Overend, Overgreen, Overseal, Oversetts, Owlcotes, Owler Bar, Oxcroft, Oxton Rakes, Padfield, Palmer Moor, Palterton, Park Edge, Park Hall, Park Head, Park Hill, Parkhouse Green, Parkside, Parsley Hay, Parwich, Peak Dale, Peak Forest, Peakley Hill, Peasehill, Pebley, Pentrich, Pentrich Lane End, Perryfoot, Phoside, Pikehall, Pilhough, Pilsbury, Pilsley, Pilsley Green, Pinchoms Hill, Pinxton, Plaistow, Pleasley, Pleasley Vale, Pomeroy, Poolsbrook, Porterhouse, Pratthall, Press, Priestcliffe, Priestcliffe Ditch, Primrose Hill, Puddle Hill, Pye Bridge, Quarndon, Quarndon Common, Quoit Green, Radbourne, Ramcroft, Rattle, Ravensdale Park, Renishaw, Repton, Rhodeswood, Riber, Riddings, Ridgeway, Ridgeway Moor, Ripley, Ripley East, Rise End, Risley, Risley Park, Rivers Vale, Robin Hood, Rodsley, Rosliston, Roston, Roston Common, Rowarth, Rowland, Rowsley, Rowson Green, Rowthorn, Rushup, Rylah, Saltergate, Sandiacre, Sandylane, Sapperton, Sawley, Sawmills, Scarcliffe, Scarthin Nick, School House Hill, Scotches, Scropton, Seymour Cottages, Shacklecross, Shardlow and Great Wilne, Shardlow Moor, Sharplow, Sheep Hills, Sheepbridge, Sheepcote Hill, Sheldon, Shipley, Shipley Common, Shirebrook, Shireoaks, Shirland and Higham, Shirland Park, Shirley, Shirley Common, Short Heath, Shottle, Shottle and Postern, Shottlegate, Shuttlewood, Simmondley, Slack, Slackhall, Slaley, Sleetmoor, Sloadlane, Smalldale, Smalley, Smalley Common, Smalley Green, Smisby, Smithfield, Smithy Houses, Smithy Moor, Smithyhill, Snape Hill, Snelston, Snitterton, Somercotes, Somersal Herbert, South Darley, South End, South Normanton, South Wingfield, Southwood, Spancarr, Sparklow, Sparrowpit, Speedwell, Spinkhill, Spital, Spitalhill, Spitewinter, Spout, Spring Vale, Springbank, Springfield Park, St Augustines, Staden, Stainsby, Stanfree, Stanhope, Stanhope Bretby, Stanley and Stanley Common, Stanley Common, Stanley Moor, Stanton, Stanton by Bridge, Stanton by Dale, Stanton in Peak, Stanton Lees, Starkholmes, Statepit Dale, Staveley, Steeple Grange, Steetley, Stenson Fields, Sterndale Moor, Stoke, Stone Edge, Stonebroom, Stonegravels, Stoneheads, Stoney Middleton, Stoneyford, Stony Houghton, Stonyford, Street Lane, Stretton, Stubbins, Stubley, Sturston, Stydd, Sudbury, Summerly, Sunnyside, Sutton Cum Duckmanton, Sutton on the Hill, Sutton Rock, Sutton Scarsdale, Sutton Spring Wood, Swaddale, Swadlincote, Swanwick, Swarkestone, Swathwick, Taddington, Tansley, Tapton, Tapton Grove, Taxal, Temple Normanton, The Bank, The Bent, The Brook, The Brushes, The Common, The Crescent, The Cutter, The Dale, The Dalley, The Flourish, The Forties, The Green, The Hamlet, The Hill, The Leys, The Lowes, The Mires, The Pastures, The Walls, Thornbridge, Thornhill, Thornsett, Thorp, Thorpe, Thulston, Thurvaston, Tibshelf, Ticknall, Ticknall Hill, Tideswell, Tinkersick, Tinkersley, Tintwistle, Tissington, Toadhole Furnace, Toadmoor, Torr Top, Torside, Town End, Town Head, Townend, Townhead, Trentlock, Troway, Trusley, Tunstead, Tupton, Turnditch, Two Dales, Twyford and Stenson, Uftonfields, Unstone, Unstone Green, Unthank, Upper Biggin, Upper Birchwood, Upper Booth, Upper End, Upper Fold, Upper Hackney, Upper Hartshay, Upper Holloway, Upper Langwith (Langwith Basse, Upper Loads, Upper Marehay, Upper Midway, Upper Moor, Upper Newbold, Upper Padley, Upper Pilsley, Upper Pleasley, Upper Town, Upperdale, Upperthorpe, Uppertown, Upperwood, Valehouse, Via Gellia, Wadshelf, Waingroves, Wakebridge, Waldley, Walton upon Trent, Walton-on-Trent, Wardlow, Wardlow Mires, Warmbrook, Wash, Wash Green, Water Swallows, Waterloo, Watford, Wensley, Wessington, West Bank, West Broughton, West End, West Hallam, West Hallam Common, West Handley, West Park, Westhorpe, Westhouses, Weston Underwood, Weston upon Trent, Weston-on-Trent, Westthorpe, Whaley, Whaley Bridge, Whatstandwell, Wheatcroft, Wheston, White Hall, White Hollows, White Moor, Whitehough, Whitehouses, Whitelane End, Whiteley, Whitle, Whittington, Whittington Moor, Whitwell, Whitwell Common, Wigley, Wilday Green, Wildpark, Willersley, Williamthorpe, Willington, Wilsthorpe, Windley, Windmill, Wingerworth, Wingfield Park, Winsick, Winster, Wirksworth, Wolds, Womble Hill, Wood Side, Woodeaves, Woodhead, Woodhouses, Woodlinkin, Woodside, Woodthorpe, Woodville, Woolley, Woolley Bridge, Woolley Moor, Woolow, Wormhill, Wyaston, Wye Head, Wyver, Yeaveley, Yeldersley, Yew Tree Estate, Youlgreave
Ripon Toastmasters English Toastmaster Wedding Toastmasters Yorkshire Toastmaster Yorkshire Wedding Toastmaster Hire a Toastmaster Ripon Toastmaster English Toastmasters Wedding Toastmaster Wedding Toastmaster in Yorkshire MC M.C. M. C. Master Of Ceremonies Toastmaster Ripon Wedding Toastmaster