Contact Details:
Chris lives in Woodbridge, Suffolk and has been involved with many types of functions over the years including organising Royal visits during his time in the Royal Navy.
Chris cares passionately for his clients and understands that you would want your day to go smoothly and to be stress free. He will guide you to make sure that you have a wonderful day with memories that you will cherish for a lifetime.
As your toastmaster or master of ceremonies Chris will help you to make your day a truly memorable one by using his charm, expertise, experience and professionalism.
Being a member of the English Toastmasters Association means that Chris has been trained to the highest standards of client care and you will feel very safe and secure in Chris's hands.


UTTLESFORD DISTRICT COUNCIL
Council Offices, London Road, Saffron Walden, Essex CB11 4ER

Telephone (01799) 510406, Fax (01799) 510550
DX 200307 Saffron Walden, Minicom (01799) 510429
Email members@uttlesford.gov.uk Website
wwwuttlesford.gov.uk
Memberst Room

Please reply to: P.O. Box 44, Saffron Walden, Essex CBll 3ND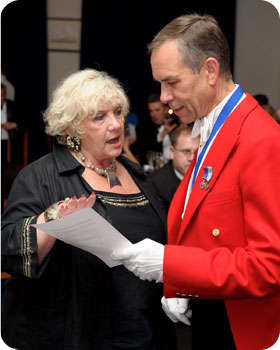 Mr C Woods
16 Ipswich Road
Woodbridge
Suffolk
IPI2 4BU

8 July 2011

Dear Mr Woods,

Tang Ting Twinning Association Anniversary Dinner - Saturday 25th June 2011
I am writing to thank you for being such a wonderful Toastmaster at the above charity
dinner.

To say I have been overwhelmed with the amount of positive feedback received
regarding your appearance would be something of an understatement. Attendees were
absolutely delighted to be greeted by someone so smart, charming and efficient. The
extra effort you put in throughout the evening checking that everyone was happy was
very well received and all felt they had been personally looked after. You were
professional, yet approachable; unobtrusive, yet always there when needed. The staff
at the Officers' Mess also thought you delightful and commented on how well you
controlled the event. All I can say is that whatever it is you need to be a truly
excellent toastmaster, you have plenty of it.

I am extremely grateful for all your help; not only at the event, but for your guidance
and advice before, during and after and I sincerely hope our paths will cross again.

I would have absolutely no hesitation in recommending you and take this opportunity
to wish you the very best for the future.

Yours sincerely

Tina Knight
District Councillor for the Wards of Debden & Wimbish
President, Tang Ting Twinning Association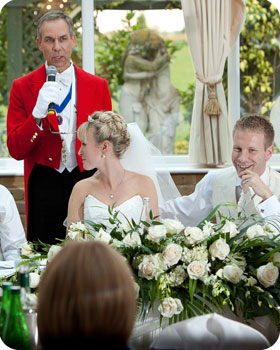 Hear how others have valued Chris' skills and expertise:
"I really can't put into words how amazing you were and I will never be able to thank you enough for making our day so special. Your attention to detail was impeccible and your love for your job and kind heart shone through in everything that you did. The smooth running of the day was completely down to all your hard work and we felt so relaxed because we knew we were in your safe hands. Throughout the rest of our marriage we will always remember your kindness and will think of you with a great deal of fondness." E&SF
"You were the glue that held everything together on our wedding day! After all the planning, your excellent coordination and management not only ensured that everything ran smoothly, but allowed us to completely relax and enjoy the day. Your help in coordinating the venue, the photographer, the musicians and videographer, and everybody else, was totally invaluable and I think that every Bride-to-be should seriously consider your services to take away the stress on the day." L&RF
"It really was a special day and you were an important contributor to its success. As you well know, there is a fair amount of pressure surrounding any wedding and you helped us all to deal with it! You played your role so well: beautifully turned out, on top of the detail, calm, efficient, supportive, in control, discreet - and amusing where appropriate. Well done indeed!" P&PS
"It was a real pleasure to see you immaculately attired and presented. I could see that you were completely in control and took charge of all arrangements and were able to react immediately to anything that the organisers needed. Throughout the evening you charmed the guests, whilst ensuring that fundraising was exploited to the full. Your sense of humour and timing, combined with your calm manner ensured that everyone felt at ease; and being relaxed, guests wholeheartedly supported the fundraising activities on the night. " LP
Suffolk Toastmaster Chris Woods
Chris is quickly establishing himself as one of Suffolk's most sought-after toastmasters and master of ceremonies. As a member of the new genre of Toastmasters trained by English Toastmasters Association, the support provided by Chris is much broader than that offered by traditional toastmasters.
Chris is passionate about service excellence and his attention to detail is legendary. He is a highly accomplished manager who has organised many events including a number of Royal visits at home and abroad. He is passionate about client care and he will bring his skills to bear, ensuring your special event is even more special than you imagined possible.
Chris is understanding and compassionate and is skilled in quickly developing relationships and getting on with all those he comes in contact with. He is adept at building teams, settling nerves and bringing the best out in people; qualities much needed when managing events involving several contributors and many guests. Chris' skills will ensure your event is delivered in just the way you planned. He will add value to your special event, no matter what the occasion, and will ensure the return on your financial and emotional investment is maximised for the enjoyment of all.
Chris is a retired Royal Navy Officer who has developed his people skills in many wide-ranging arenas. During active service he travelled widely, meeting and hosting people from many nations and all walks of life. He is flexible and adaptable, and getting the job done discreetly and without fuss is central to all that he does.
In business, Chris has worked with most of the World's leading TV companies and he is adept at building rapport quickly and gaining credibility. He is an accomplished communicator and no stranger to audiences large and small having briefed members of the Royal Family, ministers, heads of industry and international diplomats. He frequently gives presentations to the business community on topics such as management, leadership, corporate social responsibility and sustainability and he is very happy to help anyone who needs to make a speech whether at a wedding or a corporate event.
Chris actively supports several charities. He is a member of Lions Clubs International (the World's largest service organisation) and is an ardent supporter of Macmillan where his annual engagement as one of Father Christmas's bearded helpers contributes to the fund raising for this worthy charity.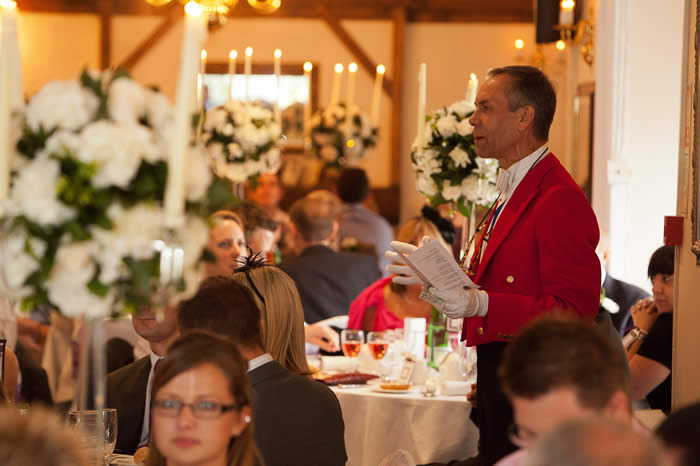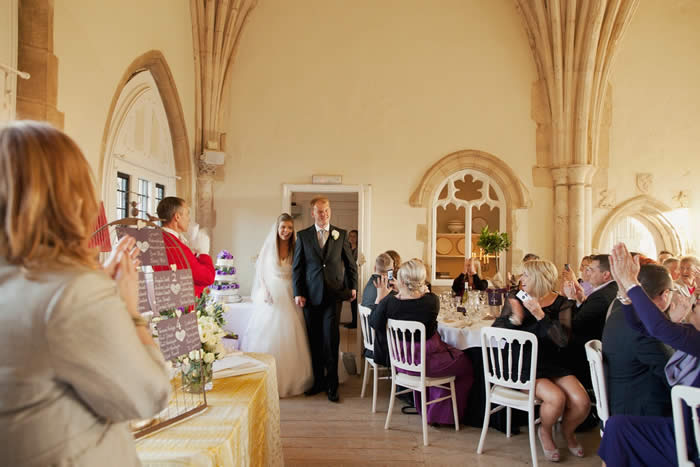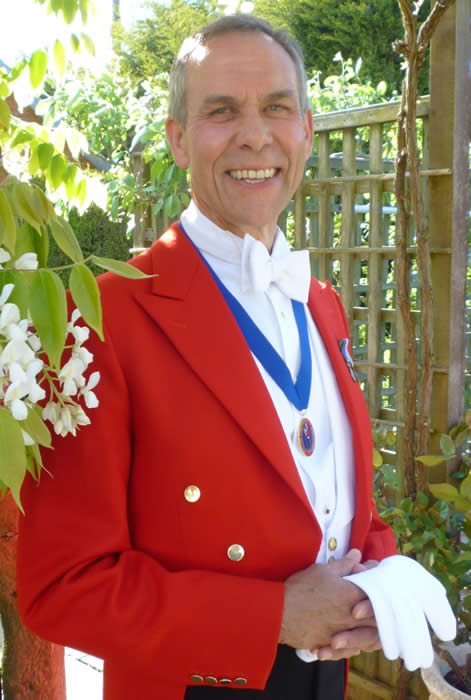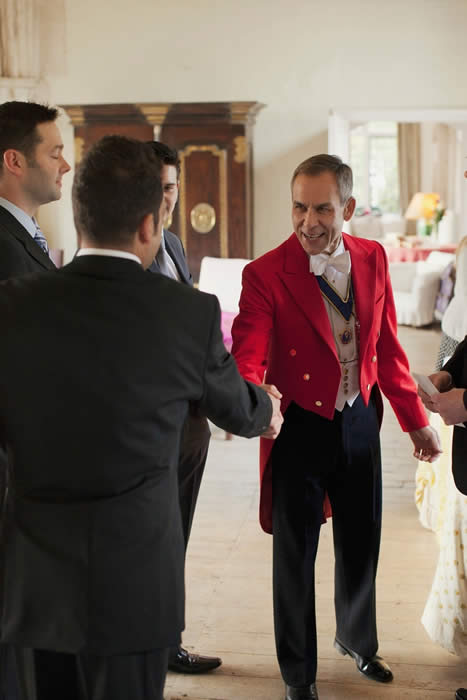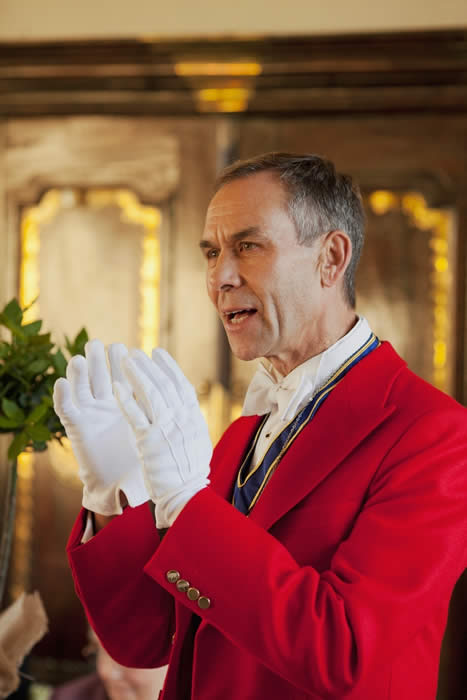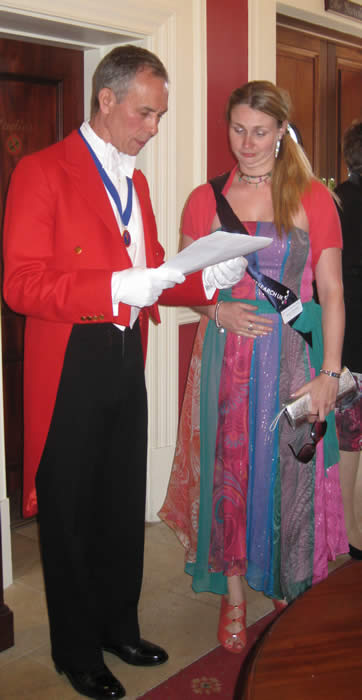 Toastmaster Suffolk Toastmaster Wedding Toastmaster in Suffolk Suffolk Wedding Toastmater Hire a Toastmaster in Suffolk
Suffolk Wedding Venues
Angel Hotel, 3 Angel Hill, Bury St Edmunds, Suffolk
Athenaeum, Angel Hill, Bury St Edmunds, Suffolk
Badgers, Rattlesden Road, Drinkstone, Bury St Edmunds, Suffolk
Bateman's Barn, South Elham, Hall Farms Ltd, St Cross, Harleston, Norfolk
Bawdsey Manor, Bawdsey, Woodbridge, Suffolk
Bedford Lodge Hotel, Bury Road, Newmarket, Suffolk
Black Lion Hotel, Church walk, The Green, Long Melford, Sudbury
Bruisyard Hall, Bruisyard, Saxmundham, Suffolk
Butley Priory, Woodbridge, Suffolk
Carlton Manor Hotel, Chapel Road, Carlton Colville, Lowestoft
Centre Parcs Ltd, The Venue, Elveden Forest Holiday Village, Brandon, Suffolk
Chippenhall Hall, Fressingfield, Eye, Suffolk
Christchurch Mansion, Soane Street, Ipswich, Suffolk
Christmas Hall, Market Square, Bildeston, Ipswich, Suffolk
Claydon Country House Hotel, 16/18 Ipswich Road, Claydon, Ipswich, Suffolk
Crystal Room, Claydon Country House Hotel, 16 - 18 Ipswich road, Claydon, Ipswich
Dove Barn, Caslings Hall, Groton, Sudbury, Suffolk
Electric Picture Palace, Blackmill Road, Southwold, Suffolk
Elizabeth Hotel Copdock, Copdock, Ipswich, Suffolk
Fynn Valley Golf Club, Witnesham, Ipswich, Suffolk
Glemham Hall, Little Glemham, Woodbridge, Suffolk
Haughley Park Barn, Haughley Park, Stowmarket, Suffolk
Heath Court Hotel, Moulton Road, Newmarket, Suffolk
Hill Lodge Hotel, 8 Newton Road, Sudbury, Suffolk
Hintlesham Hall, Hintlesham, Ipswich, Suffolk
Holiday Inn Ipswich - Orwell, The Havens, Ransomes Europark, Ipswich, Suffolk
Hotel Elizabeth Orwell, Hamilton Road, Felixstowe, Suffolk
Hotel Elizabeth The Mill, Walnut Tree Lane, Sudbury, Suffolk
Hotel Hatfield, The Esplanade, Lowestoft, Suffolk
Ipswich Town Football Club , Portman Road, Ipswich, Suffolk
Ipswich Town Hall and Corn Exchange, King Street, Ipswich, Suffolk
Ivy House Country Hotel, Ivy Lane, Oulton Broad, Lowestoft, Suffolk
Jockey Club Estates, 101 High Street, Newmarket, Suffolk
Kentwell Hall, Long Melford, Suffolk
Kersey Mill, Stone Street, Kersey, Ipswich
King's Head Hotel, New Market, Beccles, Suffolk
Novotel Ipswich, Greyfriars Road, Ipswich, Suffolk
Orwell Park School, Nacton, Ipswich, Suffolk
Otley Hall, Hall Lane, Otley, Ipswich, Suffolk
Palace House, Palace Street, Newmarket, Suffolk
Park Paddocks, Tattersalls Limited, Terrace House, Newmarket, Suffolk
Parkhill Hotel, Parkhill, Oulton, Lowestoft, Suffolk
Preston Priory Barn, Priory Farm, Preston St Mary, Sudbury
Priory Hall, Benton Street, Hadleigh, Ipswich
Priory Hotel, Mildenhall Road, Bury St Edmunds, Suffolk
Ravenwood Hall Hotel, Ravenwood Hall Country Hotel and Restaurant, Roughem, Bury St Edmunds
Rowley Mile Racecourse, Newmarket
Salthouse Harbour Hotel, 1 Neptune Quay, Ipswich
Satis House Hotel, Yoxford, Saxmundham, Suffolk
Seckford Hall Hotel, Woodbridge, Suffolk
Shire Hall, Market Hill, Woodbridge
Smoke House Hotel, High Street, Beck Row, Mildenhall, Suffolk
Snape Maltings Concert Hall, Snape, Saxmundham, Suffolk
Somerleyton Hall, Somerleyton, Lowestoft, Suffolk
St Peters Hall, St Peter South Elham, Bungay, Suffolk
Stoke By Nayland Club, Keepers Lane, Leavenheath, Colchester
Suffolk Hotel Golf and Leisure, Fornham St Genevieve, Bury St Edmunds, Suffolk
Swallow Belstead Brook Hotel, Belstead Road, Ipswich, Suffolk
Swan Hotel, High Street, Lavenham, Suffolk
Tarantella Hotel and Restaurant Limited, Melford Road, Sudbury, Suffolk
The Barrandov Opera, Kennels Farm, Needham Market, Suffolk
The Bell Hotel, Market Hill, Clare, Sudbury
The Brome Grange Hotel, Brome, Eye, Suffolk
The Brook Hotel, Orwell Road, Felixstowe, Suffolk
The Bull Hotel, Hall Street, Long Melford, Sudbury, Suffolk
The Cornwallis Country Hotel and Restaurant, Brome, Eye, Suffolk
The Crown Hotel, 104 High Street, Bildeston, Ipswich, Suffolk
The Granary, Quay Lane, Sudbury, Suffolk
The Grange Hotel, Barton Road, Thurston, Bury St Edmunds
The Guesten Hall, The berton Road, Theberton, Leiston, Suffolk
The Guildhall, Hadleigh, Suffolk
The Hall, Milden, Sudbury, Suffolk
The Hotel Victoria , Kirkley Cliff, Lowestoft, Suffolk
The Ickworth Hotel, Horringer, Bury St Edmunds, Suffolk
The Limes Hotel, 99 High Street, Needham Market, Ipswich, Suffolk
The Manor House Museum, 5 Honey Hill, Bury St Edmunds, Suffolk
The Quay Hotel, Quay Lane, Sudbury, Suffolk
The Riverside Hotel, 17 Mill Street, Mildenhall, Bury St Edmunds, Suffolk
The Swan Hotel, Market Place, Southwold, Suffolk
The Thornham Walled Garden, Red House Yard, Thornham Magna, Eye, Suffolk
The Trowell and Hammer Inn, Mill Road, Cotton, Stowmarket, Suffolk
The West Wing at Wickworth, Ickworth, Horringer, Bury St Edmunds
The White Hart Inn plc, 11 High Street, Nayland, Suffolk
Thorpeness Country Club, Benthills, Thorpeness, Leiston, Suffolk
Trinity Park Conference and Events Centre, Trinity Park, Felixstowe Road, Ipswich, Suffolk
Ufford Park Hotel Golf and Spa, Yarmouth Road, Melton, Woodbridge, Suffolk
Wantisden Valley, Wantisden, Woodbrige, Suffolk
Waveney House Hotel, Puddingmoor, Beccles, Suffolk
Westerfield House Hotel, Humber Doucy Lane, Ipswich
Wherry Hotel, Bridge Road, Oulton Broad
White Lion Hotel, Market Cross Place, Aldburgh, Suffolk
Woodhall Manor, Woodhall Drive, Sutton, Suffolk
Worlington Hall Country House Hotel Limited, Mildenhall Road, Bury St Edmunds, Suffolk
Yaxley Hall, Hall Lane, Yaxley, Eye, Suffolk
Suffolk Wedding Venues
Bawdsey Manor - Suffolk
Bedford Lodge Hotel - Suffolk
Belstead Brook Hotel - Suffolk
Best Western Ufford Park Hotel Golf & Leisure - Suffolk
Black Lion Hotel - Suffolk
Butley Priory - Suffolk
Christmas Hall - Suffolk
Haughley Park Barns - Suffolk
Hintlesham Hall Hotel - Suffolk
Holiday Inn Ipswich - Orwell - Suffolk
Hotel Elizabeth Copdock - Suffolk
Hotel Hatfield - Suffolk
Ickworth House - Suffolk
Ivy House Country Hotel - Suffolk
Kersey Mill - Suffolk
Leiston Abbey - Suffolk
Orwell Park School - Suffolk
Otley Hall - Suffolk
Priory Hall - Suffolk
Ravenwood Hall - Suffolk
Seckford Hall - Suffolk
Smeetham Hall Barn - Suffolk
St Edmundsbury Cathedral - Suffolk
St Peters Hall - Suffolk
Swynford Paddocks - Suffolk
Tarantella Hotel & Restaurant - Suffolk
Tattersalls - Suffolk
The Guildhall - Suffolk
The Mill Hotel - Suffolk
The Rose And Crown Hotel - Suffolk
The Swan Hotel Lavenham - Suffolk
Thorpeness Hotel & Golf Club - Suffolk
Trinity Park - Suffolk
Wantisden Valley - Suffolk
Wantisden Valley - Suffolk
Worlington Hall - Suffolk
Yaxley Hall - Suffolk
Towns and Villages of Suffolk, England
Acton, Akenham, Aldeburgh, Alderton, Aldham, Aldouss Corner, Aldringham, Aldringham Cum Thorpe, Almshouse Green, Alpheton, Alton Green, Ampton, Apsey Green, Arwarton, Ash Corner, Ash Row, Ash Street, Ashbocking, Ashbocking Green, Ashby Dell, Ashfield Cum Thorpe, Ashfield Green, Aspal Close, Aspall, Aspall Green, Assington, Assington Green, Athelington, Attleton Green, Audley End, Babel Green, Back Street, Backs Green, Bacons Green, Bacton, Bacton Green, Badingham, Badley, Badley Bridge, Badley Green, Badwell Ash, Badwell Green, Ballingdon, Bangrove, Banyards Green, Bardwell, Barham, Barking, Barking Tye, Barley Green, Barnaby Green, Barnardiston, Barnby, Barnby Green, Barnham, Barningham, Barrow, Barrow Hill, Barsham, Barton Mills, Base Green, Battisford, Battisford Tye, Battlesea Green, Battlies Green, Bawdsey, Bawdsey Ferry, Baxters Green, Baylham, Beccles, Beck Row, Bedfield, Bedfield Little Green, Bedfield Long Green, Bedingfield, Bedingfield Green, Bedingfield Street, Bell Green, Bells Corner, Bells Cross, Belstead, Benacre, Benhall, Benhall Green, Benhall Street, Bentley, Bentley Grove, Beyton, Beyton Green, Bigsbys Corner, Bildeston, Bird Street, Birds End, Bixley Heath, Black Street, Blackbird Corner, Blackheath, Blacksmiths Common, Blacksmiths Corner, Blacksmiths Green, Blackthorpe, Blackwater, Blaxhall, Bloodmans Corner, Blundeston, Blyford, Blythburgh, Boardy Green, Bobby Hill, Boot Street, Botesdale, Botesdale Green, Boulge, Bourne End, Bowbeck, Bower House Tye, Bowling Green, Boxford, Boxted, Boyden End, Boyton, Boyton End, Brabling Green, Bradfield Combust With Stannin, Bradfield St Clare, Bradfield St George, Braiseworth, Bramfield, Bramford, Brampton Street, Brampton With Stoven, Brandeston, Brandon, Brantham, Bredfield, Brent Eleigh, Brettenham, Bridge Street, Brightwell, Broad Green, Broad Road, Broadway, Brockford Green, Brockford Street, Brockley, Brockley Green, Brome, Brome and Oakley, Brome Street, Bromeswell, Brook Street, Broom Hill, Brown Street, Bruisyard, Bruisyard Street, Brundish, Brundish Street, Brundon, Bucklesham, Bucks Green, Bulcamp, Bull Green, Bungay, Bures Green, Bures St Mary, Burgate, Burgate Great Green, Burgate Little Green, Burgh, Burrough End, Burstall, Burton End, Bury St Edmunds, Bush Green, Butley, Butley Abbey, Butley Corner, Butleylow Corner, Button Haugh Green, Buttons Green, Buxhall, Buxhall Fen Street, Cake Street, Calais Street, Calford Green, California, Camps Heath, Campsey Ash, Candle Street, Canhams Green, Capel Green, Capel St Andrew, Capel St Mary, Capons Green, Carlton, Carlton Colville, Castle Hill, Castlehill, Castlings Heath, Cattawade, Cattishall, Cavendish, Cavenham, Cay Hill, Chantry, Charles Tye, Charsfield, Chattisham, Chedburgh, Chedburgh Green, Chediston, Chediston Green, Chelmondiston, Chelsworth, Cherry Tree Green, Chevington, Chickering, Chillesford, Chilton, Chilton Street, Chimney Street, Chippenhall Green, Church Street, Clare, Clay Hill, Clay Street, Claydon, Clopton, Clopton Corner, Clopton Green, Coal Street (Or Cole Street, Cock and End, Cockfield, Cocks Green, Coddenham, Coddenham Green, Coldfair Green, Cole Street (Or Coal Street, Coltsfoot Green, Combs, Combs Ford, Coney Weston, Conyers Green, Cookley, Cookley Green, Cookley Street, Cooks Green, Copdock and Washbrook, Coram Street, Cornard Tye, Corton, Cotton, Cove Bottom, Covehithe, Cow Green, Cowlinge, Cox Common, Crabtree Corner, Cranley, Cranmer Green, Cransford, Cratfield, Creeting Bottoms, Creeting St Mary, Creeting St Peter Or West Cre, Creeting St Peter Or West Cree, Cretingham, Cropley Grove, Cross Green, Cross Street, Crowfield, Crowfield Green, Crowland, Crown Corner, Cuckolds Green, Cuckoo Green, Culford, Culfordheath, Culpho, Curlew Green, Daisy Green, Dalham, Dallinghoo, Dane Common, Darmsden, Darsham, Debach, Debenham, Denham, Denham End, Denham Green, Denham Street, Dennington, Denston, Depden, Depden Elms, Depden Green, Derrickhill, Dorking Tye, Dorleys Corner, Drinkstone, Drinkstone Green, Drybridge Hill, Dublin, Duck Corner, Duck Street, Duke Street, Dunstall Green, Dunwich, Earl Soham, Earl Stonham, Earls Green, Earsham Street, East Barton, East Bergholt, East Bridge, East End, East Green, Eastend, Easton, Easton Bavents, Edwardstone, Ellough, Elmsett, Elmswell, Elton Park, Elveden, Ely Hill, Eriswell, Erwarton, Euston, Ever Green, Exning, Eye, Eyke, Fair Green (Denmark Green, Fakenham Magna, Falkenham, Farley Green, Farnham, Felixstowe, Felixstowe Ferry, Felsham, Fen Street, Fenstead End, Fingal Street, Finningham, Flatford, Flempton, Flixton (Lothingland Ward, Flixton (South Elmham Ward, Flowton, Flowtongrove, Foals Green, Fordley, Fords Green, Fornham All Saints, Fornham St Genevieve, Fornham St Martin, Fort Green, Forward Green, Four Ashes, Foxhall, Framlingham, Framsden, Framsden Street, Freckenham, Fressingfield, Freston, Friday Street, Friston, Fristonmoor, Frizzlers Green, Front Street, Frostenden, Frostenden Corner, Gainsborough, Gazeley, Gedding, Gedgrave, Genesis Green, George Street, Gibraltar, Gipping, Gisleham, Gislingham, Glemsford, Glevering, Goddards Corner, Golden Square, Gosbeck, Gosling Green, Great Ashfield, Great Barton, Great Bealings, Great Blakenham, Great Bradley, Great Bricett, Great Common, Great Cornard, Great Finborough, Great Glemham, Great Green, Great Knowles Green, Great Livermere, Great Thurlow, Great Waldingfield, Great Wenham, Great Whelnetham, Great Wratting, Green Street, Greenstreet Green, Gretna Green, Grimstone End, Gromford, Groton, Grundisburgh, Gulling Green, Gun Hill, Gunton, Hacheston, Hadleigh, Hadleigh Heath, Hagmore Green, Halesworth, Halifax, Hanchet End, Hanningfields Green, Hargrave, Hargrave Green, Harkstead, Harleston, Harleston Green, Harrow Green, Harrow Street, Hartest, Hartest Hill, Harts Green, Hasketon, Haughley, Haughley Green, Haughley New Street, Havergate Island, Haverhill, Hawk End, Hawkedon, Hawstead, Hawstead Green, Hazel Stub, Hazlewood, Hazlewood Street, Heath Cottages, Heckfield Green, Helmingham, Hemingstone, Hemley, Hengrave, Henley, Henley Watering, Henstead With Hulver Street, Hepworth, Hepworth South Common, Herringfleet, Herringswell, Hessett, Hestley Green, Heveningham, Hibbs Green, High Green, High Rougham, High Street, High Street Green, Higham, Hightown Green, Hinderclay, Hintlesham, Hinton, Hitcham, Hitcham Causeway, Hitcham Street, Hobbles Green, Hoggards Green, Holbrook, Holdens Common, Hollesley, Hollesley Corner, Hollesley Grove, Holmsey Green, Holton, Holton St Mary, Holywell Row, Honey Tye, Honington, Hoo, Hoo Green, Hopton, Horham, Horners Green, Horringer, Hoxne, Humble Green, Hundon, Hunston, Hunston Green, Huntingfield, Hussey Green, Icklingham, Ickworth, Iken, Ilketshall St Andrew, Ilketshall St Margaret, Ingate Place, Ingham, Ipswich, Ixworth, Ixworth Thorpe, Kedington, Kelsale, Kelsale Cum Carlton, Kennett End, Kenny Hill, Kentford, Kenton, Kenton Corner, Kersey, Kersey Tye, Kersey Upland, Kesgrave, Kessingland, Kettlebaston, Kettleburgh, Kingshall Green, Kingshall Street, Kirkley, Kirton, Knettishall, Knodishall, Lackford, Ladys Green, Lakenheath, Lambfair Green, Langham, Langton Green, Lattinford, Lavenham, Lawshall, Lawshall Green, Laxfield, Layham, Leavenheath, Leiston, Letheringham, Levington, Lidgate, Lindsey, Linstead Magna, Linstead Parva, Little Bealings, Little Blakenham, Little Blakenham Common, Little Bradley, Little Bricett, Little Common, Little Cornard, Little Fakenham, Little Finborough, Little Glemham, Little Green, Little Knowles Green, Little Livermere, Little London, Little Stonham, Little Thurlow, Little Thurlow Green, Little Waldingfield, Little Wenham, Little Whelnetham, Little Whittingham Green, Little Wratting, Loam Street, Long Cottages, Long Green, Long Melford, Lound, Low Green, Lowdham, Lower Common, Lower Falkenham, Lower Green, Lower Hacheston, Lower Holbrook, Lower Raydon, Lower Street, Lowestoft, Lowestoft End, Mace Green, Magpie Green, Magpie Street, Maidenhall, Maidensgrave, Malting End, Market Weston, Marlesford, Martlesham, Maypole Green, Meeting Green, Melford Place, Mellis, Mellis Green, Melon Green, Melton, Mendham, Mendlesham, Mendlesham Green, Metfield, Mettingham, Mickfield, Mickley Green, Middle Green, Middleton, Middleton Moor, Middlewood Green, Milden, Mildenhall, Mildenhall Estate, Mile End, Mill Common, Mill Green, Mill Hill, Mill Hills, Mill Hole, Mill Street, Moats Tye, Mole Hill, Monewden, Monk Soham, Monk Soham Green, Monks Eleigh, Moulton, Moulton End, Mount Pleasant, Mutford, Nacton, Nayland-With-Wissington, Nedging Tye, Nedging-With-Naughton, Needham Market, Needham Street, Nettlestead, New Street, Newbourne, Newmans Green, Newmarket, Newton, Newton Green, Newton Hall, Newtown, Normanston, North Common, North Cove, North End, North Green, North Terrace, Norton, Norton Little Green, Nowton, Nunnery Green, Oakley, Oaks Tye, Occold, Offton, Offton Green, Old Felixstowe, Old Newton With Dagworth, Oldhall Green, Onehouse, Orford, Otley, Oulton, Oulton Broad, Ousden, Owls Green, Pakefield, Pakenham, Palgrave, Parham, Park Gate, Park Green, Parliament Heath, Partridge Row, Peasenhall, Pettaugh, Pettistree, Pinch Hill, Pinewood, Pinfold End, Pinmill, Pitchers Green, Pitmans Corner, Pixey Green, Playford, Polstead, Polstead Heath, Poplar Street, Poslingford, Potters Street, Pound Green, Poys Street, Poystreet Green, Preston St Mary, Primrose Hill, Priory Heath, Puddingmoor, Purdis Farm, Puttocks Hill, Ramsholt, Rattla Corner, Rattlesden, Raydon, Reading Green, Rectory Gardens, Red Lodge, Rede, Redgrave, Redgrave Common, Redgrave Green, Redhouse Park, Redisham, Redlingfield, Redlingfield Green, Rendham, Rendlesham, Reydon, Reydon Smear, Rickinghall Inferior, Rickinghall Superior, Rigborn Hill, Ringsfield, Ringsfield Common, Ringsfield Corner, Ringshall, Risby, Rishangles, Rock Estate, Roman Hill, Ropers Green, Rose Green, Rose Hill, Rotten End, Rougham Green, Rumburgh, Rumburgh Common, Rumburgh Street, Rushbrooke With Rougham, Rushmere, Rushmere St Andrew, Rushmere Street, Russels Green, Sackers Green, Santon Downham, Sapiston, Saxham Street, Saxmundham, Saxtead, Saxtead Bottom, Saxtead Green, Saxtead Little Green, Scotch Green, Scotland Street, Sedge Fen, Semer, Seven Gardens, Severalls, Shadingfield, Shelland, Shelley, Sherbourne Street, Shimpling, Shimpling Street, Shimplingthorne, Shingle Street, Shipmeadow, Shop Corner, Shop Street, Shotley, Shotley Gate, Shotley Street, Shottisham, Sibton, Sibton Green, Sicklesmere, Sidehill, Silverlace Green, Silverleys Green, Sizewell, Slaughden, Smallwood Green, Smithwood Green, Snape, Snape Street, Snape Watering, Soham Town Corner, Somerleyton, Somersham, Somerton, Sotherton, Sotherton Corner, Sotterley, South Cove, South Green, South Lowestoft, Southolt, Southwold, Sowley Green, Spexhall, Sproughton, St Lawrence Green, Stackyard Green, Staithe, Standwell Green, Stansfield, Stanstead, Stanstead Street, Stanton, Stanton Chair, Stanton Street, Stanway Green, Sternfield, Stockhold Green, Stoke, Stoke Ash, Stoke-by-Clare, Stoke-by-Nayland, Stone Common, Stone Street, Stonecross Green, Stonham Aspal, Stonham Aspall Green, Stonham Earl, Stonham Parva, Stowlangtoft, Stowmarket, Stows Hill, Stowupland, Stradbroke, Stradishall, Stratford St Andrew, Stratford St Mary, Stratton Hall, Sturmer Common, Stuston, Stutton, Sudbourne, Sudbury, Sudbury St Bartholomew, Sulleys Hill, Sutton, Swan Green, Swefling, Swilland, Swines Green, Swingleton Green, Syleham, Tan Office, Tan Office Green, Tannington, Tannington Green, Tattingstone, Tattingstone White Horse, Temple End, The Brook, The City, The Duddery, The Field, The Garrison, The Heath, The Pit, The Sandpits, The Saxhams, The Woodlands, Theberton, Thelnetham, Thistley Green, Thorington, Thorington Street, Thorndon, Thorndon Hill, Thorney Green, Thornham Magna, Thornham Parva, Thorns, Thorpe Common, Thorpe Green, Thorpe Morieux, Thorpe Street, Thorpeness, Thrandeston, Thurlow, Thurlston, Thurston, Thurston End, Thurston Planch, Thwaite, Timworth, Toad Row, Tooks Common, Tostock, Tostock Green, Town Green, Town Street, Trimley Heath, Trimley Lower Street, Trimley St Martin, Trimley St Mary, Troston, Tuddenham, Tuddenham St Martin, Tunstall, Ubbeston, Ubbeston Green, Ufford, Uggeshall, Undley, Upper Green, Upper Holton, Upper Street, Upper Town, Upper Weybread, Upthorpe, Violet Hill, Walberswick, Waldringfield, Wales End, Walpole, Walpole Lane, Walsham-le-Willows, Walton, Walton Lower Street, Waltonferry, Wangford, Wangford With Henham, Wantisden, Wantisden Corner, Ward Green, Wattisfield, Wattisham, Wattisham Stone, Wenham Magna, Wenham Parva, Wenhaston, Wenhaston With Mells Hamlet, Wentford, West Creeting Green, West End, West Row, West Stow, West Street, Westbourne, Westerfield, Westhall, Westhorpe, Westleton, Westley, Weston, Wetherden, Wetheringsett-Cum-Brockford, Wetherup Street, Weybread, Weybread Street, Whatfield, Whepstead, Wherstead, Whights Corner, White Horse Corner, Whitestreet Green, Whitton, Whitton Green, Wicker Street Green, Wickham Green, Wickham Market, Wickham Skeith, Wickham Street, Wickhambrook, Wicks Green, Wilby, Wilby Green, Wilde Street, Williams Green, Willingham St Mary, Willisham, Willisham Tye, Wimble, Windsor Green, Wingfield, Wingfield Green, Winston, Winston Green, Wissett, Withermarsh Green, Withersdale Street, Withersfield, Witnesham, Wixoe, Woodbridge, Woolpit, Woolpit Green, Woolpit Heath, Woolverstone, Wootten Green, Wordwell, Worlds End, Worlingham, Worlington, Worlingworth, Wortham, Wrentham, Wyverstone, Wyverstone Green, Wyverstone Street, Yaxley, Yoxford, Yoxford Little Street