Terry lives in Poole, Dorset and will travel across the South West region of England to be your toastmaster/master of ceremonies, as far as Devon and Cornwall in the West, and Sussex in the East.
Terry has over 30 years of experience in the entertainment industry and 20 years as a master of ceremonies. At your wedding, Terry will provide a very personal and professional toastmaster service. Not a stuffed shirt statuesque figure in a red tail coat but a very dedicated toastmaster with a difference. Just think of Terry as the genie in the bottle. Release him and your every wish is his command.
Any other type of function can be covered with an extremely high level of service.
A new modern breed of toastmaster is evolving, encompassing traditional protocols and etiquette, with a more modern personal level of service and attention to clients. Terry is proud to be part of this evolution and is confident you will be very pleasantly surprised.
The Wedding of Lisa & Ian Dancer, Compton Acres, Poole. September 2010
Hope you well, We are back from Portugal now and I just wanted to say thank you for all your efforts on our big day. You were fabulous and I'm so glad that we booked you. We had an amazing day- It could'nt have been better. It was great to have you there as part of it.
Lisa and Ian Dancer.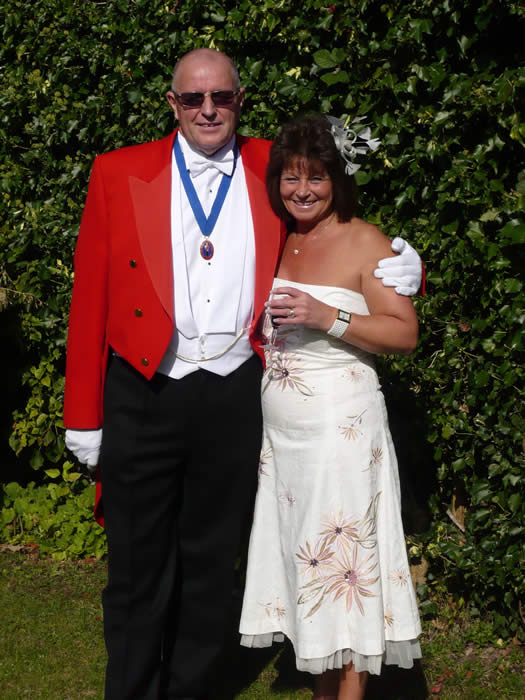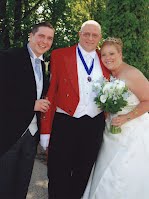 My experience is quite extensive and ranges from DJ work, Band presentation , Master of Ceremonies at Balls, I have presented The Cancer Research UK from Pink Ball in Bournemouth since 2008 and have some excellent testimonials from the event managers. I also had the pleasure of being the Public Announcer for over 20 years for The Bournemouth Carnival Band, a major comedy marching band in the UK, such venues for the band were The Grosvenor House Hotel in London, an annual event for The London Taxi Drivers Fund for Underpriviliged Children. I also benefitted from several TV appearances with the band on both BBC & ITV, and several trips into Europe and the Channel Islands.
I offer a full range of services, ranging from Weddings, Civil Ceremonies, Dinners, Celebration Balls, and Corporate events, also available for any type of Master of Ceremonies work, my range of presentation and public announcing is virtually limitless and any request will be considered.
I can offer you a no obligation quote now, so please contact me for more information.
Corporate Toastmaster Banquets Balls Fundraiser's Fund Raisers Dinner and Dance Dinner and Dances Conferences Master Of Ceremonies MC M C M. C. M. C. Host
Presenter Toastmaster Award Ceremony Award Ceremonies Toastmasters Dorset Toastmaster UK Toastmaster
Toastmasters English Toastmasters International Toastmasters Toastmaster Wedding Toastmasters
Toastmaster English Toastmaster Toastmasters Toastmaster Wedding Toastmaster in Dorset Hire a Toastmaster in Dorset
MC M. C. M. C. Master Of Ceremonies Master of the Ceremonies Dorset Wedding Toastmaster
Wedding Venues in Dorset
Alexandra Hotel, Lyme Regis, Dorset
Athelhampton House, Dorchester, Dorset
Avonmouth Hotel, Christchurch, Dorset
Bennett's Water Gardens, Weymouth, Dorset
Birkin House, Dorchester, Dorset
Bishops Court, Blandford, Dorset
Bridge House Hotel, Bridport, Dorset
Bridge House Hotel, Ferndown, Dorset
Britannia Round House Hotel, Bournemouth, Dorset
Cafe Shore, Poole, Dorset
Canford School, Wimbourne, Dorset
Captains Club Hotel, Christchurch, Dorset
Carlton Hotel, Bournemouth, Dorset
Chaffeymoor Grange, Bourton, Dorset
Chantmarle Manor, Frome St Quinne, Dorset
Compton Acres, Poole, Dorset
Da Vinci's Restaurant, Poole, Dorset
Dorchester Municipal Buildings, Dorchester, Dorset
Dudsbury Golf Club, Ferndown, Dorset
Durley Hall Hotel, Bournemouth, Dorset
East Cliff Court Hotel, Bournemouth, Dorset
Edmondsham House, Wimbourne, Dorset
Eype's Mouth Country Hotel, Bridport, Dorset
Eypesmouth Country Hotel, Bridport, Dorset
Forde Abbey, Chard, Somerset, Dorset
Gresham Court Hotel, Bournemouth
Harbour Heights Hotel, Sandbanks, Poole, Dorset
Highcliffe Castle, Christchurch, Dorset
Holton Lee, Poole, Dorset
Hotel Alexandra, Lyme Regis, Dorset
Hotel Prince Regent, Weymouth, Dorset
Kingston Country Courtyard, Kingston, Wareham, Dorset
Kingston Maurward , Dorchester, Dorset
Langtry Manor, Bournemouth, Dorset
Lulworth Castle, Wareham, Dorset
Magdalen Farm, Chard, Somerset
Mansion House Hotek, Poole, Dorset
Mapperton House Gardens, Beaminster, Dorset
Marsham Court Hotel, Bournemouth, Dorset
Merley House, Wimborne, Dorset
Mezza Luna Restaurant and Bar, Poole Park, Poole, Dorset
Milton Abbey School, Blandford Forum, Dorset
Minterne House, Dorchester, Dorset
Mortons House Hotel, Wateham, Dorset
Mountfield, Bridport, Dorset
Parley Manor, Christchurch, Dorset
Portland Castle, Portland, Dorset
Purbeck House Hotel, Swanage, Dorset
Royal Bath Hotel, Bournemouth, Dorset
Sandbanks Hotel, Poole, Dorset
Shaftesbury Town Hall, Shaftesbury, Dorset
Sherborne Hotel, Swanage, Dorset
Sherbourne Castle, Sherbourne, Dorset
Sopley Mill, Christchurch, Dorset
St Leonards Hotel, Ringwood, Dorset
Stockbridge Farm Barn, Sherbourne, Dorset
Summer Lodge Hotel, Evershot, Dorset
Swallow Highcliff Hotel, Bournemouth, Dorset
The Avonmouth Hotel, Christchurch
The Chine, Bournemouth, Dorset
The Coach House, Blandford, Dorset
The Coppleridge Inn, Shaftesbury, Dorset
The Crown Hotel, Blandford forum, Dorset
The Eastbury Hotel, Sherbourne, Dorset
The Grand Hotel, Swanage, Dorset
The Grange at Oborne, Sherborne, Dorset
The Guildhall, Lyme Regis, Dorset
The Guildhall, Poole, Dorset
The Guildhall, Poole, Dorset
The Guildhall, Weymouth, Dorset
The Haven Hotel, Sandbanks, Poole, Dorset
The Hotel Rembrandt, Weymouth, Dorset
The King George V Pavilion, Ferndown, Dorset
The Langton Arms, Blandford, Dorset
The Manor Hotel, West Bexington, Dorchester, Dorset
The Mansion House Hotel, Poole, Dorset
The Orangery Suite, Wimborne, Dorset
The Philip Green Memorial School, Wimborne, Dorset
The Riviera Hotel, Weymouth, Dorset
The Royal Chase Hotel, Shaftesbury, Dorset
The Salterns Harbourside Hotel, Poole, Dorset
The Springhead Trust, Shaftesbury, Dorset
The Thistle Hotel, Poole, Dorset
Tudor Grange Hotel, Bournemouth, Dorset
Tyrells Ford Country House, Christchurch, Dorset
Upton House, Upton Country Park, Upton, Poole, Dorset
Wareham Town Hall, Wareham, Dorset
Wessex Hotel, Bournemouth, Dorset
Wimborne Minster Town Council, Wimborne Minster, Dorset
Yenton Hotel, Bournemouth, Dorset
Dorset Toastmaster
Towns and Villages of Dorset, England
Abbotsbury, Abbotts Wootton, Adams Green, Adber, Allington, Allweston, Alton Pancras, Ash, Ashley, Ashley Chase, Askerswell, Atrim, Attisham, Barbridge, Batcombe, Beaminster, Beaulieu Wood, Bedmill, Beer Hackett, Benville, Bere Chapel, Berwick, Bettiscombe, Bincombe, Birdsmoor Gate, Bishops Caundle, Bishops Down, Blackdown, Blackrow Common, Bluntshay, Bockhampton, Bonville, Bookham, Bothenhampton, Bournemouth, Boys Hill, Bradford Abbas, Bradford Peverell, Bradpole, Bridport, Brister End, Broad Oak, Broadmayne, Broadwey, Broadwindsor, Brockhampton, Brockhampton Green, Buckham, Buckham Down, Buckland Newton, Buckland Ripers, Buckshaw, Burstock, Burton, Burton Bradstock, Camesworth, Castleton, Castletown, Catherston Leweston, Cattistock, Caundle Marsh, Caundle Wake, Cerne Abbas, Chalmington, Champernhayes Marsh, Chard Junction, Chard Road, Charlestown, Charlock Hill, Charminster, Charmouth, Chedington, Chesil, Chetnole, Chickerell, Chideock, Chilcombe, Childhay, Chilfrome, Clift, Clifton Maybank, Cobb, Cokers Frome, Coles Cross, Compton Abbas, Compton Valence, Coneygar Hill, Corscombe, Coryates, Cosmore, Cripton, Crouch Hill, Cruxton, Denhay, Dibberford, Dodpen Hill, Dorchester, Dottery, Drimpton, Drive End, Duntish, East Bexington, East Chelborough, East Pulham, Easton, Eggardon Hill, Elwell, Evershot, Eype, Fairfield, Fifehead Neville, Filford, Fishpond Bottom, Fleet, Folke, Folly, Fordington, Forston, Fortuneswell, Frampton, Friar Waddon, Frith, Frome St Quintin, Frome Vauchurch, Frome Whitfield, Gerrards Green, Glanvilles Wooton, Goathill, Godmanston, Godmanstone, Gore, Greenham, Greenway, Gribb, Grimstone, Grove, Gunville, Guppy, Gurtopps, Hail, Halstock, Hamlet, Hardown Hill, Hatchet, Haydon, Heniford, Henley, Hermitage, Herrison, Hewish Hill, Hewood, Higher Bockhampton, Higher Clatcombe, Higher Coombe, Higher Eype, Higher Halstock Leigh, Higher Kingcombe, Higher Nyland, Higher Sandford, Higher Wrackleford, Highgate, Hilfield, Hill Street, Holditch, Holebrook Green, Holnest, Holway, Holwell, Holywell, Hooke, Horchester, Horn Ash, Horn Hill, Horsecastles, Hummer, Hursey, Hyde, Jericho, Kings Stagg, Kingsland, Kingstag, Kingston, Kingston Russell, Kittwhistle, Knighton, Langdon, Langton Herring, Laymore, Leigh, Lenthay, Lewcombe, Leweston, Lillington, Littlebredy, Littlemoor, Littlewindsor, Littlewood, Litton Cheney, Loaders Hill, Loders, Long Bredy, Longburton, Loscombe, Lower Bockhampton, Lower Eype, Lower Halstock Leigh, Lower Kingcombe, Lower Strode, Lower Waterston, Lower Wrackleford, Lydlinch, Lyme Regis, Lyons Gate, Magiston Hill, Maiden Newton, Mangerton, Mapperton, Mappowder, Marshalsea, Marshwood, Martinstown, Maudlin, Meerhay, Melbury Bubb, Melbury Osmond, Melbury Sampford, Melcombe Regis, Melplash, Merriott, Middlemarsh, Minterne Magna, Minterne Parva, Monkton Wyld, Monkwood, Moorbath, Morecombelake, Mosterton, Muckleford, Nether Cerne, Nether Compton, Nether Coombe, Netherbury, Netherhay, Netherstoke, Nettlecombe, Newland, Newtown, North Barn, North Bowood, North Chideock, North Poorton, North Wootton, Northernhay, Norwood, Nottington, Notton, Oathill, Oborne, Osehill Green, Osmington, Over Compton, Overcombe, Oxbridge, Packers Hill, Paddocks Cross, Park Gate, Patson Hill, Penn, Piddlehinton, Piddletrenthide, Pidney, Pilsdon, Pleck, Plush, Poolestown, Poorton Hill, Portesham, Portland, Poundbury, Powerstock, Poxwell, Poyntington, Preston, Priestlands, Puddletown, Pulham, Pulham Common, Puncknowle, Purse Caundle, Putton, Pymore, Radipole, Rampisham, Redford, Reforne, Remedy, Rew, Rhymehorn, Ridgeway, Ringstead, Rocky Knap, Rodden, Rodwell, Round Chimneys, Russon Bottom, Ryall, Ryme Intrinseca, Salway Ash, Sandford Orcas, Sandhills, Sandpit, Sandsfoot Castle, Seaborough, Seatown, Shadrach, Sherborne, Shipton Gorge, Shortmoor, Silverlake, Skilling, Sodern, South Bowood, South Perrott, South Poorton, Southover, Southwell, Spyway, St Andrews Well, Stalbridge, Stalbridge Common, Stalbridge Weston, Stallen, Stanton St Gabriel, Stinsford, Stock Gaylard, Stock Gaylard Park, Stockbridge, Stockwood, Stoke Abbott, Stourton Caundle, Stratton, Swyre, Sydling St Nicholas, Symondsbury, Synderford, Talbothayes, Templemans Ash, The Borough, The Quarr, The Ring, Thorncombe, Thornford, Thornhill, Three Gates, Tiley, Toller Down, Toller Fratrum, Toller Porcorum, Toller Whelme, Tollerford, Totnell, Towns End, Trent, Tut Hill, Up Cerne, Up Sydling, Uphall, Uploders, Upton, Upwey, Victoria Park, Waddon, Walditch, Wanderwell, Ware, Warmwell, Waterston, Watton, Waytown, West Allington, West Bay, West Bexington, West Chelborough, West Compton, West Knighton, West Milton, West Pulham, West Stafford, Westbury, Westfields, Westham, Weston, Weymouth, Whetley, Whitcombe, White Cross, White Lackington, White Sheet Hill, Whitechurch Canonicorum, Whitecross, Whitehall, Winterborne Came, Winterborne Herringston, Winterborne Monkton, Winterborne St Martin, Winterbourne Abbas, Winterbourne Steepleton, Wolfeton, Wonston, Woodbridge, Woodrow, Woolcombe, Woolfords Water, Wootton Fitzpaine, Wrackleford, Wraxall, Wych, Wyke, Wyke Regis, Wynford Eagle, Wytherstone, Yetminster, Yonder Hill, Yondover